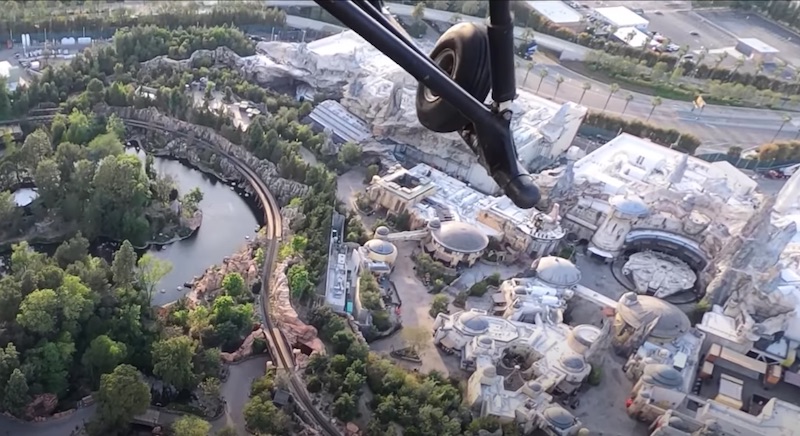 Disneyland has likely never looked so empty on an otherwise sunny day. Thanks to Micah Muzio, helicopter pilot and Managing Editor of Kelley Blue Book, we can get a bird's eye view of the so-called happiest place on Earth when no one's there. 
We last chatted with Muzio on April 13 about his video over Long Beach and Los Angeles. Muzio said he's been flying over L.A. since 2008 and owns an Enstrom 280C helicopter. Identifying the privilege he has to see Los Angeles from such a unique vantage point during an unprecedented time, Muzio decided to record his journeys and share them with others on YouTube. (And yes, he does practice social distancing and it's fine with local air traffic controllers.) He promised more videos to come, and this footage over Disneyland is his latest.
In the video below, Muzio flies over Angels Stadium first, then approaches the iconic theme park at a modest pace. Due to flight restrictions over Disneyland, Muzio can't do a lap or linger, but his flyover does allow one to see several recognizable attractions, including the Millennium Falcon and Splash Mountain. 
Disneyland first decided to close due to the COVID-19 pandemic from March 14-31. Disney later amended that decision to close indefinitely, and some analysts believe the park may not reopen until next year. Right now, the only certainty is uncertainty, and that goes for all large-scale events and attractions, including live concerts, sporting events, and theme parks. Meanwhile, Walt Disney Co. is in the midst of controversy, as Disney heiress Abigail Disney lambasts the company for furloughing thousands of employees.
As for SoCal's other theme parks, Muzio's hit them, too. In a previous video, you can get a better look at a vacant Knott's Berry Farm, Universal Studios Hollywood, and Magic Mountain, which do not have the same flight restrictions. You can make out landmarks from the Wizarding World of Harry Potter particularly well. Ahhh, what we'd give for a frosty butterbeer and a ride with the Hippogriff these days.