We used to tell you about all the things you could go out and do in Los Angeles on a daily, weekly, and monthly basis. Then, the coronavirus pandemic changed life for all of us, in a thousand small and massive ways. These days, there are no events for us to post about and even if there were, state and county orders prohibit gathering. But, that doesn't mean you can't find entertainment, education, and most importantly, community online. From now on until this whole thing's behind us, we'll be posting virtual things you can do from home every Thursday morning. We hope they keep you busy, make you laugh, teach you something, or help you feel less isolated.
This week, we've got a new horror audio drama, an interactive ritual, an Instagram scavenger hunt, an online pottery class, drawing tutorials, at-home HAMILTON education, virtual wine tastings, and more. Have something you want to submit for next week? Hit us up: [email protected].
ROW DTLA has several at-home offerings coming up. Makers Mess is offering a watercolor class on April 27 at 5 p.m. and a felted pets craft-making class on April 29 at 5 p.m. Both will be held on Zoom and cost $25. Still Life Ceramics will teach you how to make a clay pot on April 27 at 7 p.m. and April 29 at 6 p.m. For $45, they'll mail you a chunk of clay and postage so that you can mail it back for firing.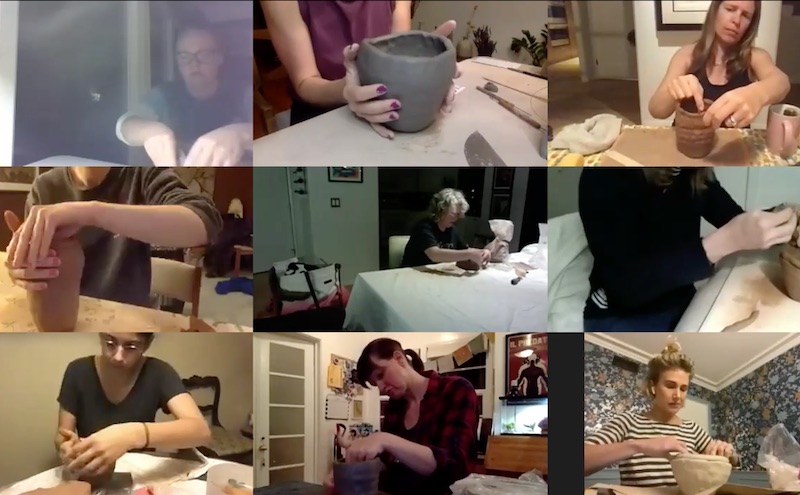 Grand Park's Our L.A. Voices will happen virtually this year on April 25-26. Like in years before, programing will celebrate the diverse artistic voices in our city through live performances like plays, poetry, and music as well as cooking demos, workshops, and visual artworks. Check it out on Facebook and Instagram Live.
Place yourself inside Harry Potter's Wizarding World with Harry Potter at Home, a new online hub that allows you to find your house, wand, and Patronus; play games, and more.
The Natural History Museum of Los Angeles will take its First Fridays event online via a free Zoom and YouTube party you can join from the comfort of your home. Enjoy a discussion on the "Future of Crowdsourced Science" plus a KCRW DJ spinning tunes while you sip on homemade cocktails. You'll need a reservation, available until 2:45 p.m. on Friday, April 24. The Zoom and YouTube Live links will be emailed to you on the day of the event around 3:30 p.m. One reservation per household/device.
On Friday, April 24 at noon, The Killers will log on to Instagram Live for a fan Q&A and mini-performance.
Join The Annenberg Space for Photography on April 25 at 2 p.m. for #ZINESonZOOM. This free online event will have participants trace the history of zines dating back to the 1930s and make their own zine using printed materials sourced from home.
Daybreaker is taking its wellness dance party online on April 25. The session kicks off at 11 a.m. with a soulful yoga flow followed by a disco-themed dance party streamed on the Daybreaker dance cam.
Grab a pencil and paper and log on to the Disney Parks YouTube channel's How to Draw Series. Learn step-by-step from the pros as they show you how to draw famous characters like Donald Duck, Elsa, Belle, Winnie the Pooh, Mickey Mouse, and more.
The Gilder Lehrman Institute of American History (GLI) and HAMILTON just launched EduHam at Home, a free digital program for students and their families to explore the world of HAMILTON and America's founding era together. Students are also encouraged to create and perform their own narrative in the form of a song, rap, spoken word, or scene and submit their creations to be shared on the HAMILTON app, social media, and the Gilder Lehrman Institute of American History's website.
LACMA is being demolished to make way for a controversial reimagining and some people are not so happy about it. The folks at Citizens Brigade to Save LACMA have selected 26 designers who will showcase their alternative designs online on Friday April 25, giving you a look at what might have been.
Captain Underpants and Dog Man series author Dav Pilkey is posting free online videos called Dav Pilkey at Home featuring read-a-louds, drawing lessons, and other kid-friendly entertainment. New videos are uploaded every Friday.
The Ed Helms Whiskey Sour Happy Hour is a weekly online fundraiser featuring some of the best acts in Bluegrass music every Wednesday at 5 p.m. through May 13. The online variety show benefits MusiCares' COVID-19 Relief Fund and Direct Relief.
Every Sunday at 2 p.m., Dynasty Typewriter presents Go! Day, a weekly dose of enchantertainment™ for creatives. Each episode includes insights on what Dynasty's founders and artistic directors are learning as business owners and creative humans, plus special guests also pop in to share their approaches to creativity and productivity, too. This week includes Eliot Glazer, Debra Digiovanni, Laura House, Atsuko Okatsuka, and others.
Former First Lady Michelle Obama has been tapped for a four-week series dubbed "Mondays with Michelle Obama." On Mondays at 9 a.m., she'll read one story streamed live on the PBS KIDS' Facebook page and YouTube channel and on Penguin Random House's Facebook page.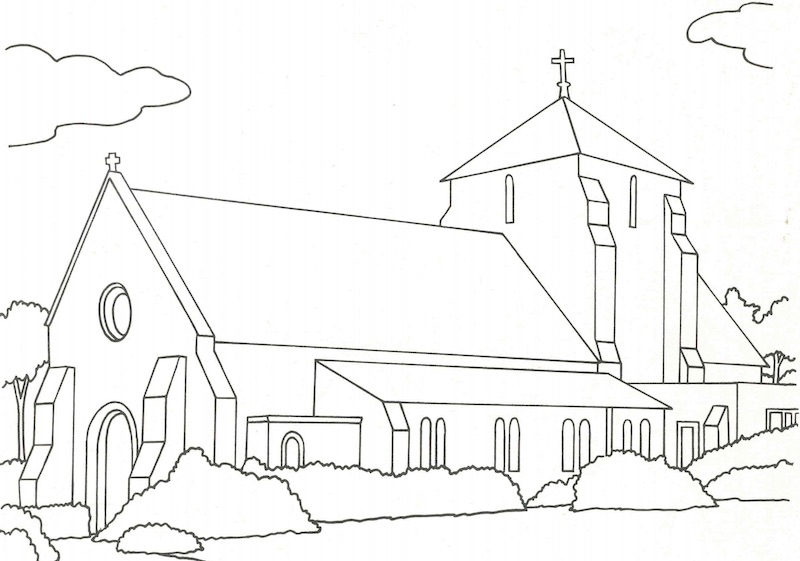 Forest Lawn has a downloadable coloring book that includes 26 vintage pictures you can bring to life.
Music on the Rebound is an online festival bringing people together through musical exchanges. On April 25 at 5 p.m., IONE and Claire Chase will lead a global performance of The World-Wide Tuning Meditation by Pauline Oliveros, a sonic gathering that connects communities through meditative singing.
Immersive theater company Capital W has several ways you can participate in their interactive shows online. The series What Do You Need? offers four one-on-one shows where you can take a walk, dance, perform a ritual, or relax with a single performer either online or over the phone. Tickets are $20 and available now. Or, you can experience Red Flags, Capital W's critically acclaimed show about a very bad date with a woman named Emma. While you'd typically meet "Emma" at a bar or park, you'll now get to know her online. Tickets for Red Flags go on sale April 27.
The Groundlings' 45th-anniversary show is now available to rent from Vimeo on Demand. The show features sketches from company members and alumni including Jordan Black, Carrie Aizley, Allison Dunbar, Will Forte, Brian Palermo, Andrew Friedman, Jim Rash, and more. It's available from Friday, April 24 at 3 p.m. until Sunday, April 26 at 3 p.m. Rent it for a 24-hour period for $5, with proceeds benefiting The Groundlings Theatre & School.
Join a yoga session hosted by Yogi Bare founder Kat Pither on April 30. This event is free and all levels are welcome.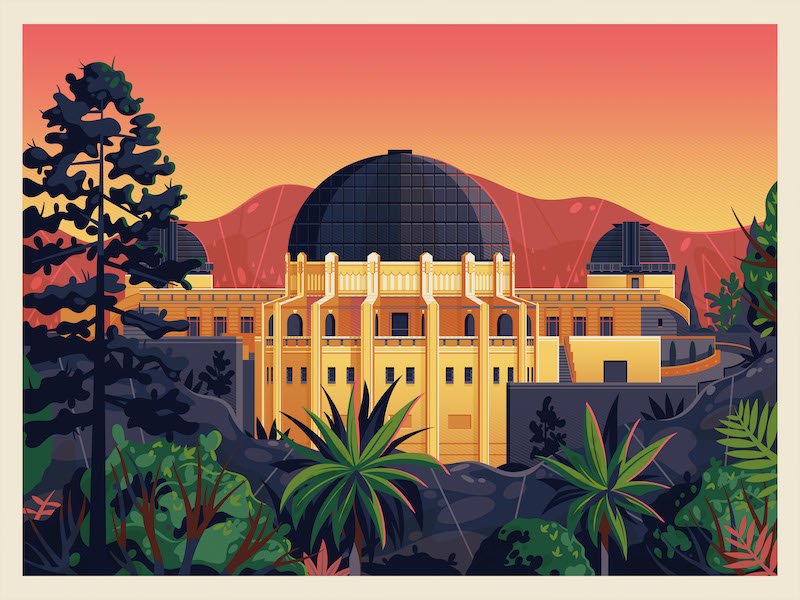 Thanks to DiscoverLA, you can put together digital puzzles of L.A. landmarks from artist George Townley. Landmarks include the Griffith Observatory and the Cinerama Dome.
For several weeks, media arts organization Pollen has been hosting virtual gatherings called Are You OK? every Thursday at noon, each featuring a discussion with a community member. In these one-on-one conversations, they share how they're dealing with the COVID-19 crisis, the increased isolation, what they're doing to make ends meet, and how they're helping to build a community of care.
The Wallis is putting its Dance Sundays online. Catch a free salsa class with choreographer Debbie Allen via Instagram on Sunday, April 26 at 1 p.m. Suitable for all ages and fitness levels.
Watch Heidi Duckler Dance's site-specific work, Illuminating the Chandelier, on Thursday, April 30 at 5 p.m. This is a truncated version of The Chandelier, a piece that would have premiered at The Wallis this Spring. The performance is free, though a suggested donation of $15 will benefit Heidi Duckler Dance. RSVP here.
Artist Mira Lehr's MiraVision is an online series of videos and photos of the artist's work, including her show "High Water Mark," a current exhibit at the temporarily closed Mennello Museum of American Art.
The A+D Museum is requesting submissions for The Future of _Space, the museum's first digital exhibition, through April 30. The exhibition will launch online on May 8. See more details and submission guidelines here.
The Broad has three ways to virtually explore the work of artist Jasper Johns. Watch Exploring the Music That Inspired Jasper Johns, Up Close: Curator Ed Schad on Jasper Johns's Watchman, and LEARN: Jasper Johns's Favorite Medium on the Broad's YouTube channel.
The second episode of The Cool Quarantine with Henry Rollins is now live on KCRW. In this episode, Rollins plays original John Cale mixes of The Stooges' 1969 self-titled album and a Bad Brains bootleg.
NASA created a fun and educational game for iOS and Mac called NeMO-Net that allows the public to explore oceans around the world, particularly coral reefs, and help NASA classify them.
Check out OC Parks Sound Check, a virtual concert series, on Saturdays at 4 p.m. on Facebook or Instagram @OCParks. This first edition features singer-songwriter Matt Costa. The series continues through May 30.
The Beatles' Yellow Submarine will screen as a live sing-along on the band's YouTube channel on April 25 at 9 a.m. Lyrics will appear at the bottom of the screen so you can join in from home.
Vinovore in Silver Lake is hosting a virtual wine tasting on April 26 at 7 p.m. You can purchase featured bottles at either 15% off for two or 10% off for one, then log into the "Winesplaining" session on Zoom. This week features Megan Bell from Margins Winery, while future weeks will highlight other wineries. Find more info here.
The gently whispering, paper-crinkling folks at WhisperLodge now have a free ASMR scene up on Audible designed to help you fall asleep.
Check out The Light House, a delightfully creepy new horror radio drama from author Jeff Heimbuch and audio engineer/composer Kori Celeste. According to the synopsis: Tara Hollis was supposed to get a fresh new start at her ancestral home, Light House. But when Tara and her family moved into Light House on that warm, winter's day in 1963, they did not suspect the horror that awaited them; a horror that lurked in the shadows, biding its time to quench its hunger. There is a darkness that dwells in the heart of Light House…one that will tear Tara's family apart. Do you believe in ghosts? Tara didn't…until she moved into Light House. Listen on iHeartRadio here.
Stagecouch is happening April 24-26 on SiriusXM, the same dates Stagecoach would have happened had it not been postponed to October. Tune in for Q&As and performances from headliners including Thomas Rhett, Carrie Underwood, and Eric Church.
Purple Crayon Immersive has an online scavenger hunt you can complete online, mostly on Instagram. Scour characters' profiles for clues and to reveal bits of the story. It's free and you can start here by reading about a stolen vase of mysterious magical spheres.
Check out The Second City Hollywood's "The Really Awesome Improv Show ONLINE" on Thursdays at 11 a.m. It's family-friendly and you can tune in on Zoom. It's also free, but you can make donations to benefit The Second City Alumni Fund if you wish. Register here.
It's been tough to recommend a virtual escape room experience because we hadn't tried any. But now we have, so we can recommend "The Cure" from Escape Experience in Chattanooga. You and friends can log on via Google hangouts and guide the game master through the room, using interactive maps and downloads of key clues to solve puzzles and win. Add up to 8 players for $20 per person (two-person minimum).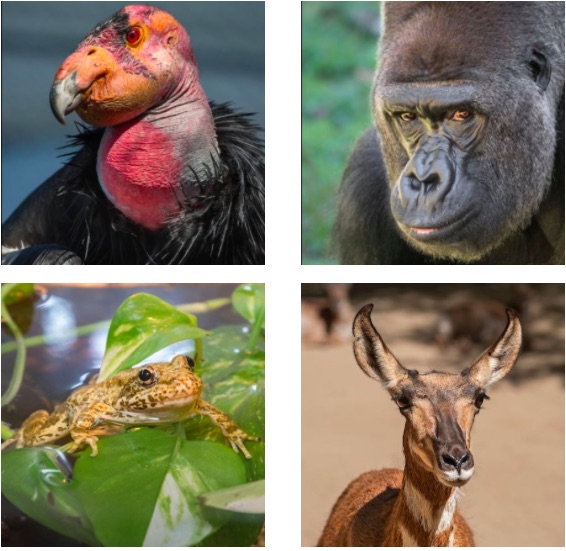 The L.A. Zoo presents Animal Draw-Alongs with Brian Kesinger on Saturdays at 1 p.m Each week, Kesinger will draw an endangered animal that the L.A. Zoo has helped. This week, it's the mountain yellow-legged frog. Watch on Facebook Live here.
The Italian American Museum of Los Angeles offers a virtual tour of its exhibition, St. Joseph Tables: Expressions of Devotion, Charity, and Abundance here.
AREA15, an immersive entertainment and retail complex opening in Las Vegas, has a series of humorous meditation videos you can check out on its Facebook and Instagram pages. Like this one.
Become a Dockwalker via virtual training on April 25 at 9:45 a.m. Dockwalkers increase boater awareness of environmentally-sound practices through boater education at marinas, boat launch ramps, boat shows, and other events. Those events are probably canceled right now, but you can still in advance learn from home.
Room Service Music Festival streams live on YouTube this weekend featuring performances from Yungblud, Channel Tres, Pink Sweats, Chromeo, A Boogie wit da Hoodie, and more.
The Los Angeles Museum of the Holocaust will host a discussion and virtual tour of its current temporary exhibit, Objects from the Concentration Camps, with photographer Richard Wiesel, cousin of Holocaust survivor and Nobel Peace Prize winner Elie Wiesel. More information and registration here.
Follow P-22, our majestic mountain lion friend, on Facebook for daily livestreams that include musical performances, interviews with scientists and Griffith Park experts, art activities, and even a little storytime.
Even more at-home ideas:
Remember that if you want updates sent straight to your inbox, you can sign up for the We Like L.A. email newsletter.