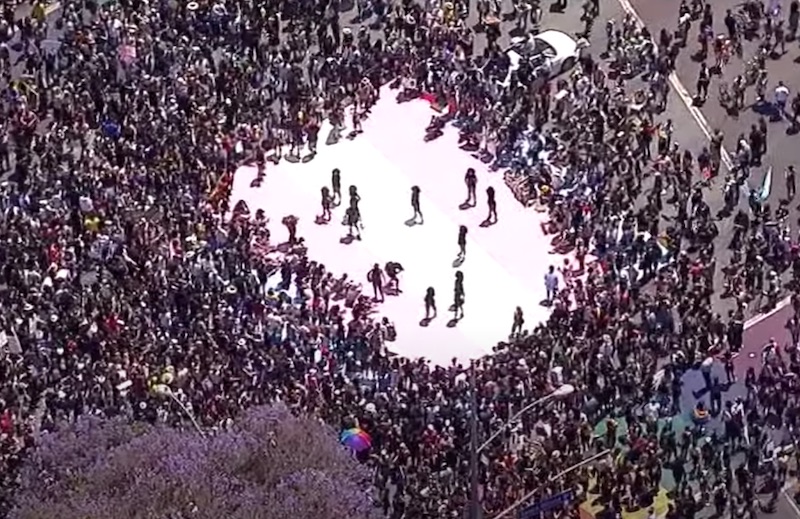 An estimated 40,000 people showed up to the All Black Lives Matter march yesterday in Hollywood, where those same words had been painted down Hollywood Boulevard.
According to organizers Black LGBTQ+ Activists for Change, the protest was "to amplify Black Queer voices and come together in solidarity" and "in direct response to the state-sanctioned violence against Black people, and the murders of #TonyMcDade, #GeorgeFloyd, #BreonnaTaylor, and #AhmaudArbery. It is also about the 601 of our people killed by police in Los Angeles County in the last seven years and hundreds of others killed by White supremacy more broadly, including #SkyYoung, #GemmelMoore and #TimothyDean."
Each of those names represents a Black person whose life was lost too soon. Tony McDade was a Black trans man shot and killed by police in Florida. George Floyd was killed when a Minneapolis police officer knelt on his neck for nearly nine minutes. Breonna Taylor was shot and killed by police as she slept in her Louisville apartment. Ahmaud Arbery was gunned down by a group of white men while jogging in Georgia. Sky Young was a Black, gay man shot and killed by a security guard at a Hollywood Walgreens. Gemmel Moore and Timothy Dean were both found dead of overdoses, at separate times, in the West Hollywood home of Ed Buck, a wealthy, white Democratic donor.
Protestors on Sundays held up signs calling for justice and expressing solidarity as they marched from Hollywood into West Hollywood.

There was a little dancing, too.
L.A. Pride was canceled this year due to COVID-19, but had been scheduled for June 14. Organizers Christopher Street West later announced they'd be putting on a solidarity Black Lives Matter march for racial justice on that date instead. However, BLM said they never endorsed the march and controversy brewed when it surfaced that a representative from Christopher Street West sent a permit letter to the LAPD citing Pride's "strong and unified partnership with law enforcement." The Black Lives Matters demonstrations are protesting, among other things, police brutality. Meanwhile, the LAPD is investigating over 50 allegations of police misconduct, including several involving use of force, during protests over the last few weeks.
CSW ultimately dropped out. Black LGBTQ+ Activists for Change formed and pressed ahead with the event.
The colorful letters—which included the rainbow Pride, transgender, and nonbinary flags—are currently being washed away. According to ABC7, the city will now look to find a permanent home for the mural.
Meanwhile, protests will continue throughout the city today. Attendees are advised to wear masks and practice social distancing when possible. Additionally, L.A. County Public Health has additional advice for anyone who has attended a large event, such as a protest.