Congratulations! You're moving to the city of angels – the place where dreams come true. Eventually. Possibly. Well, maybe there's a little more to it, but if you're willing to work hard and persevere, L.A. can certainly be a great place.
We've all done it – the process of transplanting from somewhere else to here – and we have some words of advice for your move. Here are just a few practical tips to help you get settled in your new neighborhood.
[RELATED: 10 Tips on Moving to Los Angeles Every Future Transplant Needs to Know]
1. Cost Counting
Moving costs money, and here it costs money plus. Our year-round temperate climes create plentiful produce, so you'll save on fruits and veg – but everything else is pretty pricey.
Sales tax alone is 9% – on everything from groceries to used cars. Even vehicles purchased from out of state can be susceptible to the tax rate, depending on how soon you bought one before moving.
Definitely check out fees associated with this and the other points listed below as you consider what it will cost to make the move.
2. Big Pond, Many Fish
The entertainment industry is famous for competition – Hollywood hopefuls vying for jobs and even working unpaid gigs to get credits. Even non-industry work is competitive. There are lots of jobs, but landing one can take awhile, so be prepared for your search to go on longer than it has anywhere else.
The same is true for apartment hunting, finding roommates, shopping on craigslist, and even dating. For every person trying to get something, there are plenty more trying to get the same thing. L.A. has 10 million people (that's more than Sweden) in just 4700 square miles. Competition is fierce.
But so is the deep satisfaction that comes from success.
3. Transportation
The prevailing wisdom holds that L.A. is impossible without a car. But that's not exactly true.
I think it depends on what you want to do and how close you live to the means of getting there. Public transit in L.A. is certainly a unique beast, and the decision to depend on it should not be made lightly.
That said, the possibility of avoiding car concerns like driving, parking, insurance (some of the most expensive in America) and ever-fluctuating gas prices has its attractions.
If you really want to live in L.A. without a vehicle, my advice is to find housing that's easy walking distance from a metro stop. And if at all possible, keep early hours – public transportation gets incrementally skeevier as night progresses.
Also, pepper spray. Even if just for your own peace of mind.
If you do drive, bear in mind that you will make a lot of mistakes. You will confuse your east and west. You will exit the 101 at Highland (which you must never, ever do). You will nonchalantly head down Hollywood Boulevard on a Friday night. So must all who move to such places as this.
But you will learn and ultimately you will come out the other side and be wiser for it.
Lastly, if you're concerned about the mythical horrendous L.A. traffic, here's 6 six things you need to know  about dealing with the daily grind.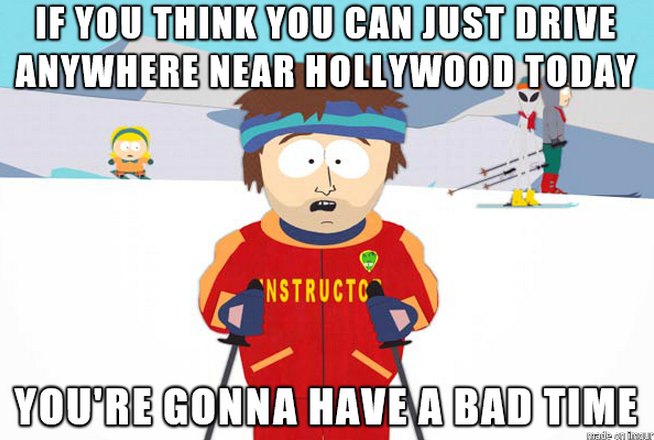 4. The DMV
Everyone loves the DMV! You get to kill a few hours, do some fascinating people watching, and drop a few hundred bucks on something shiny and plastic. It's like a mall.
Speaking of those few hundred bucks, the DMV website has a handy calculator to get an idea of what sort of sticker shock you're in for. Keep in mind you must transfer your vehicle registration to the state of California within 20 days of relocating in order to avoid penalties.
New residents will require at least two trips to the DMV – one to fill out paperwork and take the test, the other to turn in your inspection results and pick up your license plates. In between, you will be required to get a certificate of smog inspection. Lots of local auto shops offer the test, so give one of them a call for rates – usually between $30-40.
5. Other Things About Cars
Read those curb signs very carefully. Parking rules are very specific and often lengthy – for instance, you can park free at a meter in Beverly Hills after 6pm, but not after 2am. Being parked on any street in town between the hours of 2 and 5am without a permit will slam you with a $72 ticket.
Learned that the hard way.
Street cleaning is a regularly scheduled event. If you happen upon a street that has so many parking spots it seems too good to be true, it probably is. The signs that say No Parking on Monday between noon and 2pm really, really mean it.
Finally, if you see a colored curbside and you're wondering if you can park there (and for how long), here's a rundown you should read.
6. House Hunting
There are a number of websites geared toward helping you find a place to live in L.A., so we won't go into that here. A few helpful things to pay attention to when evaluating a place to call home:
Use the right tools to search for your next apartment. Fortunately, we have a handy list we've already developed to get you started.
Parking is a big deal. A big deal. Just to reiterate, Parking In L.A. Is A Big Deal. Depending on the neighborhood, it's not uncommon for apartment dwellers to drive home and spend upwards of forty minutes looking for a parking space. If parking is not included with rent, definitely see about paying extra for a permit or check side streets to get a feel for the curb-to-car ratio. And don't forget to read those signs. Also, if you're commuting to downtown and need some advice, check out this list of tips.
Seeing as L.A. gets about a teaspoon of rain per year, water gets expensive. Make sure you know if any utilities are covered in the rent, as it can have a powerful cumulative effect on your overall cost of living.
It's common for L.A. rentals to come without what one might consider to be standard equipment. Refrigerators, stoves and dishwashers may require an additional cost to rent – or be absent entirely. If you do end up in a situation where you need to buy your own, craigslist is the answer. That's where everyone else who just moved and no longer needs their fridge is selling it cheap.
Air conditioning is not a given. I repeat, air conditioning is not a given.
Dogs – apartment dogs, house dogs, everywhere a dog, dog. There are a few exceptions, but most apartment buildings will not allow dogs over a certain weight – like, 30 pounds. Houses are typically more easygoing about the size of the dog, so you tend to find bigger dogs in neighborhoods with yards and small dogs everywhere else.
7. Valleys and Canyons and Beaches, Oh My!
Surrounded by hills with an ultra flat valley beyond, L.A. weather is divided by "micro-climates" – creating varying temps, levels of humidity and precipitation according to the terrain.
Downtown L.A. is frequently sunny, clear, and no warmer than 90 degrees – but when you get "over the hill" into the San Fernando Valley, the heat rises. The deeper you get, the hotter and drier it becomes – as much as 15 degrees hotter than downtown.
All of L.A.'s beaches are breezy and cooler than the surrounding area, with significantly more humidity – even fog on occasion. Likewise, different parts of the city draw different types of people at different times of year for different reasons.
It's worthwhile to investigate the neighborhoods in which you're interested in living – both by online research and by visiting it in person. Make use of friends and relatives who live or have spent significant time here. L.A. neighborhoods are as unique as the people who live in them, and areas vary wildly as regards convenience, crime, sociability, family friendliness and overall personality.
Also if you're driving a moving truck into town, beware the canyon roads – they can be intense even in a sedan.
 8. Settling In
A few tips for plugging in and getting comfy in your L.A. lifestyle:
Sunscreen. You don't necessarily have to wear it all the time, but it's good to have the option. If you plan to be outside for more than 20 minutes, it's a good idea – even in the car. Also hats.
With 140 cultures and 224 languages represented (according to lacounty.gov), transplants from other countries are welcome. Definitely make use of the appropriate foreign consulates here in L.A. for help navigating your move.
Go out and meet as many people as you can. Utilize connections and referrals from friends and family back home – even if it's a friend of a friend of an old roommate. Meeting people will only help in every other aspect of moving here, from housing to job hunting to having a social life. That's how I got connected with an amazing apartment right before I moved here. Relationships will help cut through the competition and save you a lot of hustle.
Go outside! L.A. is a great place to hike, surf, indulge in any number of fitness activities from CrossFit to yoga… No matter which part of town you end up in, you don't have to go far to find some natural beauty to explore.
The sky is the limit. And well, you've seen how big the sky is.
9. When It's All Said and Done, Relax
Come with a plan, but also know that plenty of people move to L.A. without one. This city is remarkably conducive to couch-surfing and seat-of-your-pants living. With all the uncertainties bound up in work, life and transportation decisions, if you prefer take more of a don't-worry-be-happy approach, you are definitely not alone.
With all its price tags and bewildering street signs, L.A. is an amazing, multi-faceted and eclectic city. If you've left your hometown in search of your tribe, chances are you'll find it here.
Godspeed.
Did you recently move to Los Angeles? Share your experience in the comments below!