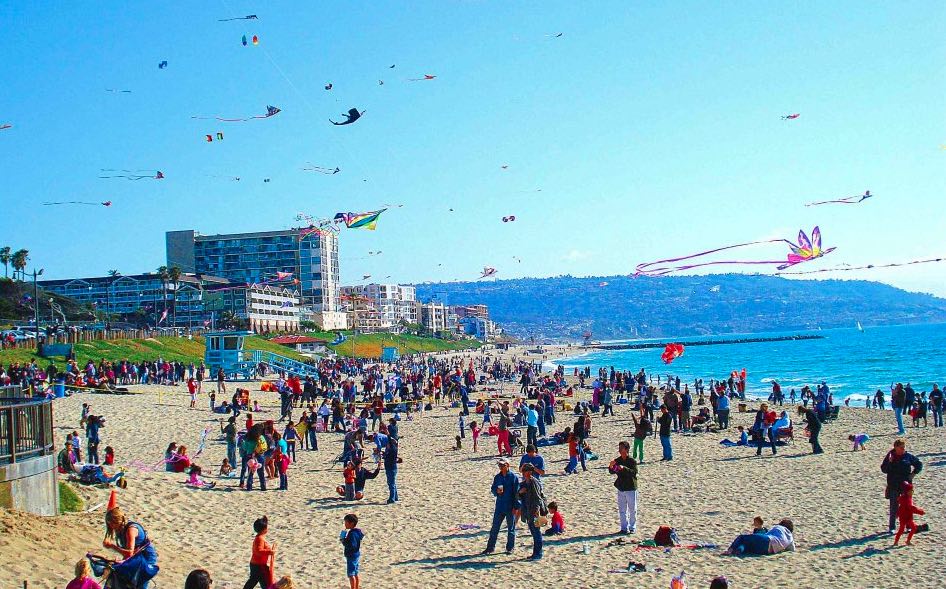 Need stuff to do this month in Los Angeles? We looked ahead on our calendar to focus in on some of the best events happening in March around Los Angeles that you should probably have on your radar. After all, better to get your tickets now than wait till the last minute and find out your favorite event is sold out.
March 2020 event highlights include, ArtNight Pasadena, the Sierra Madre Wistaria Festival, the Redondo Beach Kite Festival, Birriamania, a Vegan Street Fair, and lots more.
Our complete rundown starts after the jump. Enjoy!
---
Keep in mind for some of the ticketing options provided we utilize affiliate links and receive a commission if you purchase through our links (affiliates noted in parenthesis), however we retain complete editorial control of our content.
---
1. The Wizard's Den Pop-Up Bar (all March)
The Wizard's Den is an immersive pop-up where aspiring spell casters can concoct their own magical potions (aka cocktails) donning wizard's robes and using a variety of witchy props and ingredients. The pop-up opened Feb. 26 and runs on various dates through April 5. -> More information
2. Super Tuesday Bash 2020 at The Hammer (March 3)
Raise a glass to democracy alongside political junkies when you catch the Super Tuesday election results at The Hammer museum on March 3, 2020. -> More information
3. First Fridays at Natural History Museum Los Angeles (March 6)
Natural History Museum's First Fridays offer after-hours access to Museum Galleries combined with themed discussions, live performances, DJ sets, and on-hand food trucks. For the 2020 season the four-month series has a brand new theme: The Future is Now, with each Friday event featuring a unique discussion focused on the intersection of technology, science and culture. -> More information
4. Los Angeles Marathon Health & Fitness Expo (March 6-7)
The Los Angeles Marathon is sold out you can still check out he Health & Fitness Expo that's free and open to the public March 6-7, 2020. Taking place at the L.A. Convention Center, over 120 exhibitors will be there featuring the latest designs in running gear and shoes, as well as the latest products in sports, fitness, and nutrition. -> More information
5. Holi Festival of Colors (March 7-8)
The Holi Festival of Colors bills itself as the "World's Happiest Transformation Event." So what does that mean? Picture a massive celebration featuring mantra bands, DJ's, interactive Bollywood and Bhangra, a Yoga Melt Down, colors, cuisine, crafts, and plenty of free hugs. -> More information
6. 46th Annual Redondo Beach Kite Festival (March 8)
The 46th Annual Redondo Beach Kite Festival returns to the Redondo Pier on March 8 for one of the longest-running kite festivals in the United States. -> More information
7. PaleyFest LA (March 13-22)
PaleyFest returns to the Dolby Theatre March 13-22 for its 10-day television festival featuring some of the stars and creators from your favorite TV shows. -> More information
8. ArtNight Pasadena (March 13)
ArtNight Pasadena returns on March 13 for a free evening of art, music and entertainment at the city's most prominent arts and cultural institutions. The list of participating sites and institutions for 2020 includes Armory Center for the Arts, The Gamble House, Kidspace, Norton Simon Museum, the Pasadena Museum of History and more. -> More information
9. L.A. Nature Fest at Natural History Museum (March 14-15)
L.A. Nature Fest returns to the Natural History Museum L.A. (NHMLA) on March 14-15 for a special two-day festival with some of our coolest and wildest animal neighbors. Nature Fest takes place in the Nature Gardens, the outdoor space where museum scientists do their research and educators share some of nature's interesting stories. Guests can talk face-to-face with experts, meet animals up close, and check out 35 exhibitors on hand. -> More information
10. Queen Mary's Shamrock 'n' Roll (March 14)
Celebrate St. Patrick's Day onboard of The Queen Mary during Shamrock 'N' Roll March 14 with live bands, Irish fare, pints, and more. -> More information
11. KLOS Presents: Flogging Molly St. Patrick's Day Block Party (March 17)
KLOS 95.5 presents Flogging Molly St. Patrick's Day Block Party at the Hollywood Palladium on March 17. The free pre-show block party includes all kinds of fun activities including food, live bands, live entertainment and more. Entry to the block party is free with an RSVP. If you would like to attend the Flogging Molly concert that follows the block party, a valid concert ticket is required for entry. This is a 21+ event. -> More information
12. 8th Annual Claremont Pie Festival (March 21)
The 8th Annual Claremont Pie Festival returns on March 21 in Claremont Village with boatload of family fun and tasty pastries for all to enjoy. Activities for the day will include a pie baking contest, bakers and makers demonstrations, artisan vendor booths, food booths, a classic car show, Live music, a pie Eating Contest, a pie Walk (formerly known as passport), and a pie tasting buffet. -> More information
13. 14th Annual Airport Artwalk (March 21)
On Saturday, March 21 head to the westside for The 14th Annual Airport ArtWalk, a showcase of artist studios and multiple creative venues set up within converted airplane hangars at the Santa Monica Airport. Attendees can expect art and ceramic demonstrations, art and theater workshops, plus live music and food trucks on hand with bites for purchase. -> More information
14. West Covina Cherry Blossom Festival (March 21)
The 2020 West Covina Cherry Blossom Festival returns to the West Covina Civic Center on March 21 for a spring afternoon of family-friendly activities. Guests can experience taiko drumming, craft vendors, martial arts, traditional dancing, games and food for purchase. -> More information
15. L.A. TACO: Birriamani (March 21)
L.A. Taco and Santa Anita Park are teaming up to celebrate the best birria taco vendors in Los Angeles on March 21 in an event they're dubbing Birriamania. The day of tastings and horse racing action will feature a variety of regional styles including Zacatecas, Tijuana, Michoacán, Jalisco, and more. Among the vendors for the event are Teddy's Red Tacos, L.A. Birria, Birrieria Gonzalez, The Goat Mafia, Tacos y Birria La Unica, El Tijuanazo, and more. -> More information
16. Vegan Street Fair Los Angeles (March 21-22)
The sixth annual Vegan Street Fair Los Angeles returns to North Hollywood March 21 – 22 with a massive array of vegan-friendly vendors. It's free to enter the fair and delicious bite-size portions of plant-based eats will be available for $4 or less. The Vegan Street Fair takes place from 11 a.m – 7 p.m on both Saturday and Sunday on Chandler Avenue between Tujunga and Vineland. -> More information
17. Sierra Madre Wistaria Festival (March 22)
The 2020 Wistaria Festival returns to Sierra Madre on Sunday March 22 for an up-close at "The World's Largest Blossoming Plant. Activities throughout the day include tours of the Guinness Book certified World's Largest Blossoming Plant, over 100 arts, crafts and vendor booths, food and live music. -> More information
18. Sweet and Salty: A Conversation with Asian American Women Chefs (March 24)
On March 24 the USC Asian Pacific Museum in collaboration with USC Visions and Voices will host a special food panel comprised of L.A.-based chefs Cecilia Leung, Isa Fabro, and Sonoko Sakai. Journalist Jean Trinh will moderate a discussion on cross-cultural aspects of culinary culture, and the impact of cooking on identity and memory. The free event will be followed by a special reception featuring tasting stations from each chef. -> More information
19. NHM Presents Fright Nights: The Science Behind Scary Movies (March 26)
NHM's recent exhibition, Natural History of Horror will host an evening exploring the classic 1931 horror film, Frankenstein on March 26, 2020. Guests will get access to the exhibition viewing rare museum collection displays. In addition there will be a special effects makeup demo, a hands-on workshop and a special performance. A pre-film conversation will also take place before guests sit down in the museum's historic mammal halls for a 70-minute film screening. -> More information
20. 8th annual ¡Latin Food Fest! (March 27-28)
The 8th annual ¡Latin Food Fest! returns to L.A. State Historic Park on March 27 – 28 for two days of celebrating Hispanic culinary excellence. March 27 kicks things off with Latin Spirits Fest an evening food and cocktail party with musical performances and other entertainment. The Gran Tasting on March 28 features cooking and cocktail demos, food samples, wine, beer, spirits and music performances. -> More information
21. LA Plaza de Cultura y Artes Celebrates César Chávez Day (March 29)
Celebrate the life and legacy of labor rights leader and activist César Chavez through an afternoon of family-friendly activities at La Plaza de Cultura y Artes on Sunday, March 29. César Chavez Family Day will include art, garden, culinary and LA Troka workshops, a presentation by the Cesar Chavez Foundation, dancing by Xipe Totec Aztec Dancers, music by Lorenzo y Los Carnales. Food from Mamas Tamales and Tacos Too available for sale. -> More information
---
Be sure to check the We Like L.A. Events Calendar for updates on fun things happening around the city throughout March. You can also sign up for our daily/weekly newsletter if you want events sent straight to your inbox.