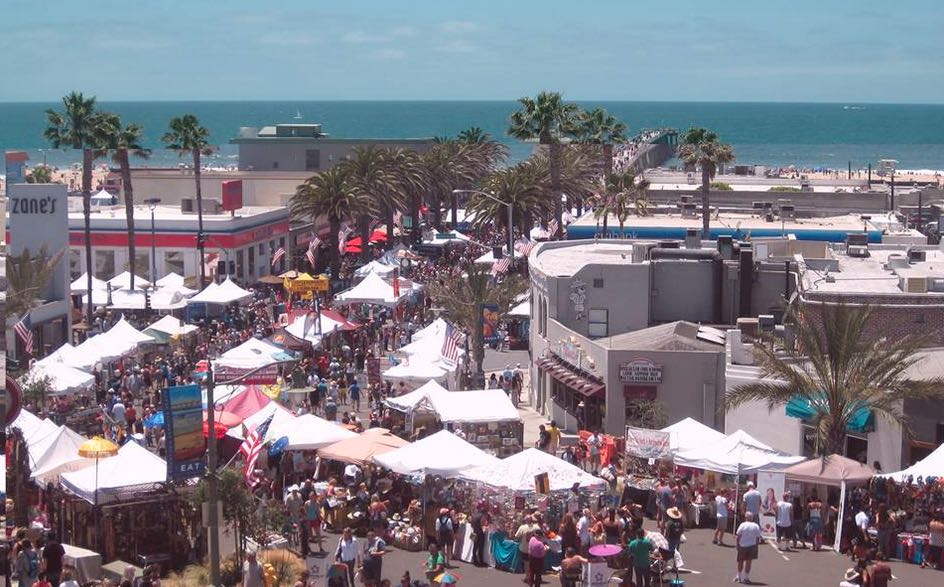 Need stuff to do this month in Los Angeles? We looked ahead on our calendar to focus in on some of the best events happening in May around Los Angeles that you should probably have on your radar. After all, better to get your tickets now than wait till the last minute and find out your favorite event is sold out.
May 2019 event highlights include Free Comic Book Day, Fiesta Hermosa, , L.A. Times Food Bowl Night Market, the L.A. Zine Fest, Taco Madness a Bug Fair at NHM, , and much more.
Our complete rundown starts after the jump. Enjoy!
GIVEAWAY NOTE: We're giving away two tickets to Tom Gun LIVE! (two performances in May). You can enter the giveaway for FREE via this Instagram post. Entry ends May 2!
---
Keep in mind for some of the ticketing options provided we utilize affiliate links and receive a commission if you purchase through our links (affiliates noted in parenthesis), however we retain complete editorial control of our content.
---
1. Union Station's 80th Anniversary (May 3-4)
Union Station is celebrating its 80th Anniversary with a two-day (May 3-4) community celebration. There will be live music in the the regal Waiting Room, a Living Gallery highlighting the past, a market place with local vendors, food and drink plus a special 80th anniversary menu. -> More information
2. L.A. LIVE Block Party (May 3 & May 10)
Friday Night Block Party at L.A. LIVE presented by Absolut features 20+ pop-up shops, live art and street performers and select $5 food and drink menus at participating L.A. LIVE restaurants. The event will take place the first two Fridays in May. -> More information
3. 10th Annual Taco Madness (May 4)
LA TACO and I LOVE MICHELADAS presents the 10th annual Taco Madness celebration at LA Plaza de Cultura y Artes in Downtown Los Angeles. Savor the city's best tacos, listen to great music and drink micheladas all day long. Admission into the event is free. -> More information
4. Free Comic Book Day (May 4)
Free Comic Book Day returns this year for an international comic book celebration during which comic book shops give away free comic books to anyone who visits their shops. -> More information
5. Concerts in the Dome (starting May 5)
Mount Wilson Observatory launches its third season of special concerts inside its historic 100-inch telescope dome at Concert in the Dome. There will be two musical performances: one at 3 p.m. and the other at 5 p.m. A reception for the artists will follow each performance. -> More information
6. L.A. Times Food Bowl Night Market (May 8-12)
L.A. Times Food Bowl Night Market comes to Grand Park May 8 – 12 for an outdoor celebration of Los Angeles' deliciously diverse food scene. Each of the five nights features an array of food vendors, pop-ups, chef collaborations, art installations and live music all in one space. -> More information
7. Dandelions Pop-Up Installation (May 8-12)
The formerly anonymous art collective now known as The Art Department first captured Angelenos attention when they created the Griffith Park Teahouse in 2015. Now they're back again with a new installation called Dandelions, which promises surreal factory of flowers somewhere south of Downtown L.A. (details are intentionally vague). The installation will be free to the public, but a number of free tickets will be available for reservation starting on May 3. -> More information
8. Unique Markets Spring Pop-Up (May 11-12)
Unique Markets Spring Pop-Up comes to the California Market Center May 11 – 12 for a curated shopping experience. This pop-up features one-of-a-kind gifts from modern, independent designers, artists, and emerging brands. Aside from shopping, Unique Markets offers two afternoons of fun music, free bites, drinks, DIY projects, and a photo booth. -> More information
9. Queen Mary Summer Movie Series (starts May 16)
This summer the Queen Mary is hosting a monthly summer movie screening series on the lawn adjacent to the historic ship. Films will be screened monthly, with the series kicking off on May 16 with Mamma Mia! Admission is free, but parking will cost $10 per vehicle. -> More information
10. Museums of the Arroyo Day (May 18)
Museums of the Arroyo (MOTA) Day returns on May 19 for its 30th anniversary celebration that gathers thousands of Angelenos for a day full of exquisite architecture, historical discoveries, entertainment, and family fun centered on the arts-driven neighborhoods of the Arroyo Seco area. Attendees can explore six local museums all for free as part of this annual event. The six museums and historical homes participating in MOTA are the Gamble House, Heritage Square Museum, The Los Angeles Police Museum, The Lummis Home, and the Pasadena Museum of History. -> More information.
11. Filipino Garage Party (May 18)
Filipino Garage Party comes to the Rooftop at The Standard in Downtown L.A. on May 18 for the ultimate potluck-style celebration of Filipino food and culture. Inspired by the "garage parties" Angela Dimayuga, Creative Director of Food and Culture at Standard International, hosted with her family in the 1990s, this party boasts some of the best Filipino chefs serving up all kinds of delicious plates. This event is part of the L.A. Times Food Bowl series. -> More information
12. Bob Baker Marionette Garden Party (May 18)
One Colorado in Old Pasadena will host a Garden Party Benefit for Bob Baker Marionette Theater to raise funds for the theater's upcoming move to Highland Park. There will be three ticketed performances for the day, one at 10 a.m., noon, and 2 p.m. The event also features a raffle, puppet-making activities, and a selfie station. -> More information
13. Spring Los Angeles Oddities Flea Market (May 18-19)
Spring Los Angeles Oddities Flea Market returns to the Globe Theatre in Downtown L.A. May 18 – 19 for a shopping experience featuring three floors of curated vendors. -> More information
14. Downtown Burbank Arts Festival 2019 (May 18-19)
Downtown Burbank Arts Festival 2019 returns May 18 – 19 for its 16th year. Organized by the Downtown Burbank Partnership in collaboration with Jackalope Arts and The Creative Talent Network, this two-day outdoor festival will feature 200 artists, famous Disney animators, interactive experiences, special appearances, and much more. -> More information
15. Natural History Museum's Bug Fair (May 18-19)
The Natural History Museum hosts its Bug Fair May 18 – 19 for an annual weekend focused on our bug-eyed friends. Highlights include exotic insect collections such as millipedes and centipedes, bug-inspired artwork and jewelry, buggy crafts, live animal demonstrations, and bug-related products such as honey and silk. And just in case you get hungry, bug chefs will be crafting protein-filled snacks as well. -> More information
16. ARTsea 2019 in Marina Del Rey (May 18-19)
Marina Del Rey's annual party on the beach returns with an impressive assortment of live performances, interactive workshops, food trucks, and art pop-ups, all over the weekend of May 18-19. Free to attend! -> More information
17. A Tutta Pizza: L.A.'s Pizza Fest (May 19)
A Tutta Pizza comes to the Hollywood Palladium on May 19 for an all-you-can-eat slices and styles from New York to Chicago, and Roman to Neapolitan. In addition to copious amounts of pizza, highlights include panels and Q&As, cooking demos, and culinary workshops. -> More information
18. The 3rd Annual Flavor of LA (May 19)
The 3rd Annual Flavor of LA returns May 19 for an afternoon of gourmet food and tasty libations at the iconic CBS Studio Center Back Lot. Taking place from 1 to 5 p.m., Flavor of LA will offer unlimited food samples from some of L.A.'s best restaurants, as well as craft beers, wines and cocktails. Participating eateries include Barrel & Ashes, Babe Rose, Los Angeles Loves & Waffles, Baklavalicious, Boneyard Bistro, The Bellwether, Pie Hole, Tekila, and more. -> More information
19. The 8th Annual Taste of Boyle Heights (May 23)
The 8th Annual Taste of Boyle Heights returns on May 23 for a tasty time full of the culture, power, and flavors of the Eastside. Located at Casa Del Mexicano in East L.A., the yearly community fundraiser for the East LA Community Corporation features cuisine and live music from local East L.A. establishments, vendors and more. -> More information
20. RuPaul's DragCon Los Angeles (May 24-26)
RuPaul's DragCon Los Angeles 2019 comes to the Los Angeles Convention Center May 24 – 26 for three days of art, pop culture, and all things drag. RuPaul's DragCon features panels, photo ops, meet and greets, shopping, and much more. -> More information
21. 46th Annual Topanga Days Country Fair From (May 25-27)
The 46th annual Topanga Days Country Fair returns May 25 – 27 for its iconic, bohemian fundraiser in the Santa Monica Mountains. Sponsored by the Topanga Community Club (TCC), this family-friendly three-day festival includes musical acts on two stages, old school contests and games, a Fun Zone, local artisans, craft vendors, food and the annual Memorial Day parade. -> More information
22. Fiesta Hermosa is Back (May 25-27)
Fiesta Hermosa, a FREE annual event, will feature local vendors, 18 different food offerings, beer gardens, games and live music in Downtown Hermosa Beach. -> More information
23. L.A. Zine Fest (May 26)
The 8th annual L.A. Zine Fest comes to Helms Bakery in Culver City with over 200 zinesters in attendance plus activities including readings, talks, workshops, and zine libraries. Free to attend! -> More information
24. The Whisky Extravaganza (May 31)
The Whisky Extravaganza: Los Angeles comes to City Market Social House on May 31 for an indulgent evening of whisky tasting. From 7:30 to 10 p.m., attendees can sample over 100 of the world's best whiskies, sip on craft cocktails, and sample whisky inspired bites all evening. There will also be masterclasses curated by industry experts from 6:30 to 7:30 p.m. -> More information
25. Skirball Presents: Late Night! Pride in Fashion (May 31)
On May 31 Skirball Cultural Center is putting on a late-night celebration of the exhibitions Fearless Fashion: Rudi Gernreich and Black Is Beautiful: The Photography of Kwame Brathwaite. The evening will include after-hours access to the galleries, a set by Hello DJ, food trucks, a cash bar, and more. -> More information
---
Be sure to check the We Like L.A. Events Calendar for updates on fun things happening around the city throughout May. You can also sign up for our daily/weekly newsletter if you want events sent straight to your inbox.