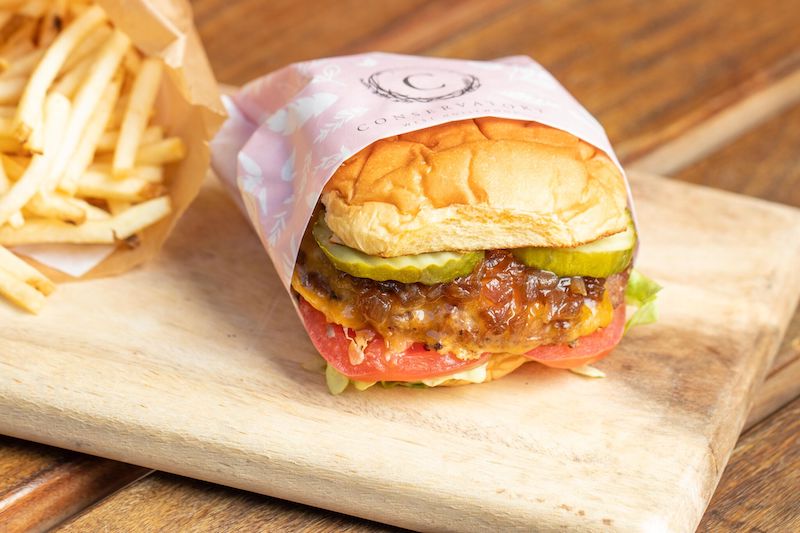 For many people who work in restaurants, bars, and hotels, these are scary times. Hospitality workers are mostly out of work as these venues have shut down due to COVID-19. Plus, they frequently don't have the same safety nets that salaried employees do. To help, many restaurants are offering free meals and other deals to their fellow industry workers, which we've compiled in the following list. To see freebies for frontline workers, check out our list here.
Hail Mary Pizza in Atwater Village offers complimentary pizzas Tuesdays through Sundays from noon to 3 p.m. On select dates announced through their Instagram, they'll also have free produce bags on a first-come, first-served basis.
The Conservatory in West Hollywood is offering a free burger and fries to the first 100 industry workers every Friday. First-come, first-served. Just show your last pay stub and your ID.
The group Inclusive Action for The City is raising money for out-of-work street food vendors through the Street Vendor Emergency Fund, providing $400 in cash to vendors who cannot access government assistance. Call (323) 388-3724 for more information.
When we wrote about Employees Only back in 2018, we called it a "bartender's bar." Now, in the midst of a global pandemic, the West Hollywood cocktail hotspot is still putting industry folks first. Since March 20, they've been serving 100 meals daily between 5-8 p.m. to those who've recently worked at a restaurant, bar, hotel or hospital. Meals are first-come, first-served. Just show up, present your ID and proof of employment, and you can get up to two meals per person. If you'd like to donate to keep this program going, you can do so here. Recently, they were able to send free meals to Cedar Sinai in Marina Del Rey.
Nonprofit Restaurant Opportunities Centers United is offering direct aid to laid-off restaurant workers. Get more information and apply for assistance here.
Thanks to donations from the Lee Initiative, Makers Mark, actress Busy Phillips, and others, Framily Meal is giving out free meals-for-two and other essential items to out-of-work hospitality workers. Available for first-come, first-served pickup at Sqirl between 4-7 p.m. Note that pickup is two doors down from the restaurant's main doors.
Thunderbolt is giving away a limited number of free meals to out-of-work hospitality employees. You can sign up daily using this form. They only ask that you limit it to one free meal per week so that someone else has a chance to enjoy one.
Here and Now in downtown L.A.'s Arts District is offering free meals on select days to bar and food industry folks who have been affected by the global crisis. They're doing this through the support of alcohol brands like Pernod Ricard and Mulholland Distillery. Follow Here and Now on Instagram to find out about the next meal offer.
USBG Southern California Chapter has set up Project Corner Store in several neighborhoods including The Ordinarie in Long Beach to distribute weekly relief packages to hospitality workers. Sign up for relief here.
Va'La Hospitality in Boyle Heights created No Us Without You to raise funds to provide food security to undocumented restaurant workers. Contact them directly for assistance.
Chef Royce Burke's pop-up Secret Lasagna is working on helping the hospitality community, one meal at a time. He is already hiring cooks who lost their jobs during the pandemic. And, for each entree the public orders, Secret Lasagna will donate a family-sized order of their signature dish to an industry family in need in partnership with No Us Without You.
Food LA is offering free lunch to out-of-work hospitality workers. DM the cafe on Instagram to request a free meal or to donate one.
One Fair Wage Emergency Fund is giving out temporary cash gifts to service workers struggling during the pandemic.
Xperience Restaurant Group (El Torito, Las Brisas in Laguna Beach, SOL Cocina, Acapulco, Chevys, and more) is providing free kids meal packages to children 12 and under, no purchase necessary.
The United States Bartender's Guild is offering grants to laid-off bartenders and their family members. You do not have to be a USBG member to apply.
Little Tokyo's Community Feeding Community Program distributes meals to those whose livelihoods have been impacted by the pandemic on Saturdays between 5-7 p.m. while supplies last at Cafe Dulce. Meals are served on a first-come, first-served basis. More info, including how to volunteer or donate, can be found here.
Kings Hawaiian Bakery locations (both are in Torrance) will offer an "Aloha 50%" discount for all community workers until April 30. The discount applies to people in the hospitality, police, hospital, and grocery industries.
Eve Bottle Shop in Echo Park is currently operating as Bodega Avalon, offering wine, beer, prepared food, and pantry items for pickup or delivery. Shoppers can also donate any amount they choose to go towards subsidizing meals for laid-off hospitality workers.
National Restaurant Association has a free digital Pharmacy Discount Card that can save you up to 75% off FDA-approved prescription medicine.
Another Round, Another Rally Fund is offering $500 relief grants for hospitality workers who lost their jobs or had their hours slashed during the pandemic.
CORE is giving support to eligible food and beverage service employees who have been required to quarantine because a family member in the same home has been diagnosed with COVID-19.