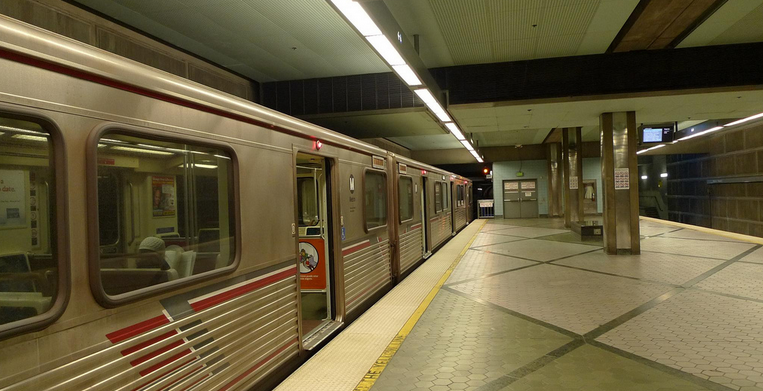 The Los Angeles County Metropolitan Transportation Authority (MTA) Board of Directors voted this week to move towards reducing the cost of rider passes once normal boarding and service returns. Ridership is currently down considerably due to the COVID-19 pandemic and service has been reduced as a result, but Metro still serves about 400,000 people each week.
Right now, it costs $7 for a Metro day-pass, $25 for a 7-day pass, and $100 for a 30-day pass. The proposed fare structure would chop all of those fees in half, CBS LA reports. Metro isn't currently enforcing fares, Streetsblog LA reports, because it's mandated rear-boarding on buses to protect its drivers from COVID-19. So, the fare reductions would only come into play after normal service returns and would last for at least six months from that point.
According to the motion, of 81 U.S. transit agencies serving metro areas, Metro's 30-day pass has the highest break-even cost of them all.
Consider the following: Transfers are included in your first tap, as long as they're within two hours. So, the typical Metro commuter might spend $3.50 per day—$1.75 to get to work and $1.75 to get home. (There are discounts available for some groups, including students and seniors, but we're just talking general fare.)
There are 21 weekdays this month, meaning $73.50 in commuter costs, assuming you worked Monday through Friday. That's $26.50 less than if you bought a 30-day pass, meaning you'd have to take an additional 15 rides just to break even. The motion also noted that the $100 cost is a "significant sacrifice out of reach for most families in need."
Metro will present a report to the Board in 30 days with recommendations regarding the fare decrease. The motion also:
Asks Metro to develop a marketing plan to let riders know about the pass reductions and how to take advantage of them by using TAP cards. (Paying in cash would not allow riders to do so, as they'd be paying for each individual ride.)
Calls for similar cost reductions on Regional EZ Passes.
Asks for a report on a fare capping/best fare system that would allow a rider to use a pass without having to shoulder the cost upfront. 
Asks for a report from Metro within 120 days of the reduced fares detailing pass sales and ways they might permanently reduce costs.