The following is a sponsored collaboration between San Bernardino County and We Like L.A.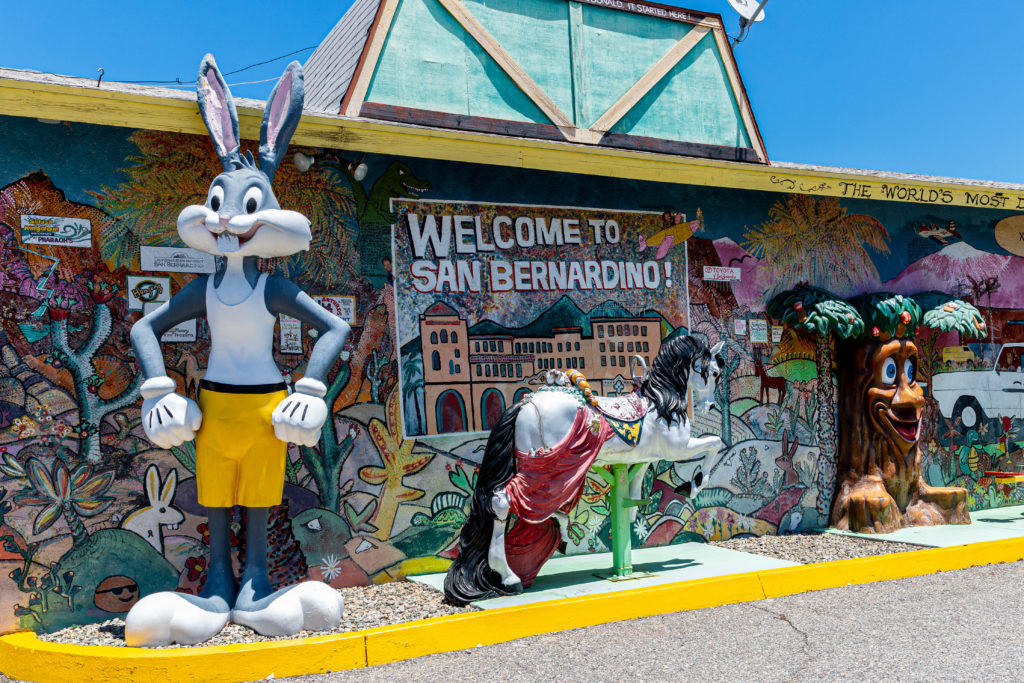 Over the past several months we've visited San Bernardino County more than a half dozen times as part of an ongoing content partnership with the County's visitors bureau. We've tackled the San Bernardino mountains, roamed the desert landscape of 29 Palms and Joshua Tree, and explored the communities of the greater Morongo Basin. In this final installment of our series we checked out some of the urban centers of SBC, including Ontario, Redlands, San Bernardino, Rancho Cucamonga, and Fontana.
During our adventures we went go karting for the first time, did 120 mph hot laps around a Nascar track, found an iconic Instagram alley, went down the annals of fast food history, stopped by the local Indian casino, and shopped and thrifted to our heart's content.
Below is a rundown of some of our favorite experiences from the trip, a selection of great food options in the area, plus a few helpful reminders to wrap it up.
Getting There
A drive from Northeast Los Angeles to Ontario is a straight shot on the 10 freeway, and our drive clocked in at about 45 minutes during rush hour on a weekday morning. Going against traffic is a big help.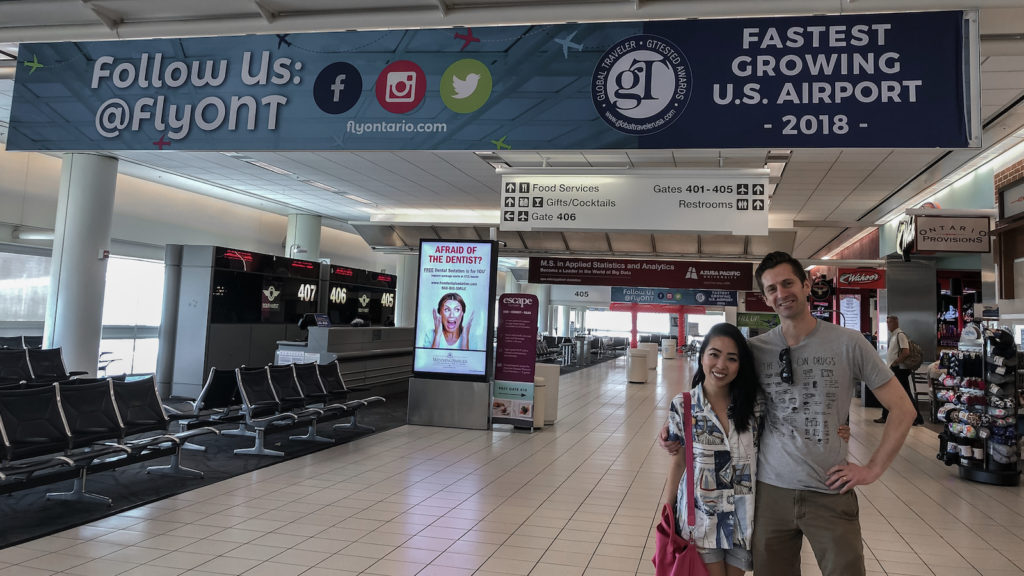 One point on the quick trip: With the Ontario International Airport literally just down the street from where we stayed, it got us thinking about what actually is the closest airport to us based on drive time. For residents of the San Gabriel Valley or many other parts of eastern Los Angeles county, ONT is quicker to get to compared to LAX and fairly seamless in terms of getting in and out.
With that said, let's get on to our trip!
Home Base
Just like L.A., the sprawl of SBC is real, and if you're going to be checking out a number of different communities / areas (as we were) then it pays to stay in a location with good access to everything.
The Residence Inn by Marriott in Ontario Rancho Cucamonga is centrally located in the San Bernardino County giving explorers a convenient home base to unwind in. Designed as an extended-stay hotel there's complimentary Wi-Fi, in-suite fully equipped kitchens, a gym and Smart TVs. A free breakfast buffet is provided every morning as well. → More information
Things to Do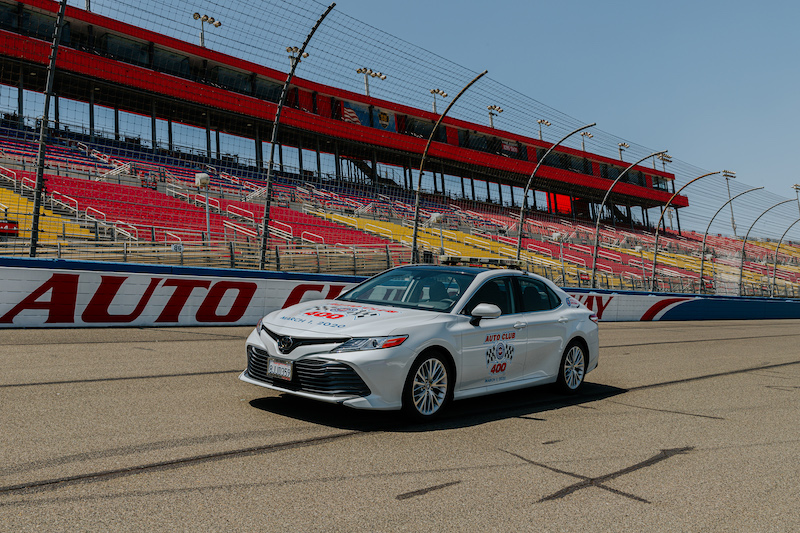 Auto Club Speedway (Fontana)
Until you actually visit the Auto Club Speedway you'll probably underestimate the sheer scope and size of the grounds. There's the 2-mile oval track, the 68,000 capacity grandstand, the massive infield, a 3/4 of a mile CalSpeed Karting track, an R/C racing track, a 1/4 mile drag racing strip, and even a Metro Link Station on site. It is, in a word, huge.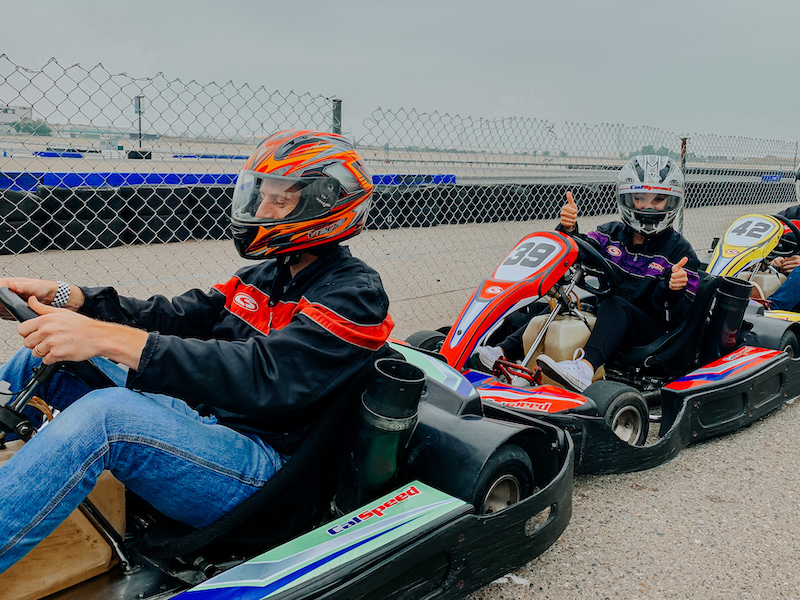 The Speedway is probably best known for the annual NASCAR race (The Auto Club 400), but there are many other events held there throughout the year, including a racing school program that let's you learn how to drive exotic cars plus Lefty's Track Day where the public can bring their own cars on to the track.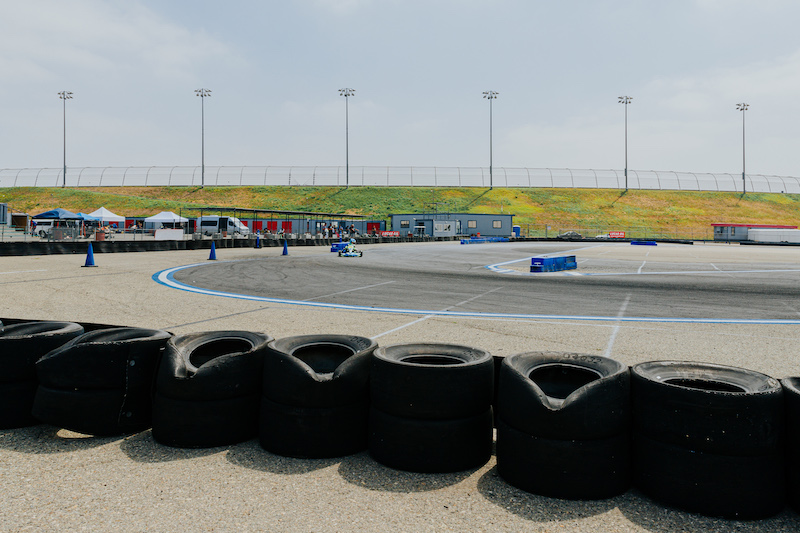 As far as the karting goes, it was an absolute blast. Even us noobs (never been go karting before) picked it up very quickly. A $125 rental gets you 3 12-minute sessions on the track along with instruction. By the time you're on your second go-around you'll feel pretty comfortable behind the wheel. -> More information
San Bernardino Museum (Redlands)
If you want to learn about why the Inland Empire was once known as the 'Orange Empire' then this is the place to do it. The SBC Museum has just opened a 'Pulp Culture' exhibit detailing the storied past. Plus, you can check out the halls of earth science and biodiversity where you can spot a life-size mastodon replica.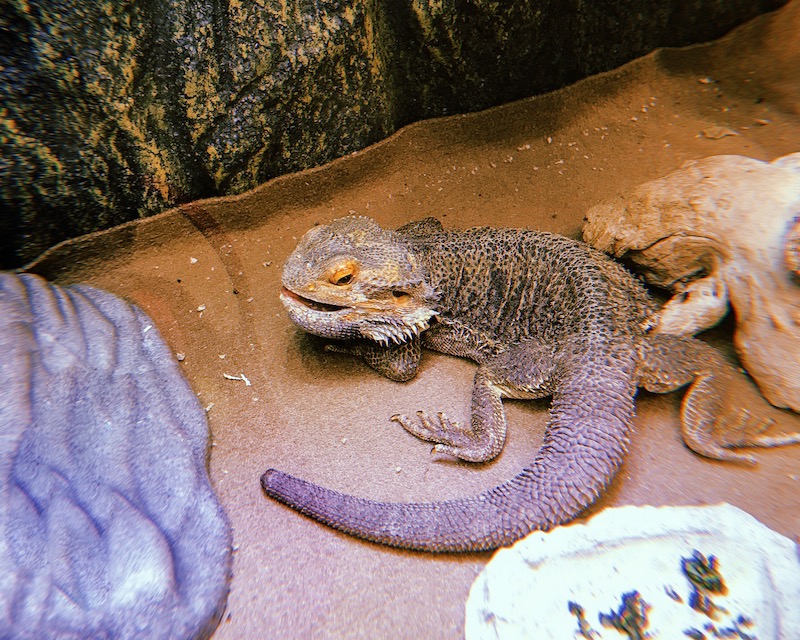 Additionally, there is an Exploration Station open at select times throughout the week where guests can meet and interact with live animals (rabbits, turtles, etc…) and ask questions to the expert staff. This is a great stop for kids and families. -> More information
Ontario Mills (Ontario)
Go on a shopping spree at the largest outlet and value-retail destination in the entire state of California. There are over 200 stores that range from luxury brands to household names, like Nike Factory, Old Navy Outlet, Tommy Hilfiger and Skechers Superstore. Fun fact, as a top shopping and tourist destination, Ontario Mills racks up 28 million annual visitors, which is more than Disneyland! The mall also includes multiple restaurants and a movie theatre. → More information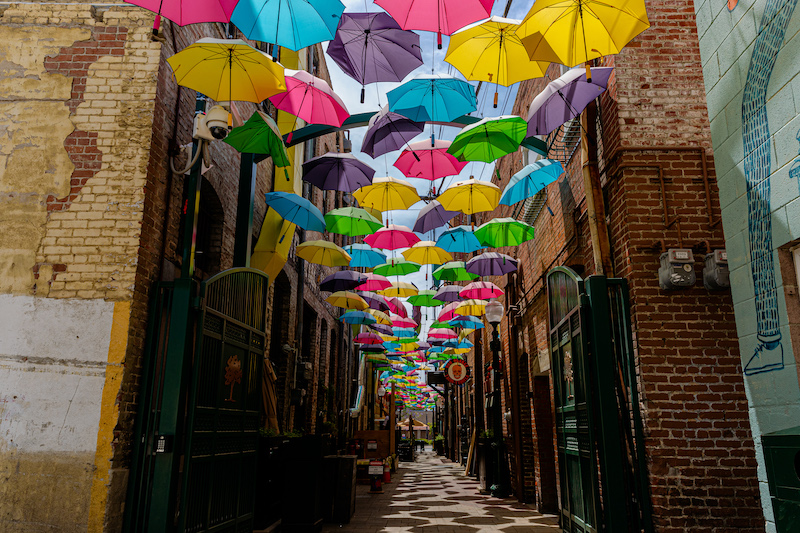 Downtown Redlands
Redlands charming downtown area has gone through some major improvements over the past few years. We found it to be highly walkable with an array of shops and delicious eateries (more on that below). And of course you won't want to miss the Insta-worthy umbrella installation that blankets Orange Street Alley.
On the Antiques front we suggest you take a walk through the Redlands Galleria, a vast multistory antique spot that carries mid century furniture, 1950's hats, 70's fashion, houseware, art and so much more. Service is friendly and all sections are well kept.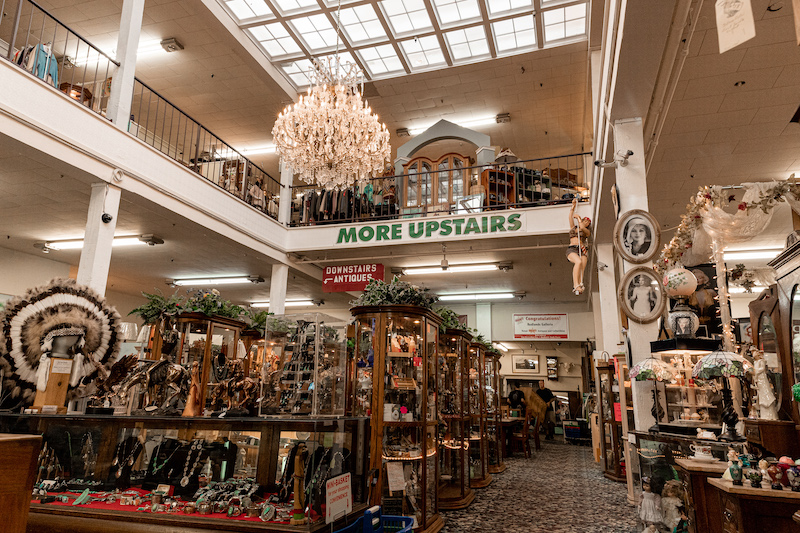 If you happen to be in town on a Thursday you can check out the weekly night market and the keep in mind the Redlands Bowl offers free public concerts on select dates through the summer.
Kimberly Crest House Tour (Redlands)
Kimberly Crest House and Gardens is a historic French château-style Victorian mansion located in Redlands. The 1897 property is a registered California Historical Landmark and is listed on the National Register of Historic Places. Public garden tours are offered Thursdays, Fridays and Sundays from 1 to 4 p.m. -> More information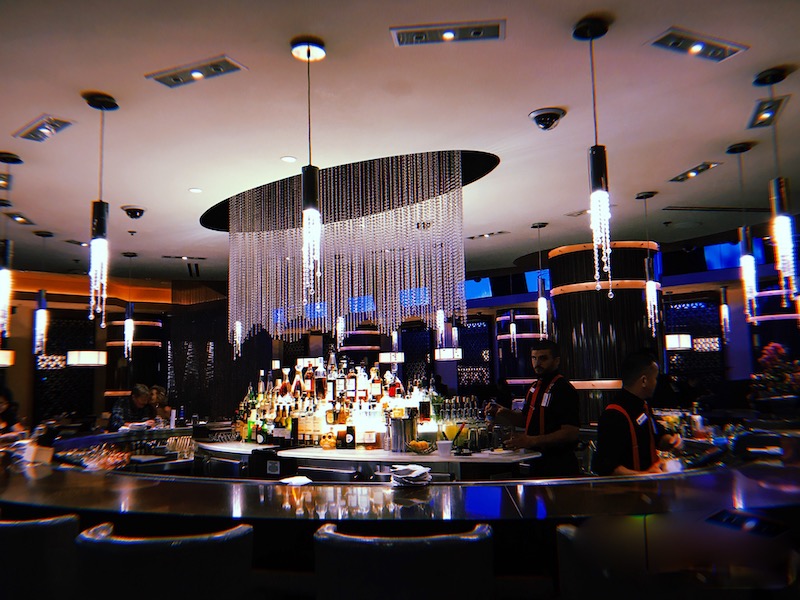 San Manuel Casino
If you are looking for some exciting entertainment you'll find it at San Manuel Casino, which boasts the biggest selection of slot machines on the west coast. Check out some craft beers at Rock & Brews, cut into a steak at The Pines Modern Steakhouse and live like a high roller at the newly open and exclusive The Vault Gaming & Provision. -> More information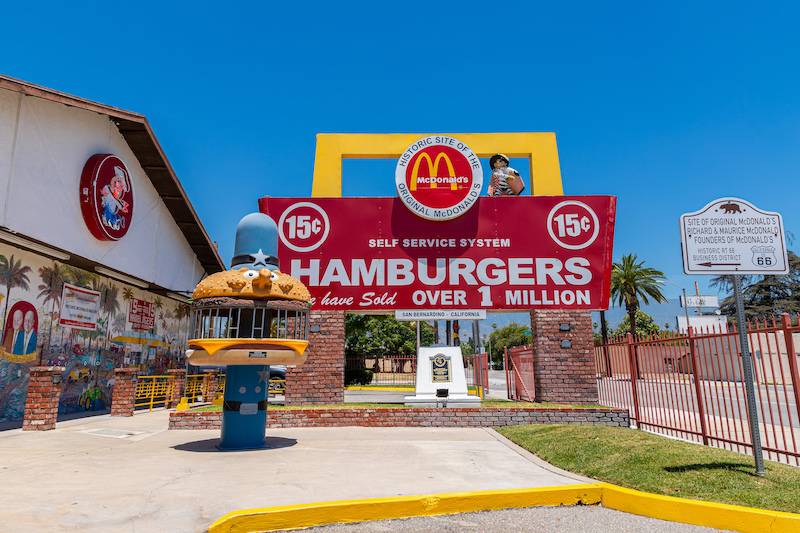 Historic site of the Original McDonald's Museum (San Bernardino)
The very first McDonald's restaurant was opened by Richard and Maurice McDonald in San Bernardino, California in 1940. As related in the film The Founder Ray Croc eventually bought the franchise from the brothers and this original San Bernardino location was closed down. In the 1998 the long-vacant property was purchased by Albert Okura (aka 'The Chicken Man' and owner of the Juan Pollo restaurant chain). Okura spilt the interior into two parts: A small partitioned section would comprise the corporate offices for Juan Pollo and the rest of the space would be dedicated to McDonald's history. As far as we can tell, it now has the biggest collection of McDonald's memorabilia in the world.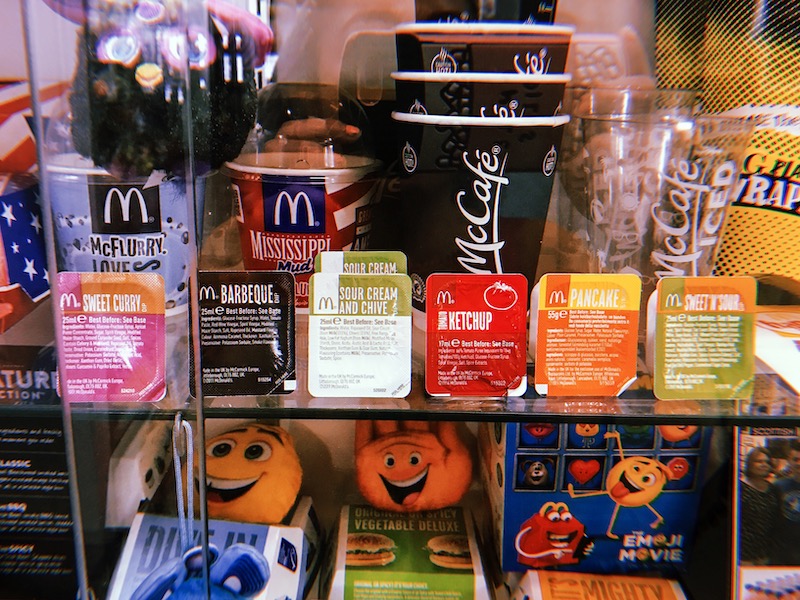 If you pop in during the operating hours (it's free to visit) you'll likely find the curator Jack who will cheerfully fill you in on the details of the property's history, how Okura came to own it, and how the collection grew over time (all donations!). Plus, the photo op with the signage outside is pretty sweet and there's even a mural of the history of San Bernardino that's painted on one side of the building. -> More information
Pacific Electric Trail
This 18-mile (eventually 21 miles when ongoing construction is complete), multi-use urban trail runs from Rialto all the way to Claremont, following the route of the once iconic Pacific Electric Railway. It's a relatively flat, paved route, making it good for cruising on a bike, taking fido for an extended walk (it's dog friendly), or checking out some of the wildflowers along the way. → More information
Places to Eat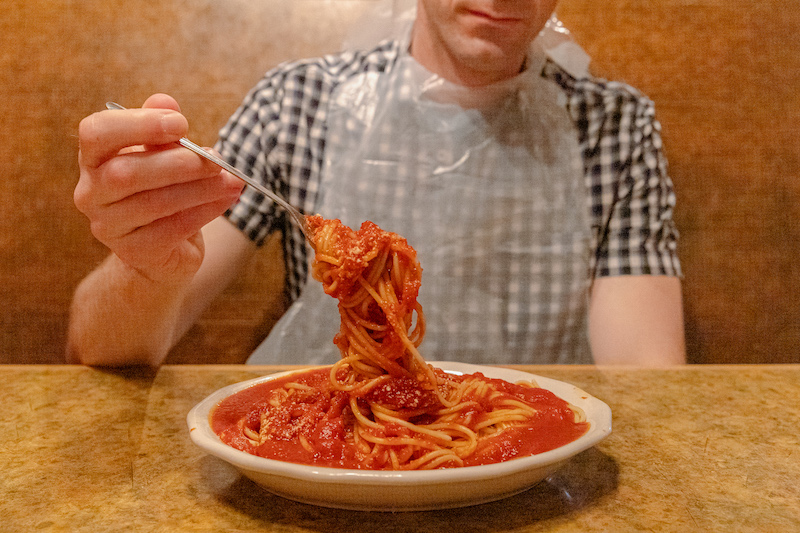 Vince's for Spaghetti (Rancho Cucamonga)
Dine at an old school red sauce restaurant. Open since 1945 Vince's serves lasagna, meatballs, French Dips and large plates of spaghetti. The restaurant is casual and family friendly. → More information
Logan's Candies (Ontario)
Satisfy your sweet tooth with handmade gourmet candies from Logan's. Open since 1933 they are known to attract crowds during their handmade ribbon candy demos. → More information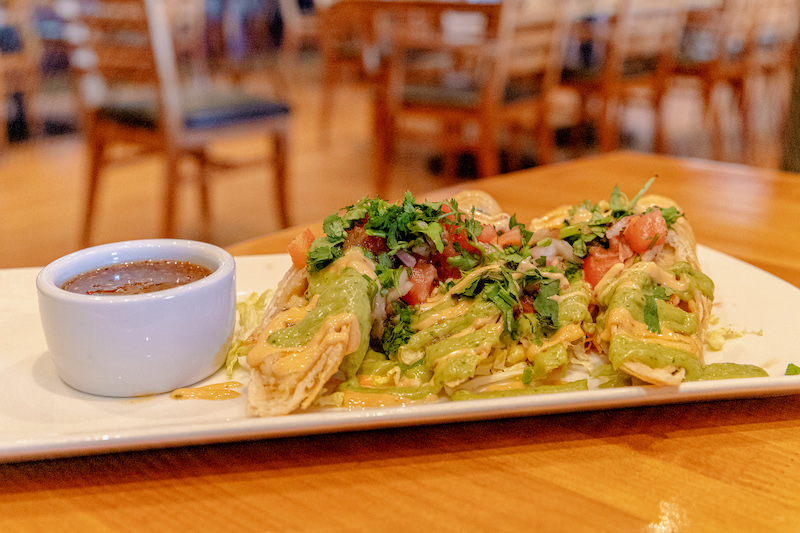 Market Broiler (Ontario)
Stop into Market Broiler for a meal after a day of shopping at Ontario Mills. The casual seafood restaurant offers sushi, oysters, fresh fish, chicken, aged steaks, salads and pastas. → More information
Sycamore Inn (Rancho Cucamonga)
Housed inside a historic inn located right off Route 66 the restaurant serves Midwestern cornfed prime steaks, prime rib, rack of lamb and much more. Your fine dinner can be paired with their award winning wine list. –> More information
Martha Green's The Eating Room (Redlands)
Dine like a local insider at Martha's Green. Serving breakfast, brunch and lunch, folks can enjoy chicken fried steak, fluffy pancakes, burgers and sandwiches. All produce comes from local vendor Washington Produce and meat comes from Gibson & Son Provisions in Redlands. Make sure to save room for something sweet, Martha Green's bakery offers pies, cakes and more. Their famous Swedish Almond cookie is a fan favorite. → More information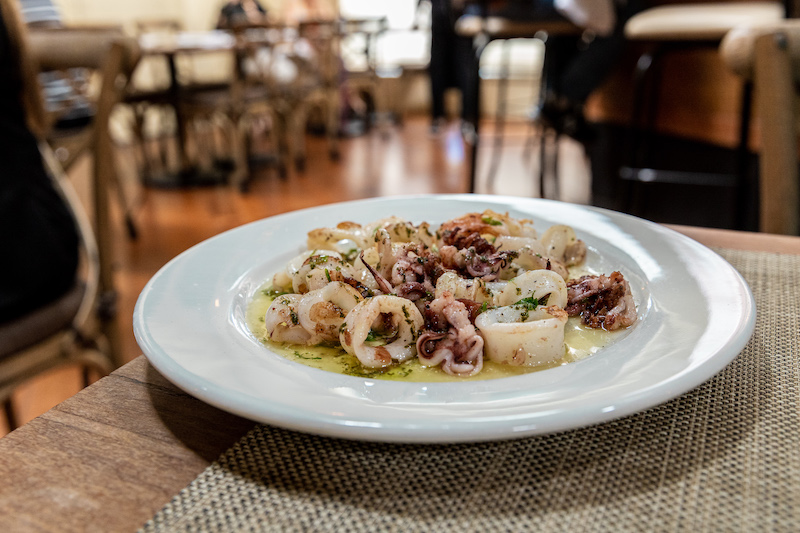 Caprice Cafe (Redlands)
Located in Historic Downtown Redlands Caprice is a great spot for casual fine dining. The Mediterranean menu includes fresh seafood, large format salads, pasta, handmade pizzas, organic steaks and more. → More information
Punch Bowl Social (Rancho Cucamonga)
Let loose and have some old fashion fun by heading to Victoria Gardens in Rancho Cucamonga for some cocktails, old school games like bowling, arcade and even karaoke in a private room. → More information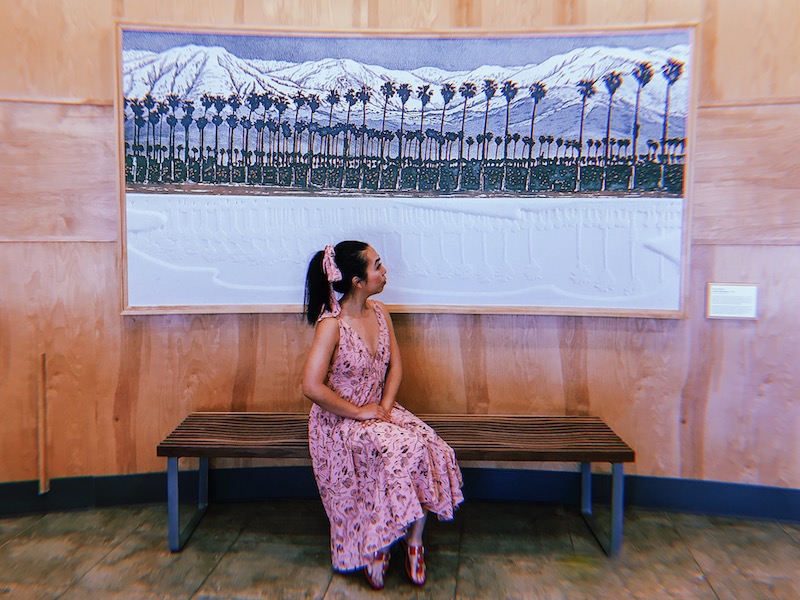 Additional Notes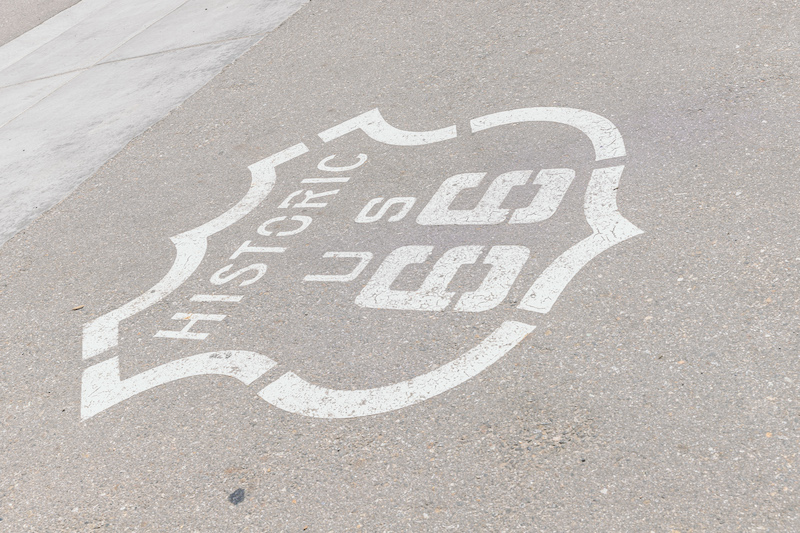 We wanted to wrap up with a few considerations if you're planning a trip to SBC:
A day trip from L.A. makes a lot of sense, especially given the traffic considerations we mentioned at the top. Leave in the morning, return in the afternoon or early evening.
If you go the day trip route, we suggest you stagger your activities so you find yourself indoors during midday when temps are at their peak during warmer seasons. For example, opt for karting in the morning, hit up Ontario Mills for a few hours, then stop in Redlands for a meal and late afternoon / early evening walk before departing for home.
Just like during our mountain and desert trips, it pays to keep lots of water and sunscreen handy.
The most important consideration: Have fun!
---
If you'd like to learn more about We Like L.A. sponsored posts and how we work with our partners, you can go here.