This article was updated on June 19, 2016 to make sure all links were current 🙂
Gonna be a hot one this week in Los Angeles? If you've found your way to this blog post, then the answer to that is a resounding YES!
That being the case, here are a few ideas for activities and things to do in L.A. when it's so warm you figure your only recourse is to stick your head in the freezer and hope you somehow survive the swelter.
Stay frosty my friends!
1. Check out at an Air-Conditioned Museum
First and foremost, you can use oppressive heat as an excuse to get out and explore some of L.A.'s best museums.
LACMA is a great target, as after 3 pm on Monday, Tuesday, Thursday, and Friday, there is free general admission for Los Angeles County residents (with proof of residency). The Getty comes to mind, as long as your down with the parking costs. If you objective is free, I suggest starting with this list of free museums and museum days in Los Angeles.
However, if you're down to pay at least one admission fee, I think the combo of the Natural History Museum and California Science Center at Exposition Park is your best bet. The Science Center is free, so if you can spare admission for NHM, you could literally spend 4-6 hours exploring all that both have to offer, all indoors!
2. Find Refuge At the Movies
When I was a kid and the temperature would hit triple digits, this was about the time my mom would insist we were going to spend the afternoon at the movies (no air conditioning in our house!). Obviously you probably don't need help finding your local cineplex, but there are a number of cool vintage theaters in Los Angeles you may want to check out. Why not use the rising temps as your perfect excuse to do so? Also, depending on the day/time you go, there are some great discount theaters you can find around L.A.
3. Shop Indoors… At the Mall
Yes, malls are going the way of the dodo bird, but we still have our fair share, among them the Westfields in Culver City and Sherman Oaks, the Del Amo Fashion Center, the Glendale Galleria, Montebello Mall, Lakewood Mall… you get the idea.
Bottom line: beat the heat by practicing some good old fashioned American capitalism.
More ideas: 20 Places to Hangout in L.A. That Have Excellent Air Conditioning
4. Cool Down With Some Ice Cream
Some of our favorites include Scoops, Milk, Coolhaus, and Fosselman's… but really any chain will do if the temps are hot enough.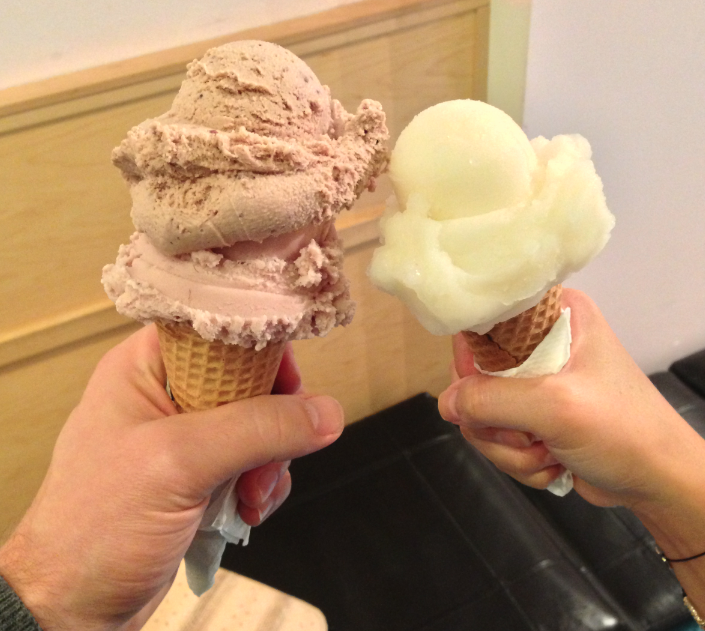 5. Go to the Beach
Well.. duh. They don't call it beach weather for nothing, right?
From the South Bay to the Palisades, there's many miles of coastline to explore in L.A. County, but we're particularly fond of some of the gems you can find up in Malibu.
6. Hang at a Local Bookstore
How about an excuse to do some light (or heavy) reading? Bookstores can be the perfect getaway during the heat (assuming they have A/C), and luckily we've got a list of some of the best in Los Angeles for you to investigate.
7. Grab a Drink at a Rooftop Bar
Once you settle in for the late afternoon / evening, you can take advantage of the remnant heat to enjoy some of the most beautiful settings in Los Angeles.
We compiled a list of some of the best rooftop bars in the city if you'd like to further your adventures.
8. Get Splashed at Your Nearby Water Park
Water parks are seasonal, but if it's the right time of year and you're willing to spend the bucks for a day-long cool-down, check out Raging Waters or Hurricane Harbor at Six Flags
9. Go West Young Man (Or Woman)
Just some general advice here, but if you live on the east side of town or in the valley, your best bet is to find an excuse to brave traffic and get to the westside of town for the day. Closer to the ocean = way less hot.
Luckily we have a bunch of activities we've already planned for you, including 17 ideas if you're over in Santa Monica and 14 to-dos for nearby Venice Beach. Take advantage, and get exploring! From thrifting to museums to exploring hidden area gems, you're sure to find something you haven't yet done on those lists.
10. Netflix and Chill
At some point the heat may get so oppressive that there's nothing left to do but find refuge on the couch of your air conditioned (hopefully!) apartment. At that point, you may just want to call it a day, crank up the A/C (pray to God you have some!) and turn on your favorite streaming service.
I recently discovered Bosch on Amazon Prime and plowed through that in just a few days (have to say, one of the few shows that actually doe L.A. justice in terms of showing the real city). Hopefully you can find something similar to satisfy your thirst for entertainment, all without having to leave the comfort of home.
What are your favorite things to do when it's really, really hot in L.A.? Let us know in the comments below!