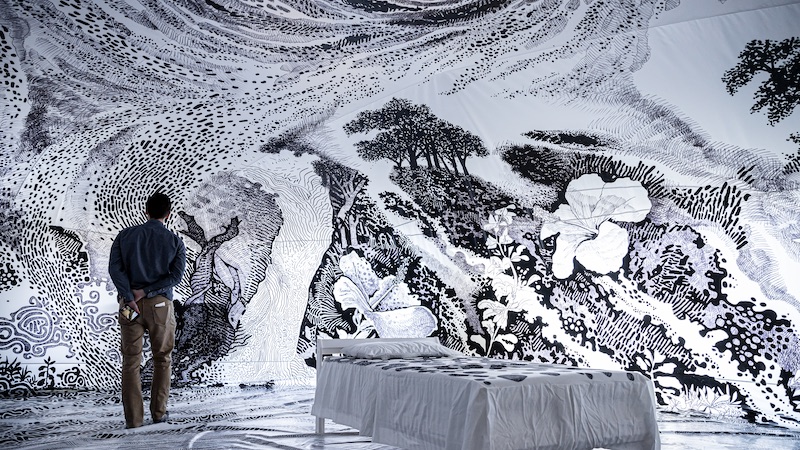 Every week in Los Angeles there are tons of great things to do (even before the weekend gets started) that we think you ought to have on your radar. With that in mind, we put together a list every Monday through Friday morning to keep you in the know about what's happening in the city you love (or maybe just like).
This week, from Monday, January 13 to Friday, January 17 features Chamber Music & Wine Tasting with The LA Phil, Oscar Oiwa: Dreams of a Sleeping World, Therapeutic Thursdays at LA Historic Park, Silver Lake Shorts, a hidden speakeasy inside Angel City Brewery, dineL.A. and MUCH more.
Remember you can always go to our L.A. events calendar page to get an updated rundown of what's happening around the city.
Hope you find the rundown useful and, as always, enjoy your week!
---
Keep in mind that while we retain complete editorial control of our content, for some of the ticketing options provided we utilize affiliate links and receive a commission if you purchase through our links.
---
Monday January 13th, 2020
1. The Pack Theatre in Hollywood presents The Inclusivity Improv Jam, a monthly show featuring marginalized players in the improv community. Happening every second Monday of the month, the show brings in secret special guests and is hosted by Tiffany Aleman, Fernando A Funes and Royce Shockley.
2. Geeks Who Drink stops by Hamburger Mary's at 7:30 p.m. for a rowdy pub quiz night. No cover if required.
3. The Los Angeles Railroad Heritage Foundation's is hosting a "Big Top" celebration for its new circus train exhibit at Philippe the Original French Dip Restaurant in DTLA. Cost is $30 and includes dinner.
4. Head to The Standard for Not Your Standard Bingo, hosted by Maebe A. Girl and Indica Sativa from 7-10 p.m.
5. Mindful Monday: Cultivating Empathy and Connectedness at LACMA engages guests with mindfulness exercises in relation to the exhibition Betye Saar: Call and Response followed by activities designed to foster deep conversations. Free, but online ticket required. FREE
Tuesday January 14th, 2020
6. The Walt Disney Concert Hall will host Chamber Music & Wine Tasting with The LA Philharmonic. (DISCOUNTED) via Goldstar
7. The Skirball hosts Tuesday afternoon movie screenings that showcase diverse human stories from around the world. This week they'll screen All the President's Men.
8. Escuela de Mezcal (Mezcal School) at Bar Calo in Echo Park is an opportunity for guests to discover, learn and taste different mezcals. Happening every Tuesday a different mezcal brand will be featured at half-off from 6-9 p.m.
9. 260LA will host an Outdoor Voices sample sale at their Beverly Hills location January 14-19. Shop women's athleisure, athletic apparel, and accessories at prices below retail.
10. Free museum day at Los Angeles County Museum of Art (also free for L.A. County residents with valid I.D. after 3:00pm on Mondays, Tuesdays, Thursdays & Fridays all month long) and Autry National Center of the American West.
Wednesday January 15th, 2020
11. USC Pacific Asia Museum located in Pasadena is recognized as Southern California's only museum devoted exclusively to art from Asia and the Pacific. For their first 2020 exhibition the museum presents Oscar Oiwa: Dreams of a Sleeping World. On view from January 10 – April 26, 2020 guests walk into a dome that transports them inside a 360° dreamscape fantasy world. The site-specific piece was drawn with 120 Sharpie permanent markers and reveals hints of existential threats to the environment. Oiwa's surreal paintings and a video documenting the creation of the mural dome greets guests before they embark into the dome.
12. It's Winter Beer Night at Barcade in Highland Park. They'll be tapping a list of strong, rare, vintage, and seasonal winter inspired beers for your sipping pleasure. Beers pair well with their arcade so bring your A game.
13. The Super Serious Show is a comedy event produced by CleftClips featuring both established and up-and-coming talent performing an array of stand-up, sketch and musical comedy. Happening at The Virgil.
14. Over The Hump Karaoke at Club Tee Gee is a sing til you drop occasion with the help of Hi Ho Karaoke every Wednesday from 9 p.m. to 1 a.m.
15. Get into the winter spirit when ICE at Santa Monica returns with a 8,000 square foot ice skating rink. Running November 1, 2019 through January 20, 2020.
Thursday January 16th, 2020
16. Therapeutic Thursdays at LA Historic Park is a wellness group that provides a safe space and a support system. Lead by Liza, a Promotorx member, and representatives of the L.A. County Department of Mental Health facilitate will discuss reducing stress strategies this week. FREE
17. Silver Lake Shorts returns for 2020 at El Cid with an anything goes shorts showcase of film makers from a wide range of mediums. FREE
18. All My Single Friends is described as part comedy show and part live dating app taking place at the Copper Still. If you're over Tinder and Bumble check this show out where you'll be in a room with some of LA's best comedians and singles.
19. There's a free mindful awareness meditation going on at the Hammer. Participants are welcome to stay for the entire 30-minute session or leave when they choose. FREE
20. Femmes The Rules is a stand up comedy show at Lyric Hyperion where male comedians are paired with female (or non-binary) comedians that are allowed to interrupt him with commentary during his set but it doesn't work vice versa, the male comedian has to just sit and watch quietly during their partners set.
21. Free museum day at Skirball Cultural Center (noon to 5 p.m.), USC Pacific Asian Museum (5 to 8 p.m.), Japanese American National Museum (all day) and Long Beach Museum of Art (3 to 8 p.m.)
Friday January 17th, 2020
22. Angel City Brewery will throw a hush hush can release party for their Eastside Series this Friday. Stop by the brewery and pay attention to the clues given around the Public House area for a secret word-of-mouth password that will gain you entry into a speakeasy inside the Beer Hall. Party starts at 6 p.m. with performances by Toil and Trouble Burlesque and Vignes Rooftop Revival.
23. dineL.A. returns Jan. 17-31 for two weeks of exclusive lunch and dinner menus at a laundry list of the city's finest eateries.
24. Don't Tell Comedy pops up in Culver City this Friday with some of the biggest names in comedy. Performers are kept under wraps and the location will be emailed to all ticket holders. BYOB!
25. Get up close and personal with sharks at the Aquarium of the Pacific during Shark Lagoon Nights. Guests will have the opportunity to touch bamboo sharks and view large sharks in an after hours setting. FREE
26. Skyspace Nights returns with a special night with contemporary instrumental group Katalyst and access to all three floors of the space. Your first drink is free with admission!
27. Looking to LOL with a crowd of improv fans? The Groundlings has packed their best sketches into one hilarious comedy show called Mix Tape. The show runs Friday and Saturday.
28. Corey Helford Gallery's sixth annual Art Collector Starter Kit group show highlights affordable 12" x 12" works from 100 top New Contemporary artists, giving new art collectors and enthusiasts a chance to buy an original piece from artists. The show will be on view through January 18, 2020.
Food Pick for the Week
This week's pick by Christina Champlin, Co-Founder of We Like L.A.
It's getting cold out here in Los Angeles (by SoCal standards anyway!) and JINYA Ramen Bar has a sweet deal on Mondays for diners looking for a warm bowl of noodles. Simply order the Cha Cha Cha Ramen on a Monday and receive a complementary Kara-age Fried Chicken small plate. The Cha Cha Cha Ramen is a pork and fish-based broth with thick ramen noodles, pork chashu, a seasoned egg, bean sprouts, chopped onion, green onion, garlic and chili powder. This promotion is available at all locations of JINYA Ramen Bar.
---
Want to get our to-do lists straight to your inbox every week? Sign up for our email program. Have an upcoming event you'd like suggest for listing? Drop us a line at [email protected]