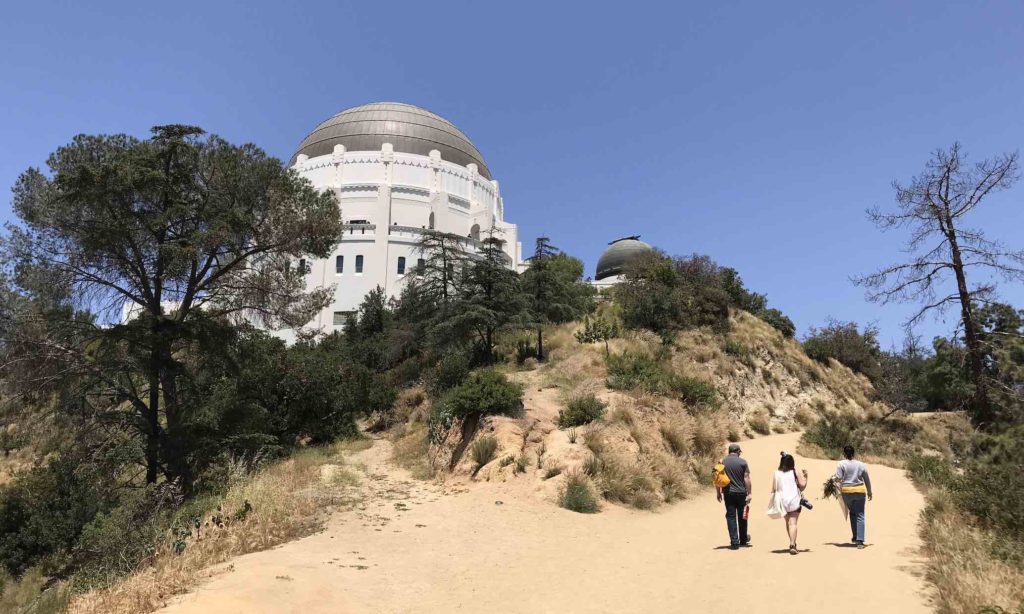 Every week in Los Angeles there are tons of great things to do (even before the weekend gets started) that we think you ought to have on your radar. With that in mind, we put together a list every Monday through Friday morning to keep you in the know about what's happening in the city you love (or maybe just like).
This week, from Monday, February 3 to Friday, February 7 features Beer Lab at Dry River Brewing, the LA Art Show, All Space Considered, an Art Walk in San Pedro, First Fridays, and MUCH more.
Remember you can always go to our L.A. events calendar page to get an updated rundown of what's happening around the city.
Hope you find the rundown useful and, as always, enjoy your week!
---
Keep in mind that while we retain complete editorial control of our content, for some of the ticketing options provided we utilize affiliate links and receive a commission if you purchase through our links.
---
Monday February 3rd, 2020
1. Dry River Brewing hosts Beer Lab an interactive, sensory tour with head brewer Garrett Margolis educating the public on a variety of brewing practices. Garrett will be pulling samples from different aging process of Dry River beers, and opening bottles that are not available to the public. Small paired bites are also available during the tour. Your ticket includes tastings, the tour and one full pour.
2. The 4th Annual Oscar Film Week returns to Culina at the Four Seasons Hotel in Beverly Hills February 1-8 with a meal and screening of all nine "Best Picture" Oscar nominated films in 2020.
3. The Sidewalk Astronomers returns to the Central Library in Burbank on Monday night with telescopes outside the library for the public to get a close-up look at the moon and other visible planets. They'll also stop by with the same set-up on Tuesday at the Buena Vista Library. FREE
4. Love & Salt in Manhattan Beach will launch a guest chef dinner series. Kicking off their inaugural dinner they welcome Nancy Silverton to collaborate alongside chef Chris Feldmeier and chef de cuisine Tracey Harada both have cooked for Nancy for years at Osteria Mozza. The dinner will be a four course feast of the chefs' favorite Mozza dishes with multiple selections available for each course. The dinner taking place Monday and Tuesday cost $85 per person with wine pairings available for an extra fee.
5. Wes Anderson's Moonrise Kingdom will be shown in 35mm at The New Beverly Cinema as a Monday Matinee.
Tuesday February 4th, 2020
6. Severance Wine Bar wants to celebrate your single status during their BREAKUP BAR POPUP. Taking place next door to the bar, the two week long party will transport guest into an anti-Valentine's Day world with break up appropriate movie screenings, a Wall of Broken Relationships, loads of champagne, cocktails and food. Running Tuesday through Saturday January 31 till February 16.
7. Kidspace's Free Family Night happens on the first Tuesday of each month between 4-8 p.m. On these special nights the museum will promote family learning through arts, picking up new skills through activities and more. FREE
8. FIDM Museum presents their annual "Art of Motion Picture Costume Design" exhibition from February 4 to March 21. Now in its 28th year the public can see costumes created by all five Academy Award nominees. Over 100 outstanding costume designs from 29 films in the past year will also be on display. FREE
8. Escuela de Mezcal (Mezcal School) at Bar Calo in Echo Park is an opportunity for guests to discover, learn and taste different mezcals. Happening every Tuesday a different mezcal brand will be featured at half-off from 6-9 p.m.
9. Watch Doctor Who with your fellow Whovians this Tuesday night at Fox & Hounds. They'll be showing a classic Doctor Fifth Doctor episode titled "Black Orchid" on every TV as well as two big projectors inside and outside the bar. Drink special password is "TARDIS" and gets you $4 draft beer and $1 off wine and well drinks.
10. Free Museum Day: Natural History Museum (also note that L.A. County residents receive free Museum admission Monday through Friday from 3 to 5 pm. Bring a valid ID or utility bill the day of your visit) and La Brea Tarpits Museum (also note that L.A. County residents receive free Museum admission Monday through Friday from 3 to 5 pm. Bring a valid ID or utility bill the day of your visit)
Wednesday February 5th, 2020
11. L.A. Art Show is our city's largest and longest-running art fair. The show will take place at the Los Angeles Convention Center starting February 5 with an opening night gala and continuing till Sunday. This year will also celebrate the shows 25th anniversary.
12. The Chinese American Museum will host an opening reception for Red Envelope Show. Get a first look at the museum's newest exhibit which features hundreds of red envelopes transformed into original artwork by over 250 contemporary artists. Complimentary refreshments will be held in the courtyard.
13. Griffith Observatory offers a Sunset Walk & Talk one evening a month led by a Park Ranger and museum guide. FREE
14. Risk!, the show where people tell true stories they never thought they'd dare to share, stops by The Virgil this Wednesday with jaw-dropping and hilarious stories.
15. USC Pacific Asia Museum located in Pasadena is recognized as Southern California's only museum devoted exclusively to art from Asia and the Pacific. For their first 2020 exhibition the museum presents Oscar Oiwa: Dreams of a Sleeping World. On view from January 10 – April 26, 2020 guests walk into a dome that transports them inside a 360° dreamscape fantasy world. The site-specific piece was drawn with 120 Sharpie permanent markers and reveals hints of existential threats to the environment. Oiwa's surreal paintings and a video documenting the creation of the mural dome greets guests before they embark into the dome.
Thursday February 6th, 2020
16. Annenberg PetSpace is hosting its first-ever singles mixer called Must Love Dogs. working in collaboration with the dating app Dig. The free event will have canine-loving singles mingling with one another. Various fun activities will be held throughout the night and vendors Tito's Vodka, MVMT Watches, Grounds and Hounds, Wag Hotels, and many more will have swag. FREE
17. First Thursday Art-walk in San Pedro features over 40 galleries and studios hosting public receptions in the evening plus food trucks and live music at several local many venues. An official tour starts at 6:30 p.m. at the San Pedro Chamber of Commerce. FREE
18. Every first and third Thursday of the month Brennan's in Marina Del Rey hosts their famous turtle races. Since 1974, this tradition brings these little speedsters out of their sanctuary (located in the bar) for an exciting game that support charities. Race starts at 9 p.m.
16. Therapeutic Thursdays at LA Historic Park is a wellness group that provides a safe space and a support system. Lead by Liza, a Promotorx member, and representatives of the L.A. County Department of Mental Health facilitate will discuss reducing stress strategies this week. FREE
18. Head down to Scum and Villainy Cantina in Hollywood for Cosmic Karaoke night. There is no cover for this event.
19. Free Museum Day: Japanese American National Museum (from 5 to 8 p.m.), Skirball Cultural Center (noon to 5 p.m.), Huntington Library (note that you have to reserve passes for the free day in advance, and it books up fast. For this reason we'd suggest you take a look at the free day for March and start planning when you need to be online to grab the tix), Long Beach Museum of Art (3 to 8 p.m.) and USC Pacific Asian Museum (5 to 8 p.m.)
Friday February 7th, 2020
20. The Griffith Observatory hosts a monthly forum where some of the most amazing phenomena in the known universe are explained and discussed. It's called All Space Considered and it takes place on the first Friday of every month. FREE
21. WP24 in DTLA is holding a special Chinese New Year evening of events that begins with a "night market" featuring live stations preparing Chinese delicacies, followed by festive roaming entertainment, traditional Chinese tea ceremonies, Chinese calligraphy, and a red envelope giveaway.
22. Never been to LACMA? First-time Fridays is catered to new visitors to the museum. Simply let the ticket office know you're a newbie and you'll receive a free poster, discounts and a welcome gift. Stop by after 3 p.m. with an ID showing L.A. County residency and get free admission too.
23. The 53rd California International Antiquarian Book Fair, the nation's largest exhibition and sale of rare books stops by the Pasadena Convention Center February 7-9. The bi-annual fair gives visitors a chance to observe, learn and purchase rare books, manuscripts, autographs, maps, fine prints, photographs and more.
24. Get up close and personal with sharks at the Aquarium of the Pacific during Shark Lagoon Nights. Guests will have the opportunity to touch bamboo sharks and view large sharks in an after hours setting. FREE
25. One Love Cali Reggae Festival returns to the Queen Mary Events Park in Long Beach on February 7-9 for its fourth annual music fest.
26. The Roadium Open Air Market hosts a Friday Flea Market from 7 a.m. to 4 p.m. it cost $1 for admission.
27. Skyspace Nights returns with a special night with DJ DisDudeMo and access to all three floors of the space. Your first drink is free with admission!
28. On the first Friday of the month head down to Abbott Kinney Blvd. in Venice Beach for tons of food trucks, open galleries and late-night shop hours. Get more information via the official event blog.
29. L.A. Arboretum hosts Yoga in the Garden the class is a gentle and soothing one in tranquil location.
30. Universal Studios Hollywood Celebrates Lunar New Year from January 23 to February 9 with cultural performances, special food offerings, Mr. Ping's Noodle Shop from Kung Fu Panda, a Mandarin-speaking MEGATRON, Hello Kitty and Minions adorned in Lunar New Year Attire and much more.
31. Gay Asstrology, an LGBTQIA+ Dance Party happening on the first Friday of every month invites queer energy, community, and a love of astrology to The Satellite in Silver Lake. It's Aquarius season so everyone under that sign gets free admission to the party.
32. Don't Tell Comedy pops up in Santa Monica this Friday with some of the biggest names in comedy. Performers are kept under wraps and the location will be emailed to all ticket holders. Tickets available here. BYOB!
33. It's First Fridays at The Village in Redondo Beach. Merchants and art galleries will stay open till 8 p.m. and a live musical performance will take place next to the Aloha Bungalow.
34. Bixby Knolls Annual First Fridays Mardi Gras Celebration will include a parade, art shows, food, live entertainment and much more.
35. Take an afternoon yoga class in beautiful Grand Park. The 45 minute workout is complimentary to the public every. After yoga, checkout the many food trucks lining the park and grab lunch al fresco style.
36. Free Museum Day: Norton Simon Museum (5 to 8 p.m). FREE
Food Pick for the Week
This week's pick by Christina Champlin, Co-Founder of We Like L.A.
In celebration of Black History Month the team at Culver City's Hatchet Hall presents Hemings & Hercules, a dinner series inspired by recipes from southern plantation kitchens. Chef Brian Dunsmoor and Chef de Cuisine Martin Draluck will focus on two of the earliest celebrity chefs in our country who happened to be the enslaved property of presidents George Washington and Thomas Jefferson, Hercules Caesar and James Hemings. The dinner menu is made up of recipes suspected to be potential works of both men and others inside plantation kitchens. Black-Eyed Pea Griddle Cake, Chicken Roulad, Head Cheese, A Sunday Dinner style Smoked Pork Crown Roast with accompaniments will all be on the menu. For dessert guests will dine on the legendary dish Hemings' Snow Eggs. The Hemings & Hercules Dinner series takes place every Thursday in February at 7 p.m. Tickets cost $100 a person and includes an eight course meal. For $140 diners can opt for wine pairings during the meal. There are only 12 seatings each night.
Hatchet Hall is located at 12517 W Washington Boulevard Los Angeles, CA 90066.
---
Want to get our to-do lists straight to your inbox every week? Sign up for our email program. Have an upcoming event you'd like suggest for listing? Drop us a line at [email protected]