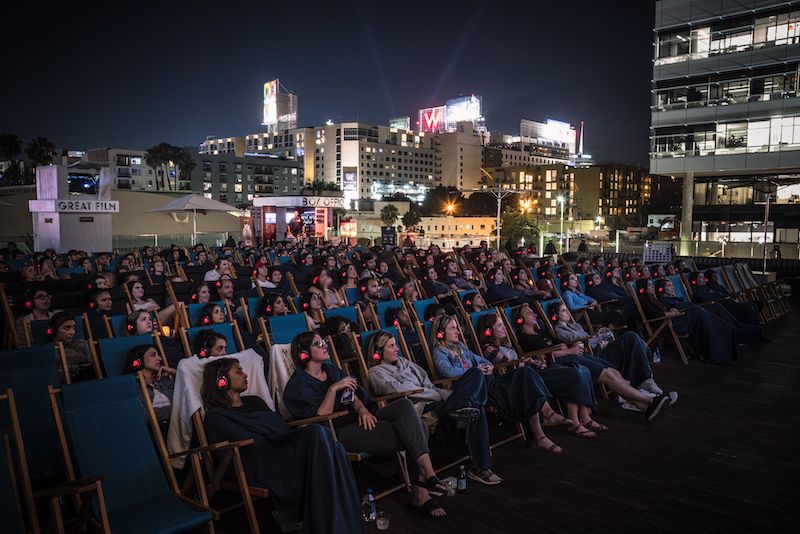 Every week in Los Angeles there are tons of great things to do (even before the weekend gets started) that we think you ought to have on your radar. With that in mind, we put together a list every Monday through Friday morning to keep you in the know about what's happening in the city you love (or maybe just like).
This week, from Monday, March 18 to Friday, March 22, features Can't Stop, Won't Stop at CAAM, The Egg House, Secret Gardens of Forest Lawn Glendale, Movie & Bites at JAPAN HOUSE, The Work and Music of Yoko Ono at Walt Disney Concert Hall, Rooftop Cinema Club and MUCH more.
Remember you can always go to our L.A. events calendar page to get an updated rundown of what's happening around the city.
Hope you find the rundown useful and, as always, enjoy your week!
---
Keep in mind that while we retain complete editorial control of our content, for some of the ticketing options provided we utilize affiliate links and receive a commission if you purchase through our links.
---
Monday March 18th, 20192
1. PaleyFest returns to the Dolby Theatre March 15 – 24 for a 10-day television festival featuring stars and creators from some of your favorite TV shows. PaleyFest is a culmination of screenings, panel discussions, Q&A's and behind-the-scenes looks of a variety of TV shows you know and love.
2. There's a free Monday Night Fiction Workshop at Beyond Baroque in Venice this Monday. The weekly workshop will be facilitated by author, screenwriter, playwright, and director Barra Grant. FREE
3. Go Get em Tiger in Los Feliz is hosting a free cupping of their latest coffee lineup at 1 p.m. this Monday. FREE
4. The Business LA is a free comedy show at Little Joy featuring some of the best local comics in town. FREE
Tuesday March 19th, 2019
5. 260LA will host a STAUD sample sale from March 19-24 in their Beverly Hills location.
6. Horse Thief BBQ located at Grand Central Market will host a karaoke night starting at 7 p.m. Drink specials and Tex Mex bites will be offered during.
7. Down some tacos, drink some locally brewed beers and test your trivia skills this Tuesday during Tacos & Trivia night at Angel City Brewery in DTLA.
8. Dreamscape Immersive, the latest contender in location-based virtual reality, has opened in the Westfield Century City mall with three unique adventures that include an alien zoo, a deep ocean dive and an action packed adventure to find a powerful jewel. Open seven days a week.
9. Free admission at: Los Angeles County Arboretum, South Coast Botanic Garden, and Descanso Gardens.
Wednesday March 20th, 2019
10. The Can't Stop, Won't Stop Celebration returns to the California African American Museum for an evening of art, food trucks, music, and more. The Opening Celebration includes Adia Millett: Breaking Patterns, The Liberator: Chronicling Black Los Angeles, 1900–1914, Plumb Line: Charles White and the Contemporary, and Aspects of Nude: Selections from the Permanent Collection. FREE
11. The Egg House visits Los Angeles March 20 – 24 for an egg-themed, 12,000-square-foot pop-up multi-sensory experience showcasing a series of installations and activations around egg themed creations.
12. The Hammer museum will host a free screening of Sundance award winner MATANGI/MAYA/M.I.A. a documentary that follows Sri Lankan–born artist M.I.A. FREE
13.The Super Serious Show is a comedy event produced by CleftClips featuring both established and up-and-coming talent performing an array of stand-up, sketch and musical comedy. Happening at The Virgil.
14. The Odyssey Theatre Ensemble will offer We Like L.A. readers free tickets to their new show, "Faith Healer" by Brian Friel. Use the promo code WELIKELA2019 to get your free tickets for show on dates: Wednesday, March 20 at 8 p.m., Thursday, March 21 at 8 p.m., Friday, March 22 at 8 p.m. FREE
15.FLIX at FIG will screen 42 at FIGat7th in DTLA. The free movie screenings happen every third Wednesday of the month. A live DJ and happy hour kicks off the night at 6 p.m. and the film begins at 7 p.m. FREE
16. An installation created by design firm and technology studio VT Pro Design gets a West Coast debut at ROW DTLA. Telestron is two large-scale robotic conductors creating geometric shades through light and shadows all around guests in a seven minute light show. Open to the public Wednesday through Sunday with the end date of March 28. FREE
Thursday March 21st, 2019
17. Rooftop Cinema Club returns to the rooftops of LEVEL in DTLA and NeueHouse in Hollywood with multiple screenings this week that include The Greatest Showman, Bohemian Rhapsody: Sing-along and more.
18. Forest Lawn Glendale will host a community event with The Glendale Historical Society allowing guests to get a glimpse of the secret locked gardens on the property. The two-day seminar and tour is hosted on Thursday and Saturday. Tickets are available through the Glendale Historical Society website. **NOTE: An earlier version of this article stated this event was free. We have since learned that the Glendale Historical Society is ticketing this event at a cost of $50 per person for the general public.**
19. Harry Potter can be religious text for some and Harry Potter and the Sacred Text Podcast takes it to a whole other level when they take their podcast live to the Bootleg Theater this Thursday.
20. JAPAN HOUSE presents a new series called "Movie & Bites" a screening and tasting event featuring acclaimed food stylist Nami Iijima and 2009 comedy film "The Chef of South Polar. Iijima was the food stylist for the movie and guests will be treated to dishes straight from the film.
21. 100 Tactile exhibition is a sensory experience with objects and symbols through the sensation of touch. The immersive exhibit will be supported by visual and sound elements. Open now until March 30. DISCOUNTED (via Goldstar)
22. Free admission at: MOCA Grand & MOCA Geffen (5 to 8 p.m.), Skirball Cultural Center (noon to 5 p.m.), Japanese American National Museum (5 to 8 p.m.), Long Beach Museum of Art (3 to 8 p.m.) and USC Pacific Asian Museum (5 to 8 p.m.)
Friday March 22nd, 2019
23. Walt Disney Concert Hall presents BREATHEWATCHLISTENTOUCH: The Work and Music of Yoko Ono. Guests will experience Ono's art and music performed by an ensemble of special guests in celebration of her sixty-plus-year career.
24. The Institute of Culinary Education is now offering recreational classes in their professional kitchens. The kick off class will teach guests how to make fresh handmade pasta and a variety of sauces.
25. Amoeba Music in Hollywood welcomes Jenny Lewis for a signing and performance of her new album.
26. Grand Central Market hosts Friday Night Flights every Friday starting at noon. The special includes a flight of drinks or bites from GCM vendors and a round trip ticket on the historic Angels Flight Railway right across the street for $15.
27. 4th Fridays on 4th Street activates the "Retro Road" business district in Long Beach on the fourth Friday of every month from 6 to 9 p.m. through extended hours, dining specials, discounted merchandise, pop up shops, art shows, live music, trolly rides and more.
28. Desert X returns for its bi-annual public art show February 9 through April 21. Spread throughout the Coachella Valley in various locations, artists are commissioned to use the desert landscape as their canvas with breathtaking results.
Food Pick for the Week
This week's pick by Christina Champlin, Co-Founder of We Like L.A.
Eataly Los Angeles' first-ever Restaurant Fest kicks off Monday March 18. This two-week long festival will highlight Italian spring time cuisine through two-course prix fixe menus from all three restaurants inside the complex. Available during lunch and dinner, prices range from $18-28 and select wines will be priced at just $25 a bottle for the occasion.
Eataly Los Angeles is located at 10250 Santa Monica Blvd. Los Angeles, California
---
Want to get our to-do lists straight to your inbox every week? Sign up for our email program. Have an upcoming event you'd like suggest for listing? Drop us a line at [email protected]