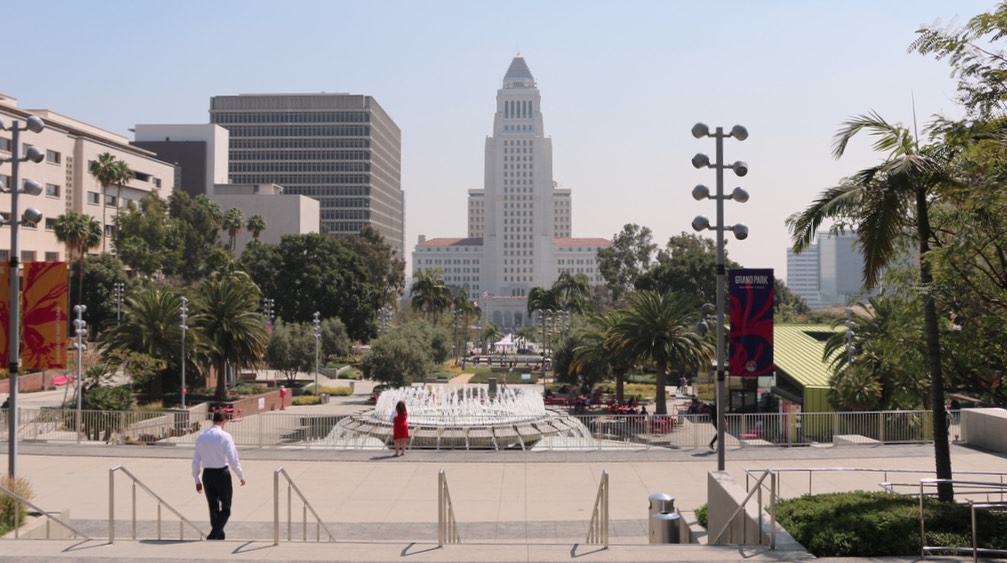 Every week in Los Angeles there are tons of great things to do (even before the weekend gets started) that we think you ought to have on your radar. With that in mind, we put together a list every Monday through Friday morning to keep you in the know about what's happening in the city you love (or maybe just like).
This week, from Monday, April 22 to Friday, April 26, features free rides from Metro for Earth Day (today), a Purple Rain party at The Wiltern, PHOTOVILLE LA, MLB Food Fest, Final Fridays at The Rose Bowl and MUCH more.
Remember you can always go to our L.A. events calendar page to get an updated rundown of what's happening around the city.
Hope you find the rundown useful and, as always, enjoy your week!
---
Keep in mind that while we retain complete editorial control of our content, for some of the ticketing options provided we utilize affiliate links and receive a commission if you purchase through our links.
---
Monday April 22nd, 2019
1. Metro is offering free rides all day on Monday, April 22, otherwise known as Earth Day. This applies to all rail and buses. FREE
2. On Earth Day join Chosen Foods at The Rose Room for goddess-inspired yoga classes, meditations, and insightful talks with Koya Webb, Founder of Get Loved Up and Author of Let Your Fears Make You Fierce. The free event celebrates the launch of Chosen Foods new Goddess Dressing line. FREE
3. Our L.A. Voices: Arts Festival at Grand Park happening April 22-28 is a week long art celebration featuring lunchtime workshops all week and a culture festival on Saturday and Sunday featuring art showcases that includes dance, music, theatre performances, short films, spoken word alongside visual art by local artists. FREE
4. The Hammer will host a free screening of Ask Dr. Ruth a documentary that chronicles the life of America's most famous sex therapist, Dr. Ruth Westheimer. A Q&A with director Ryan White and Liz Goldwyn, author, filmmaker, and founder of The Sex Ed will follow the screening. FREE
5. Artisanal LA with Cushman & Wakefield and Glendale Arts presents an Earth Day Market with over a dozen makers, live music and food.
6. Bring a little meditation to your Monday at the Eastside/Hollywood Forever Cemetery Sitting Group.
7. E.P. & L.P. in West Hollywood continues their stylish cinema series Melrose Rooftop Theatre with several screenings this week including Pulp Fiction, Mean Girls, BLACKKKLANSMEN and more.
Tuesday April 23rd, 2019
8. Angel City Brewery presents game show podcast Go Fact Yourself with celebrity contestants Anthony Rapp and Jena Friedman. FREE
9. The Pasadena Showcase House of Design will take place at the Boddy House on the grounds of Descanso Gardens in La Cañada Flintridge from April 21 through May 19.
10. 260LA will host a Racheal Zoe sample sale from April 23-28 in their Beverly Hills location.
11. Rooftop Cinema Club returns to the rooftops of LEVEL in DTLA and NeueHouse in Hollywood with multiple screenings this week that include The Bodyguard, A Star is Born and more.
Wednesday April 24th, 2019
12. The Viceroy in Santa Monica presents A Canvas For Discovery Artist Series featuring a DJ set by Nick Waterhouse. FREE
13. Idle Hour will host a Game of Thrones trivia night from 7:30 to 10:30 p.m.
14. Museum of Illusions has recently launched a brand new experience. Guests can walk through eye popping 3D exhibits inspired by cartoons, art, current events, pop culture and more. The museum is open daily.
15. The Natural History Museum of Los Angeles County welcomes the traveling exhibition Antarctic Dinosaurs to Southern California from April 3, 2019 through January 5, 2020.
Thursday April 25th, 2019
16. Rock on Film Presents Purple Rain at The Wiltern the screening will be followed by a party with Prince tunes spun by a DJ, Prince themed cocktails and more.
17. Amoeba Music in Hollywood welcomes Local Natives for a signing and performance of their new album, Violet Street.
18. There's a new, immersive horror experience at Zombie Joe's Underground theater in North Hollywood titled "I want to live in your mouth." It's a 20 minute show for one single guest that transports them inside a child's nightmare. You'll navigate through corridors, opening doors and meeting creatures, some you wish you had avoided. The show runs Thursday through Sunday through May 5.
19. Cirque du Soleil's AMALUNA heads to the L.A. Waterfront in San Pedro for a magical evening that takes the audience through a journey loosely based on Shakespeare's The Tempest.
20. Chef Neal Fraser of Redbird hosts and the second annual "Full Circle" Dinner to directly benefit Culinary Arts Program (C-CAP). An all-star team of celebrity chef including Josiah Citrin, Antonia Lofaso, Nicole Rucker will cook a spectacular dinner and guests can also partake in a live auction and cocktail reception.
21. If Halloween and horror movies are your favorite topics then I Like Scary Movies Experience will be just what you're looking for. Guests can expect to see, hear, feel, and smell recreations of iconic moments from IT (2017), Beetlejuice, The Shining, The Lost Boys, and A Nightmare on Elm Street. There won't be costumed actors jumping out trying to startle but there will be multi-sensory surprises along your winding path. The pop up experience runs April 4 through June 16 Thursday through Sunday.
22. Free admission at: Japanese American National Museum (from 5 to 8 p.m.), MOCA Grand & MOCA Geffen (from 5 to 8 p.m.), Skirball Cultural Center (noon to 5 p.m.), and USC Pacific Asian Museum (5 to 8 p.m.)
Friday April 26th, 2019
23. PHOTOVILLE LA happening at Annenberg Space for Photography in Century City April 26 – 28 is a photographic festival experience featuring exhibitions of local and international photographers work inside and projected onto repurposed shipping containers, photo cubes and lightboxes. Outside of the art, attendees can also enjoy talks, workshops, family-friendly activities, a beer garden, as well as Smorgasburg selected food vendors. FREE
24. MLB FoodFest comes to Los Angeles for the first time on April 26 – 28. Angelenos can dine on an array of food from the MLB world including Mariners Toasted Grasshoppers, the D-Backs Churro Dogs, Fish and Chips with Mushy Peas from London, the Japanese Curry from Tokyo, and many more.
25. Get up close and personal with sharks at the Aquarium of the Pacific during Shark Lagoon Nights. Guests will have the opportunity to touch bamboo sharks and view large sharks in an after hours setting. FREE
26. The annual Lemon Festival has been an Upland tradition since 1997. The three-day event (April 26-28) will offer a bevy of fun activities including a lemon pie eating contest, carnival rides, live entertainment and more. FREE
27. Head to Dodger Stadium for Friday Night Fireworks and watch the Boys in Blue will take on the Pittsburgh Pirates. (DISCOUNTED) via Goldstar
28. The Greens at the Rose Bowl (the grounds surrounding the stadium) hosts Final Fridays a family friendly event happening on the last Friday (4-8 p.m.) of every month where food trucks, life-size games, stadium tours and so more are offered.
29. The NoMad Los Angeles recently launched a new food series titled 'For A Limited Time Only' transforming the hotel's coffee shop into a variety of themed pop-ups every Friday and Saturday evening. The first iteration, Mamma Guidara's, takes inspiration from NoMad New York's dinner series of the same name, which itself is inspired by old-school Italian-American red sauce restaurants.
30. Los Angeles County Museum of Art hosts free jazz performances on Fridays through November. Concerts take place at the main entrance. FREE
31. On the last Friday of each month the California Market Center hosts a public sample sale with hundreds of showrooms offering men, women and children fashion as well as gift and home items at below-retail prices.
32. The Institute of Culinary Education is now offering recreational classes in their professional kitchens. This week they'll host an Essentials of Tuscan Cooking class and will teach guests how to make crostini with roasted eggplant, bistecca alla fiorentina, pollo alla Toscana, cipolline agrodolce, almond and anise biscotti to name a few.
33. 4th Fridays on 4th Street activates the "Retro Road" business district in Long Beach on the fourth Friday of every month from 6 to 10 p.m. through extended hours, dining specials, discounted merchandise, pop up shops, art shows, live music, double decker bus rides and more.
34. Greenbar Distillery will open up their facility for a tour of their organic distillery. The tour allows guests to learn about the process of spirit making and taste some of Greenbar Distillery's portfolio. Happening Friday through Sunday.
Food Pick for the Week
This week's pick by Christina Champlin, Co-Founder of We Like L.A.
Silver Lake's Ma'am Sir  hosts a "Talent Show" series starting on Tuesday April 23 highlighting a variety of chefs. For the inaugural event, Ma'am Sir's own Chef de Cuisine, Derrick de Jesus will throw a "Bahala na Chicken" Fried Chicken Party. For $18 per person you'll dine on a quarter of Grandma's fried chicken with hot honey sauce and fixings like mashed potatoes and gravy, broccoli with fish sauce vinaigrette and okra escabeche. Order some starters for an affordable $4 a plate. This includes adobo peanuts, Parker House rolls, sesame deviled eggs and furikake popcorn. An ice cream sundae for $6 comes with blueberries and soften bananas is the perfect way to end the meal. If you can't make it in this week, the pop-up menu repeats on Tuesday April 30.
Ma'am Sir is located at 4330 W Sunset Blvd, Los Angeles, CA 90029
---
Want to get our to-do lists straight to your inbox every week? Sign up for our email program. Have an upcoming event you'd like suggest for listing? Drop us a line at [email protected]