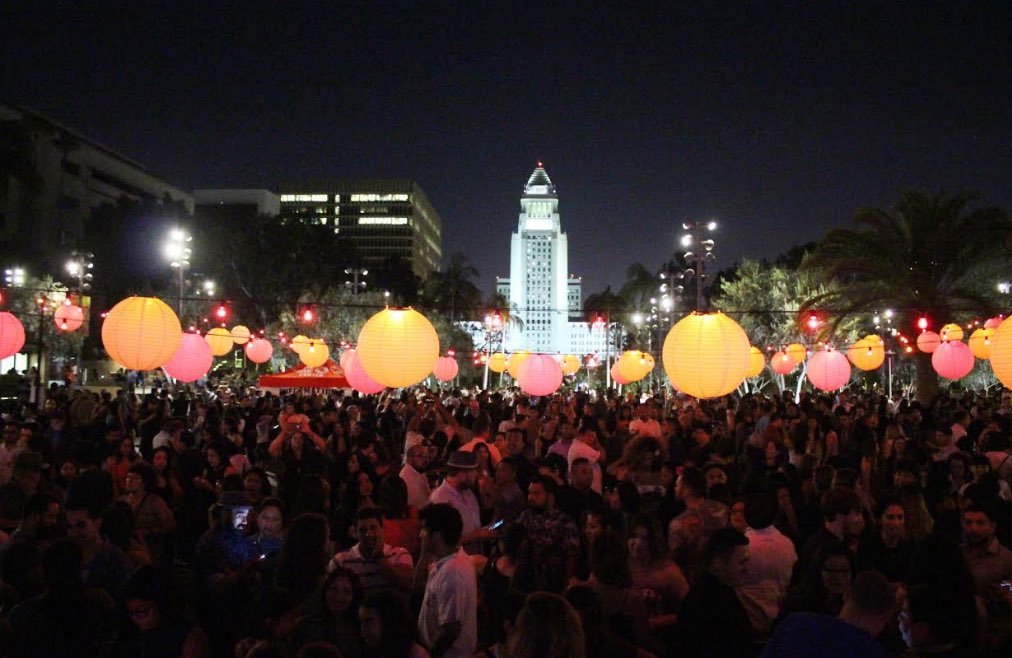 Every week in Los Angeles there are tons of great things to do (even before the weekend gets started) that we think you ought to have on your radar. With that in mind, we put together a list every Monday through Friday morning to keep you in the know about what's happening in the city you love (or maybe just like).
This week, from Monday, June 17 to Friday, June 21, features Jam Sessions at the Ford, Moonlight Movies on the Beach, Autry After Hours, El Segundo Art Walk, The Silver Lake Picture Show, Dance DTLA, LA Design Festival and MUCH more.
Remember you can always go to our L.A. events calendar page to get an updated rundown of what's happening around the city.
Hope you find the rundown useful and, as always, enjoy your week!
---
Keep in mind that while we retain complete editorial control of our content, for some of the ticketing options provided we utilize affiliate links and receive a commission if you purchase through our links.
---
Monday June 17th, 2019
1. Start your week with a free Jam Session at the Ford Theatres. This week Cuban choreographer and educator Kati Hernandez will teach guests Afro-Cuban moves. Live traditional percussion by Maestro Lazaro Galarraga and Bobby Wilmore will get guests grooving. FREE
2. Over three dozen venues such as 2nd Stage, Hudson Theatres, The Broadwater and the Underground Annex Theater host comedy, ensemble theatre, dance and immersive performances during the annual Hollywood Fringe Festival taking place June 13-30.
3. Astronomy on Tap hosted by Caltech Astronomy happens once a month at Der Wolf in Pasadena. Professionals will give informal talks about a variety of topics while enjoying German beers with the public.
4. Head down to Scum and Villainy Cantina this Monday in Hollywood for a Toy Story-themed trivia night.
5. Every year local breweries, bars and restaurants celebrate LA Beer Week (June 15-23) through events highlighting craft beer culture. Check their schedule for all the free and ticketed events happening this week.
6. Zombie Joe's Underground Theatre Group will take participants through the trials and tribulations of being a DAD raising a child. In this immersive-theater production the audience will interact with a wild cast of coming-of-age characters. The show is directed by Brandon Slezak and produced by Zombie Joe. Running Sundays and Mondays through July 1.
7. E.P. & L.P. in West Hollywood continues their stylish cinema series Melrose Rooftop Theatre with screenings of Bridesmaids, Bill & Ted's Excellent Adventure and more.
Tuesday June 18th, 2019
8. Moonlight Movies on the Beach brings a summer-long series of free outdoor movie screenings on the shores of the LBC to three different locations near Downtown Long Beach and Belmont Shore. The series opens with The Sandlot on June 18 at Granada Beach and Happy Gilmore on June 20 at Cherry Beach. Screenings continue on select Tuesdays and Thursdays through August 20. FREE
9. Mr. C's Poolside Cinema is back for the sixth year in a row. From June 11 through August 27 Angelenos can indulge in a luxury outdoor movie experience by the pool with a Cipriani menu, classic movie snacks and Peroni Nastro Azzurro. Pulp Fiction will be screened this week.
10. Innovative Dining Group (IDG) will celebrate International Sushi Day on Tuesday, June 18 at restaurants ROKU in West Hollywood, Sushi Roku (Pasadena and Santa Monica), Katana and Robata Bar in Santa Monica. Each restaurant will offer their premium sushi and sashimi platters for two for $55 (originally valued at $90 each).
11. The Hollywood Bowl welcomes opera star Andrea Bocelli on Tuesday and Wednesday to its outdoor amphitheater theatre stage.
12. Rooftop Cinema Club returns to the rooftops of LEVEL in DTLA and NeueHouse in Hollywood with multiple screenings this weekend that include A Star is Born, Selena and more.
Wednesday June 19th, 2019
13. Autry After Hours closes out their 2019 series with a blend of global works, a live flamenco performance, local poets and DJ tunes. There will be food and cocktails available for purchase and select museum galleries will be open for exploration.
14. FLIX at FIG screens The Goonies at FIGat7th in DTLA. The free movie screenings happen every third Wednesday of the month. A live DJ and happy hour kicks off the night at 6 p.m. and the film begins at 7 p.m. FREE
15. Every first and third Wednesday of the month, BEAR CITY brings free comedy and free pizza to Que Sera in Long Beach. FREE
16. Downtown Culver City's 7th annual 'Third Wednesday Spiked Lemonade Tasting' returns for another year of free lemonade tastings at participating businesses. FREE
17. Meet the Grunion with the folks at Cabrillo Marine Aquarium in San Pedro. Learn about these silverly fish during a short program then head over to the beach to observe their interesting mating nighttime ritual which brings the small fish onto the shores for a brief moment before the waves take them back into the ocean.
18. The Spare Room welcomes back Evening of Tiki, a one-night collaboration with the best and brightest cocktail talent from around the world. Happening once a month from May through September, beverage director Yael Vengroff will work alongside each guest bartender to create an over-the-top tiki-inspired menu. The Spare Room will also have a food menu, DJs and special guests for each night.
19. Head to the Institute of Contemporary Art, Los Angeles (ICA LA) for Art Babes Story Hour where children can enjoy stories read by artists who have authored children's books, as well as artists who will read a selection of favorite stories inside the art museum. FREE
20. The Super Serious Show is a comedy event produced by CleftClips featuring both established and up-and-coming talent performing an array of stand-up, sketch and musical comedy. Happening at The Virgil.
Thursday June 20th, 2019
21. The El Segundo Art Walk returns for three summer nights. Taking place every third Thursday of the summer months, this self-guided walk features more than 35 artists in 30+ venues in downtown El Segundo and in Smoky Hollow, an emerging, eclectic neighborhood that's funky, industrial and artsy. Each art event features fine art, live music, great food, a beer garden, and tours of artist studios.
22. Black Hollywood Comedy Festival (HBCF) comes to the TCL Chinese Theater June 20-23 to celebrate African-American comedy in the worlds of improv, standup, digital, television and film. Created by veteran comedy producer, Jeru Tillman, the HBCF was founded to exhibit diverse styles and perspectives of African-American comedic talent.
23. Shakespeare By The Sea will once again offer a ten-week program of admission-free performances with two featured productions: The Comedy of Errors and Henry V at a variety of venues across Los Angeles. Continuing the series is Henry V at Point Fermin Park in San Pedro at 8 p.m. Thursday through Saturday. FREE
24. Who What Wear brings back Street Style Cinema, their series of free outdoor movie screenings, to The Grove every Thursday evening in June. This week they'll screen Miss Congeniality. FREE
25. The Bloc presents Concerts at the Bloc every third Thursday of the month featuring talented local artists, a beer + wine bar, food options and more. Tickets are $5.
26. Eagle Rock Brewery will host a guided walking tour of Colorado Boulevard stopping in five featured restaurants where guests will enjoy tapas-sized portion of food and a small pour of beers at each stop.
27. Join California African American Museum (CAAM) to celebrate the release of Elaine Welteroth's memoir, More Than Enough: Claiming Space for Who You Are (No Matter What They Say). Welteroth is currently one of the judges on Project Runway, she was the youngest person ever appointed editor-in-chief at Teen Vogue and in 2012 had been the first African American ever to hold the post of beauty and health director at a Condé Nast publication. During the evening at CAAM, Welteroth will discusses her personal experiences breaking barriers and advocating for next-gen trailblazers. FREE
28. The BET Experience is back with show stopping performances all week from H.E.R., Meek Mill, Blueface, Cardi B, Migos, City Girls and more.
29. LACMA welcomes the public for a walking and sitting meditation in and around Richard Serra's large sculpture Band. The meditation will be led by educator Alicia Vogl Saenz. Tickets are required for this event. FREE
30. Movie Under The Guns is a free movie night aboard the Battleship Iowa in San Pedro. This week they'll screen Ralph Breaks the Internet. FREE
31. Night Market is back on the hilltop of the iconic Yamashiro restaurant every Thursday all summer long. Angelenos can enjoy boutique vendors, food vendors, a concert series, cocktails at Yamashiro's Pagoda Bar and an unbeatable view of Hollywood. This event is also kid friendley. Please note this year the organizers are charging $10 to park at the shuttle location. Shuttles are free and so is admission.
32. Created by playwright and director Gina Young, SORORITY is a show featuring queer and feminist experimental performances set in an artistic variety show like atmosphere. Their June 20 show will include an early and late night show both taking place at the Fountain Theatre.
33. The Sorting Room nightclub housed within the Wallis Center's Lovelace Studio Center presents a new season of unpredictable performances from poets, composers, jazz singers, cabaret veterans and more in a variety of genres alongside happy hour drink specials.
34. Every first and third Thursday of the month Brennan's in Marina Del Rey hosts their famous turtle races. Since 1974, this tradition brings these little speedsters out of their sanctuary (located in the bar) for an exciting game that support charities. Race starts at 9 p.m.
35. The first film festival devoted to romantic comedies Rom Com Fest debuts in Los Angeles June 20-23 at The Downtown Independent. Designed as a film festival the inaugural event will screen a mix of new and classic rom coms. Check for discounted tickets before making your purchase. DISCOUNTED (via Goldstar)
Friday June 21st, 2019
36. Originally founded in 2012, The Silver Lake Picture Show offers free outdoor film screenings on select summer Fridays at Sunset Triangle Plaza in Silver Lake. This year's series starts on June 21 with a screening of Selena. FREE
37. The Music Center's Dance DTLA features live music and/or DJs paired with expert dance instructors providing beginner group dance lessons for attendees. Each night has a different dance theme. The series opens on June 21 with a Bollywood theme on the Grand Park Performance Lawn. Dance DTLA continues on select Fridays through August 30. FREE
38. The LA Design Festival returns with a city-wide celebration that includes a block party, installations, opening exhibitions, a market place, talks, workshops, tours and much more. Keep in mind some events are ticketed while others are free.
39. Renown as "America's Best Wine Festival" by USA Today, Garagiste Wine Festival is back June 21 – 22 for a legendary event that showcases over 200 wines from 40 winemakers.
40. When the season changes Griffith Observatory presents free brief talks. This time it's to mark the summer solstice. FREE
41. Spend the season sipping wine during sunset hour at Barnsdall Art Park's Friday Night Wine Party Series. Happening on the lawn of architectural gem the Hollyhock House, the evening features a fine selection of wines curated by Silverlake Wine, a live DJ and tours of the house. The series happens every Friday evening till September 6.
42. Head to Virgil Village's LAG Vintage for the Pride Edition of JuiceBox featuring comedians Joel Kim Booster, Julia Hladkowicz, Kenny Deforest, Danielle Perez, Mary Jane French, Heather Turman and Kevin Yee.
43. Odd Nights At The Autry feature a collection of over 200 vendors, 20 gourmet food trucks, a beer garden, custom handmade treasures and live local bands. Check for discounted tickets before making your purchase. DISCOUNTED (via Goldstar)
44. FIGFest at FIGat7th in Downtown is back for another festive summer filled with live performances by leading artists in a variety of genres. The series continues this Friday with Buscabulla and Reyna Tropical. FREE
45. BET Hip-Hop Awards weekend kicks off this Friday at The Globe Theater with a 2000s R&B and Hip-Hop Party called Peaches & Cream. The fun continues at The Globe on Saturday with Henny & Waffles, a day-long dance party and buffet-style brunch.
46. Every Friday evening in June, Rancho Santa Ana Botanic Garden in Claremont hosts Butterflies & Brews where they feature a rotating line up of local craft beers, music and access to their California Butterfly Pavilion. A ticket cost $15 and includes your first drink.
47. The fourth annual Make Music Hollywood takes over Hollywood & Highland for a full day of performances in their main courtyard. FREE
48. Free Summer Movie Night is a family friendley evening in the city of Monterey Park. This week they'll screen Spider-Man: Into the Spider-Verse at Sequoia Park. FREE
49. Don't Tell Comedy pops up in North Hollywood this Friday with secret performers at a secret location. The location will be emailed to ticket holders and it's BYOB.
50. The Kimpton Everly will host its second annual Shakespeare on the Deck's with A Midsummer Night's Dream June 21 – 23. Director Mikey Mulhearn will put a new spin on the classic tale with an LGBT-focused storyline. The hotel will also host a summer solstice party with live music, cocktails, a drag show and DJ following the show.
51. Non-profit The Cat Cafe has a new popup kitchen lounge called Tiny Beans, where guests can interact with adoptable kittens for a fee. The sad fact is that many shelters do not have the capacity to care for kittens and that can result in euthanizing them. Tiny Beans aims to spread the word to help save as many kittens as possible all summer long.
Food Pick for the Week
This week's pick by Christina Champlin, Co-Founder of We Like L.A.
Fish Sauce brand Red Boat will host its first ever Bánh mì Week starting Monday, June 17. The week-long celebration is curated by Red Boat's R&D chef Diep Tran (formerly of the now shuttered Good Girl Dinette located in Highland Park.) Diep has recruited around a dozen talented chefs from across the country to design a specialty bánh mì of their own using Red Boat Fish Sauce.
For the uninitiated, Bánh mì is a Vietnamese sandwich on a baguette stuffed with savory ingredients that can include charcoaled pork, pâté, sautéed beef and so forth. It is usually topped with pickled carrots and daikon. Developed in Saigon, the bánh mì has become a food staple for most Southeast Asian communities.
The bánh mì creations will be featured on the menus of participating restaurants until June 23. See below for the three Los Angeles locations featured during Bánh mì Week and what they have to offer.
Chef Shawn Pham of Fiona Bakery in Beverly Grove will feature a Sausage Bánh mì made of Vietnamese sausage infused with Red Boat Fish Sauce and toasted rice powder on a house made baguette.
Chef Cecilia Leung of Lincoln in Pasadena will feature a Lamb Meatball Bánh mì with dill turmeric yogurt.
Chef Na Young Ma of Proof Bakery in Atwater Village will roll out a variety of Bánh mì creations on their daily sandwich menu.
---
Want to get our to-do lists straight to your inbox every week? Sign up for our email program. Have an upcoming event you'd like suggest for listing? Drop us a line at [email protected]