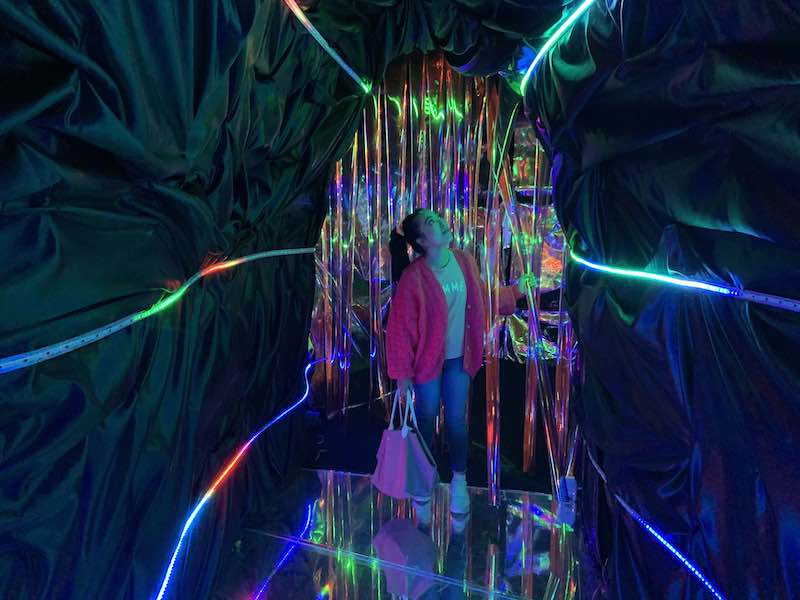 Los Angeles provides no limit of things to do, some awesome and some not so awesome. Since time is precious in this fast paced city we curate a list of things to do in Los Angeles for every weekend that'll help you decide how you want to spend your limited supply of attention (not to mention dollars!).
This Thanksgiving weekend in L.A. from Thursday, November 28 to Sunday, December 1 features Thanksgiving dining specials, Christmas in The Wizarding World, Queen Mary Christmas, Mar Vista Art Walk, Pumas in the Park, a dance workshop at CAAM, the Hollywood Christmas Parade, and MUCH more.
Remember you can always go to our L.A. events calendar page to get an updated rundown of what's happening around the city.
Hope you find the rundown useful and, as always, enjoy your weekend!
---
Keep in mind that while we retain complete editorial control of our content, for some of the ticketing options provided we utilize affiliate links and receive a commission if you purchase through our links.
---
Thursday November 28th, 2019
1. First and foremost, have a happy Thanksgiving holiday! Enjoy the day in the comfort of your own home or dine out at the many restaurants open on Turkey Day (we've got seven solid ideas).
2. "Christmas in The Wizarding World of Harry Potter" starts on Thanksgiving Day at Universal Studios once again serving a heavy dose of Hogwarts-themed holiday magic.
3. This Thanksgiving the Laugh Factory in Hollywood welcomes all those who are living in L.A. away from home, homeless, or simply in need of a good meal and hearty laugh. Top comics will join other celebrities to serve guests a turkey dinner with all the trimmings free of charge. This tradition has been going strong for 40 years. FREE
4. The 49th annual Dinner in the Park at Union Station Homeless Services in Pasadena will feed thousands of homeless and low-income individuals and families this Thanksgiving. The event brings members of the community together to share holiday cheer with those who have nowhere to go this holiday. FREE
5. Guests of Cafe Gratitude Venice will receive a free Thanksgiving inspired vegan plate. Like every year the deal is on a first come, first serve basis from 11 a.m. to 3 p.m. (or while still available). FREE
6. The 7th Annual Day of Thanks & Giving at MacArthur Park has a goal to serve all 700 expected guests. On top of that, they'll also be accepting clothing donations. All volunteers for food prep must rsvp ahead of time.
Friday November 29th, 2019
7. Dive into the holiday season with a Queen Mary Christmas! Kicking off this Friday, the special event will see Christmas spirit lining the famous Long Beach vessel until January 1, 2020. Activities include a 26 feet tall Christmas tree, variety of holiday activities, an outdoor skating rink, live entertainment and much more.
8. It's Black Friday at NKLA and the Best Friends Pet Adoption Center where all pet adoption fees will be waived thanks to sponsors Petco Foundation and BOBS from SKECHERS. Each pet is spayed or neutered, micro-chipped, and vaccinated so you'll get to take them home! FREE
9. Bob Baker Marionette Theater will commemorate their 56th birthday with a grand opening event with puppet shows on the hour, special exhibits, activities, walk-around puppets throughout the day and a virtual reality Bob Baker experience.
10. One of L.A.'s most magical holiday traditions, L.A. Zoo Lights returns November 15, 2019 through January 5, 2020 with thousands upon thousands of LED lights illuminating the zoo. Check for discounted tickets before making your purchase. DISCOUNTED (via Goldstar)
11. "Block Friday" at Maple Block Meat Co is a Black Friday deal everyone can get behind. From 10 a.m. to noon their new breakfast burrito will be offered at just $5. Normally $14, the burrito is served in a grilled flour tortilla with scrambled eggs, brisket machado and served with house-made salsa. The other deal takes place during lunch from 2 to 3 p.m. where their brisket will be offered at $5 a pound until they are sold out. Brisket is normally $25 a pound and Maple Block Meat Co expects this to be a busy time, so come in early.
12. Instead of Black Friday, Rancho Santa Ana Botanic Garden in Claremont will celebrate Green Friday with free admission to the garden and a special sale at their garden store. FREE
13. The Holiday Light Festival Train Ride at Griffith Park is a festive one mile ride on the tracks with tens of thousands of lights to get you in the Holiday spirit. Running November 29 through December 30.
14. Enjoy a special performance of The Nutcracker (November 29 to December 24) by the American Contemporary Ballet at Metropolis Los Angeles.
15. The Roadium Drive-In returns with a screening of Willy Wonka & the Chocolate Factory in a classic 1950's drive-in setting.
16. Two Bit Circus will open early for a Black Friday Happy Hour from 3-9 p.m. where you'll score $6 beers, drinks and bites.
17. The Magical Chinese Lantern Festival returns to Fairplex starting Nov. 21 with a new theme for 2019-2020: Blooming Seasons. This year's festival offers lantern displays as large as 30-feet high and 85-feet wide, highlighted by a 100-yard-long breathtaking Ceramic Chinese Dragon. Check for discounted tickets before making your purchase. DISCOUNTED (via Goldstar)
18. LA Auto Show returns with thousand cars on display. From November 22 to December 1 experience various car exhibits, model debuts and more at the LA Convention Center.
19. Golden Road LA and OC will both host a Golden Friday Fun Run. The 5k will will be followed by a party.
20. There's a midnight showing of Pulp Fiction in 35mm at New Beverly Cinema to celebrate the 25th anniversary of the iconic cult film.
Saturday November 30th, 2019
21. The Mar Vista Art Walk will feature artists and vendors from the area, a block party, activities for kids, a beer garden and much more. Admission is free.
22. Meet the Pumas in the Park is a morning walk and talk at King Gillete Ranch that allows the public to learn what wildlife biologists are discovering from a 17-year study. The walk is around two miles round trip. Sun protection, water and sturdy shoes are recommended. FREE
23. Since 1969 Bob Baker's Marionette Theater's adaptation of the Nutcracker has been warming hearts and delighting kids and adults during the holidays. The show includes over 100 handmade puppets at the Pasadena Playhouse. Running now until December 29.
24. Spend your Small Business Saturday weekend at Grand Central Market in DTLA with Jackalope Arts. Shoppers can explore indie goods including original fashion and jewelry design, paper goods, innovative home decor and housewares, art, photography, food, plus much more. Happening Saturday and Sunday.
25. Bring your best breakdance moves to CAAM this Saturday for an hour workshop of dance. Inspired by the Cross Colours 30th-anniversary exhibition, the session focuses on the popular moves of the 1990s, such as Running Man, Roger Rabbit, and the Cabbage Patch.
26. The Annenberg Space for Photography is hosting a special free screening of The Wall (the feature film written by Roger Waters) in celebration of the 40th anniversary of Pink Floyd's revolutionary album. FREE
27. The team behind LA's award-winning series For The Record has a new production coming to The Wallis' Bram Goldsmith Theater. Richard Curtis's Love Actuallywill be transformed into a one-of-a-kind multimedia screen and stage event starting November 27. The film and live music blend together as the story unfolds throughout the London setting. Performances continue through December 29. Check for discounted tickets before making your purchase. DISCOUNTED (via Goldstar)
28. Get your holiday shopping done early during Unique L.A. Holiday Market November 30 – December 1. The event will feature over 100 independent creators showcasing their goods for sale. Ticket holders get free drinks, access to the photo booth, free gift wrapping and much more.
29. Downtown Pomona Collectors St. Faire will pack the streets with three blocks of antique vendors in a fun festival environment. Admission is free.
30. The Scenario Studio is offering a free pop-up photo experience on Rodeo Drive daily through December 22. FREE
31. The Los Angeles Arboretum and Botanic Garden presents Moonlight Forest, where crafted lanterns line the garden grounds, some depicting animals, shimmering exotic flowers, and figures from Chinese legends. Happening Wednesdays through Sunday from November 9 through January 12, 2020. Check for discounted tickets before making your purchase. DISCOUNTED (via Goldstar)
32. The annual LA Kings Holiday Ice happening at L.A. LIVE's Microsoft Square is a daily outdoors holiday skating rink. Open November 30, 2019 through January 12, 2020.
33. WISHLIST, Gabba Gallery's annual holiday show runs November 16 through December. Now in its seventh year, the event is a great way for folks getting into art collecting. Prices start at $50 and nothing is over $1000. Artworks are a mixed bag of local and international artists. Gallery hours are Wednesday through Saturday, from noon to 3 p.m. or by appointment.
34. Don't Tell Comedy pops up in the Pacific Palisades this Saturday with some of the biggest names in comedy. Performers are kept under wraps and the location will be emailed to all ticket holders. BYOB!
35. The Bai Holiday Ice Rink returns to Pershing Square from Nov. 14, 2019 to Jan. 2, 2020 featuring a 7200 square foot outdoor ice-skating experience. A wide variety of events will take place throughout the duration of the rink.
36. Brooklyn-born craft market Artists & Fleas supports over 50 independent merchants every Saturday just waiting for the public to be discovered.
Sunday December 1st, 2019
37. Celebrate the Holiday Season with 2019's Hollywood Christmas Parade, featuring musical performances, life-size balloons, marching band shows and much more.
38. Starting this Sunday Smorgasburg LA will launch their annual Holiday Market with each week a different theme. Kicking off the series is Black Sunday a holiday shopping event that includes 25% off specials at all food vendors from 10-11 a.m. when using Apple Pay.
39.Descanso Gardens' Enchanted Forest of Light returns for another installment with a host of interactive displays and nighttime activities from November 17 through January 5, 2020. Check for discounted tickets before making your purchase. DISCOUNTED (via Goldstar)
40. Cyber Spirits presented by ULO is an eight-part installation and immersive theater experience that explores the presence of spirits in our digital devices. Part satire, and part social commentary, the colorful and quirky displays strive to make you both and laugh and contemplate. The experience lasts for about 15 minutes and includes plenty of dreamy optical sequences. Happening at ROW DTLA until December. Tickets available here.
41. Wallis Annenberg PetSpace will host a 90-minute workshop for your dog to learn how to be at their best during the holidays. Skills they will learn include: take a bow to say thank you, leave it, no jumping and more. There will also be a discussion on safe foods to share with your pets on Thanksgiving and holiday themed snacks will be served to guests.
42. Metro Art Los Angeles hosts a free Art Tour of the Downtown Rail Stations on Sunday morning starting at 10 a.m. at Union Station. No tickets or reservations are required. FREE
43. 40th Annual Spirit of San Pedro Holiday Parade will hosts a wide array of dancers, floats, and more all celebrating the special time of year. FREE
44. Get into the winter spirit when ICE at Santa Monica returns with a 8,000 square foot ice skating rink. Running November 1, 2019 through January 20, 2020.
Food Pick for the Week
This week's pick by Christina Champlin, Co-Founder of We Like L.A.
There's no more elegant way to kick off the Christmas dining season than with a Holiday Afternoon Tea at Tres by José Andrés The menu features Caviar Steamed Buns, Smoked Salmon Sandwiches with coconut, and José Andrés' signature Bagel and Lox Cone, followed by seasonal sweets like Eggnog Snickerdoodle Bon Bon, Chocolate Pop Rocks and Yule Log Mousse Cake. Each meal is paired with your choice of luxury tea selections that will have you sipping away, pinkies up. Tres' Holiday Afternoon Tea cost $65 a person and offered on the weekends between 3 to 5 p.m. now through the end of December. Reservations must be made at least 24 hours in advance by calling 310.246.5551.
Tres by José Andrés is located at 465 La Cienega Blvd, Los Angeles, CA 90048
---
Want to get our to-do lists straight to your inbox every week? Sign up for our email program. Have an upcoming event you'd like suggest for listing? Drop us a line at [email protected]