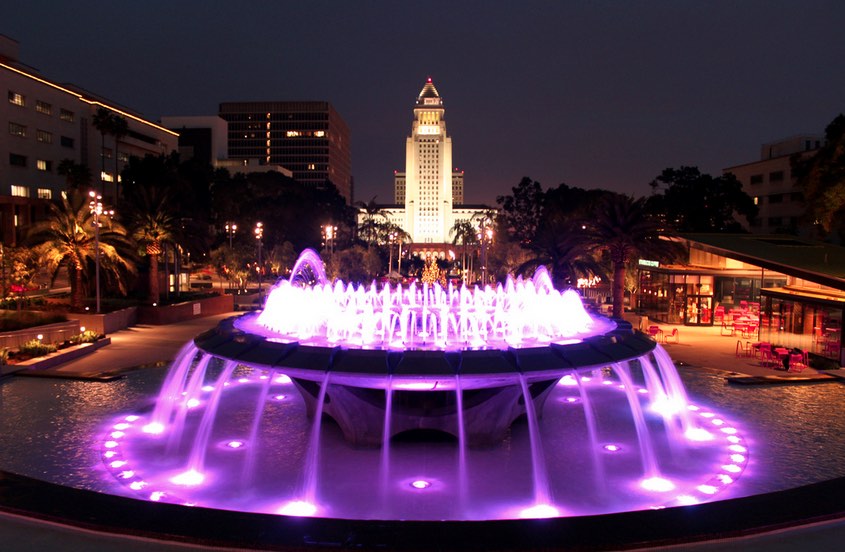 Los Angeles provides no limit of things to do, some awesome and some not so awesome. Since time is precious in this fast paced city we curate a list of things to do in Los Angeles for every weekend that'll help you decide how you want to spend your limited supply of attention (not to mention dollars!).
This weekend in L.A. from Friday, February 14 to Sunday, February 16 features Frieze Los Angeles, Angel City Brewery's Broken Hearts Circus, St. Valentine's Day Speakeasy Party & Pie Fight, a Panic Party at The Hammer Museum and MUCH more.
Remember you can always go to our L.A. events calendar page to get an updated rundown of what's happening around the city.
Hope you find the rundown useful and, as always, enjoy your weekend!
---
Keep in mind that while we retain complete editorial control of our content, for some of the ticketing options provided we utilize affiliate links and receive a commission if you purchase through our links.
---
Friday February 14th, 2020
1. Frieze Los Angeles is back at Paramount Pictures Studios for a three-day presentation of art from some of the most renowned galleries in the world. In addition to the art on display, special programming includes talks, films and artists' projects, all housed on the backlot at Paramount.
2. Lovers Rock transforms Grand Park into Valentine's Day haven, perfect for couples who want to do the romantic holiday on a budget. The park will be adorned with mood lighting while curated music sets the ambience. FREE
3. Grand Central Market and Street Food Cinema presents Valentine Weekend at the Million Dollar Theatre Feb 14-15. On Valentine's Day Friday, they'll host a screening of LA LA LAND and the day after (Saturday) they'll have a bloody good anti V Day screening of The Silence of the Lambs. Guests are allowed to explore Grand Central Market and bring their food into the theater. Specialty cocktails, DJ tunes, a photo booth and more will also be part of each night. Check for discounted tickets before making your purchase. DISCOUNTED (via Goldstar)
4. If you're single and love animals, this one might be for you. On Feb. 14 The Wallis Annenberg Petspace presents a special event called The Mating Game hosted by Director and animal love expert, Dr. Donna Fernandes. Guest will learn more about courtship and mating in the animal world, plus take part in games and activities. It's billed for both couples and singles. Tickets are $10. Wine and light refreshments will be provided. 21+ only.
5. This week The Museum of Illusions in Hollywood is offering a special promo for scorned lovers: Bring a printed photo of your ex and you'll get 50% off tickets, which include access to the mind-blowing 3D illusions and Upside Down House exhibits. They're calling the special Valentine's deal Cut 'em & Forget 'em, the deal ends Friday February 14, 2020.
6. Night Dive at the Aquarium of the Pacific is an 18+ party inside the aquarium featuring DJs, food trucks, cocktails and art alongside sea life. The Valentines Day edition will also feature a Rosé Bar and live mural art.
7. SPRING/BREAK Art Show will head to Los Angeles from February 14 – 16 for the second year in a row at Skylight ROW DTLA, expect dozens of curated exhibitions each housed inside 800 and 200 square foot metal stalls that can and will also spill out onto the surrounding lot spaces.
8. MiniBar located in Franklin Village will host a Village People Valentine's Party. Partnering with Compass Box Whisky the party starts at 9 p.m. with roaming "Hot Cops" (male go-go dancers) passing out drinks and citations. Late-night drink specials will be available on Compass Box Penicillin cocktails, Scotch cocktails and Compass Box highballs.
9. Riding a Ferris wheel as the pinnacle of romance? Yes, a cliche. But maybe it's so cliche that it's not even a cliche anymore. Plus if you head to the Santa Monica Pier, the folks at Pacific Park are adding a bonus this year: Pony up for a ride on the Pacific Wheel and you'll be serenaded by the sweet sounds of viola player Daniel Morris. Plus, you have to admit the view from the top of that wheel is pretty killer. The serenades run from 6 to 9 p.m. Expect crowds at the pier in general. Public transit strongly encouraged.
10. Single or not single, Valentine's Day seems to be an ideal excuse opportunity to sip vino. Hence: Be Wine Valentine at OUE Skyspace Los Angeles. The Feb. 14 event features a quintet of wine tastings set against one of the most breathtaking views in the entire city. $45 gets you in and that includes wine, trap passed appetizers, and a Skyslide ride. DJ-spun dance tunes to follow the wine tastings. Couples can get two tickets for $80 (save $10).
11. The L.A. Arboretum will host a moonlit walk in their gardens after hours to reveal the fascinating botany of love and lust. Hear about the bizarre secret of ficus sex, the botanical origins of the birth control pill and much more. Happening Friday and Saturday.
12. stARTup Art Fair comes to Kinney Venice Beach Hotel February 14 – 16 for an art exhibition that bypasses the traditional gallery system by taking over a hotel by hosting 80 artists works inside individual rooms. In addition to art, there will be music, performances, food and drink. Check for discounted tickets before making your purchase. DISCOUNTED (via Goldstar)
13. Cinespia takes over the Los Angeles Theatre for their annual Valentines party. This year they'll go back in time to the 80's with a screening of The Wedding Singer with an 80's themed night of live music, a DJ dance party, five floors of bars and a free photo booth.
14. The California African American Museum celebrates Valentines's Day Palentine's Day with a night of performance and poetry featuring poet Danez Smith. There will be a DJ set and and libations to follow at the after-party.
15. Severance Wine Bar wants to celebrate your single status during their BREAKUP BAR POPUP. Taking place next door to the bar, the two week long party will transport guest into an anti-Valentine's Day world with break up appropriate movie screenings, a Wall of Broken Relationships, loads of champagne, cocktails and food. Running Tuesday through Saturday January 31 till February 16.
16. Brandon's will throw an anti-Valentine's Day party. Expect curated vinyl tunes and specialty black cocktails. Guest should come dressed in their best black attire.
17. The Hammer will screen Barry Jenkins's Academy Award–winning film Moonlight. This event takes place in the evening and is free to attend. Admission to the museum is always free. FREE
18. The Belamar Hotel in Manhattan Beach invites singles to a "Mix and Mingle" party, on Valentine's Day. There will be an interactive dating game hosted by local comedian, Danno Carter. There will be a huge voodoo doll for the broken hearted to stick pics of their ex to. Other activities include a themed photo booth, games, cocktails and food.
19. Art Los Angeles Contemporary 2020 edition will be held at The Hollywood Athletic Club Feb 13-16 with over 50 exhibitors from eleven countries participating.
20. For Valentine's Day The Natural History Museum of Los Angeles is hosting a night of unrequited love centered around a screening Creatures from the Black Lagoon. The movie will be presented in consideration of the recently launched Natural History of Horror exhibit, which showcases stories of classic Hollywood monsters and the science that inspired their creation. The Feb. 14 evening of activities will include access to the exhibition, rare museum collection displays, special effects makeup artist demonstrations, hands-on workshop, a special performance, and a pre-film discussion with Mallory O'Meara, author of The Lady from the Black Lagoon and artist and filmmaker Micheline Pitt. Tickets are $15 for non-members.
21. The Groundlings will debut an extra rowdy all-new sketch comedy from the Main Company called Bar Fight on Valentines Day. Opening night will include hors d'oeuvres courtesy of The Darkroom, specialty cocktails courtesy of Taffer's Mixologist, wine and beer, as well as desserts after the show. The Groundlings Bar Fight runs every Friday and Saturday through April 18th.
22. Felix LA a contemporary art fair returns Feb. 13–16 for another year of highlighting a diverse selection of 60 exhibitors in unique spaces this year the fair will be held inside the historic Hollywood Roosevelt. Expect a host of on-site projects and programming throughout the hotel's hallways, lobbies, ballrooms, and bungalows.
23. My Vintage Valentine will come aboard the Queen Mary on Friday for a romantic evening with a signature four-course dinner and a special show, to be enjoyed with your Valentine.
Saturday February 15th, 2020
24. The Groundlings Open House 2020 offers prospective students a first-hand look at class offerings while enjoying a day of fun, food, and entertainment. Highlights include three free one-hour shows (first-come, first-serve), $10 classes all day, giveaways and food trucks.
25. Angel City Brewery's festival for the lovelorn, the Broken Hearts Circus, returns to Downtown Los Angeles for a lively post Valentine's Day bash. Enjoy stilt walkers, snake charmers, wire walking, sword swallowers, burlesque, food vendors, and more. FREE
26. Queen Mary's ScotsFestival & International Highland Games XXVII returns February 15-16 to celebrate 25 years of the annual event with an array of authentic Scottish activities, athletics, dancing, entertainment, drinks and cuisine. Check for discounted tickets before making your purchase. DISCOUNTED (via Goldstar)
27. The St. Valentine's Day Speakeasy Party & Pie Fight hosted by Roaring 20's Street Jams is a throw back extravaganza with music, dance, cocktails, a staged reenactment of the historic St. Valentine's Day Massacre and one epic pie fight to close out the night.
28. The South Pasadena Arts Crawl is an all ages free event featuring art exhibitions, activities, live music, open houses, food and drink specials throughout the business district on Mission Street, and adjacent blocks. FREE
29. Discover over 350 destinations from around the world, meet travel celebs like Rick Steves or Samantha Brown, learn how to pack well and decide where to go for your next trip during the Los Angeles Travel & Adventure Show at the LA Convention Center February 15-16. Check for discount tickets before making your purchase. DISCOUNTED (via Goldstar)
30. Stop by the Firecracker Festival in Los Angeles' Chinatown for two days filled with friendly-competition, carnival games, food trucks and more.
31. Long Beach Mardi Gras takes over Shoreline Village with a full day of music, dance, parades, and more. The party is free to attend and guests are encouraged to dress up. FREE
32. Wanderlust in Hollywood is home to Mortified's Doomed Valentine's Show. Watch a bevy of brave adults read from their most embarrassing amour-inspired diaries, love letters, lyrics and poems from their teen years.
33. There's an Artists & Fleas Pop-Up at Grand Central Market Feb 15-16 showcasing some of the best LA makers in one spot for your shopping pleasure.
34. Atsuko Okatsuko hosts Let's Go, Atsuko! A (woke) Japanese Game Show at Dynasty Typewriter at The Hayworth. The show will transport audiences to a Japanese Game Show full of interactive games, videos, discussions, and appearances by notable funny folks.
35. The Pan African Film Festival (PAFF) returns to Los Angeles February 11-23. Now in its 28th year, the festival is the largest black film festival in America.
36. The Annenberg Space For Photography is sharing four decades of Vanity Fair's celebrity portraits from their annual Hollywood issues as well as captures from past Oscar night parties in their latest exhibit Vanity Fair: Hollywood Calling. FREE
Sunday February 16th, 2020
37. Fight for climate justice through dance! The Hammer museum will host a party to celebrate a greener future this Sunday featuring DJ's, cocktails, vegan eats, artist activations, after-hours in the exhibits, experts ready to arm you with the tools to go green and much much more. FREE
38. Everyone from all backgrounds are welcome to spend their Sunday celebrating Black history in America at Leimert Park Village. The event will include guest speakers, engagement workshops, food vendors, music, and more. FREE
39. Comedian, actor, and filmmaker Whitmer Thomas stops by The Satellite with a few of his pals for a PALentines Day show with some stand up and sing songs this Sunday.
40. Challenge yourself with a 75-minute yoga class while enjoying views of the DTLA skyline during Flow + Flavor: Rooftop Yoga at Smorgasburg x ROW DTLA.
41. Molcajete Dominguero at LA Plaza de Cultura y Artes welcomes Angelenos to explore Latinx art, craft, clothing, food, and beverage vendors from Southern California this Sunday.
42. Free Museum Day: Museum of Latin American Art and Craft and Folk Art Museum (pay what you can)
Food Picks for the Week
This week's pick by Christina Champlin, Co-Founder of We Like L.A.
Extravagant supper pop-up Disco Dining Club celebrates five years of deviant outlandish parties by debuting Medusa's Profane Midnight Rouse (February 14-15). The night resurrects the cursed mythical creature Medusa as she hosts 50 guests each evening for a decadent five-course meal prepared by Chef Draden Medina and thematic cocktails. Throughout the night musical performances and theatrical numbers will unravel in a fully immersive lavish atmosphere with Medusas presence lurking behind every corner. Tickets cost $277 per person and is all inclusive. Friday night tickets seem to be sold out already. The event takes place at a private residence in DTLA. The address will only be revealed to ticket holders.
---
Want to get our to-do lists straight to your inbox every week? Sign up for our email program. Have an upcoming event you'd like suggest for listing? Drop us a line at [email protected]