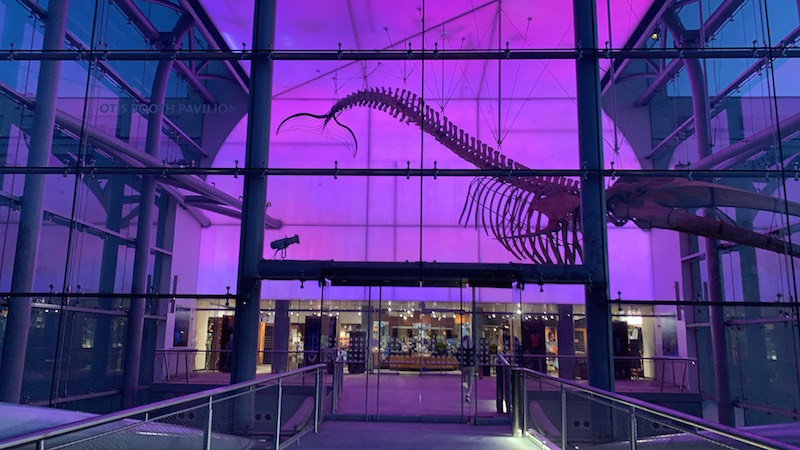 You know what's handy? Waking up in the morning, firing up your phone/computer and being able to scan a super quick (but curated) rundown of the best of what lies ahead. So here it is, our list of fun things to do in Los Angeles for today, Friday, February 14, 2020.
May it lead you to adventure!
[IMPORTANT: Want our latest 'things to do' rundowns sent straight to your email inbox? Sign-up for our newsletter program]
Keep in mind for some of the ticketing options we utilize affiliate links and receive a commission if you purchase through our links (affiliates noted in parenthesis).
---
1. [11 a.m.]SPRING/BREAK Art Show will head to Los Angeles from February 14 – 16 for the second year in a row at Skylight ROW DTLA, expect dozens of curated exhibitions each housed inside 800 and 200 square foot metal stalls that can and will also spill out onto the surrounding lot spaces.
2. [7:30 p.m.] Cinespia takes over the Los Angeles Theatre for their annual Valentines party. This year they'll go back in time to the 80's with a screening of The Wedding Singer with an 80's themed night of live music, a DJ dance party, five floors of bars and a free photo booth.
3. [6 p.m.] For Valentine's Day The Natural History Museum of Los Angeles is hosting a night of unrequited love centered around a screening Creatures from the Black Lagoon. The movie will be presented in consideration of the recently launched Natural History of Horror exhibit, which showcases stories of classic Hollywood monsters and the science that inspired their creation. The Feb. 14 evening of activities will include access to the exhibition, rare museum collection displays, special effects makeup artist demonstrations, hands-on workshop, a special performance, and a pre-film discussion with Mallory O'Meara, author of The Lady from the Black Lagoon and artist and filmmaker Micheline Pitt. Tickets are $15 for non-members.
4. [7 p.m.]  Lovers Rock transforms Grand Park into Valentine's Day haven, perfect for couples who want to do the romantic holiday on a budget. The park will be adorned with mood lighting while curated music sets the ambience. FREE
5. [7 p.m.] If you're single and love animals, this one might be for you. On Feb. 14 The Wallis Annenberg Petspace presents a special event called The Mating Game hosted by Director and animal love expert, Dr. Donna Fernandes. Guest will learn more about courtship and mating in the animal world, plus take part in games and activities. It's billed for both couples and singles. Tickets are $10. Wine and light refreshments will be provided. 21+ only.
6. [7:30 p.m.] Night Dive at the Aquarium of the Pacific is an 18+ party inside the aquarium featuring DJs, food trucks, cocktails and art alongside sea life. The Valentines Day edition will also feature a Rosé Bar and live mural art.
7. [7:30 p.m.] The California African American Museum celebrates Valentines's Day Palentine's Day with a night of performance and poetry featuring poet Danez Smith. There will be a DJ set and and libations to follow at the after-party. FREE
8. [7:30 p.m.] The Groundlings will debut an extra rowdy all-new sketch comedy from the Main Company called Bar Fight on Valentines Day. Opening night will include hors d'oeuvres courtesy of The Darkroom, specialty cocktails courtesy of Taffer's Mixologist, wine and beer, as well as desserts after the show. The Groundlings Bar Fight runs every Friday and Saturday through April 18th.
9. [8 p.m.] Brandon's will throw an anti-Valentine's Day party. Expect curated vinyl tunes and specialty black cocktails. Guest should come dressed in their best black attire.
10. [9 p.m.] MiniBar located in Franklin Village will host a Village People Valentine's Party tonight starting at 9 p.m.. Partnering with Compass Box Whisky the festivities will include "Hot Cops" (male go-go dancers) passing out drinks and citations. Late-night drink specials will be available on Compass Box Penicillin cocktails, Scotch cocktails and Compass Box highballs.
MORE: Still need to plan a meal out for V-Day? Check out our guide on Where to Eat for Valentine's Day in L.A. (2020)
#SPONSORED DEAL OF THE DAY: $2.50 tix to the Long Beach Crawfish Festival (via Goldstar)