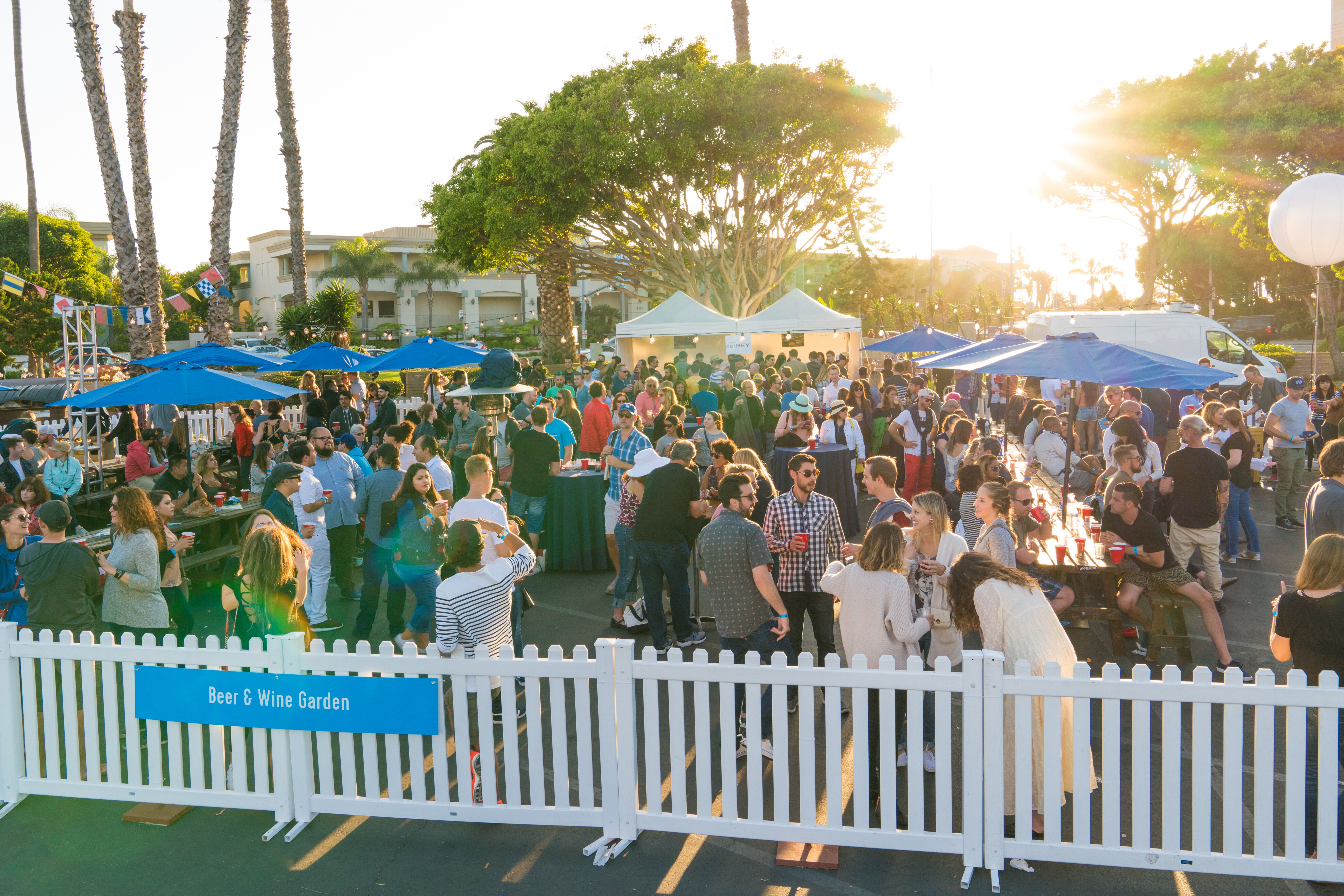 Los Angeles provides no limit of things to do, some awesome and some not so awesome. Since time is precious in this fast paced city we curate a list of things to do in Los Angeles for every weekend that'll help you decide how you want to spend your limited supply of attention (not to mention dollars!).
This weekend, from Friday, May 17 to Sunday, May 19 features Museums of the Arroyo, Night Garden at Descanso Gardens, a Griffith Observatory celebration of Apollo 10 and the moon, 626 Golden Streets, ARTsea in Marina del Rey, A Tutta Pizza, and MUCH more.
Remember you can always go to our L.A. events calendar page to get an updated rundown of what's happening around the city.
Hope you find the rundown useful and, as always, enjoy your weekend!
---
Keep in mind that while we retain complete editorial control of our content, for some of the ticketing options provided we utilize affiliate links and receive a commission if you purchase through our links.
---
Friday May 17th, 2019
1. Disney's The Little Mermaid will transform the iconic Hollywood Bowl into an "under the sea" wonderland on May 17 and 18 for an immersive live-to-film concert experience. The audience will enjoy the film broadcasted on the Bowl's movie screen while a star studded cast performs live with an orchestra. Check for discounted tickets before your purchase. DISCOUNTED (via Goldstar
2. Pop-Up Magazine's Spring Show, a live-magazine created for stage and screen performed in-front of a live-audience takes over the Theatre at the Ace Hotel this Friday.
3.Monrovia Days 2019 takes place May 17-19. The community fair will feature games, rides, food, vendors, a parade, live entertainment, and more to celebrate the city's birthday. FREE
4. Movie Under The Guns is a free movie night aboard the Battleship Iowa in San Pedro. This week they'll screen SGT. Stubby. FREE
5. Walt Disney Concert Hall welcomes The BTHVN on tour exhibition to BP Hall from May 17-26 during the LA Phil's Beethoven concert series. The BTHVN is a global touring exhibit highlighting Beethoven's life, original objects like the viola and original scores along with some interactive elements. The exhibit is free and open daily from 9 a.m. to 5 p.m. There will be ticketed LA Phil concerts during this period alongside pre-concert lectures on May 17, 18 and 19 featuring demonstrations of the viola.
6. Odd Nights At The Autry feature a collection of vendors, gourmet food trucks, children activities, guest DJ's, a full bar and access to The Autry Gallery until 9 p.m. Happening every third Friday of the month until October 2019. Check for discounted tickets before making your purchase. DISCOUNTED (via Goldstar)
7. The NoMad Los Angeles recently launched a new food series titled 'For A Limited Time Only' transforming the hotel's coffee shop into a variety of themed pop-ups every Friday and Saturday evening. The second iteration The Kentucky Derby featuring mint juleps, hot chicken sandwiches, deviled eggs and Derby decor to match.
8. Get up close and personal with sharks at the Aquarium of the Pacific during Shark Lagoon Nights. Guests will have the opportunity to touch bamboo sharks and view large sharks in an after hours setting. FREE
9. Rooftop Cinema Club returns to the rooftops of LEVEL in DTLA and NeueHouse in Hollywood with multiple screenings this week that include A The Matrix, Top Gun and more.
Saturday May 18th, 2019
10. Filipino Garage Party comes to the Rooftop of The Standard in Downtown L.A. for the ultimate potluck-style celebration of Filipino food and culture with some of the best Filipino chefs as part of the L.A. Times Food Bowl series.
11. One Colorado in Old Pasadena will host a Garden Party Benefit for Bob Baker Marionette Theater to raise funds for the theater's upcoming move to Highland Park. There will be three ticketed performances for the day, one at 10 a.m., noon, and 2 p.m. The event also features a raffle, puppet-making activities, and a selfie station.
12. ARTSea Marina Del Rey's annual party on the beach returns to Marina (Mother's) Beach on May 18 and 19 for an oceanside celebration featuring art installations, live performances, interactive workshops, food trucks, and more. FREE
13. Griffith Observatory invites Angelenos to a day-long celebration of the Moon in honor of 50th Anniversary of Apollo 10. There will be a star party and a special presentation of All Space Considered Remembers Apollo 10 a look back at the historic mission to the Moon. The celebration takes place on the Griffith Observatory lawn and in the Leonard Nimoy Event Horizon. FREE
14. Street Food Cinema returns this weekend with a screening of The Princess Bride at Griffith Park and The Wizard of Oz at Will Rodgers State Historic Park. (DISCOUNTED) via Goldstar
15. FITatFIG returns to the FIGat7th Plaza on Saturday for a daylong celebration of fitness with some of the best celebrity trainers and lifestyle gurus. FREE
16. Downtown Burbank Arts Festival 2019 returns May 18 – 19 for its 16th year for a two-day outdoor festival featuring 200 artists, famous Disney animators, interactive experiences, special appearances, and much more. FREE
17. Descanso Gardens will host a Night Garden event fun for all ages centered around the science of nature. Guests will enjoy science minded activities, live music, food and more.
18. EEEEEATSCON, by The Infatuation returns to Santa Monica's Barker Hangar May 18-19 with a bevy of top restaurants from L.A. and the East Coast.
19. The Natural History Museum hosts its Bug Fair on May 18 – 19. Highlights include exotic insect collections, bug-inspired artwork and jewelry, live animal demonstrations, bug chefs, bug-related products such as honey and silk plus much more.
20. Off the 405, free concerts at the Getty will host a performance by Sasami and a DJ set by Linda Nuves of Chulita Vinyl Club in the museum courtyard. FREE
21. The 36th Annual California Strawberry Festival returns to Strawberry Meadows of College Park in Oxnard on May 18-19 for a weekend-long event packed with everything a strawberry lover could want.
22. Little Tikes World's Biggest Playdate comes to Central Park in Pasadena for an afternoon of fun where parents and their children can play together alongside other families. FREE
23. Spring Los Angeles Oddities Flea Market returns to the Globe Theatre in Downtown L.A. May 18 – 19 for a shopping experience featuring three floors of curated vendors.
24. The Beverly Hills artSHOW returns on May 18-19 featuring over 245 artists from around the country in painting, watercolor, mixed media, ceramics and more. FREE
25. Non-profit The Cat Cafe launches Tiny Beans, a popup kitten lounge where guests can interact with adoptable kittens for a fee. The sad fact is that many shelters do not have the capacity to care for kittens and that can result in euthanizing them. Tiny Beans aims to spread the word to help save as many kittens as possible starting this Saturday and all summer long.
26. 8h Annual LitFest Pasadena, hosted within the Pasadena Playhouse District, is a literary-focused festival that's free for all ages. The event takes place May 18-19 and features over 200 authors, workshops, panels, performances and more. FREE
27. WE RISE, a free 10 day pop-up festival (May 18-27) will honor Mental Health Awareness Month through artists presentations, creative programming, workshops, activism, panels and more – all focused on supporting a call to action for mental health as a civil right. FREE
28. POP SK8 brings a pop-up outdoor roller-skating rink to the Westfield Valencia now through May 27.
29. The Italian American Museum of Los Angeles (IAMLA) and Factory Place Hospitality Group will host a Weekend of Prosciutto, two days of delicious events that include tastings of Prosciutto di Parma in Downtown Los Angeles.
30. Playa Vista's 3rd Annual Fit Expo and Health Fair at Concert Park is a family-friendly fitness gathering with free workout classes, vendor booths, food trucks, free swag and much more. FREE
31. Eat|See|Hear returns for 2019 with a screening of Get Out. Check for discounted tickets before making your purchase. DISCOUNTED (via Goldstar)
32. Vanderpump Dogs 4th Annual World Dog event takes place at West Hollywood Park featuring dog-friendly vendors, food trucks, live entertainment, adoptions and more. FREE
33. The Palms Neighborhood Council hosts the 3rd Annual Palms Community Day featuring food trucks, live performances, local resources, activities for all ages, and more. FREE
Sunday May 19th, 2019
34. Museums of the Arroyo Day returns for its 30th anniversary celebration that gathers thousands of Angelenos for a free and family fun day at six local museums that include the Gamble House, Heritage Square Museum, The Los Angeles Police Museum, The Lummis Home, and the Pasadena Museum of History. FREE
35. 626 Golden Streets returns on Sunday for a free community event where the streets of Pasadena, Irwindale, Arcadia and other SGV neighborhoods will be car-free. Highlights include a half marathon and 5K run, live entertainment, inflatable obstacle courses, games, crafts, vendors and exhibitors and more. FREE
36. The Venice Family Clinic Art Walk & Auction at the Google Campus is a day filled with art and fundraising. This annual event, features a silent art auction, artist studio tours, art installations, food, live music and a beer and wine garden.
37. The 3rd Annual Flavor of LA returns for an afternoon of gourmet food and tasty libations at the iconic CBS Studio Center Back Lot. The event will offer unlimited food samples from some of L.A.'s best restaurants, as well as craft beers, wines and cocktails. Check for discounted tickets before making your purchase. DISCOUNTED (via Goldstar)
38. Metro Art Presents along with Leaving Records will come together to bring an outdoor music series to Union Station this Sunday. FREE
39. Cypress Grove will stop by Small Town Restaurant in Silver Lake to host a "Cheeseboards for Dinner"event. Tickets cost $10 and come with a personalized cheeseboard dinner, refreshments, swag, and offerings from Gelson's Markets, 21st Amendment Brewery, Rustic Bakery, Columbus Craft Meats, and more. Cheeseboards will be served from 4 to 9 p.m.
40. Annenberg PetSpace hosts Pet Encounters this Sunday allowing their adoptable pets to socialize with people. Stop by and interact with some adorable dogs and support the community space. Registration is required.
41. A Tutta Pizza comes to the Hollywood Palladium for an all-you-can-eat pie event from styles like New York to Chicago, and Roman to Neapolitan. In addition to copious amounts of pizza, highlights include panels and Q&As, cooking demos, and culinary workshops.
42. South Bay Beer & Wine Festival takes over Ernie Howlett Park in Rolling Hills Estates with over 100 food and drink vendors and unlimited samples.
43. Celebrate Endangered Species Day at Cabrillo Beach Coastal park with multiple events held that day including a Salt Marsh Open House, a walking tour of the beach, a Grunion Gala and more.
44. Unheard LA a live community-driven storytelling series featuring a lineup of real people sharing true stories of life in Southern California stops by Little Tokyo's Aratani Theatre this Sunday. FREE
45. Sunday Yoga + Meditation at Angel City Brewery is a donation based event happening every week. The recommended donation is between $15-$20 and includes one free drink at the brewery.
46. Enjoy a day of Cuban culture when La Plaza de Cultura y Artes hosts the Cuban American Music Festival on Sunday, with musical acts, dancing, local Cuban artists, and Cuban food and drink.
47. E.P. & L.P. in West Hollywood continues their stylish cinema series Melrose Rooftop Theatre with a screening of Jurassic Park.
Food Pick for the Week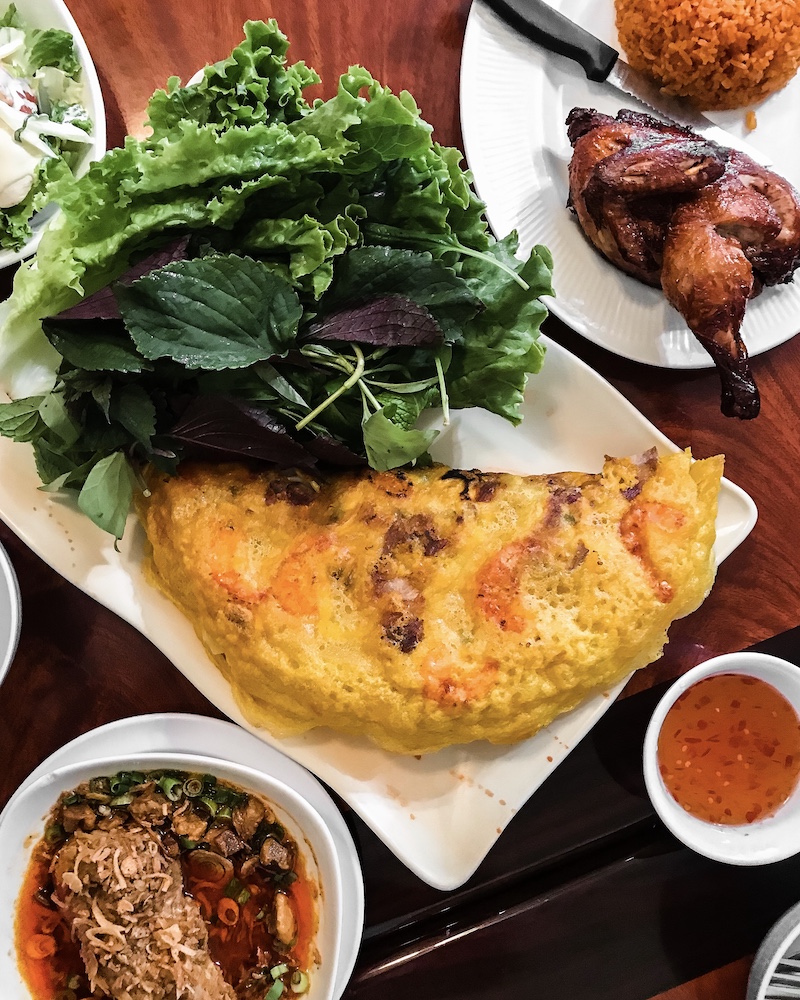 This week's pick by Christina Champlin, Co-Founder of We Like L.A.
This weekend head to the San Gabriel Valley for a visit to Bánh Xèo Quán, a specialist in the savory Vietnamese pancake the restaurant is named after. The Rosemead eatery serves just five items on the menu. You have to order at least one Bánh Xèo, which they also call "crepe" on the menu. It is a shared dish that can serve two to three people. The crepe is made from a batter of rice flour, water and turmeric, which is poured into a sizzling hot skillet where it transforms into a large thin pancake. The Bánh Xèo is then stuffed with a variety of ingredients and folded into a half moon. It basically looks like one giant taco. The most traditional version of this dish is stuffed with shrimp, pork, mushroom, egg, onion and lots of beansprouts. At Bánh Xèo Quán you'll find three different types, the traditional, a version filled with fish and a vegetarian option stuffed with tofu, mung bean, mushroom and beansprouts.
The finished product is a crispy yellow shell with piping hot ingredients steaming from underneath. It comes out with a plate of lettuce, Vietnamese herbs and fish sauce for dipping. Most restaurants that serve Bánh Xèo would have you wrapping a piece of the crepe in lettuce and eating it like a lettuce wrap. It can be a messy process, especially for newcomers. At Bánh Xèo Quán they offer bánh tráng, a translucent rice paper you can conveniently wrap your crepe, lettuce and herbs in. This makes the process of transporting your bite size creation pretty seamless. The trick is to create a tightly wrapped skinny burrito. Try not to over stuff the rice paper (less is more). The Bánh Xèo itself is pretty mild and can be customized with lettuce and herbs. A dash of sambal chili paste to your fish sauce will give you a nice kick. As you bite into the roll, it'll be chewy for a split second, then your teeth will crunch through the yellow crepe and right into the savory ingredients. And while you're staring at the ruby red booths and the signed picture of Steve Carell on the wall you'll think to yourself, "This… this is the perfect bite."
The Bánh Xèo cost $11.50. Bánh tráng the rice paper cost $2. Other dishes cost between $8.95-$14.95. Credit cards are accepted, but there's a $1 flat charge for all credit transactions.
Bánh Xèo Quán is located at 8742 E. Garvey Ave. Rosemead 91770
---
Want to get our to-do lists straight to your inbox every week? Sign up for our email program. Have an upcoming event you'd like suggest for listing? Drop us a line at [email protected]