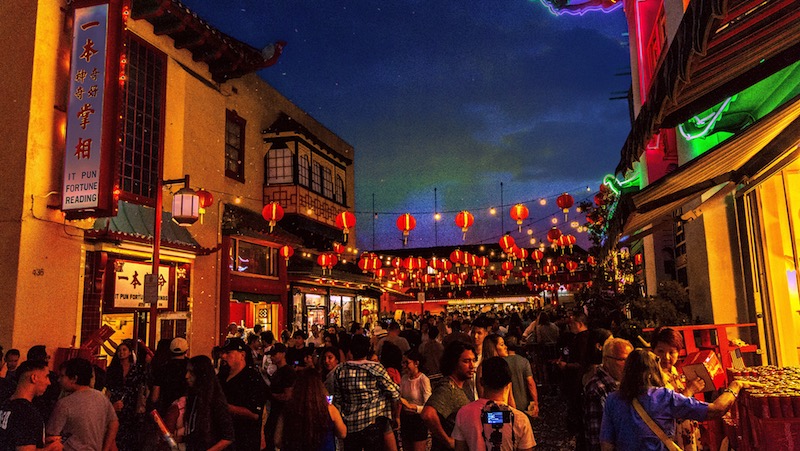 Los Angeles provides no limit of things to do, some awesome and some not so awesome. Since time is precious in this fast paced city we curate a list of things to do in Los Angeles for every weekend that'll help you decide how you want to spend your limited supply of attention (not to mention dollars!).
This weekend, from Friday, June 7 to Sunday, June 9 features Chinatown Summer Nights, Butterflies & Brews, BoldPas in Old Pasadena, DTLA Donut Festival, The Groundlings' Diversity Festival, Salsa Music Festival and MUCH more.
Remember you can always go to our L.A. events calendar page to get an updated rundown of what's happening around the city.
Hope you find the rundown useful and, as always, enjoy your weekend!
---
Keep in mind that while we retain complete editorial control of our content, for some of the ticketing options provided we utilize affiliate links and receive a commission if you purchase through our links.
---
Friday June 7th, 2019
1. LA Pride Week returns to Los Angeles May 31 to June 9 for community-oriented events designed to support the LGBTQ+ community from West Hollywood and beyond. This weekends events include The Opening Ceremony with a Weho Vogue Ball & Drag Show on June 7 the legendary L.A. Pride Festival on June 8 and much more.
2. Every Friday evening in June, Rancho Santa Ana Botanic Garden in Claremont hosts Butterflies & Brews where they feature a rotating line up of local craft beers, music and access to their California Butterfly Pavilion. A ticket cost $15 and includes your first drink.
3. Summer Friday Night Drive-In at the Roadium returns every Friday evening from June 7 to August 30 to revive your favorite films in a classic 1950's drive-in setting. The series kicks off with a screening of Back to the Future.
4. FIGFest at FIGat7th in Downtown is back for another festive summer filled with live performances by leading artists in a variety of genres. The series kicks off with Cherry Glazer and Liily this Friday. FREE
5. Spend the season sipping wine during sunset hour at Barnsdall Art Park's Friday Night Wine Party Series. Happening on the lawn of architectural gem the Hollyhock House the evening features a fine selection of wines curated by Silverlake Wine, a live DJ and tours of the house. The series happens every Friday evening till September 6.
6. First Fridays return to the Natural History Museum this Friday for an after hours party with DJs, cocktails and food.
7. This Friday Crumbs & Whiskers Cat Cafe will host two parties to celebrate the LGBTQ+ community in honor of PRIDE weekend in Los Angeles. Guests will enjoy 70 minutes with the cats or kittens, a complementary cafe drink, treats, PRIDE flag and stickers, and a keepsake polaroid photo.
8. The Ace presents a monthly evening of stand up comedy on their rooftop Upstairs bar hosted by Louis Katz. FREE
9. Never been to LACMA? First-time Fridays is a new monthly event for new visitors to the museum. Simply let the ticket office know you're a newbie and you'll receive a free poster, discounts and a welcome gift. Stop by after 3 pm with a L.A. County residents ID and get free admission.
10. "The Assassination of Edgar Allan Poe," premiers in and outside of the many Victorian mansions at Highland Park's Heritage Square Museum. The show follows the strange life and mysterious death of Edgar Allan Poe through multiple storylines. Audience members decide which storyline to follow (literally) in this immersive theatrical event and draw their own conclusion on how the famous writer died. The show runs June 7 through August 17.
11. The Griffith Observatory hosts a monthly forum where some of the most amazing phenomena in the known universe are explained and discussed. It's called All Space Considered and it takes place on the first Friday of every month. FREE
12. Hola Mexico Film Festival, the largest Mexican film festival outside of Mexico happens May 31 through June 8 in various venues around Los Angeles. This week includes a special screening and concert of Rita, The Documentary. The festival also host exclusive parties and outdoor concerts. Find the full schedule here. Check for discounted tickets before your purchase. DISCOUNTED (via Goldstar)

13. First Fridays Bixby Knolls in Long Beach will throw a prom themed party with interactive installations, a yearbook signing, dancing, live music, and a dress up contest where the winners become king and queen of prom night and more.
14. Grand Central Market's special promotion Friday Night Flights includes a flight of drinks or bites from GCM vendors and a round trip ticket on the historic Angels Flight Railway right across the street for $15.
15. Hitch-Hiker's Guide to the Galaxy returns to The Wallis June 6 – 9. Back by popular demand the show features a gender bending ensemble, live puppetry, miniature sets, and live music to bring the political satire to life.
16. First Fridays at Riviera Village in Redondo Beach features after hours at art galleries, restaurants, shops and live music. Location of the performances will vary. Check the Riviera Village Facebook events page to get details on each event as it becomes available.
17. Virgil Village hold their First Friday event from 4 to 9 p.m. Guests can enjoy a variety of special offerings like complimentary wine tastings and bites from local restaurants and businesses plus deals from boutiques.
18. Caltech Astronomy invites the public to sit in on a stargazing and lecture event this Friday at 8 p.m. FREE
19. 260LA will host a Mara Hoffman sample sale from June 4-9 in their Beverly Hills location.
20. Rooftop Cinema Club returns to the rooftops of LEVEL in DTLA and NeueHouse in Hollywood with multiple screenings this week that include A Star is Born, Superbad and more.
21. Free admission at: Norton Simon Museum (5 to 8 p.m.).
Saturday June 8th, 2019
22. BoldPas: A Day of Art & Play in Old Pasadena returns for its third annual installment of temporary street art and engaging public activities. Staged in Old Pasadena's historic 19th-century alleys, this year there will be 17 site-specific art installations spread throughout the 22-block historic district of Old Pasadena including a 60-foot canvas suspended high above one alley, a giant sea of balloons, and a serpentine tube made of beach balls. FREE
23. The DTLA Donut Festival returns to Union Station for a mouthwatering day showcasing various donut styles, flavors, and forms. The festival will also feature the "Hole Donut Marketplace", with 12 different donut vendor including Voodoo Doughnut, California Donuts and RING Baked Tofu Donuts.
24. KCRW's Summer Nights brings free, all-ages shows to some of the most iconic venues and cultural centers in Los Angeles all summer long. They continue this weekend with KCRW DJs Travis Holcombe + Novena Carmel in Chinatown. FREE
25. The Groundlings' Diversity Festival celebrates and explores diversity and inclusion in comedy and entertainment with an array of free performances this Saturday that includes alumni and special guests. FREE
26. Community arts festival "Art in the Afternoon" takes over the EXPO Center for a fun filled family friendly day of creating. Guests can enjoy hands-on art making experiences, carnival games, prizes, a beer and wine garden for adults, food, live performances, silent auctions, surprise guests and more. This event benefits local non-profit A Window Between Worlds.
27. Eat|See|Hear returns for 2019 with a screening of The Princess Bride. Check for discounted tickets before making your purchase. DISCOUNTED (via Goldstar)
28. The Pasadena Playhouse Block Party invites Angelenos to celebrate arts and culture through twenty free performances plus family-friendly interactive activities, food, libations, and guided tours. FREE
29. The Playboy Jazz Festival returns to the Hollywood Bowl June 8 and 9 with the L.A. Philharmonic and an all-star line-up of musical guests. Check for discounted tickets before making your purchase. DISCOUNTED (via Goldstar)
30. From June through September, ROW DTLA in partnership with Local LA, hosts Market at the Terminal a pop-up featuring food trucks, over 50 vendors to shop from, a beer, wine & spirits garden, plus live music. The event is free and open to the public.
31. Rosé Day LA returns to Saddlerock Ranch in Malibu for an afternoon of crisp bottles of rosé, delicious food pairings, live DJs, luxury brands, music performances, leisure lawn games and more.
32. Electric Entertainment (EA) Play returns to the Hollywood Palladium June 8 – 9 for one of the biggest and best opportunities to get hands-on with your favorite games. Fans will be connected around the world to EA's biggest new games through live broadcasts, community content and competitions. FREE
33. Get to know the East Village Arts District this Saturday during the Long Beach Art Walk. The route is six blocks long with nine galleries, 21 murals, and 28 businesses ready to be explored. FREE
34. Last Remaining Seats, the Los Angeles Conservancy's annual event featuring classic film screenings in some of Los Angeles' most beautiful vintage movie palaces this Saturday they'll screen 1956 Argentinian film The Bitter Stems/ Los tallos amargos at 2 p.m. and 1941 The Maltese Falcon at 8 p.m. Both screenings will take place at the Million Dollar Theatre.
35. Drunken Devil will transport guests to early 20th century Mexico during Cantina del Diablo an evening that includes free flowing alcohol, devious immersive storytelling, tantalizing burlesque acts, a Latin American-inspired disco by DJ Sindri, and much more.
36. Outdoor theater Will Geer's Theatricum Botanicum, located in Topanga Canyon continues their summer 2019 season on Saturday with a performance of Shakespeare's A Midsummer Night's Dream and continue through Sunday with a performance of Twelfth Night.
37. Glassell Bark will bring together people and dogs for a special afternoon featuring rescue adoptions, local artists, contests, live performances, free professional family pet photos, free microchipping, free spay/neuter vouchers, a doggie fashion show, food trucks, a pet food drive, and more. FREE
38. Street Food Cinema returns this weekend with a screening of The Goonies at Veterans Memorial Park in Culver City and The Greatest Showman at Victory Park in Pasadena. Note that select screenings have discounted tickets. (DISCOUNTED) via Goldstar
39. In honor of World Oceans Day, the Surfrider Foundation in partnership with Love Beauty and Planet and Love Home and Planet will host a number of beach clean up events in California, including at Gladstones Beach and Huntington Beach. No rsvp is required just show up at the times listed and all volunteers will receive Love Beauty and Planet and Love Home and Planet swag as a thank you. FREE
40. Tillamook stops in Los Angeles as part of their Summer Scoop Series bringing complementary ice cream flights to a number of spots June 8-9 including select Alfred Coffee locations and the Palos Verdes Street Fair & Music Festival. FREE
41. Inner-City Arts presents Summer on Seventh 2019 an evening of art installations, live music on the rooftop, food, drinks, studio tours and more. The event is headlined by Best Coast and the food line up includes Cassell's Hamburgers, Everson Royce Bar, Guerrilla Tacos, Pizzanista and more.
42. L.A.'s only live animated comedy show Picture This! is back with a show on Saturday at The Virgil with over a dozen well known comedians and animators.
Sunday June 9th, 2019
43. Loyola Marymount University's KXLU Radio will host its fifth annual Salsa Music Festival with live music, dance, food trucks and pop-up shops this Sunday. Performers include Roosevelt Cordova with Cojunto Oye, the Susie Hansen Latin Band, the Arsenio Rodriguez Project, and Brazilian samba rock group ROGÊ & Band. FREE
44. Annenberg PetSpace will host an Agility Workshop for your dog this Sunday. The one hour class will have an obstacle course with jumps, tunnels and pause tables.
45. Non-profit The Cat Cafe has a new popup kitchen lounge called Tiny Beans, where guests can interact with adoptable kittens for a fee. The sad fact is that many shelters do not have the capacity to care for kittens and that can result in euthanizing them. Tiny Beans aims to spread the word to help save as many kittens as possible all summer long.
45.Sunday Yoga + Meditation at Angel City Brewery is a donation based event happening every week. The recommended donation is between $15-$20 and includes one free drink at the brewery.
46. E.P. & L.P. in West Hollywood continues their stylish cinema series Melrose Rooftop Theatre with a screening of Kill Bill.
47. Free admission at: Museum of Latin American Art, Craft and Folk Art Museum (pay what you can) and USC Pacific Asian Museum (11 a.m. to 5 p.m.)
Food Pick for the Week
This week's pick by Christina Champlin, Co-Founder of We Like L.A.
New York's most famous bagel and cured fish shop Russ & Daughters pops up this Saturday at Rose Venice. The-one day event is a collaboration between Rose Venice chef Jason Neroni and fourth generation Russ & Daughter owners Josh Russ Tupper and Niki Russ Federman. Items available include Russ & Daughters' bagels, pastrami-cured salmon, soft egg scrambles with caviar, smoked fish platters, chocolate babka french toast, and black and white cookies. The event starts bright and early at 8 a.m. and runs until 2:30 p.m. or until everything sells out, which is highly likely. A line is expected to form for this pop up so come early. This is the first time that Russ & Daughters stops in the West Coast.
Rose Venice is located at 220 Rose Avenue. Venice, CA 90291
---
Want to get our to-do lists straight to your inbox every week? Sign up for our email program. Have an upcoming event you'd like suggest for listing? Drop us a line at [email protected]