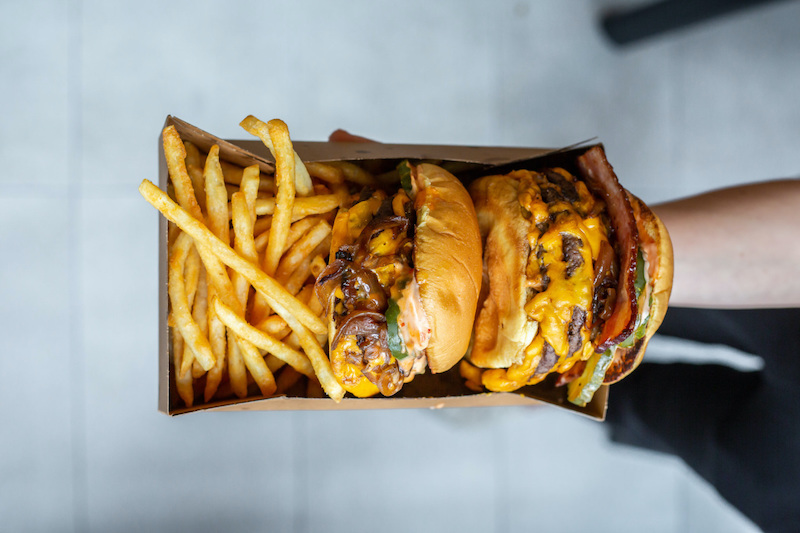 The COVID-19 pandemic has hit our food and beverage industry hard, forcing all restaurants to halt dine-in service. But by ordering pickup or delivery, you can help those still in service stay afloat. We're now going to share some of our favorite local takeout, pickup, and delivery deals every Friday. So, if you're up for a #treatyourself weekend, take a look at our list for this weekend below. And don't forget to tip! Our hospitality workers need it now more than ever.
Several Thai Town restaurants, in collaboration with the Thai Town Council of Los Angeles, are offering dishes for just $5 through April 19. Participating restaurants include Crispy Pork, Crying Tiger, Pa Ord, and Sapp Coffee Shop, plus many others. Deals available for pickup only. See more details here. (You may also want to call ahead, as some restaurants are only offering the deals during select hours.)
Rosemead eatery Bánh Xèo Quán, a specialist in the savory Vietnamese pancake, has a takeout promo where you can buy three Vietnamese Crepes and get one free. Crepes are stuffed three ways: traditional (shrimp, pork, mushroom, egg, onion, beansprouts), fish, or a vegetarian option. Crepes are $12.50 each and come with the traditional sides of lettuce and herbs for wrapping the crepe in and fish sauce for dipping. They also do delivery (promo not applied) through Postmates.
A burrito collaboration by two of the city's best is happening this Saturday. Broken Spanish is offering its Brunch Burrito wrapped in Burritos La Palma flour tortillas for $9 through Tock. Pickup times are between 11:30 a.m. and 2:30 p.m.
Poncho's Tlayudas is selling Oaxacan-style, banana leaf-wrapped tamales at $3 each. Options include verde, mole, amarillo, and frijol. Available for Sunday pickup in South Los Angeles. Direct message your order to Chef Martinez on Instagram or order on the Poncho's Tlayudas website.
Silver Lake's 58-year-old Casita Del Campo is offering its full menu for pickup (call to order) or delivery through apps Postmates, Grubhub, and Caviar. Try the generous combination plates ($14-$18). They mix and match items like enchiladas, tamales, and tacos, all served with rice, refried beans, and soup or salad. If you're looking for a mask, the restaurant is also selling The Casita Del Campo "Love Masks" online for $20 plus a $5 shipping and handling fee. Or, if you're local, you can pick up a mask at the restaurant.
Get an at-home cannoli kit from Ugo in Culver City. For $20, it comes with four pastry tubes, ricotta filling, chocolate chips, crushed pistachios, and powdered sugar. Ugo also has fruit, veggie, and grocery boxes available in addition to its usual Italian menu. Available for pickup or delivery. More details here.
Rossoblu is offering several cook-at-home pasta options and you-bake Semolina chocolate chip cookies. If you're looking for cooked meals, they have you covered with items like lasagna bolognese and meatballs for two. Cocktails, wine, and even groceries are also available. Place orders for curbside takeout Wednesday through Sunday from 3:30-8 p.m.
Porta Via Italian Foods in Pasadena is offering Italian eats like lasagna, salads, deli sandwiches, and more for takeout between 10:30 a.m. and 4 p.m. Charcuterie lovers should consider Porta Via's individual cheese and salumi plate that includes three types of cheese, two salumi flavors, crackers, and fig spread for $15. Delivery is also available through apps DoorDash, Postmates, UberEats and FreshBytes.
Support a 99-year-old institution. The Pacific Dining Car is offering 30% off your bill when you order takeout through its site. Check out the Steak Survival page where you can purchase all kinds of cuts, a giant cheese plate, seafood, and even a breakfast kit. If you need items delivered, you can find Pacific Dining Car on UberEats, Postmates, and Doordash.
Get German beers delivered in a 64oz. reusable amber growler along with frozen German sausages from The Red Lion Tavern in Silver Lake. Or, opt for tasty combination meals that come with options like a sausage platter, soft pretzels, beer, and wine. Call for pickup and delivery. Orders can also be made through GrubHub.
Ike's Love and Sandwiches offers $5 sandwiches on Fridays with the purchase of another sandwich at regular price. This week, they've got the Marty (turkey, pepper jack, spicy Italian dressing) and the Ruth (vegan turkey, pepper jack, spicy Italian dressing). And yes, these are themed after the TV show Ozark. Order on the Ike's app for delivery or takeout.
Modern French bistro Papilles, located between Hollywood and Franklin Village, is open daily from noon to 8 p.m. serving fried chicken sandwiches, groceries, and one of the most delectable burgers in L.A. Ask them about their specials, too. In the past, they've offered Steak Frites and Coq au Vin for takeout. Order online or give them a call to pick up a meal.
The Order Social Eats restaurants in Santa Monica are offering several deals. Azule Taqueria has a $25 taco box with ten tacos plus chips and salsa, a $35 burrito box with four burritos plus chips and salsa, and a $40 build-your-own taco kit with 24 flour tortillas, veggie or protein of your choice, toppings, chips, and salsa. Pop!s Burgers & Shakes has a $25 Burger Box with four single or double-patty burgers, choice of side, and four soft drinks. On the lighter side, Supertoro has a Sushi & Crispy Rice tray for $40 with four cut rolls, four crispy rice, a large seaweed salad, and edamame. See all the deals, available for pickup and delivery, here.
Mickey's Deli in Hermosa Beach is offering free combo meals to anyone who comes in and identifies themselves as a frontline medical worker or first responder and $5 combos to everyone else. This deal is valid throughout the pandemic.
Arlet's Cafe in Chatsworth has a meal prep menu of healthy breakfast and dinner items. Options include zoodles with turkey meatballs, grilled lemon garlic salmon, blueberry protein pancakes, and more. New customers can pre-order four meals and get one (of equal or lesser value to the rest) free. See more info here.
The Crispy Cuban food truck is now open for delivery. In addition to Cuban sandwiches, bowls, and sides, they've got family meals for $45 (feeds four) that come with an entree like rope vieja or lechón, plus rice, beans, plantains, Caesar salad, and churros. Choose your preferred delivery platform here.
Uber Eats is doing a "Virtual Restaurant Week." Order a three-course, prix fixe meal from one of over 200 participating restaurants for $35 and no delivery fee. (A big tip, though, would certainly be appreciated by those essential workers bringing you your meal.) Some restaurants to choose from include Eataly, Tacos Tu Madre, Silverlake Ramen, and Belcampo. To find participating eateries, open your app, then swipe through the top banner and tap on the Restaurant Week graphic. This special runs through April 23.
Through April 19, Local90 in Redondo Beach will donate a DIY pizza kit to a Walk With Sally family for every kit the public purchases (up to 100 kits). The kits come with dough, tomatoes, mozzarella, and parmesan cheese—enough to make pizza to feed 4-6. Pizza Kits are $38 and available for pickup or delivery. Walk with Sally provides support to children whose parent, guardian, or sibling has been diagnosed with cancer. More info here.
Spread Kitchen is offering to-go cocktail kits from several local bartenders, including Jessi Smyth of Genever and Big Bar's Cari Hah. Choices include the Cafesito (El Silencio mezcal, coffee-infused Campari, amaro, orange peel, halva) and the Eastside Spritz (Mulholland gin, cucumber mint shrub, spiced soda). Get four servings for $30 or eight for $50. Half of all proceeds will go to the bartenders.
None of these deals strike your fancy? Here are some more ideas:
'Bodega On Wheels' Delivers Groceries, Sandwiches, Ice Cream & Booze
30+ L.A. Eateries in the Valley Offering Takeout/Delivery
Mel's Drive-In Carhop Service is Back!
17+ L.A. Bakeries That Need Your Help
17 L.A. Spots To Get Cocktails, Wine, and Beer for Delivery or Takeout
50+ Local Restaurants Open for Pickup and Delivery