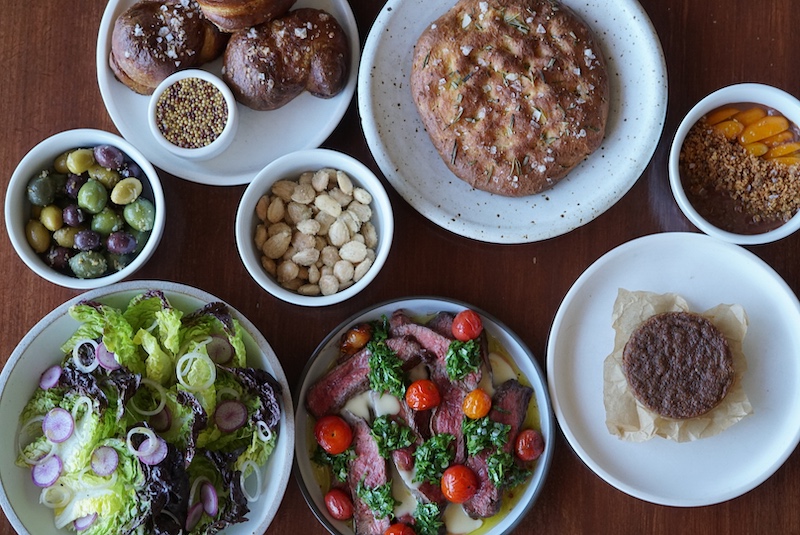 The COVID-19 pandemic has hit our food and beverage industry hard, forcing all restaurants to halt dine-in service. But by ordering pickup or delivery, you can help those still in service stay afloat. We're now going to share some of our favorite local takeout, pickup, and delivery deals every Friday. So, if you're up for a #treatyourself weekend, take a look at our list for this weekend below. And don't forget to tip! Our hospitality workers need it now more than ever.
The Arts District's Manuela has a rotating Supper for Two deal that runs daily for just $44. This weekend, they're also offering a Mother's Day Brunch for One for $30. The brunch includes biscuits and honey butter; deviled eggs; arugula salad with cherries, goat cheese, and spiced pecans; a popover Benedict with your choice of salmon or preacher ham, and a strawberry basque cake for dessert. Add a half-bottle of Laurent Perrier La Cuvée Brut Champagne for $20. The holiday meal is available for preorder now, for pickup or delivery this Sunday, May 10.
Alta Adams in West Adams is open for takeaway Thursday through Sunday. It offers a sliding scale family meal pack and an Alta experience package ($35/person) that includes a starter, a main, two sides, and dessert.
Rustic Canyon in Santa Monica has just reopened and they're offering a variety of multi-course meals for $49 per person. They're available every night for two, four, and six people. This Saturday is fried chicken and curtido with buttermilk biscuits, honey butter, and blackberry hot sauce. An all-vegetarian Sunday dinner is also available this weekend. There are some tasty add-ons, too, like garlic pretzels with house-made mustard, salted cookie sandwiches, quarts of vegetable stock, and chicken consommé. Picky kids can opt for freshly-made pasta with butter and parmesan. The restaurant is currently open Wednesday through Sunday from 4-7 p.m. Pre-order by phone starting at 1:30 p.m. daily, or order through Rustic Canyon's website or Tock.
The Gjelina Group has an Oaxacan-inspired pop-up in Venice called Valle Venice. On the debut menu are Peads & Barnett pork collar tacos ($9-$13), squash blossom quesadilla ($6), ceviche ($12), and more. Family meals are also available and start at $25. Valle is open from 11:30 a.m. to 7:30 p.m. daily. Walk-up, phone, and online orders are available through the Toast app at mtnvenice.com.
Georgia's is serving soul food out of its Long Beach location. Order up some chicken & waffles or go big with several family feast options ($20-$155). Anyone who orders a meal can mix and match two sangrias or hurricanes for $15. Available for takeout, delivery, and curbside pickup.
All India Cafe located in Glendale and Pasadena is open for pickup and delivery. The menu also includes their affordable lunch specials where prices start at just $9.50.
Shabu Shabu and Sukiyaki establishment Mo-Mo-Paradise has loads of deals for the public. Currently, they are hosting a "2 Bowls for $12" deal where they'll donate one bowl to a frontline worker for each one purchased. Takeout and delivery are available. Locations include Rowland Heights, Torrance, and Arcadia.
Mother's Day Specials
EMILIA in Beverly Grove is offering three-course pre-fixe meals for $23.95 (per person) this Mother's Day. Guests can choose a Caesar salad followed by homemade rigatoni alla bolognese and creme caramel for dessert, or a tricolore salad and homemade ravioli di ricotta e spinaci topped with a creamy tomato sauce with Studel di Mele (a crispy puff pastry roll filled with apple and cinnamon) for dessert. Order by phone at (424) 999-4755 for pickup on Mother's Day.
Poppy + Rose in DTLA will offer a Mother's Day brunch complete with floral arrangements. The waffle brunch for two includes a short stack of waffles, two chicken wings, Greek yogurt, a mimosa kit, and a small floral arrangement for $70. If you have a bigger party, opt for the waffle brunch for four which includes a full stack of waffles, two chicken wings, two thighs, two biscuits with a side of gravy, avocado toast, Greek yogurt, two mimosa kits, and two small floral arrangements for $135. Order ahead by calling (213)-622-0176 or get delivery through UberEats and Postmates.
SOL Cocina in Playa Vista is serving a coastal Mexican Mother's Day bundle that includes your choice of entrée such as a breakfast burrito, ultimate breakfast torta, or La Vida Quinoa Bowl; papas papi, and a mimosa kit to share. The deal for two costs $50 or $70 for four. The bundle is available for free delivery or pickup via online ordering.
Interstellar in Santa Monica will offer a special brunch spread for $80. The deal gets you a gourmet charcuterie board and an assortment of sandwiches like the prosciutto & arugula, BLTA, and sweet onion ham. It's paired with a bottle of rosé or a build-your-own mimosa box. You can add a floral arrangement for an additional fee, too. Curbside pickup and takeout are available. Delivery is through GrubHub and Caviar.
Rappahannock Oyster Bar in DTLA has all you need for an oyster bake or a shucking party for Mother's Day weekend. They're offering unshucked oyster packages including 30 oysters for $25, 60 oysters for $50, and 100 oysters for $75. They're also selling custom Rappahannock shucking knives for $25 each. For those who want something much smaller, the restaurant is offering a dozen oysters and a half-bottle of Champagne for $42. To order, call (323) 435-4004.
Local small-batch rum maker Krafted Spirits is offering new cocktail kits for Mother's Day. The Krafted Small Batch White Rum Box (makes 14-16 cocktails) costs $55 and features a full 750ml bottle of Krafted White Rum, two mixers including the Krafted L.A. Rum Punch and Krafted DTLA Daiquiri, along with one mini-can of Coke and one lime. The Krafted Premium Rum Box (makes 14-16 cocktails) costs $55 and features your choice of a full 750ml bottle of Krafted Premium Dark Rum or Krafted Pineapple Infused Rum, two mixers including both the Krafted Hollywood Hurricane and Krafted Venice Beach Painkiller, one mini-can of Coke, and one lime. To order, email [email protected] or send a direct message to @kraftedspirits through Instagram.
Sushi Roku in Santa Monica and Pasadena, as well as Katana in West Hollywood, will offer three meal kits that serve four people: DIY Hand Roll Kit for $120, a Sushi Family Pack for $98, and a Family Hot Pack for $98. Guests will receive a complimentary Mother's Day chocolate gift for each order. All orders must be placed by 9 p.m. Saturday, May 9 for pickup anytime on Sunday, May 10 from noon to 2 p.m.
Pacific Dining Car in DTLA is offering several Mother's Day specials including a Lobster Benedict for $35, prime filet and eggs for $34, and a slow-roasted prime rib meal for $40. You can also score 30% off the a la carte menu by ordering takeout through the website.
May 6-10, NORMS will give away a free bouquet of flowers from local florist Pyramid Flowers with every $20 purchase. Each location will have a limited supply of flowers daily. The promotion is available for pickup only. Order through apps such as Postmates, DoorDash, UberEats, and GrubHub. Also, there's a free pound of bacon with any $10 purchase!
None of these deals strike your fancy? Here are some more ideas:
'Bodega On Wheels' Delivers Groceries, Sandwiches, Ice Cream & Booze
30+ L.A. Eateries in the Valley Offering Takeout/Delivery
17+ L.A. Bakeries That Need Your Help
17 L.A. Spots To Get Cocktails, Wine, and Beer for Delivery or Takeout
50+ Local Restaurants Open for Pickup and Delivery