There are plenty of food related events happening around town this week. First up: You might already know about Saved by The Bell diner opening its doors today. Fans of the show and lovers of the 90's will get a kick out of the menu (whose hungry for some A.C. Sliders or Mac & Screech?)
In other news, the L.A. Food Bowl kicks off their first week strong with José Andrés and Jonathan Gold at The Wiltern tonight, a Mole and Mezcal event at Panxa Cocina on Thursday, a Sichuan Summit at the Million Dollar Theatre on Friday and the Masters of Taste festival on Sunday.
Finally, if you're in search of Cinco de Mayo celebrations I have a round up of places offering food and drink specials from North Hollywood and Downtown to Torrance and everywhere in between.
As always, enjoy all the tasty news bites below! Bon Appétit!
The Saved By The Bell Pop Up Diner Arrives in L.A.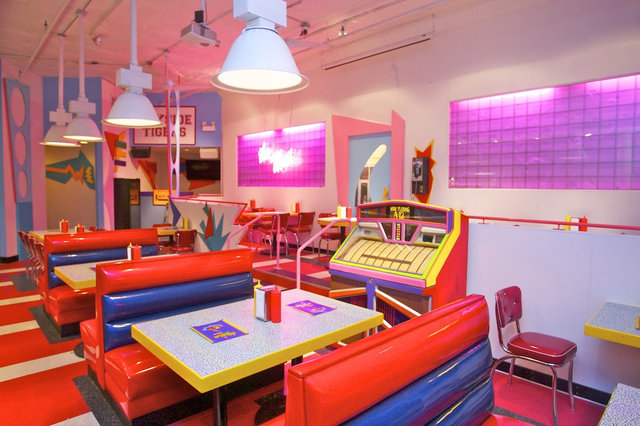 Saved By The Bell fans have been waiting patiently and today Saved by the Max makes its Los Angeles debut. Set to resemble The Max, a local hangout in the show, the menu will serve up heavily themed eats like the Kelly Kapowski Monte Cristo, A.C. Sliders, the Bayside Burger, the Preppy BLT and Mac & Screech. As Saved by the Max was a big success in Chicago, reservations are highly encouraged and walk-ups will be limited.
With most (all?) of the reservations filled up, word is out that Saved by the Max will offer a 'Second Semester' of seating reservations through September 2019. Those tickets go on sale ($40 a person) this Friday starting at noon.
Masters of Taste Returns This Sunday
A food festival for a good cause is something everyone could get behind. Masters of Taste is a food event that highlights culinary masters and restaurants in the sweets, drink, sprits and food industry. Participating this year are Crème Caramel, Sunset & Vinyl, Redbird, Spring, Wolfgang Puck Catering, Ayara Luk and many more. The event is held inside the beautiful Rose Bowl in Pasadena. Use promo code WELIKELA18 to get $15 off ticket purchase.
Things To Do for Cinco de Mayo
The Tonga Hut in North Hollywood will host a tiki style Cinco De Mayo party all day with $3 shots, tequila tiki drink specials, tacos, a Tiki south of the boarder costume contest, prizes and more.
Brack Shop Tavern in DTLA will combine forces with El Silencio Mezcal for Cinco de Mayo. Festivities include mezcal squirt guns, an adult piñata raffle (filled with booze, candy, gift certificates and more), drink promotions, and a special food menu that includes queso, street corn, and $2 tacos.
Enjoy Bartz Barbecue taco platters, their two pound burritos, pastrami beef ribs and more during El Segundo Brewery's Cinco De Mayo party. Food is available on pre order and guaranteed to go fast.
Casey's Irish Pub will party with $5 tequila and beer specials, live mariachi music, and homemade tacos. Doors open at noon.
It's Cinco De Drinko time at Rock & Reilly's Irish Pub in West Hollywood. The pub will celebrate all weekend with $5 food and drink specials with plenty of tequila to go around.
Las Perlas will open their doors at 11 a.m. for a day of mezcal, tequila and tacos.
Toca Madera will celebrate Cinco de Mayo on Saturday with an all day celebration starting at noon until 2 a.m. There will be menu specials, $8 margaritas, $20 Azuñia tequila flights and speciality cocktails. DJ Sets, musical guests and live performances throughout the day will make this a prime party spot.
Have a family and dog friendley Cinco de Mayo at Common Space Brewery in Hawthorne with vegan food trucks and live music throughout the day.
Mi Corazon in Silver Lake will host a live mariachi band, special Banderita shot trio ($8; tequila, lime, and housemade sangrita – red, green, and white shots as an ode to the Mexican flag), margarita bowls to share, mix and match margaritas and palomas – made with Maestro Dobel Silver Tequila ($9) or Mestizo Joven Mezcal ($10) – as well as Housemade Rumchata ($10), Sangria Pitchers ($20), and $8 boilermakers with Tecate and tequila or mezcal.
Madre in Torrance will throw an all-day party featuring live music, $22 Cazuela "bowls" meant for sharing and mezcal shots, Pacifico, and sangrita for $10.
Casa Vega goes all out for Cinco de Mayo with festive Mexican décor and furnishings, music from a live mariachi band and drink specials throughout the day including $7 Casa Vega Margaritas. The restaurant will also be serving a Pink Senorita cocktail for one day only, made with Patron Silver, fresh grapefruit juice, and cranberry juice, garnished with fresh mint.
Filifera, Hollywood's exclusive rooftop bar and lounge, is hosting a Cinco de Mayo soirée beginning at 6 p.m. The party includes live music, street tacos, a mezcal tasting with Amaras Mezcal, margarita and beer specials until midnight. Tickets can be purchased in advance here and includes a plate of tacos and Filifera's "Call It How You Want It" margarita.
Food Events for this Week in L.A.
https://www.instagram.com/p/BiNDlkgA7s3/?taken-by=eplosangeles
Tuesday May 1st, 2018
Bar Keep Tales is L.A.'s only bartender storytelling show. Set inside our city's oldest distillery, Greenbar Distillery, guests will listen to hilarious, sad and straight up crazy stories from some of the best local bar keeps in the city.
Join José Andrés, Jonathan Gold, Zoeey Deschanel and a slew of other luminaries for The Power of Food: An Evening with José Andrés & Friends taking place at The Wiltern. The event will feature a cook-off, a showcase of rising sous chefs, discussions and a dinner reception.
Brewsday Tuesday at Golden Road will join forces with Lonely Tarts Club- a kettle soured beer fermented with French Saison yeast to give out samples and hold a Q&A with brewers behind the recipe. Event runs from 6-8 p.m.
E.P. & L.P. in West Hollywood brings back their stylish cinema series Melrose Rooftop Theatre starting on May 1 with a screening of Pretty Woman. Tickets for just the film are $27.50. Or, for $65, guests will receive not only a ticket to the film, but a three-course, Southeast Asian meal at E.P. beforehand. There will be concession style snacks and cocktails for sale as well.
Echo Park Eats a free weekly Tuesday food truck affair takes place at Echo Park Branch Library. Guests can dine on some of the city's most popular food trucks, enjoy live music and games.
Pasadena's One Colorado hosts its first-ever Happy Hour Week from April 25-May 1 offering live entertainment and specially priced drinks and bites from local restaurants.
Wednesday May 2nd, 2018
The Spare Room at the Hollywood Roosevelt Hotel is the setting for the Next Gen Bowl Bash a friendly bowling competition between some of Los Angeles' top young chefs, including Joe Perez of Winsome and Darren Sayphrarak of We Have Noodles. Join your favorite chefs bowling team, dine on dishes from the up-and-coming culinary stars and sip on a signature cocktail from The Spare Room's Yael Vengroff. Live music, free games and bowling all night is to be expected.
The Taste of Downtown Glendale will transform Brand boulevard in Downtown into a food and wine tasting party with dozens of vendors. Expect unlimited samples from 40 restaurants including Carousel, lemonade, Porto's, Plate & Petal, Rockbird, Shake Shack and Hot Dog on a Stick.
Bad Housekeeping at Good Housekeeping in Highland Park pops up every Wednesday now through May 30. On these nights you'll find libations inspired by bad recipes of the past including a 'glazed ham' and cherry cordials cocktail.
Thursday May 3rd, 2018
Effervescence is a showcase of the finest Champagne and sparkling wines, taking place at four great Los Angeles venues — Republique, the Kimpton La Peer Hotel, Avalon Hollywood, and Kali — from May 3-5.  From legendary tête de cuvée Champagnes and California's finest fizz to international bubbles produced around the world, Effervescence is offering them all at an epic Los Angeles weekend celebration of bubbly that also includes master classes led by world-renowned experts, gourmet meals prepared by acclaimed chefs, and walk-around wine tastings where you'll have the chance to taste just about everything that sparkles. This will be America's first comprehensive epicurean event centered on Champagne and sparkling wines.
Seven Grand will celebrate their 11th anniversary in a big way. Doors open at 1 p.m. and the bar will serve their top seven cocktails for $7 until close. Throughout the day there will be samplings of punches made by Seven Grand bartenders from past and present. In the evening a whiskey emporium will take place with tastings of various brands and live music by Rumproller Trio & Midnight Blues Revue will get folks in a partying mood.
Panxa Cocina in Long Beach will offer a special three course Mole Menu paired with Mezcal as part of the L.A. Times Food Bowl.
Chinatown After Dark going down at Far East Plaza happens every first Thursday of the month and is a testing ground for chefs in our city as well as a place to enjoy local music.
Friday May 4th, 2018
Little Dom's will turn 10 this year! The Los Feliz American Italian restaurant will celebrate with food and drink specials from Friday through Sunday. Executive Chef Brandon Boudet and Pastry Chef Ann Kirk will bring back items from the original opening menu.
There's a Sichuan Summit at the Million Dollar Theatre as part of the L.A. Times Food Bowl showcasing chefs from Los Angeles that include Hip Hot, Meizhou Dongpo and Sichuan Impression. Yu's Family Kitchen from Chengdu China will also make an appearance. The event will feature cooking demos, a panel led by L.A. Times food critic Jonathan Gold and a family style dinner the following day.
Saturday May 5th, 2018
If you have a passion for tacos, head to Hecho in LA: Taco Madness at LA Plaza de Cultura y Artes in Downtown Los Angeles. Savor the city's best tacos, listen to great music, drink micheladas, and try the best local craft L.A. beer. This event is brought to you by L.A. Taco and I LOVE MICHELADAS produced by SUAVICREMA.
Downward Grog presents Brewery Yoga this Saturday at Indie Brewing Company.
Celebrate Cinco de Mayo at the Tacos & Beer Fest 2018 at Pershing Square in Downtown Los Angeles. Enjoy tacos, cerveza, music, games, piñatas, mechanical bull rides and more.
Margo's will honor Derby Day with $5 Mint Juleps and $6 Fried Chicken from 1- 5 p.m. Those who wear a festive Derby hat, will also get a free specialty cocktail upon arrival.
Sunday May 6th, 2018
The Masters of Taste food and drink festival returns to the Pasadena Rose Bowl this Sunday for the ultimate spread of delicious food and drink all for a good cause. Proceeds go directly to the Union Station Homeless Services in Pasadena. This one-day mouthwatering festival will feature culinary delights, sweets, and beverages from over 40 master chefs and restaurants, as well as handcrafted cocktails from master mixologists.
Vegfest 2018, the all-vegan festival will feature 100+ vegan speakers and 50+ vegan food trucks and booths. Admission is free for all attendees and will include a vegan international food court, live music, kids activities, animal adoptions and an eco-marketplace.
Speak Easy Yoga is a brand-new series curated especially for Hotel Indigo Los Angeles Downtown on Sundays through the end of May. Do a down dog with music from the 1920s and if you choose to follow your yoga session with the Indigo's Bootlegger Brunch, you'll enjoy your first drink free with proof of yoga ticket purchase.
Visit Tujunga Village for the first-ever Springtime in the Village Wine & Jazz Festival and Street Faire. The event, taking place outside classic Italian restaurant and jazz club Vitello's, is a great opportunity to taste over 100 wines, meet the winemakers, sample bites and enjoy live music.