Every week in Los Angeles there are tons of great things to do (even before the weekend gets started) that we think you ought to have on your radar. With that in mind, we put together a list every Monday through Friday morning to keep you in the know about what's happening in the city you love (or maybe just like).
This week, from Monday, October 22 to Friday, October 26, features A Night of Victor Hugo, El Cholo 95th year celebration, The Other Art Fair, The Nightmare Before Christmas at The Hollywood Bowl, Disco Dining Club and MUCH more.
Remember you can always go to our L.A. events calendar page to get an updated rundown of what's happening around the city.
Hope you find the rundown useful and, as always, enjoy your week!
---
Keep in mind that while we retain complete editorial control of our content, for some of the ticketing options provided we utilize affiliate links and receive a commission if you purchase through our links.
---
Monday October 22nd, 2018
1. The Hammer presents A Night of Victor Hugo where artist bring to life works made by Hugo through live music, theatrical reading, dance and shadow play. FREE
2. Pumpkin Nights feature over 3,000 carved pumpkins across eight pumpkin-themed lands accompanied with special pumpkin fire and magic shows, carvings, and plenty more. Happening October 12 through November 4.
3. Head to Frogtown's artist-run space Tin Flats every Monday and Tuesday now until Nov. 27 for a free drive-in movie screening curated with some very special programming. Presented by The France Los Angeles Exchange, this project presents films, performances and exhibitions from artists in the program, as well as a film that echoes their own work. FREE
4. L.A.'s pop-up museum catalogue is growing larger this fall with The Pizza Experience – a multi-sensory pizza themed walkthrough. Explore giant installations, an oversized cheese pool, a pizza hall of fame, pizza theme-flavored snacks throughout, actual pizza slices and more. The Pizza Experience runs through January 29. Check for discounted tickets before making your purchase. DISCOUNTED (via Goldstar)
5. E.P. & L.P. in West Hollywood continues their stylish cinema series Melrose Rooftop Theatre with a screening of JAWS, Edward Scissorhands  and more.
6. There's a Great Pumpkin Hunt happening at the South Coast Botanic Garden daily featuring an imaginative scavenger hunt, light hiking, a pumpkin shop and access to the gorgeous 87-acre grounds. Great for families. Halloween costumes are welcome.
7. Head to the Golden Road Brewery this Monday for Trivia Night presented by Geeks Who Drink.
8. Take a break from your dietary restrictions at Cheat Day Land, Los Angeles' newest pop-up museum celebrating the snacks and treats that we dream of during our workouts. Featured installations and experiences ranging from a donut gym with pastry dumbbells to a life-size cereal bowl, an art gallery, and much more. Cheat Day Land is here for an entire month, from October 1-31. Check for discounted tickets before making your purchase. DISCOUNTED (via Goldstar)
Tuesday October 23rd, 2018
9. El Cholo Restaurants is celebrating its 95th year in Los Angeles! This Tuesday they are offering their bestselling dish, the Number 1 combination plate (a cheese enchilada, rolled beef taco, Spanish rice and refried beans), for just 95 cents. The promo runs all day at six locations, including three locations in Orange County.
10. Notorious RBG: The Life and Times of Ruth Bader Ginsburg opened at The Skirball Cultural Canter recently. From October 19, 2018 to March 10, 2019 guests are invited to explore the life and career of Ruth Bader Ginsburg through a collection of contemporary art, archives, interactives, archival photographs and more. Each gallery section will allude to a song by the Notorious B.I.G. as the name of the exhibit suggests, and will playfully bring out the similarities between the two.
11. Severance wine bar is hosting a Sherry Tiki Luau & Pig Roast from 7-10 p.m. Chef Weston Ludeke will roast a whole pig and pair it with tiki inspired fare, while barman Evan Charest creates sherry-based tiki cocktails, including Mai Tai, Army Navy, Painkiller, Navy Grog, plus several large format original tiki punches.
12. Rooftop Cinema Club returns to the rooftops of LEVEL in DTLA and NeueHouse in Hollywood with multiple screenings this week that include Set It Off, Tombstone and more.
13. Stop by the Alexandria Hotel in DTLA and walk into The Wolves, Los Angeles' most interesting cocktail bar to date. The ever-changing menu has a whole host of ingredients made in-house including bitters and vermouths.
Wednesday October 24th, 2018
14. The NBCU's Short Fest Competition comes to a finale this week screening the big winners followed by an awards ceremony and party. Event is free with an RSVP. Happening at DGA Theatre Complex.
15. Critically acclaimed, avant-garde haunt Creep returns with 'Awake.' The walkthrough thrusts participants through a 75-minute series of horrific situations in a shockingly cinematic fashion. As a result, you are placed face-to-face with your worst fears, presenting an incredibly unique and intimate horror experience. Happening at ROW DTLA Wednesday through Sunday.
16. The Edison presents an Evening of Latin Jazz with guest band La Verdad. Dance instructor Charlene Rose will give free salsa lesson at 8pm, and the band playsat 9 p.m.. There's a $5 cover at the door.
17. The 4th Annual Asian World Film Festival will screen Oscar-submitted films from across Asia from October 24 to November 1 at Arclight Cinemas in Culver City.
18. Unbound Productions' site-specific Wicked Lit returns to the Mountain View Mausoleum, offering the perfect setting for all new tales of horror. This year, guests will enjoy two theatrical adaptations: Charles Dickens' The Chimes: A Goblin Story, and Ernest Rhys' Teig O'Kane and the Corpse. Guests will walk through the mausoleum as they follow both chilling tales. Happening Wednesday through Sunday.
19. The Slurring Bee makes its way to The Virgil this Wednesday for a bar spelling bee with a money prize, bee-themed prizes and guaranteed slurring if you choose to participate.
20 .Nights of the Jack is a half mile trail filled with thousands of hand-carved and illuminated Jack O'Lanterns. Family friendly and located in Calabasas, the experience is filled with pumpkins carved into notable animated characters, movie stars, sports heroes, and many more. Happening Thursday through Sunday.
21. Visit the Annenberg Space for Photography as it welcomes its newest exhibit The National Geographic Photo Ark, a multi-year project led by Joel Sartore to photograph every living species throughout the world's zoos and wildlife sanctuaries. The exhibit opens on October 13 and continues through January 13. Hours for the space are Wednesday and Friday through Sunday. FREE
22. The Garvey Ranch Observatory will host an evening of astronomy with members of the Los Angeles Astronomical Society. Guest will have a chance to go into the dome to view the stars, enjoy a star party on the lawn, and learn how to build their own telescope. The observatory is open to the public on Wednesday nights only. FREE
23. It's trivia night at Grand Central Market this Wednesday on the Broadway side of the food hall.
Thursday October 25th, 2018
24. The Barker Hangar will transform into an art wonderland on Oct. 25-28 when The Other Art Fair returns to Los Angeles. The event, which is put on by online art gallery Saatchi Art will allow guests to peruse through the works of over 100 handpicked emerging artists that are part of the Los Angeles landscape. On top of the art, a bar and restaurant area, live music, theatrical performances, art installations and more are all on the bill.
25. Haunted Little Tokyo is presenting a series of Japanese horror films from some of the best horror visionaries this month. The series continues with a screening of Godzilla (1954) at Japanese American National Museum.
26. Merchants on Olvera Street will celebrate Dia de los Muertos for nine days starting this Thursday. The festival will include altars on display, children's workshops, face painting, and live entertainment. FREE
27. Head to the Belasco for INSANIME, a one-night anime-centric extravaganza to celebrate Halloween. The event, which effectively serves as a massive, late-night party, invites guests to come dressed in cosplay and mingle with their favorite characters as they dance to multiple DJ sets throughout the night.
28. Face your fears during Universal Studios Hollywood Horror Nights happening Thursday through Saturdays till November 3. This year, the Stranger Things maze is the main attraction. You'll also get to experience bone chilling attractions by American Horror Story, The Shining, Halloween, Krampus, Ash vs. The Evil Dead and Walking Dead. Check for discounted tickets on select days. DISCOUNTED (via Goldstar)
29. The Queen Mary's Dark Harbor will transform into a seaport of the damned for the Halloween season with terrifying mazes and monsters at every turn. Happening Thursdays and through Sundays through Nov. 2. Check for discounted tickets before making your purchase. DISCOUNTED (via Goldstar)
30. Knott's Scary Farm is back with their signature haunted attractions, mazes and thousands of monsters ready to scare the living day light out of you and your crew. Happening Thursdays through Sundays.
Friday October 26th, 2018
31. Enjoy a screening of cult classic "The Nightmare Before Christmas" on October 26-28 at The Hollywood Bowl. The one and only Danny Elfman will perform songs as Jack Skellington alongside a full orchestra and Catherine O'Hara and Ken Page reprising their roles of Sally and Oogie Boogie.
32. The Unknown is a haunt put on by ABC Interactive that explores the horror in what we can not see, predict or understand. Written and directed by Annie Lesser, the event primarily takes place in darkness and the viewer (you) makes the decisions advancing into the storyline. The Unknown takes place on Friday, Saturday and Sunday Oct. 26-28 as well as Nov. 2-4 at a private residence that will be revealed to ticket holder the day before it occurs.
33. Enjoy a celebration of handmade crafts and the artisans behind them at the Contemporary Crafts Market, a three day event (Oct 26-28) happening at the Pasadena Convention Center.
34. Stan Lee's Comic Con (Oct. 26-28) is filled with panels, exhibitors, screenings and much more for geeks of all varieties. Happening at the LA Convention Center.
35. The Triforium is a huge public art piece with colorful glass panels located in Fletcher-Bowron Square. It was meant to perform light and music shows but due to a plethora of issues, it was never executed, and it has stood silent for decades… until now. Experience The Triforium restored and modernized to react to real time live performances on Fridays through November 2. FREE
36. Lethal Amounts presents Devil's Playground Pt. 2: Art of the Vintage Horror Poster exhibit. Featuring hand-drawn vintage Horror, Giallo and B-movie genres posters, the exhibit will feature hundreds of pieces, including rare posters from around the world. Taking place right next door in conjunction to the exhibit is The Cramps Halloween Party at Monty Bar.
37. FIGat7th will celebrate Day of the Dead with a day of festivities including candy skull face painting, complimentary tequila tastings, live DJs and more from 11 a.m. to 8 p.m. FREE
38. Disco Dining Club returns to Los Angeles for a horror themed botanical dinner party on October 26-28. Chef Laurent Quenioux will prepare a five course dinner, Timothy Baxter of Baxter Speakeasy will shake up thematic cocktails, Bugible will prepare bug pairings and musical performances and immersive theatrical moments will play out throughout the evening.
39. Climb aboard the 18th Annual Ghost Train in Griffith Park all weekend and ride on their iconic train into a spooky setting of animatronics, projections and pyrotechnic. The ride is family friendly with no blood, gore or actors jumping out to scare you like most Halloween experiences.
40. DEEP Los Angeles and BENDER present "City Lights" a Halloween edition of their night time party mixing yoga with a dance party from 1000 feet above DTLA at OUE Skyspace LA.
41. Zombie Joe's Underground Theatre in North Hollywood presents their annual Halloween iteration of Urban Death. Guests will wind through a short maze before entering a darkened theater where series of disturbing vignettes will be presented one after another. Happening Friday and Saturday. Check for discounted tickets on select days. DISCOUNTED (via Goldstar)
42. 4th Fridays on 4th Street activates the "Retro Road" business district in Long Beach on the fourth Friday of every month from 6 to 9 p.m. through extended hours, dining specials, discounted merchandise, pop up shops, art shows, live music, double decker bus rides and more.
43. The Sivley family is back for their 47th year of hosting the award winning, Beware the Dark Realm a haunted house experience in the city of Santa Clarita. The haunt will run every Friday and Saturday thorough the end of the month. FREE
44. The Haunted Hayride returns September 29-October 31 at The Old Zoo in Griffith Park featuring four different Scare Zones, including trick or treating in a blood-curdling neighborhood and riding on the Scary-Go-Round and taking a ride on the main attraction the Haunted Hayride. Check for discounted tickets on select days. DISCOUNTED (via Goldstar)
45. Movie Under The Guns is a movie night aboard the Battleship Iowa in San Pedro. Free to the public they'll screen Hocus Pocus. FREE
46. HorrorWorld is a collection of three separate haunts in one location presented by horror FX company Bone Yard Effects. Mazes include Into the Black, The Psycho Sanitarium, and The Fleshyard.
47. New Wave For The Masses: Halloween Edition takes over The Resident for a night of dancing to your favorite wave bands like The Cure, Depeche Mode, New Order, The Smiths and more.
48. There's a Fall Fun Festival happening at the Mission District in Alhambra with Halloween movies, food trucks, kids activities and a few steps away at Grapevine Arbor Park will be transformed into a haunted zone. FREE
49. Los Angeles County Museum of Art hosts free jazz performances on Fridays through November. Concerts take place at the main entrance. FREE
50. Alpine Village Oktoberfest celebrates 50 years! The fun kicks off this Friday with traditional Bavarian fun like Oom Pah Pah party bands, German fare, and delicious cold German beers. Oktoberfest runs Fridays and Saturdays September 7 through October 27.
51. The Los Angeles Arboretum and Botanic Garden presents Moonlight Forest, where crafted lanterns line the garden grounds, some depicting animals, shimmering exotic flowers, and figures from Chinese legends.
52. The 19th Annual Reign of Terror is one of the largest haunted houses in Southern California, containing a total of eight unique themes spread among 105 separate rooms in over 23,000 square foot space.
53. Six Flags Magic Mountain in Valencia has transformed into Fright Fest, offering six mazes, multiple scare zones, and the chance to ride some of your favorite coasters—including Twisted Colossus and Full Throttle—in the dark. Happening Friday through Sunday.
Food Pick for the Week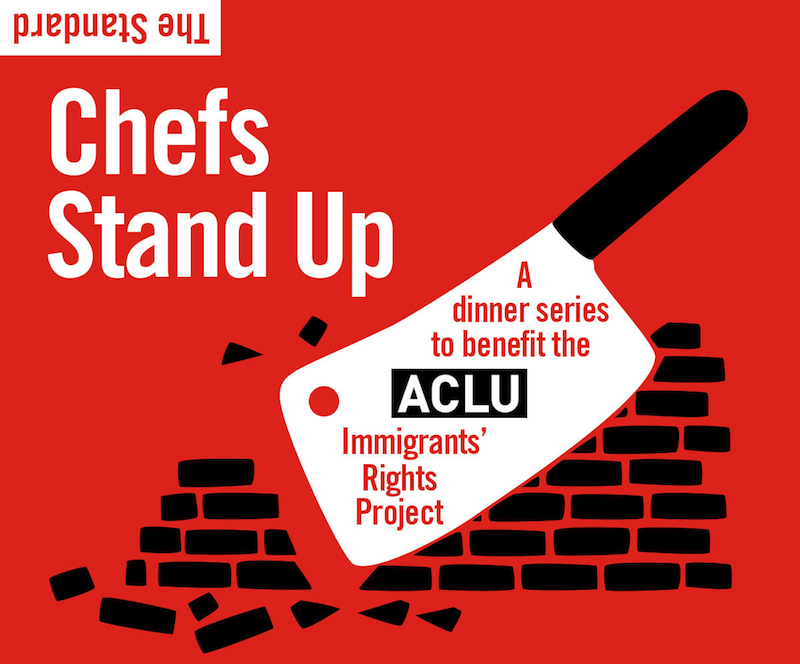 This week's pick by Christina Champlin, Co-Founder of We Like L.A.
Support a good cause and fill you belly during Chefs Stand Up happening at The Standard in DTLA. The series invites some of the best, award-winning chefs from across the country to create a one-time-only meal and artwork combination. The series kicks off with chef Alissa Wagner from health minded New York eatery DIMES. Following dates include November 14 with Nick Perkins and Katie Jackson of Hart's in New York and December 4 with Alex Raij and Eder Montero of La Vara, Txikito, El Quinto Pino, and Saint Julivert in New York. Each evening will begin with cocktails at 7 p.m. with dinner commencing at 7:30. Tickets cost $95 per person. A portion of the proceeds will go to benefit the ACLU Immigrants' Rights Project.
---
Want to get our to-do lists straight to your inbox every week? Sign up for our email program.
Have an upcoming event you'd like suggest for listing? Drop us a line at [email protected]