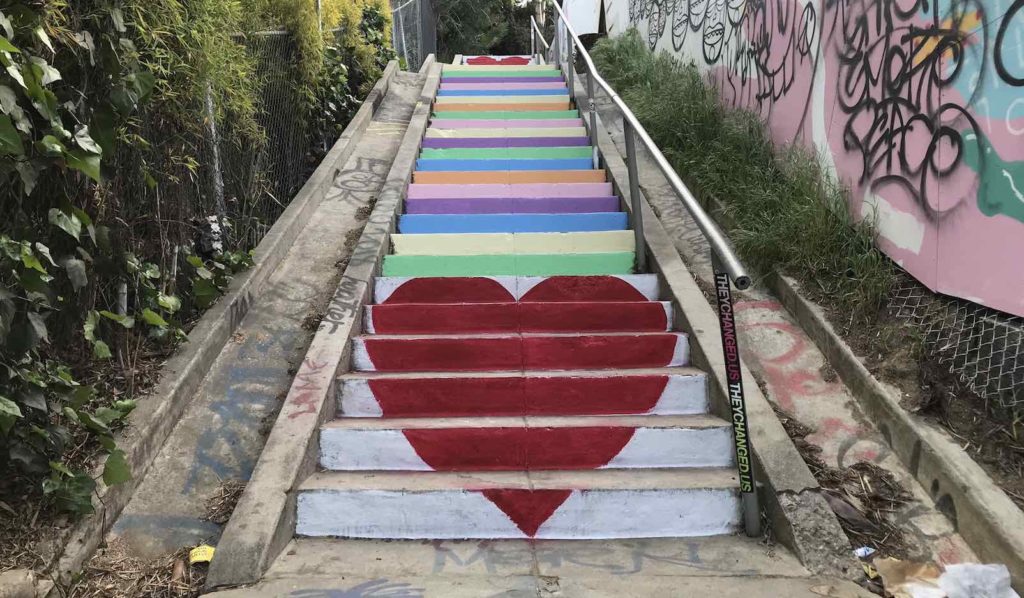 Every week in Los Angeles there are tons of great things to do (even before the weekend gets started) that we think you ought to have on your radar. With that in mind, we put together a list every Monday through Friday morning to keep you in the know about what's happening in the city you love (or maybe just like).
This week, from Monday, February 11 to Friday, February 15, features Valentine's Day date ideas, Desert X, the stARTup Art Show, Modernism Week, and MUCH more.
Remember you can always go to our L.A. events calendar page to get an updated rundown of what's happening around the city.
Hope you find the rundown useful and, as always, enjoy your week!
---
Keep in mind that while we retain complete editorial control of our content, for some of the ticketing options provided we utilize affiliate links and receive a commission if you purchase through our links.
---
Monday February 11th, 2019
1. The Pan African Film Festival (PAFF) returns to Los Angeles February 7-18. Now in its 27th year, the 12-day festival is the largest black film festival in America.
2. There's a themed pop-up called Grunge Shop Tavern where you'll be transported to 1991, a time where Nirvana, flannel shirts and combat boots ruled. It's an interactive experience, expect atmospheric actors, a fictitious bar owner called "Old Doug" and loads of grunge music throughout the night.
3. LACMA hosts Mindful Monday an opportunity for people to participate in a slow-looking exercise followed by a discussion located at the exhibition Outliers and American Vanguard Art.
4. Head down to Scum and Villainy Cantina this Monday in Hollywood for a Jim Henson themed game night.
5. Free yoga classes are held at the Edendale Branch Library every Monday this month. FREE
6. The Business LA is a free comedy show at Little Joy featuring some of the best local comics in town. FREE
Tuesday February 12th, 2019
7. From February 4 through March 1 The Grove offers a special "Award Nominated Date Night" in honor of awards season. Guests will enjoy an award-nominated film and a three-course dinner at The Grove, as well as valet parking for the evening for $70. This promo is not available on Valentines Day.
8. Severance Wine Bar wants to celebrate your single status during their BREAKUP BAR POPUP. Taking place next door to the bar, the two week long party will transport guest into an anti-Valentine's Day world with break up appropriate movie screenings, a Wall of Broken Relationships, loads of champagne, cocktails and food. Running Tuesday through Saturday till February 14.
9. Saved By The Max, the Saved By The Bell Pop Up Shop Diner & Bar will transform into Malibu Sands & Zack's Room as part of the "final semester" of the pop up experience wrapping up in April.
10. Desert X returns for its bi-annual public art show February 9 through April 21. Spread throughout the Coachella Valley in various locations, artists are commissioned to use the desert landscape as their canvas with breathtaking results.
11. Celebrate the Year of the Pig at Universal Studios Hollywood starting this Saturday with some of your favorite characters. Check out Po's Village and savor Asian delights at Mr. Ping's Noodle Shop. Meet Illumination's Minions in traditional Chinese attire and a Mandarin-speaking Megatron from TRANSFORMERS. The Lunar New Year pop-up will run till February 18.
12. Free admission at: Los Angeles County Museum of Art and Autry Museum of the American West
Wednesday February 13th, 2019
13. Art Los Angeles Contemporary comes to Barker Hangar in Santa Monica February 13-17. The five-day event features top established and emerging galleries from all across the world, with an emphasis on Los Angeles galleries.
14. Compose LA: Love Notes comes to the Hammer Museum for a Valentine's Day concert that will showcase L.A.'s leading contemporary composers, innovative music artists, dynamic thought-leaders, and engaging music spaces. FREE
15. Lucha VaVOOM's 2019 Valentine's Show returns to the Mayan Theater in Downtown Los Angeles February 13-14 for an action-packed variety show where there will be Mexican masked wrestling, burlesque and comedy all in one majestic space.
16. Sad Bastards Nite at Bar Henry is a special night for the melancholy with tunes to match and anyone who can prove a recent tragedy—including job loss or divorce—will receive a free drink.
17. 260LA will host a J Brand sample sale from February 13-17 in their Beverly Hills location.
18. Humphry Slocombe hosts an Ice Cream Happy Hour every Wednesday from 2-6 p.m. where Angelenos can get a free scoop after the purchase of a single scoop. View the February flavors here.
Thursday February 14th, 2019
19. Looking to celebrate V-Day unconventionally? Check out our list of 14 Unusual, Offbeat & Fun Things to Do For Valentine's Day in L.A. (Whether You're Single or Not!)
20. Grand Park Lovers Rock on Valentine's Day comes to Downtown L.A. for a romantic evening under the stars featuring various Dub Club DJs spinning laid-back reggae tracks, a complimentary photo booth, and arts and craft activities. Tables for two will be set up around the fountain and throughout Olive Court. The park will be illuminated with string lights. Attendees are encouraged to bring a picnic for the occasion. FREE
21. Learn how to cook a fancy meal with the help of The Institute of Culinary Education in Pasadena. The culinary school is offering two cooking courses for two: New York steak on February 14 and handmade pasta on February 15.
22. The Hammer welcomes Compose LA: Love Notes an evening of music by Los Angeles's conductorless orchestra Kaleidoscope. FREE
23. Cinespia's True Romance Valentines Party comes to the Los Angeles Theatre in Downtown L.A. for a special screening of the high-voltage, action-packed, pulp-romance film starring Patricia Arquette and Christian Slater. A stocked bar, DJ tunes and more will also be part of the event.
24. The Downtown Art Walk brings art enthusiasts, art galleries and locals together every second Thursday of each month for a night of exploration.
25.Don't Tell Comedy pops up at Grand Central Market in DTLA for a comedy show with secret performers.
26. My Vintage Valentine will come aboard the Queen Mary on February 14 for a romantic evening with a signature four-course dinner and a special show, to be enjoyed with your Valentine.
27. Metro Art presents Union Station Kind of Love an evening of throwback music including doo-wop and soul music plus a Supremes-style dance follow-along. Doors open at 7:30 p.m. FREE
28. Disco Dining Club delights Angelenos with lavish, decadent, themed dinners that repeat the mantra, "consume everything." For Valentines Day they've partnered with The Grim Wreather, for a themed event that revolves around the myth of Cupid and Psyche.
29. The acclaimed podcast Competitive Erotic Fan Fiction heads to The Virgil for a Valentines Day show with special guests Karen Kilgariff (My Favorite Murder), James Urbaniak (Venture Brothers), Andres DuBouchet (Conan), Graham Kay (Late Show w/ Stephen Colbert), Troy Walker (Late Late Show), Joann Schinderle (Bridgetown Comedy Festival) and more.
30. Palm Springs Modernism Week returns February 14-24 to celebrate all things midcentury modern including architecture, art, interior landscape design and vintage culture.
31. Free admission at: Japanese American National Museum (from 5 to 8 p.m.), MOCA Grand & MOCA Geffen (from 5 to 8 p.m.), Skirball Cultural Center (noon to 5 p.m.) and Long Beach Museum of Art (3 to 8 p.m.) FREE
Friday February 15th, 2019
32. stARTup Art Fair comes to Kinney Venice Beach Hotel February 15 – 17 for an art exhibition that bypasses the traditional gallery system by taking over a hotel by hosting 60 artists works inside individual rooms. In addition to art, there will be music, performances, food and drink. Check for discounted tickets before making your purchase. DISCOUNTED (via Goldstar)
33. Wisdome Art Park is an art focused immersive experience spread among a series of domes in an Arts District lot. The current exhibition, Samskara, takes guests on a journey that includes paintings, optical illusions, virtual reality, and one very trippy video projection. Happening all weekend. Check for discounted tickets before making your purchase. DISCOUNTED (via Goldstar)
34. Odd Nights At The Autry feature a collection of vendors, gourmet food trucks, children activities, guest DJ's, a full bar and access to The Autry Gallery until 9 p.m. happening every third Friday of the month until October 2019.
35. Head to Angel City Brewery to score some free samples of their latest brews, including the all new Sunbather and learn about beer from ACB reps.
36. Frieze Los Angeles comes to Paramount Pictures Studios in Hollywood February 15-17 to showcase 70 contemporary art galleries from Los Angeles and all across the world. This three-day art fair focuses on contemporary art, the dynamic culture of Los Angeles, and its global contributions to the visual arts. Curated program of talks, site-specific artists' projects, and film will also be part of the event.
37. This Friday Caltech's Stargazing and Lecture series returns to Pasadena for a night of outer worldly discussions and some stargazing. FREE
38. Greenbar Distillery will open up their facility for a tour of their organic distillery. The tour allows guests to learn about the process of spirit making and taste some of Greenbar Distillery's portfolio. Happening every Friday through Sunday of this month.
39. The folks behind the Museum of Failure presents The Disgusting Food Museum (Dec. 9, 2018 through Feb. 17, 2019.) Some of the 'delicacies' include maggot infested cheese, bull testicles, and sheep eyeballs. If you're brave enough, visitors will also get to smell and taste some of the creations at the end of the exhibit over at a tasting bar. Check for discounted tickets before making your purchase. DISCOUNTED (via Goldstar)
Valentines Day Picks for the Week
This week's pick by Christina Champlin, Co-Founder of We Like L.A.
If you need Valentine's Day dinner ideas, we're here to help…
The Waterfront will host a throwback party screening classic romantic films like Casablanca and Baz Luhrmann's Romeo + Juliet. INNOCNTS will provide a '90s-style photo booth and music will be provided by Alfalpha. There will be plenty of food and drink specials for singles and lovers alike.
Chef Tim Hollingsworth's Otium will offer a special three-course tasting menu that includes Maine lobster lasagna and Chateaubriand steak. Guests can also enjoy live music, as well as a photographer capturing sweet moments between diners.
OUE Skyspace LA will host a "Toast from the Top" package now until February 16. Love birds will get breathtaking views of the DTLA, rides down the Skyslide, chocolate-covered strawberries and two glasses of champagne (upgradable to a full bottle of bubbly.) Packages range from $50-$75.
Alta Adams will offer a Valentine's Day Surf and Turf. Crafted by chef Keith Corbin, the three-course meal includes a kale salad with grapefruit and avocado, grilled steak with lobster bearnaise, sautéed spinach and brown butter mashed potatoes. The meal will end on a sweet note with strawberry shortcake for dessert.
On Valentines Day from 11:30 a.m. to 2 p.m. couples will enjoy an intimate picnic next to Hotel Bel Air's beautiful Swan Lake thanks to Wolfgang Puck. The restaurant will provide caviar blinis, Dom Perignon Champagne and savory snacks by the lake. There will be a server on hand for any needs and supplemental caviars from the around the world and champagne selections will also be available. The expereince cost $500.
Kreation Organic will give away a free Sexy Shot to all in-store guests on V-Day (limit one per guest, while supplies lasts). Guest can also pick up Kreation's $69 Sex Kit, which contains aphrodisiacs in the form of juice shots, syringes and healthy snacks. The kit and free promotion is availble at all locations.
For one night only, NoMad LA will open up the mezzanine level as a special lounge for Valentines Day. The evening will feature champagnes, caviar and a large format fried chicken to share with the special person in your life.
Ever Bar is hosting an Anti-Valentine's Day party where Angelenos will get a chance to "shred your ex." Love letters, old mementos, photos are all welcome. Guests can also order cocktails from the "singles" menu – featuring single malt scotch, single barrel bourbon and single vintage mescal, etc. There will also be a live rock 'n roll band to keep the party going.
Spoonfed + Bar Joe will offer a special breakfast for lovers. Red velvet Champagne pancakes, topped with sugared raspberries, candied bacon, and maple syrup.
Genever's lead bartender Jessie Smyth created three cocktails exclusively for V-Day all inspired by great romances of the past. Each cocktail will be paired with handmade chocolate from chocolatier Tonet Tibay of Marti Chocolatt. The cocktail and chocolate combo cost $18.
Sushi Roku Santa Monica will offer a three-course dinner for $150 per couple. Highlights include panko crusted lobster with rainbow cauliflower and a chili beurre sauce, a filet mignon with sweet potato and a red wine berry sauce, and a passion fruit heart cheesecake for dessert.
Vegans can indulge in a Valentine's Day dinner at Crossroads. The five-course prix fixe menu will come with a complimentary glass of champagne to start. Highlights from the meal include a beet wellington and bouillabaisse risotto with saffron kombu broth.
Fiesta Cantina in West Hollywood is giving away a free taco (with the purchase of a drink) on Valentine's Day to those who bring a photo of their ex to shred. 2-4-1 happy hour is from 4-8 p.m. and 10:30 p.m. to midnight.
Want to get our to-do lists straight to your inbox every week? Sign up for our email program. Have an upcoming event you'd like suggest for listing? Drop us a line at [email protected]