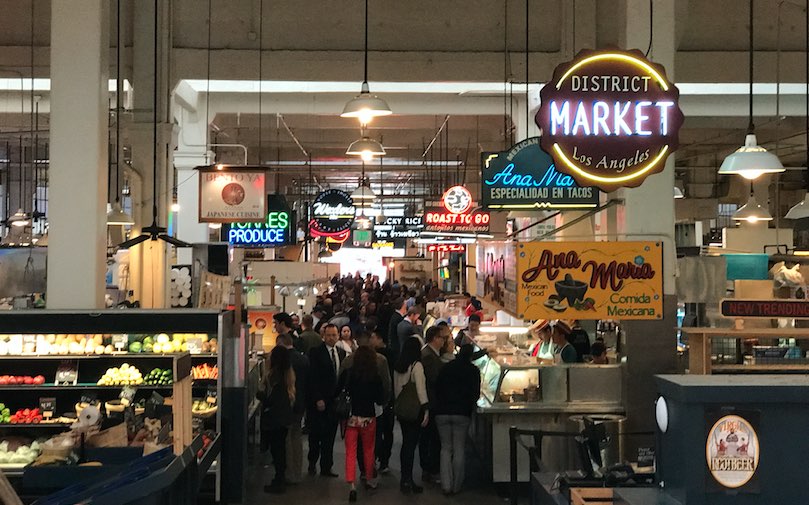 Every week in Los Angeles there are tons of great things to do (even before the weekend gets started) that we think you ought to have on your radar. With that in mind, we put together a list every Monday through Friday morning to keep you in the know about what's happening in the city you love (or maybe just like).
This week, from Monday, March 11 to Friday, March 15, features Open Projector Night at The Hammer, Whisperlodge, Downtown Art Walk, PaleyFest, a Cherry Blossom Festival in Huntington Beach, Friday Night Flights at GCM and MUCH more.
Remember you can always go to our L.A. events calendar page to get an updated rundown of what's happening around the city.
Hope you find the rundown useful and, as always, enjoy your week!
---
Keep in mind that while we retain complete editorial control of our content, for some of the ticketing options provided we utilize affiliate links and receive a commission if you purchase through our links.
---
Monday March 11th, 2019
1. There's a themed pop-up called Grunge Shop Tavern where you'll be transported to 1991, a time where Nirvana, flannel shirts and combat boots ruled. It's an interactive experience, expect atmospheric actors, a fictitious bar owner called "Old Doug" and loads of grunge music throughout the night.
2 .Obvious Plant's Museum of Toys will house over 100 items created by comedian Jeff Wysaski including fake toys, actual toys with new names, and actual toys with fake facts. The show runs March 1-17 at Start Los Angeles, in Harvard Heights.
3. New Beverly Cinema host Monday Matinees with a screening of Clueless in 35mm.
4. There's a free Monday Night Fiction Workshop at Beyond Baroque in Venice this Monday. The weekly workshop will be facilitated by author, screenwriter, playwright, and director Barra Grant. FREE
5. Taste of Silence mezcal soiree happening at Wally's in Santa Monica will offer El Silencio Joven and Espadin Mezcals, passed appetizers and mixed cocktails throughout the evening.
6. Harvard & Stone is hosting their 8-year anniversary celebration this Monday evening starting at 8 p.m.
Tuesday March 12th, 2019
7. 260LA will host a Rent The Runway sample sale in conjunction with a Kevyn Aucoin make up sale from March 12-17 in their Beverly Hills location.
8. Paint & Pint at King Harbor Brewery is happening this Tuesday. The theme is fruit.
9. Dreamscape Immersive, the latest contender in location-based virtual reality, has opened in the Westfield Century City mall with three unique adventures that include an alien zoo, a deep ocean dive and an action packed adventure to find a powerful jewel. Open seven days a week.
10. 100 Tactile exhibition is a sensory experience with objects and symbols through the sensation of touch. The immersive exhibit will be supported by visual and sound elements. Open now until March 30. DISCOUNTED (via Goldstar)
11. The Waterfront in Venice Beach and GRLSWIRL are throwing a Women's History Month celebration benefiting non-profit Miriam's House. For each featured drink sold $1 will be donated to the non-profit. A raffle featuring art and goods from several local women-owned businesses will also take place. There is no entrance free and the event runs 6-10 p.m.
12. Desert X returns for its bi-annual public art show February 9 through April 21. Spread throughout the Coachella Valley in various locations, artists are commissioned to use the desert landscape as their canvas with breathtaking results.
13. Free admission at: Los Angeles County Museum of Art and  Autry Museum of the American West
Wednesday March 13th, 2019
14. The Hammer museum will screen any film under 10 minutes in front of a raucous audience during Open Projector Night with comedian emcees the Sklar Brothers. Aspiring film makers can sign up one hour ahead of screening time. FREE
15. Have you ever wanted to experience an ASMR video in real life? Your chance comes this week (March 13-17) when Whisperlodge returns to Los Angeles (after a sold out show last year) for a 90-minute experience featuring a variety of ASMR triggers.
16. Angel City Brewery will host a Game of Thrones trivia night. It's free to play with plenty of giveaways.
17. An installation created by design firm and technology studio VT Pro Design gets a West Coast debut at ROW DTLA. Telestron is two large-scale robotic conductors creating geometric shades through light and shadows all around guests in a seven minute light show. Open to the public Wednesday through Sunday with the end date of March 28. FREE
18. The 7th Annual STARS of Napa Valley Wine comes to the Peninsula Beverly Hills with wine tastings from around 100 of Napa Valley's finest wineries.
19. Take an afternoon yoga class in beautiful Grand Park. The 45 minute workout is complimentary to the public every. After yoga, checkout the many food trucks lining the park and grab lunch al fresco style. FREE
Thursday March 14th, 2019
20. The Downtown Art Walk brings art enthusiasts, art galleries and locals together every second Thursday of each month for a night of exploration.
21.Delusion: The Blue Blade is an immersive play that puts in the center of a time travel adventure narrative. After a successful run last fall, the new 'director's cut' edition of the play will run through March 17 on select nights.
22. California African American Museum welcomes a performance and public dialogue with Bryonn Bain, the creator, writer, and lead performer of the award-winning production Lyrics from Lockdown. FREE
23. Guest speaker and chef Maite Gomez-Rejón of ArtBites will discuss the two women who influenced cooking in Mexico. Vicenta Torres de Rubio (first woman to publish a cookbook, Cocina Michoacana) and Josefina Velasquez de Leon who published 140 cookbooks, including the first bilingual cookbook printed in the U.S. There will be a tasting included in the ticket.
24. Wisdome Art Park is an art focused immersive experience spread among a series of domes in an Arts District lot. The current exhibition, Samskara, takes guests on a journey that includes paintings, optical illusions, virtual reality, and one very trippy video projection. Happening all weekend. Check for discounted tickets before making your purchase. DISCOUNTED (via Goldstar)
25. There's a free mindful awareness meditation going on at the Hammer. Participants are welcome to stay for the entire 30-minute session or leave when they choose. FREE
26. Free admission at: MOCA Grand & MOCA Geffen (5 to 8 p.m.), Skirball Cultural Center (noon to 5 p.m.), Japanese American National Museum (5 to 8 p.m.), Long Beach Museum of Art (3 to 8 p.m.) and  USC Pacific Asian Museum (5 to 8 p.m.)
Friday March 15th, 2019
27. PaleyFest returns to the Dolby Theatre March 15 – 24 for a 10-day television festival featuring stars and creators from some of your favorite TV shows. PaleyFest is a culmination of screenings, panel discussions, Q&A's and behind-the-scenes looks of a variety of TV shows you know and love.
28. A Cherry Blossom Festival takes over Huntington Central Park Friday through Sunday. The three-day celebration centers around these seasonal blossoms. Festival highlights include a Sakura night market, live entertainment, arts and craft and more. FREE
29. Grand Central Market hosts Friday Night Flights every Friday starting at noon. The special includes a flight of drinks or bites from GCM vendors and a round trip ticket on the historic Angels Flight Railway right across the street for $15.
30. Get up close and personal with sharks at the Aquarium of the Pacific during Shark Lagoon Nights. Guests will have the opportunity to touch bamboo sharks and view large sharks in an after hours setting. FREE
31. Experience National Geographic Live at Thousand Oaks Civic Arts Plaza. Their latest installment involves shark photographer Thomas Peschak. Check for discounted tickets before making your purchase. DISCOUNTED (via Goldstar)
32. Don't Tell Comedy pops up in West Los Angeles at a secret location with some of the biggest names in comedy. Performers are kept under wraps and the location will be emailed to all ticket holders. BYOB!
33. Odd Nights At The Autry feature a collection of vendors, gourmet food trucks, children activities, guest DJ's, a full bar and access to The Autry Gallery until 9 p.m. Happening every third Friday of the month until October 2019. Check for discounted tickets before making your purchase. DISCOUNTED (via Goldstar)
34. This Friday Caltech's Stargazing and Lecture series returns to Pasadena for a night of outer worldly discussions and some stargazing. FREE 
35. The Groundlings: The Completely Different Late Show is a hilarious improv show by the cast of the Groundlings' Main Company. Audience shout suggestions throughout the night for improvisational scenes performed by some of the best in the business. It's also a testing ground for brand new material for the Groundlings' main show. DISCOUNTED (via Goldstar)
Food Pick for the Week
This week's pick by Christina Champlin, Co-Founder of We Like L.A.
Wednesday March 14 is Pi Day, a celebration of the mathematical constant that also inspires folks to honor the day with a piece of pie. Here are a few Los Angeles spots celebrating Pi Day to hit up this week:
Winston Pies will offer their PieBite for just $3.14. The PieBite is 3.14-inch large and come in a variety of flavors, including Harvest Apple, Blue Ridge Blueberry, Dixie Classic Cherry and Chocolate Cowgirl.
With a $5 purchase from any The Pie Hole locations you'll be eligible for raffle prizes right on the spot. This can include free pie holes, a whole pie or even a whipped cream pie in the face. Key Lime minis, Pie Hole bundles of four (apple, blueberry, Mexican chocolate and strawberry lavender) and the Einstein Blue Lemonade are all priced at $3.14 for the day.
NoMad Los Angeles will offer pie-themed butter croissants out of the Coffee Bar for one day only. The croissant flavors include key lime pie filled with key lime curd and topped with a toasted vanilla meringue; apple pie featuring a baked-apple filling with cinnamon caramel and a pie crust crumble topping; and banana cream pie topped Nilla wafers and dried banana pieces.
At Alta Adams chef Keith Corbin is serving up some delectable slices of sweet potato pie for dessert. Topped with vanilla-bourbon whipped cream and grated candied pecans, the pie is a blend of sweet potatoes and the restaurant's custom sugar and spice blend.
Salt & Straw celebrates by bringing back their Wild-Foraged Berry Slab Pie, as part of their March "Flavor Vault" series. The ice cream features cranberries, cherries and other mixed berries cooked into pie-filling that's blended into a salted-vanilla base along with chunks of golden-brown pie crust baked from Homeboy Industries. The flavor is available all month long.
---
Want to get our to-do lists straight to your inbox every week? Sign up for our email program. Have an upcoming event you'd like suggest for listing? Drop us a line at [email protected]