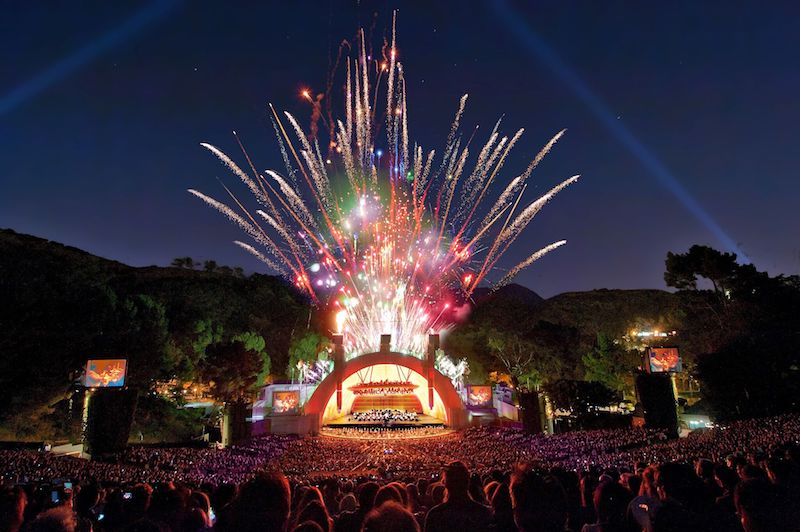 Every week in Los Angeles there are tons of great things to do (even before the weekend gets started) that we think you ought to have on your radar. With that in mind, we put together a list every Monday through Friday morning to keep you in the know about what's happening in the city you love (or maybe just like).
This week, from Monday, July 1 to Friday, July 5, features a Serpentine Pavilion at the Tar Pits, Anime Expo, Fourth of July fireworks and celebrations, Old Pasadena Summer Cinema, and MUCH more.
Remember you can always go to our L.A. events calendar page to get an updated rundown of what's happening around the city.
Hope you find the rundown useful and, as always, enjoy your week!
---
Keep in mind that while we retain complete editorial control of our content, for some of the ticketing options provided we utilize affiliate links and receive a commission if you purchase through our links.
---
Monday July 1st, 2019
1. A colorful, winding installation called The Second Home Serpentine Pavilion is now open at the La Brea Tar Pits for the summer and its 100% free for the public to roam and explore. The pavilion is open daily and will run through November 24. FREE
2. Deconstructing The Beatles: Abbey Road Side 1 screens at The Landmark Theater. 'Beatleologist' and director Scott Freiman gives audience a song-by-song breakdown of how each song on the record came to fruition, from inspiration to recording.
3. E.P. & L.P. in West Hollywood continues their stylish cinema series Melrose Rooftop Theatre with screenings of Goodfellas, Sleepless in Seattle and more.
4. Hot Tub With Kurt And Kristen at The Virgil is a variety show featuring some of the best comedians, music artists and the occasional oddity aimed to entertain.
5. What's the smelliest thing you can do on this Monday in L.A.? Sign up for Game Play and Scent, a two-hour workshop on how smell has been incorporated into game and play forms hosted by the The Institute for Art and Olfaction (yes, that's a thing!).
Tuesday July 2nd, 2019
6. Groove to the sounds of Nile Rodgers & CHIC as they take the stage with the LA Phil for a three night Disco Throwdown as dazzling fireworks set the skies above aglow at the Hollywood Bowl's annual July 4th Fireworks Spectacular happening July 2-4. Check for discounted tickets before making your purchase. DISCOUNTED (via Goldstar)
7. Mr. C's Poolside Cinema is back for the sixth year in a row. From June 11 through August 27 Angelenos can indulge in a luxury outdoor movie experience by the pool with a Cipriani menu, classic movie snacks and Peroni Nastro Azzurro. Bridesmaids will be screened this week.
8. Patton Oswalt will stop by The Laugh Factory this Tuesday with some big name friends that include Dane Cook, Michael Rapaport and Guy Groves. DISCOUNTED (via Goldstar)
9. The popular annual Hello Kitty Art Show returns to the Corey Helford Gallery with over 100 artists from around the globe focused on examining Hello Kitty and her influence on popular culture. The gallery is open Tuesday-Saturday from noon to 6 p.m. and the exhibition will be on view until August 3. FREE
10. Moonlight Movies on the Beach brings a summer-long series of free outdoor movie screenings on the shores of the LBC to three different locations near Downtown Long Beach and Belmont Shore. The series continues with Jaws at Granada Beach. Screenings happen on select Tuesdays and Thursdays through August 20. FREE
11. Free museum days: Free Family Night at Kidspace Children's Museum (from 4 to 8 p.m.)
Wednesday July 3rd, 2019
12. Back for the 16th year in a row, The Independent Shakespeare Co. presents Shakespeare in the Park at the Old Zoo in Griffith Park with a free performance of Twelfth Night on Wednesday and Friday. FREE
13. Anime Expo 2019 takes over the Los Angeles Convention Center July 3 – 7, giving anime lovers the opportunity to meet anime creators, sit in on panels, Q&A's, workshops, experience a maid cafe, video rooms, the manga lounge and more. The pre-show event starts on Wednesday night.
14. Cinespia is back for its 18th summer season, at the Hollywood Forever Cemetery for screenings of films modern, cult, and classic. They plan to celebrate 4th of July early with a screening of Mad Max Fury Road plus a fireworks show.
15. Descanso Gardens hosts Summer Songs welcoming The Flashdance DJs into their Rose Garden. They'll be spinning an all-vinyl set during sunset hours and beer will be offered at concession stands.
Thursday July 4th, 2019
16. Go to Grand Park for a festive afternoon and evening during the annual 4th of July Block Party. Enjoy live music, dancing, food vendors, and a dazzling fireworks show above Downtown Los Angeles. FREE
17. Councilman Bob Blumenfield's July 4th Fireworks Extravaganza, hosted by Valley Cultural Center, returns to Warner Ranch Park in Woodland Hills with a breathtaking fireworks display, delicious munchies from 20+ local restaurants, arts and crafts from local vendors and businesses, and a free concert. FREE
18. Spend Independence Day aboard the Queen Mary. There will be a day full of live entertainment, family-friendly activities, delicious food, a carnival, crafts and more. The festivities lead up to one of Southern California's best firework shows synced to patriotic music. Check for discounted tickets before making your purchase. DISCOUNTED (via Goldstar)
19. Celebrate the 4th of July at Skyspace LA! Enjoy a ride on the all-glass Skyslide while viewing multiple firework displays around L.A. from 1000 feet above. A live DJ starts spinning at 9 p.m. and there's a bar for folks 21 and over
20. Celebrate July 4 at the 5th Annual Barn Dance for a family hoe-down! Activities include live folk and country music, a barn dance, pie-eating contest, silent auction, cake walk, horseshoes, family games, and more.
21. Palisades Rocks the Fourth is a fun-filled day featuring food trucks, family-friendly activities and a festival stage concert program. The fireworks show will take place at 9 p.m.
22. Americafest, now in its 93rd year, is still going strong dazzling everyone with spectacular fireworks and special performances. This year includes performances by TNT Freestyle Motocross, Nathional Anthem performed by Maximo Marcuso and the PCDA NoteAbles Choir, a Apollo 11: The Immersive Live Show Preview, SoCal VoCals, Disney's DCappella Live Lion King performance followed by the biggest fireworks show in Southern California. Check for discounted tickets before making your purchase. DISCOUNTED (via Goldstar)
23. Councilman Curren Price Hosts a Fourth of July celebration in Expo Park featuring live musical entertainment, family-friendly activities, foods and a 20 minute fireworks show. FREE
24. The City of Monterey Park Presents: Fourth of July Entertainment & Fireworks with a day-long holiday celebration fit for the whole family. Taking place at Barnes Park, this community event includes music, food vendors, plus the annual fireworks show at 9 p.m. FREE
25. Reputedly the best fireworks show on the Westside, July 4th at the Marina offers prime views of the dazzling show synchronized to music. FREE
26. The Starlight Bowl in Burbank presents a July 4th Fireworks Spectacular with the Big Bad Voodoo Daddy.
27. Angel City Brewery is hosting a July 4th party with loads of beer, live music by The Vignes Rooftop Revival, food by Downtown Taco Co. and Burnt To A Crisp Texas Smokehouse.
28. Your four legged friend can have fun too! The July 4th Dog Parade at Eastview dog park in Rancho Palos Verdes invites pups to dress up for a fun day of activities and do some good by also donating pet goods to local shelters.
29. The 44th Annual Rancho Palos Verdes July 4th Celebration kick starts the holiday with a day of activities that include carnival fun, live music, arts & crafts, a puppet show and much more. FREE
30. Begin Independence Day early (9:30 a.m.) at the 13th Annual Santa Monica 4th of July Parade. FREE
Friday July 5th, 2019
31. Old Pasadena Summer Cinema screens The Hunger Games: Catching Fire.
32. The 626 Night Market takes over Santa Anita Park July 5-7 for a 3-day market place hosting over 300 vendors plus crafts, arts, games, music, and live entertainment.
33. Metro Art Presents: Salsa Night at Union Station an evening of salsa with live music and dance lessons on the south patio. FREE
34. The Silver Lake Picture Show screens Boyz n the Hood at Sunset Triangle Plaza.
35. Shakespeare By The Sea will once again offer a ten-week program of admission-free performances with two featured productions: The Comedy of Errors and Henry V at a variety of venues across Los Angeles on Friday and Saturday. FREE
36. The Griffith Observatory hosts a monthly forum where some of the most amazing phenomena in the known universe are explained and discussed. It's called All Space Considered and it takes place on the first Friday of every month. FREE
37. Spend the season sipping wine during sunset hour at Barnsdall Art Park's Friday Night Wine Party Series. Happening on the lawn of architectural gem the Hollyhock House, the evening features a fine selection of wines curated by Silverlake Wine, a live DJ and tours of the house. The series happens every Friday evening till September 6.
38. "The Assassination of Edgar Allan Poe," weaves in and out of the many Victorian mansions at Highland Park's Heritage Square Museum. The show follows the strange life and mysterious death of Edgar Allan Poe through multiple storylines. Audience members decide which storyline to follow (literally) in this immersive theatrical event and draw their own conclusion on how the famous writer died. The show runs July 5-7.
39. The Music Center's Dance DTLA features live music and/or DJs paired with expert dance instructors providing beginner group dance lessons for attendees. Each night has a different dance theme. The series continues with Line Dance & Two Step at The Music Center's Walt Disney Concert Hall/BP Hall. Dance DTLA continues on select Fridays through August 30. FREE
40. Summer Friday Night Drive-In at the Roadium returns every Friday evening from June 7 to August 30 to revive your favorite films in a classic 1950's drive-in setting. The series continues with a screening of Ferris Bueller's Day Off.
41. Louis Vuitton's latest art exhibition titled "Louis Vuitton X" will have the fashion house digging into their archives to reveal the brand's most notable collaborations throughout the years. From Karl Lagerfeld, Rei Kawakubo, Yayoi Kusama to Richard Prince, fans of Louis Vuitton will have a chance to view over 180 items including creations dating back to the early twentieth-century. "Louis Vuitton X" will be on view from June 28 to September 15. FREE
42. Free museum days: Norton Simon Museum (5 to 8 p.m.)
Food Pick for the Week
This week's pick by Christina Champlin, Co-Founder of We Like L.A.
Looking to get fed on the Fourth of July? Here are a few special Independence Day menus and deals to keep on your radar:
---
Want to get our to-do lists straight to your inbox every week? Sign up for our email program. Have an upcoming event you'd like suggest for listing? Drop us a line at [email protected]