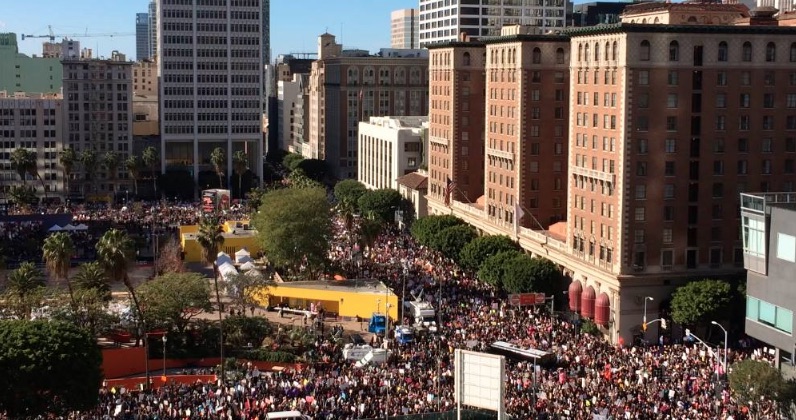 Los Angeles provides no limit of things to do, some awesome and some not so awesome. Since time is precious in this fast paced city we curate a list of things to do in Los Angeles for every weekend that'll help you decide how you want to spend your limited supply of attention (not to mention dollars!).
This weekend, from Friday, January 18 to Sunday, January 20, features a Comedy Central Drunk History exhibit, Women's March Los Angeles, free vinyl days at The Record Parlour, Smorgasburg LA x Beat Swap Meet, LA Breweries United Fest '19 and MUCH more.
Remember you can always go to our L.A. events calendar page to get an updated rundown of what's happening around the city.
Hope you find the rundown useful and, as always, enjoy your weekend!
---
Keep in mind that while we retain complete editorial control of our content, for some of the ticketing options provided we utilize affiliate links and receive a commission if you purchase through our links.
Friday January 18th, 2019
1. Cats On Glass Gallery is a pop-up from January 18-27 with a purpose, presented by Fresh Step Clean Paws. The "gallery" will feature a cat-lebrity Walk of Fame, a larger-than-life cat display, a yarn pom-pom room, a "me-owm" meditation room, and adoptable cats from spcaLA on view from a glass playhouse. FREE
2. dineL.A. continues through January 25 with exclusive lunch and dinner menus at a laundry list of the city's finest eateries. Check out our favorite menus for dineL.A. in our latest post The 17 Top dineL.A. Menus for January 2019.
3. The Paley Center is currently hosting a Comedy Central Drunk History exhibit. Visitors will get to walk through large dioramas of scenes in episodes of the new season now till January 20, 2019. FREE
4. DEEP-LA & BENDER presents "City Lights" at SKYSPACE a dance party 1,000 feet above the shining lights of DTLA. The evening will also include a sonic sound bath, free rides on the "Skyslide," tarot/astrology readings and more.
5. Odd Nights At The Autry feature a collection of vendors, gourmet food trucks, children activities, guests DJ's, a full bar and access to The Autry Gallery until 9 p.m. happening every third Friday of the month until October 2019.
6. Dance The Odyssey Theatre celebrates the art form of dance this week with a performance by Genevieve Carson/L.A. Contemporary Dance Company.
7. Greenbar Distillery will open up their facility for a tour of their organic distillery. The tour allows guests to learn about the process of spirit making and taste some of Greenbar Distillery's portfolio. Happening every Friday through Sunday of this month.21.
8. The City of Pasadena will host a Family Astronomy Night this Friday with scientists from the Carnegie Observatories. Stargaze with the team and see the moon, Mars and more through their telescopes. FREE
9. Beautycon is offering a pop up experience titled Beautycon POP happening Friday through Sunday featuring immersive galleries, makeup brands, vendors, a salon and other beauty related activities. Use the code POP2FOR35 to purchase two tickets for $35.
10.The Groundlings: The Completely Different Late Show is a hilarious improv show by the cast of the Groundlings' Main Company. Audience shout suggestions throughout the night for improvisational scenes performed by some of the best in the business. It's also a testing ground for brand new material for the Groundlings' main show. DISCOUNTED (via Goldstar)
Saturday January 19th, 2019
11. The Third Annual Women's March Los Angeles returns to Pershing Square in Downtown L.A. on January 19 for an opportunity to stand up and let your voices be heard! Like the years before, expect special keynote speakers and performers at the march.
12. The Record Parlour is hosting free vinyl days from January 19 through 21. Spend $20 and you get to take home up to 100 records for free. Bringing your own box or bag is recommended for this popular annual event.
13. The first ever Bulldog Derby is happening at Santa Anita Park this Saturday. SoCal's fastest English and French bulldogs will sprint off in a friendly racing competition and there will be contests, giveaways, photo ops and more going down at this dog lovers event.
14. The Asian American Expo returns to the Fairplex in Pomona on January 19 and 20 for two days of celebrating the Lunar New Year through food, art, and an immersive cultural experience.
15. Fusing the world of anime and video games, Anime Impulse will feature celebrity appearances, esports, artist alleys, Kawaii fashion, and cosplay, all at the Fairplex in Pomona. Happening January 19 and 20.
16. Blushcon 2019 aims to help beauty lovers discover indie asian beauty brands and connect with micro-influencers. The convention will take place during the Asian American Expo at the Fairplex in Pomona.
17. Hollywood Performance Marathon returns for the twenty-fourth year for an all-day-all-night event featuring over 50 performers and an eclectic mix of performances including comedy, dance, music and monologues. The event starts at 3 p.m. and concludes at 2 a.m. The event takes place at Theatre of NOTE.
18. Celebrate Martin Luther King Jr. Day with a service and community event at Baldwin Hills Crenshaw Plaza. In honor of the beloved civil rights figure, Baldwin Hills will host a day of giving back with a variety of free services for individuals and families. FREE
19. The Hello Kitty Cafe Truck stops by Torrance Del Amo Fashion Center from 10 a.m. to 8 p.m. in the courtyard near the AMC Theater. They'll be serving lots of super cute treats while supplies last.
20. The International Printing Museum presents Benjamin Franklin's Electric Birthday Celebration a day of honoring the life of one of the famous creator and thinker in history.
21. Don't Tell Comedy pops up in DTLA this Saturday for a comedy show with secret performers in a secret location. Location will be emailed to ticket holders and it's BYOB.
22. The Huntington Gardens welcomes Juilliard trained pianist Beth Sussman for an interactive one hour family concert inspired by the Huntington's art collection and gardens. The concert will take place at Rothenberg Hall from 1-2 p.m.
Sunday January 20th, 2019
23. Get a taste of old Hollywood at the Annenberg Community Beach House during Happy Birthday Marion, a free event that celebrates actress Marion Davies' 122nd birthday. FREE
24. Dreamscape Immersive, the latest contender in location-based virtual reality, has opened in the Westfield Century City mall with three unique adventures that include an alien zoo, a deep ocean dive and an action packed adventure to find a powerful jewel. Open Mondays through Thursdays.
25. Massive foodie market Smorgasburg LA in Downtown Los Angeles is open every Sunday and brings a massive roster of indie food pop ups, merchandise vendors and more at ROW DTLA. This weekend Beat Swap Meet and Smorgasburg LA will host Record Fair, a new monthly event taking place every third Sunday.
26. Enjoy unlimited tastings of specialty and limited-edition beers during DTLA Breweries United Fest '19. Taking place at Angel City Brewery, the brew-centric event proceeds will go directly to non-profit Cystic Fibrosis Foundation – Los Angeles.
27. The Found Footage Festival showcasing footage from videos found at garage sales and thrift stores around the country will return to L.A. at the Lodge Room in Highland Park this Sunday.
28. Every third Sunday of each month The Autry presents a Western Music Association Showcase from noon to 3 p.m. where musicians and cowboy poets perform stories and songs of the Old West. This event is free with your admission to the museum.
29. Caltech Astronomy presents a lecture and lunar eclipse stargazing event this Sunday evening. FREE
30. The folks behind the Museum of Failure presents The Disgusting Food Museum (Dec. 9, 2018 through Feb. 17, 2019.) Some of the 'delicacies' include maggot infested cheese, bull testicles, and sheep eyeballs. If you're brave enough, visitors will also get to smell and taste some of the creations at the end of the exhibit over at a tasting bar. Check for discounted tickets before making your purchase. DISCOUNTED (via Goldstar)
31. Take in a few laughs at the end of the weekend at Cool Beans Comedy at the Ice House in Pasadena. Jamie Kennedy and Tone Bell are a few performers for the evening. FREE
32. Score some deals during the Pasadena Camera Show & Sale. Cameras and photo equipment both vintage and digital will be up for grabs during this event.
33. Party With is Los Angeles' new Instagram-ready experience located at Westfield Santa Anita Mall. Folks can expect 15 premium photogenic installations like an infinity rainbow and a room filled with sparkling disco balls. Party With runs through January 27 and is open Thursdays through Sundays. Check for discounted tickets before making your purchase. DISCOUNTED (via Goldstar)
34. Free museum day: Craft and Folk Art Museum (pay what you can) and Museum of Latin American Art
Food Pick for the Week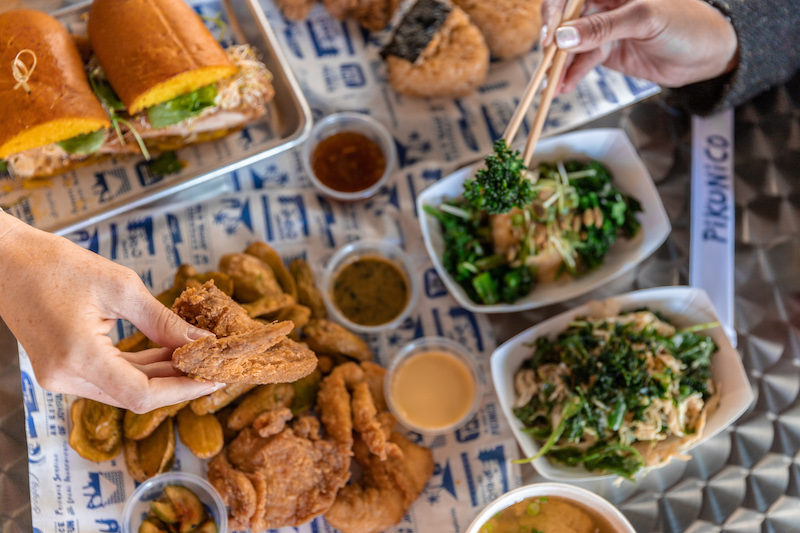 This week's pick by Christina Champlin, Co-Founder of We Like L.A.
ROW DTLA has a tasty new addition to their mixed-use complex by way of Pikunico. Centered around karaage, a form of Japanese-style fried chicken, Pikunico is a passion project of chef Kuniko Yayi whose resume includes a stint on Top Chef and opening the award-winning Hinoki & the Bird in Century City.
On the menu you'll find picnic-inspired dishes with a Japanese twist. Potato salad gets an update with white sweet potatoes. Slaw is drizzled with sesame vinaigrette and fries are switched out for sliced fingerling potatoes dusted with negi salt.
You'll be tempted to fill up on sides but save room for the star of the show. To prepare Yayi's karaage the chicken sits in a ginger, garlic, soy sauce, and sake marinade. Then it's lightly battered with potato starch, organic rice flour and seaweed salt. The result is a light crispy shell encapsulation that retains the tenderness of the chicken. It's as some might say "finger licking good" but you won't be reaching for handfuls of napkins. Amazingly there is only a touch of grease on the karaage. If that wasn't good enough, the chicken is locally farmed, free range, and antibiotic free. The batter is also gluten free for those concerned. All in all, it's a winning, carefree meal.
Pikunico is located 767 South Alameda Street, Suite 122, Los Angeles CA
Want to get our to-do lists straight to your inbox every week? Sign up for our email program. Have an upcoming event you'd like suggest for listing? Drop us a line at [email protected]