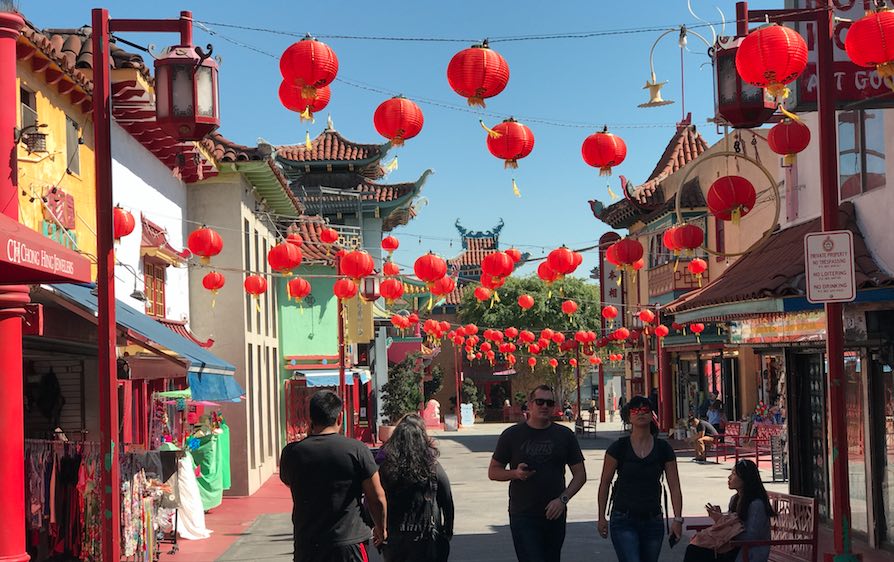 Los Angeles provides no limit of things to do, some awesome and some not so awesome. Since time is precious in this fast paced city we curate a list of things to do in Los Angeles for every weekend that'll help you decide how you want to spend your limited supply of attention (not to mention dollars!).
This weekend in L.A. from Friday, January 31 to Sunday, February 2 features Night of Ideas at NHM, the Golden Dragon Parade, the winter exhibition opening at The Hammer, Photo LA, Super Bowl food specials, and MUCH more.
Remember you can always go to our L.A. events calendar page to get an updated rundown of what's happening around the city.
Hope you find the rundown useful and, as always, enjoy your weekend!
---
Keep in mind that while we retain complete editorial control of our content, for some of the ticketing options provided we utilize affiliate links and receive a commission if you purchase through our links.
---
Friday January 31st, 2020
1. The Consulate General of France in Los Angeles and the Natural History Museum of Los Angeles County presents Night of Ideas Los Angeles on an evening of engaging lectures and conversations, live musical and dance performances, readings, art installations, screenings, and more. FREE
2. Severance Wine Bar wants to celebrate your single status during their BREAKUP BAR POPUP. Taking place next door to the bar, the two week long party will transport guest into an anti-Valentine's Day world with break up appropriate movie screenings, a Wall of Broken Relationships, loads of champagne, cocktails and food. Running Tuesday through Saturday January 31 till February 16.
3. Photo LA. at the Barker Hanger in Santa Monica runs from January 30 to February 2. The event celebrates photography and how it fits within the realm of fine art. Check for discounted tickets before making your purchase. DISCOUNTED (via Goldstar)
4. The Eli and Edythe Broad Stage in Santa Monica presents the acclaimed National Geographic Live series Pursuit of the Black Panther with Shannon Wild, National Geographic photographer and cinematographer, on Thursday, January 30 and Friday, January 31. Audiences will be taken behind-the-scenes of the many challenges and dangers of documenting the rare and elusive black panther in southern India.
5. 9th Annual Pasadena Cheeseburger Week returns with over 40 restaurants and bars offering special cheeseburger items from January 26-31.
6. Experience Pink Floyd's Dark Side of the Moon played live in a psychedelic 360 dome at Wisdome.LA Immersive Art Park in DTLA Arts District. The space blends virtual reality, musical art and 3-D sound. For one night only the Dark Side of the Dome event will feature an all-star band with members of Pink Floyd, Jane's Addiction, The Hendrix Experience, and Fishbone.
7. Zombie Joe's Underground Theatre Group in North Hollywood presents a 20-minute blindfolded horror-theatre experience titled The Bogeyman that moves the audience through a spiraling plethora of the deepest darkest of fantasies. The show runs Friday and Saturday nights from January 31 through February 15.
8. Take advantage of specially priced lunch and dinner menus at one of SGV's best dining destinations during Dine Alhambra Restaurant happening January 24-31.
9. Looking to LOL with a crowd of improv fans? The Groundlings has packed their best sketches into one hilarious comedy show called Mix Tape. The show runs Friday and Saturday.
10. Get up close and personal with sharks at the Aquarium of the Pacific during Shark Lagoon Nights. Guests will have the opportunity to touch bamboo sharks and view large sharks in an after hours setting. FREE
11. dineL.A. returns Jan. 17-31 for two weeks of exclusive lunch and dinner menus at a laundry list of the city's finest eateries.
12. Help keep LA Historic Park thriving by attending Weed Warriors, a weekly morning meet up aimed at restoring native habitats throughout the park while removing non native plants. FREE
Saturday February 1st, 2020
13. The Hammer will host their annual Winter Exhibitions Opening Celebration highlighting the exhibits Paul McCarthy: Head Space, Drawings 1963–2019 and Tishan Hsu: Liquid Circuit in an evening party atmosphere. FREE
14. Celebrate the Lunar New Year at The Huntington during their two-day festival. Guests will enjoy cultural entertainment like lion dancers, martial arts, Chinese music and dance. There will be children's activities, and Chinese New Year dining specials.
15. There's a comedy and art show inspired by Star Trek: The Next Generation called Picard & Friends and it's heading to Two Bit Circus this Saturday. Expect Star Trek-inspired art by artists from Netflix, Nickelodeon, Disney and more. The standup show will feature comedians performing alongside reaction gifs from Star Trek: The Next Generation.
16. #BlogHer20 Health taking place at Rolling Greens in DTLA is a day focused on female content creators. There will be workshops, discussions on health & wellness and more. Tickets are all inclusive and includes meals and a tote bag full of swag from sponsors.
17. The 121st Golden Dragon Parade and Chinese New Year Festival returns to Los Angeles' Chinatown with dazzling floats, marching bands, entertainers, a culinary stage, artisans and much more. FREE
18. Caffe Luxxe will officially open in Long Beach this Saturday and they're offering free drinks from 10 a.m. to 3 p.m. The morning will also introduce Caffe Luxxe's Naples Blend, named after the LBC's waterfront neighborhood. The blend will be offered complimentarily as part of the grand opening celebration, along with hand-crafted cappuccinos and Americanos made with their Montenero house blend espresso.
19. Alhambra Lunar New Year Festival takes over Valley Blvd. with amazing cultural performances, vendor booths, food and more in a lively street style festival. FREE UPDATE: This event has been cancelled. There is no current timetable for rescheduling.
20. The 4th Annual Oscar Film Week returns to Culina at the Four Seasons Hotel in Beverly Hills February 1-8 with a meal and screening of all nine "Best Picture" Oscar nominated films in 2020.
21. Kin Euphorics and theatrical dinner party group Disco Dining Club collaborate for A Night of Revelry at the ultra chic Kin Clubhouse in West Hollywood. Guests will enjoy craft Kin (non-alcoholic) cocktails and bites, plus dancing.
22. The Griffith Observatory hosts a public star party once a month from 2-9:45 p.m. where folks can get a look at the sun, moon, plants and other objects in the sky through a variety of telescopes. FREE
23. The Japanese American National Museum (JANM) joins forces with multi-media artist Taiji Terasaki for TRANSCENDIENTS: Heroes At Borders. The exhibit is a living memory of the Japanese American concentration camps, and a tribute to those still fighting for democracy and justice for all. On view February 1 to March 29, 2020. From 2-4 p.m. on Saturday JANM will screen ALTERNATIVE FACTS: The Lies of Executive Order 9066 the award-winning documentary about false information and political influences that led to the World War II incarceration of Japanese Americans. The screening is complementary with your admission ticket.
24. Don't Tell Comedy pops up in Mar Vista this Saturday with some of the biggest names in comedy. Performers are kept under wraps and the location will be emailed to all ticket holders. BYOB!
25. Head over to the Regent in DTLA for The Rock and Roll Flea Market. The flea market features vendors offering vintage and handmade crafts, including clothing, jewelry, memorabilia, instruments and more. There's also two full bars, a food menu, DJ's all day, and "boozy bingo," with prizes like tickets to concerts at The Regent. Admission to the flea market is free.
26. Vegan District takes place at the Pike Outlets on the first Saturday of each month featuring a vegan food court and marketplace. Entry is free.
Sunday February 2nd, 2020
27. The Wallis Annenberg PetSpace invites you and your pup to Super Pup Sunday a viewing party for the Puppy Bowl with complimentary food and refreshments. FREE
28. Smorgasburg LAs third annual Super Vegan Sunday returns this Sunday. transforming its food market into a vegan food haven.
29. Bird enthusiasts can spend the morning at the Sepulveda Basin Wildlife Reserve with Kris Ohlenkamp a biologist and birder extraordinaire. Kris has led this First Sunday walk for a very long time so you'll get plenty of great insights into the many wild life that live in the area. FREE
30. The Pickwick Vintage Show comes to Burbank this Sunday featuring over 70 exhibitors from across Southern California with one-of-a-kind vintage clothing, jewelry, and accessories, textiles and more.
31. Heidi Duckler Dance presents a free performance this Sunday titled One Leg at a Time Exhibition at Track 16 Gallery. FREE
32. USC Pacific Asia Museum located in Pasadena is recognized as Southern California's only museum devoted exclusively to art from Asia and the Pacific. For their first 2020 exhibition the museum presents Oscar Oiwa: Dreams of a Sleeping World. On view from January 10 – April 26, 2020 guests walk into a dome that transports them inside a 360° dreamscape fantasy world. The site-specific piece was drawn with 120 Sharpie permanent markers and reveals hints of existential threats to the environment. Oiwa's surreal paintings and a video documenting the creation of the mural dome greets guests before they embark into the dome.
33. Universal Studios Hollywood Celebrates Lunar New Year from January 23 to February 9 with cultural performances, special food offerings, Mr. Ping's Noodle Shop from Kung Fu Panda, a Mandarin-speaking MEGATRON, Hello Kitty and Minions adorned in Lunar New Year Attire and much more.
34. Yoga at Angel City Brewery welcomes all levels of experience with a donation of $15-20 that includes a free drink at the end.
35. Free museum admission: Museum of Latin American Art and Craft and Folk Art Museum (pay what you can)
Food Pick for the Week
This week's pick by Christina Champlin, Co-Founder of We Like L.A.
Looking for a place to watch the Super Bowl this Sunday while chowing down on some super food? I have few ideas for you below:
---
Want to get our to-do lists straight to your inbox every week? Sign up for our email program. Have an upcoming event you'd like suggest for listing? Drop us a line at [email protected]