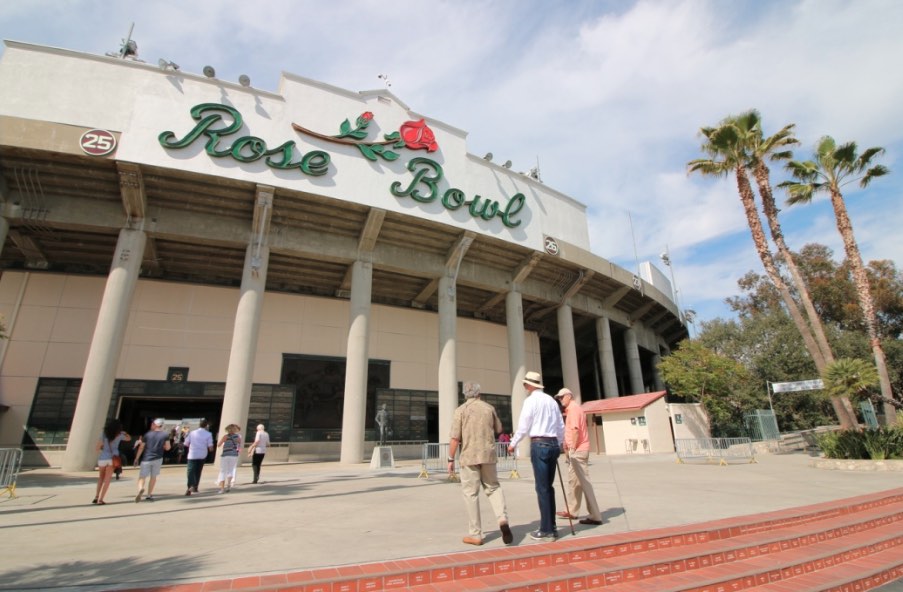 Los Angeles provides no limit of things to do, some awesome and some not so awesome. Since time is precious in this fast paced city we curate a list of things to do in Los Angeles for every weekend that'll help you decide how you want to spend your limited supply of attention (not to mention dollars!).
This weekend in L.A. from Friday, December 27 to Sunday, December 29 features Sip and Savor at the Rose Bowl, a guided walk at Paramount Ranch, Space Odyssey in 70mm, yoga at a cat cafe, and MUCH more.
Remember you can always go to our L.A. events calendar page to get an updated rundown of what's happening around the city.
Hope you find the rundown useful and, as always, enjoy your weekend!
---
Keep in mind that while we retain complete editorial control of our content, for some of the ticketing options provided we utilize affiliate links and receive a commission if you purchase through our links.
---
Friday December 27th, 2019
1. Fourth Fridays on 4th Street activates the "Retro Road" business district in Long Beach on the fourth Friday of every month from 6 to 9 p.m. through extended hours, dining specials, discounted merchandise, pop up shops, art shows, live music, double decker bus rides and more.
2. The El Capitan Theatre is the prime spot to see Star Wars: Rise of Skywalker, audiences will be treated to exclusive experiences that include the Evolution of the Stormtrooper™ costume exhibit plus costumes from the new movie. Before each movie, ticketed guests can also snap a photo with First Order Stormtrooper™ at a meet-and-greet and enjoy an all-new laser and light show. DISCOUNTED (via Goldstar) Open on Christmas too!
3. A new immersive experience transports guests to 1960s Berlin for a night of intrigue and espionage. Step into Crimson Cabaret nightclub and sip on era-inspired craft cocktails, listen to live original music, and take part in a world full of secrets where no one can be trusted and secret agents might approach you with a mission to complete. Crimson Cabaret wraps up its run this Friday through Sunday. Check for discounted tickets before making your purchase. DISCOUNTED (via Goldstar)
4. Yuletide Cinemaland offers a festive outdoor movie screening experience in a Victorian town square surrounded by Christmas carolers, food trucks, a Holiday Light Tunnel, Scrooge's Dance Hall and more. This weekend they'll be screening a double feature of The Muppet Christmas Carrol and How The Grinch Stole Christmas on Friday; Elf on Saturday and Edward Scissorhands on Sunday. Check for discounted tickets before making your purchase. DISCOUNTED (via Goldstar)
5. One of L.A.'s most magical holiday traditions, L.A. Zoo Lights returns November 15, 2019 through January 5, 2020 with thousands upon thousands of LED lights illuminating the zoo. Check for discounted tickets before making your purchase. DISCOUNTED (via Goldstar)
6. Catch Stanley Kubrick's masterpiece 2001: A Space Odyssey in 70mm film this Friday at The Egyptian Theatre.
7. The team behind LA's award-winning series For The Record has a new production coming to The Wallis' Bram Goldsmith Theater. Richard Curtis's Love Actually will be transformed into a one-of-a-kind multimedia screen and stage event starting November 27. The film and live music blend together as the story unfolds throughout the London setting. Performances continue through December 29. Check for discounted tickets before making your purchase. DISCOUNTED (via Goldstar)
8. Skyspace Nights returns with a special night with contemporary instrumental group Katalyst and access to all three floors of the space. Your first drink is free with admission!
9. Corey Helford Gallery's sixth annual Art Collector Starter Kit group show highlights affordable 12" x 12" works from 100 top New Contemporary artists, giving new art collectors and enthusiasts a chance to buy an original piece from artists. The show will be on view through January 18, 2020.
10. Get into the winter spirit when ICE at Santa Monica returns with a 8,000 square foot ice skating rink. Running November 1, 2019 through January 20, 2020.
Saturday December 28th, 2019
11. The Santa Monica Mountains Fund will host FILMS. FIRE. FAST CARS, a tour of Paramount Ranch. Join a ranger on a short walk through the ranch to learn about its Hollywood ties, the dangerous racetrack and what happened to the ranch during the Woolsey Fire in 2018. The walk is held from 2 to 3 p.m. Meet at the trailhead kiosk in the parking lot. Wear sturdy shoes for uneven terrain. Note that rain will cancel this event. FREE
12. The Pasadena Tournament of Roses presents SIP & SAVOR a special food festival highlighting Southern California eateries and culinary brands. There will be live entertainment and up-close viewings of Rose Parade float decorating (extra fee). The event takes place December 28-30.
13. Spin your 2019 woes into comedy gold with Fuck This Year, a comedy show at UCB Sunset based on audience suggestions of their worst experiences of the year that's almost over.
14. There's an ALL THAT 90s PARTY going down at Resident LA with DJ Dave Paul from San Francisco spinning the best of 90s. Check for discounted tickets before making your purchase. DISCOUNTED (via Goldstar)
15. Descanso Gardens' Enchanted Forest of Light returns for another installment with a host of interactive displays and nighttime activities from November 17 through January 5, 2020.
16. Marina Lights Movie Night will screen Avengers: End Game for free at Burton Chace Park. Before the show, carolers will perform holiday classics and guest can check out a photo booth, sip on hot cocoa and more. The screening takes place at 6 p.m.
17. Here and Now transforms it's space into a holiday bar called Blitzen's from December 3-31. Get transported to the the North Pole and enjoy 15 festival cocktails, a seasonal food menu with offerings like Christmas poutine, themed entertainment and more.
18. The annual LA Kings Holiday Ice happening at L.A. LIVE's Microsoft Square is a daily outdoors holiday skating rink. Open November 30, 2019 through January 12, 2020.
19. Dive into the holiday season with a Queen Mary Christmas! The special event will see Christmas spirit lining the famous Long Beach vessel until January 1, 2020. Activities include a 26 feet tall Christmas tree, variety of holiday activities, an outdoor skating rink, live entertainment and much more. Occurring Thursdays through Sundays. Open on Christmas too!
20. The Los Angeles Arboretum and Botanic Garden presents Moonlight Forest, where crafted lanterns line the garden grounds, some depicting animals, shimmering exotic flowers, and figures from Chinese legends. Happening Wednesdays through Sunday from November 9 through January 12, 2020. Check for discounted tickets before making your purchase. DISCOUNTED (via Goldstar)
21. The Holiday Light Festival Train Ride at Griffith Park is a festive one mile ride on the tracks with tens of thousands of lights to get you in the Holiday spirit. Running November 29 through December 30.
Sunday December 29th, 2019
22. Discover the best in foreign-language cinema during the Golden Globe Nominees Series, a week of special screenings from Dec. 29 to Jan. 4 at the Egyptian and Aero Theatres.
23. Yoga at Angel City Brewery welcomes all levels of experience with a donation of $15-20 that includes a free drink at the end.
24. Stop in the Zebulon for Friends and Gay Shit a comedy show that features some of the cities best character improvisers interviewed by queer clown couple Nic Scheppard and Jenson Titus Lavallee.
25. The Paley Center for Media celebrates the holidays with family-friendly experience PaleyLand. Guests can enjoy daily screenings of classic holiday TV programs, a Candy Cane Forest , arts and crafts, dreidel games, and free hot cocoa. No reservations are required. Open Wednesdays through Sundays till January 5, 2020. FREE
26. L.A.'s adorable cat cafe Crumbs & Whiskers will host yoga this Sunday. Please bring your own mat and water for this one hour session.
27. Since 1969 Bob Baker's Marionette Theater's adaptation of the Nutcracker has been warming hearts and delighting kids and adults during the holidays. The show includes over 100 handmade puppets at the Pasadena Playhouse. The last performance takes place this Sunday, December 29.
28. Every Sunday is Siren Karaoke at The Mermaid bar from 9 p.m. to 1 a.m. for all you late night singers.
29. The Bai Holiday Ice Rink returns to Pershing Square from Nov. 14, 2019 to Jan. 2, 2020 featuring a 7200 square foot outdoor ice-skating experience. A wide variety of events will take place throughout the duration of the rink. Open on Christmas too!
30. Free admission day: Craft and Folk Art Museum (pay what you can) and Museum of Latin American Art
Food Pick for the Week
This week's pick by Christina Champlin, Co-Founder of We Like L.A.
Chao Krung owners / sisters Amanda Kuntee and Katy Noochlaor have just rolled out an all-female winemaker list, making them the first restaurant in the city to solely feature women-made wines. The family owned restaurant has always had females in the lead. Kuntee and Noochlaor inherited Chao Krung from their mother who opened the restaurant in 1969. On the current list you'll find Prosecco from Tuscany, Rosé from Willamette Valley, a Riesling from Oregon and so on. I suggest asking the server what wine pairs best with dishes. Their pad thai is one of the best in Los Angeles. That should be the first (but not only) dish you order.
Chao Krung is located at 111 N. Fairfax Ave, Los Angeles CA 90036
---
Want to get our to-do lists straight to your inbox every week? Sign up for our email program. Have an upcoming event you'd like suggest for listing? Drop us a line at [email protected]