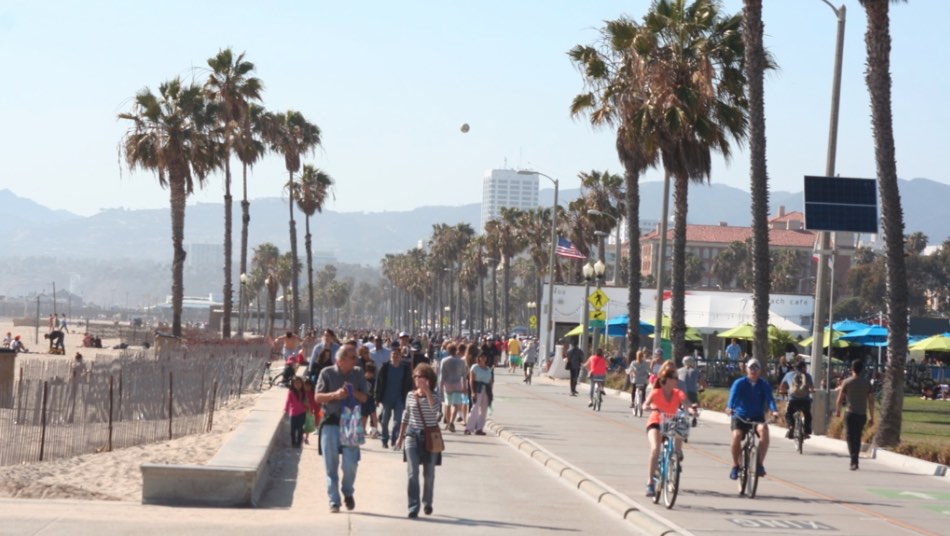 Los Angeles provides no limit of things to do, some awesome and some not so awesome. Since time is precious in this fast paced city we curate a list of things to do in Los Angeles for every weekend that'll help you decide how you want to spend your limited supply of attention (not to mention dollars!).
This weekend, from Friday, February 22 to Sunday, February 24, features The Chocolate and Art Show, Bob Baker Day, A Night in Focus at Norton Simon, SoCal Retro Gaming Expo, Coffee & Donut Festival, Eco Freaks Music Fest and MUCH more.
Remember you can always go to our L.A. events calendar page to get an updated rundown of what's happening around the city.
Hope you find the rundown useful and, as always, enjoy your weekend!
---
Keep in mind that while we retain complete editorial control of our content, for some of the ticketing options provided we utilize affiliate links and receive a commission if you purchase through our links.
---
Friday February 22nd, 2019
1. The Chocolate and Art Show Los Angeles returns to The Vortex for two nights (Friday and Saturday) of art, live body painting, vendors, live music, face-painting, and free chocolate.
2. The 3rd Annual Oscar Film Week returns to Culina at the Four Seasons Hotel in Beverly Hills February 19 – 23 with a meal and screening of all eight "Best Picture" Oscar nominated films in 2019.
3. An installation created by design firm and technology studio VT Pro Design gets a West Coast debut at ROW DTLA. Telestron is two large-scale robotic conductors creating geometric shades through light and shadows all around guests in a seven minute light show. Open to the public Wednesday through Sunday with the end date of March 28..FREE
4. Wisdome Art Park is an art focused immersive experience spread among a series of domes in an Arts District lot. The current exhibition, Samskara, takes guests on a journey that includes paintings, optical illusions, virtual reality, and one very trippy video projection. Happening all weekend. Check for discounted tickets before making your purchase. DISCOUNTED (via Goldstar)
5. Groundlings & Groundlings, Attorneys At Law at LA's iconic improv theatre and school The Groundlings is their latest weekly hilarious show. DISCOUNTED (via Goldstar)
6. 4th Fridays on 4th Street activates the "Retro Road" business district in Long Beach on the fourth Friday of every month from 6 to 10 p.m. through extended hours, dining specials, discounted merchandise, pop up shops, art shows, live music, double decker bus rides and more.
7. 100 Tactile exhibition is a sensory experience with objects and symbols through the sensation of touch. The immersive exhibit will be supported by visual and sound elements. Open now until March 30. DISCOUNTED (via Goldstar)
8. Abilities Expo happening February 22-24 is an expo for the disability community featuring new technology, new products and high impact workshops.
9. Greenbar Distillery will open up their facility for a tour of their organic distillery. The tour allows guests to learn about the process of spirit making and taste some of Greenbar Distillery's portfolio. Happening every Friday through Sunday of this month.
10. 260LA will host a Herschel sample sale from February 19-24 in their Beverly Hills location.
Saturday February 23rd, 2019
11. It's Bob Baker Day at Los Angeles Historic Park. The day pays homage to the famed puppeteer with a carnival like event featuring live music, entertainment, puppet-making workshops, round-the-clock puppet shows, a pop-up puppet museum and lots more. FREE
12. Pasadena's Norton Simon Museum of Art hosts A Night in Focus inspired by the piece Lady in White and the exhibition Once Upon a Tapestry: Woven Tales of Helen and Dido. Live music in the galleries, a weaving demonstration by tapestry weaver Yadin Larochette, art-making activities and Italian-themed food and wine are just a few of the things happening that evening. Party admission is free with the purchase of museum admission.
13. The Santa Monica Wine Fest comes to Barker Hangar for two days of wine tasting from a diverse group of wineries from around the world. The event will also offer complementary masterclasses.
14. The 4th Annual SoCal Retro Gaming Expo happening February 23-24 at the Pasadena Convention Center is an all-ages event featuring retro games, toys, merchandise, and much more.
15. Learn the Olympic sport of curling this Saturday and Sunday at the Pasadena Ice Skating rink.
16. Corey Helford Gallery will host a reception for their latest group show Psychedelia this Saturday from 7 to 11 p.m. Over 40 artist re interpret the drug induced period of art that defined the culture of that time. FREE
17. There's a Black History Month African Dance Showcase happening at the California African American Museum this Saturday.
18. Coffee & Donut Festival So Cal takes over the National Orange Show (NOS) Event Center with a fried, sugary and doughy day paired with coffee, Bloody Mary's and Mimosas.
19. Frankies Bikinis is hosting a one day warehouse sale in Downtown Los Angeles.
20. Climb aboard The Queen Mary in Long Beach for an evening of intrigue during The Dinner Detective Interactive Murder Mystery Show.
21. SAP Chili Cook Off returns to Santa Anita Park in Arcadia for a tasty competition of pepper cooking.
22. The Long Beach Playhouse just cleaned out their closets and will host a vintage clothing sale this Saturday from 1 to 5 p.m.
23. Autry Museum of the American West hosts a Weird West Film Series at the museum screening 1959's Curse of the Undead.
24. Head to Angel City Brewery for Go Fact Yourself a live podcast taping featuring comedians, actors and musicians answering questions on topics they claim to be experts in while the real experts on hand weight in and give us all the real facts. FREE
25. The Oxnard Performing Arts Center presents RESCUECON, a convention focused on rescue animals. Guests will enjoy visual and performing arts, hands-on workshops, inspiring talks, an artisan marketplace, and more.
26. Head to Hauser & Wirth Los Angeles to check out 'Annie Leibovitz. The Early Years, 1970 – 1983: Archive Project No. 1,' an extension of the 2017 survey of the same title presented by the LUMA Foundation at the festival Rencontres d'Arles, France. The exhibition features more than 4,000 photographs taken between 1970 and 1983, spanning the artist's early photojournalistic work for Rolling Stone Magazine to some of her most iconic portraits. 'The Early Years' will remain on view through April 14, 2019. FREE
27. The 8th Annual Whittier Area Classic Car Show will feature live music, vendors, food trucks, games, dragsters and some of the coolest cars you'll see in SoCal. FREE
28. Saved By The Max, the Saved By The Bell Pop Up Shop Diner & Bar will transform into Malibu Sands & Zack's Room as part of the "final semester" of the pop up expereince wrapping up in April.
29. From February 4 through March 1 The Grove will host "Award Nominated Date Night" in honor of awards season. Guests will enjoy an award-nominated film and a three-course dinner at The Grove, as well as valet parking for the evening for $70. This promo is available everyday.
30. Los Angeles Beer and World BBQ Festival taking place at Mandarin Plaza in Chinatown will rally top BBQ masters to one spot for a day of eating, drinking, games and more.
31. Desert X returns for its bi-annual public art show February 9 through April 21. Spread throughout the Coachella Valley in various locations, artists are commissioned to use the desert landscape as their canvas with breathtaking results.
32. Palm Springs Modernism Week returns February 14-24 to celebrate all things midcentury modern including architecture, art, interior landscape design and vintage culture.
Sunday February 24th, 2019
33. Dine Out Long Beach Restaurant Week returns with a host of specially priced prix fixe brunches, lunches and dinners from February 24 through March 2.
34. There's an Afro-Latinx Festival happening at the Museum of Latin American Art (MOLAA) in Long Beach this Sunday. Expect salsa music, workshops, tasty delights and a mixture of customs from African and Mestizo peoples in the Americas. FREE
35. Mojave Flea Sunday Market Series comes to Freehand this Sunday. The traveling market supports small businesses and local trade. Vendors will offer handcrafted food, drink, apothecary, apparel, accessories, housewares, furnishings and vintage.
36. Eco Freaks Music Fest takes over Los Angeles State Historic Park for a day of education, sustainability, live entertainment by local musicians and free food. FREE
37. Molcajete Dominguero at LA Plaza de Cultura y Artes welcomes Angelenos to explore Latinx art, craft, clothing, food, and beverage vendors from Southern California this Sunday.
38. Dreamscape Immersive, the latest contender in location-based virtual reality, has opened in the Westfield Century City mall with three unique adventures that include an alien zoo, a deep ocean dive and an action packed adventure to find a powerful jewel. Open seven days a week.
39. Checkout over 200 antique and specialty sellers during the Torrance Antique Street Faire. The fair also features an antique appraisal booth and live musical entertainment. FREE
Food Pick for the Week
This week's pick by Christina Champlin, Co-Founder of We Like L.A.
Freedman's, a modern meets old-school Jewish eatery in Silver Lake, will take over the Viceroy L'Ermitage Beverly Hills restaurant, Avec Nous, for brunch from 11 a.m. to 3 p.m. from Saturday, February 23 through Monday, February 25. On the menu, Freedman's brings their highly sought-after bagel towers complete with an assortment of house-made smoked fish and caviar. Babka sticky buns, corned beef tongue hash and scrambled eggs with waffled potato latke and smoked salmon will also be available.
Avec Nous is located at 9291 Burton Way, Beverly Hills, California 90210
Want to get our to-do lists straight to your inbox every week? Sign up for our email program. Have an upcoming event you'd like suggest for listing? Drop us a line at [email protected]