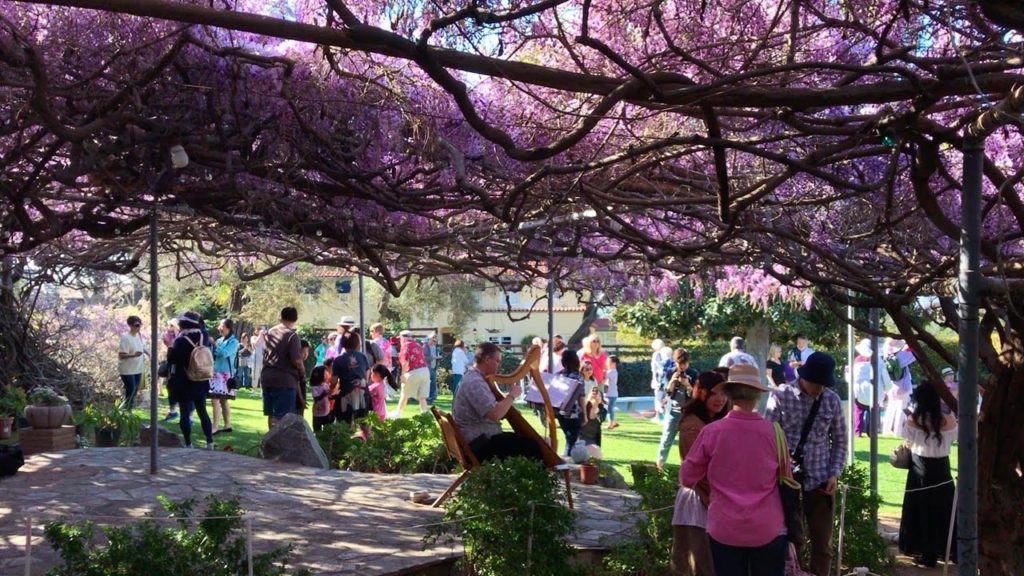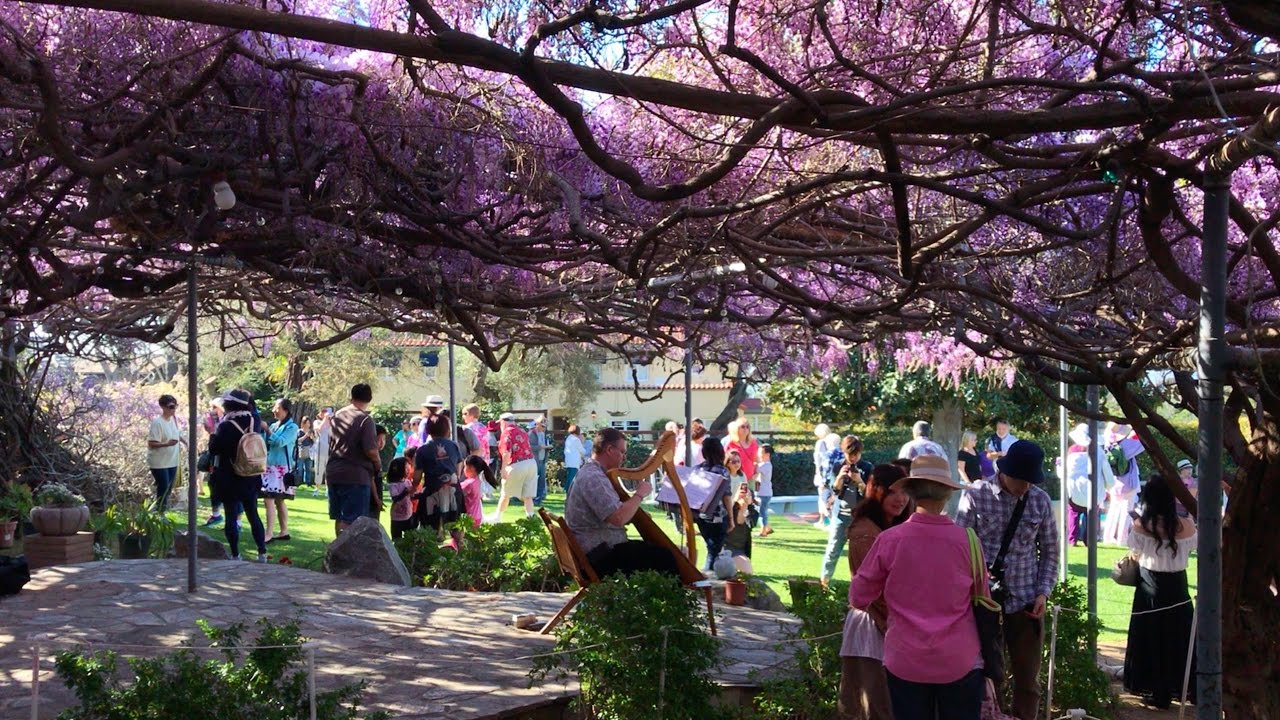 Los Angeles provides no limit of things to do, some awesome and some not so awesome. Since time is precious in this fast paced city we curate a list of things to do in Los Angeles for every weekend that'll help you decide how you want to spend your limited supply of attention (not to mention dollars!).
This weekend, from Friday, March 15 to Sunday, March 17, features two Cherry Blossom Festivals, a 10-hour Bach Marathon at Union Station, L.A. Nature Fest, Griffith Observatory star party, Sierra Madre Wistaria Festival, and loads of St. Patrick's Day celebrations happening all over the city.
Remember you can always go to our L.A. events calendar page to get an updated rundown of what's happening around the city.
Hope you find the rundown useful and, as always, enjoy your weekend!
---
Keep in mind that while we retain complete editorial control of our content, for some of the ticketing options provided we utilize affiliate links and receive a commission if you purchase through our links.
---
Friday March 15th, 2019
1. PaleyFest returns to the Dolby Theatre March 15 – 24 for a 10-day television festival featuring stars and creators from some of your favorite TV shows. PaleyFest is a culmination of screenings, panel discussions, Q&A's and behind-the-scenes looks of a variety of TV shows you know and love.
2. A Cherry Blossom Festival takes over Huntington Central Park Friday through Sunday. The three-day celebration centers around these seasonal blossoms. Festival highlights include a Sakura night market, live entertainment, arts and craft and more. FREE
3. PAC-MAN and Donkey Kong fans rejoice because the Arcade Expo is returning the Museum of Pinball in Banning from March 15-17 with some 1,100 retro and modern arcade games and pinball machines.
4. Delusion: The Blue Blade is an immersive play that puts in the center of a time travel adventure narrative. After a successful run last fall, the new 'director's cut' edition of the play will run through March 17 on select nights.
5. Grand Central Market hosts Friday Night Flights every Friday starting at noon. The special includes a flight of drinks or bites from GCM vendors and a round trip ticket on the historic Angels Flight Railway right across the street for $15.
6. Have you ever wanted to experience an ASMR video in real life? Your chance comes this week (March 13-17) when Whisperlodge returns to Los Angeles (after a sold out show last year) for a 90-minute experience featuring a variety of ASMR triggers.
7. Get up close and personal with sharks at the Aquarium of the Pacific during Shark Lagoon Nights. Guests will have the opportunity to touch bamboo sharks and view large sharks in an after hours setting. FREE
8. Experience National Geographic Live at Thousand Oaks Civic Arts Plaza. Their latest installment involves shark photographer Thomas Peschak. Check for discounted tickets before making your purchase. DISCOUNTED (via Goldstar)
9. Don't Tell Comedy pops up in West Los Angeles at a secret location with some of the biggest names in comedy. Performers are kept under wraps and the location will be emailed to all ticket holders. BYOB!
10. Odd Nights At The Autry feature a collection of vendors, gourmet food trucks, children activities, guest DJ's, a full bar and access to The Autry Gallery until 9 p.m. Happening every third Friday of the month until October 2019. Check for discounted tickets before making your purchase. DISCOUNTED (via Goldstar)
11 .Obvious Plant's Museum of Toys will house over 100 items created by comedian Jeff Wysaski including fake toys, actual toys with new names, and actual toys with fake facts. This will be the final weekend for the show, which ends on March 17.
12. This Friday Caltech's Stargazing and Lecture series returns to Pasadena for a night of outer worldly discussions and some stargazing. FREE 
13. 260LA will host a Rent The Runway sample sale in conjunction with a Kevyn Aucoin make up sale from March 12-17 in their Beverly Hills location.
14. Take an afternoon yoga class in beautiful Grand Park. The 45 minute workout is complimentary to the public every. After yoga, checkout the many food trucks lining the park and grab lunch al fresco style. FREE
16. The Groundlings: The Completely Different Late Show is a hilarious improv show by the cast of the Groundlings' Main Company. Audience shout suggestions throughout the night for improvisational scenes performed by some of the best in the business. It's also a testing ground for brand new material for the Groundlings' main show. DISCOUNTED (via Goldstar)
Saturday March 16th, 2019
17. Union Station for Metro Art Presents: 10-hour Bach Marathon with See/Hear L.A. The event features a variety of musical performances to celebrate the legendary Johann Sebastian Bach's 334th birthday. Program highlights include the annual Noontime Organ Concert in the historic Ticket Hall featuring organ virtuoso Christoph Bull and Church Keyboard Center; Lady Bach, an all-female group; plus a solo from multi-instrumentalist and composer Miguel Atwood-Ferguson. FREE
18. L.A. Nature Fest comes to The Natural History Museum L.A. (NHMLA) March 16-17 for two days of performances, hands-on activities, exhibitor booths, nature walks and more.
19. Queen Mary's St. Patricks Day Eve Pub Stroll kicks off your green-themed holiday weekend by transforming Queen Mary's historic salons and spaces into Irish pubs. Folks can enjoy Irish food, drinks, traditional Irish music, and plenty of fun as attendees are encouraged to explore and dance around the ship. Check for discounted tickets before making your purchase. DISCOUNTED (via Goldstar)
20. The 25th annual Hermosa Beach St. Patrick's Day Parade returns for an Irish themed celebration by the beach. The parade gathers 100 local businesses, civic organizations and school marching bands along a seven-block parade down Pier Avenue. FREE
21. Think your child has what it takes to compete on MasterChef Junior? There's going to be an open casting call for the newest season this Saturday at the Hilton Los Angeles – Universal City starting at 9 a.m. Go here for more info and to pre-register for the audition.
22. The 2019 West Covina Cherry Blossom Festival will feature a free festival with Japanese focused demonstrations, cuisine and more. FREE
23. Descanso Gardens will host a Night Garden event fun for all ages with live music, yoga, food, flower petal art and more.
24. The N'owt but Stout Festival comes to Torrance's Yorkshire Square Brewery for a St. Patty's Day craft beer celebration featuring exceptional dark beers, on cask and keg, from breweries hand-selected by Yorkshire Square's head brewer, Andy Black.
25. The Griffith Observatory hosts a public star party once a month from 2-9:45 p.m. where folks can get a look at the sun, moon, plants and other objects in the sky through a variety of telescopes. FREE
26. MiniBar Hollywood will host their annual Hollywood Crawl of Fame, a St. Patrick's Day Parade/bar crawl making its way through Hollywood. The event will include live Irish music, along with a party at the end of the crawl.
27. Fun Shui: Marketplace for Home Goods takes over Grand Central Market this Saturday from noon to 5 p.m. for a marketplace with over 20 vendors, offering art, vintage items, homemade décor, small house plants, records, and scented products.
28. The Getty Center closes their Sounds of L.A. series with a performance by Aditya Prakash Ensemble on Saturday and Sunday.
29. Head to Hollywood for an epic St. Patty's Day Pub Crawl. Join hundreds of partygoers as you roam Hollywood for the best drink specials in town. Happening Saturday and Sunday. Check for discounted tickets before making your purchase. DISCOUNTED (via Goldstar)
30. The Irish Times Pub in Palms will celebrate post St. Pattys with an Irish breakfast and then hours of live music, more Irish food, games and other festivities.
31. Celebrate St. Patrick's Day with an epic pub crawl throughout Hollywood, partygoers will have a chance to visit ten or more bars with music, hundreds of beers on tap and photo booths. Each attendee will receive a wristband, map of the crawl, free welcome shots, drink discounts and free entry at participating venues.
32. An installation created by design firm and technology studio VT Pro Design gets a West Coast debut at ROW DTLA. Telestron is two large-scale robotic conductors creating geometric shades through light and shadows all around guests in a seven minute light show. Open to the public Wednesday through Sunday with the end date of March 28. FREE
Sunday March 17th, 2019
33. The Sierra Madre Wistaria Festival returns for 2019 with another special viewing of the world's largest blossoming plant, plus 200 arts, crafts and vendor booths, and live music. Paid shuttle service is available to and from the private residence that contains the plant and the main festival area.
34. KROQ Presents: Flogging Molly St. Patrick's Day Block Party at the Hollywood Palladium on Sunday. The block party includes all kinds of fun activities like street games, delicious food, plenty of Guinness, prizes, music, and more. The block party is free but you will need tickets to catch the Flogging Molly concert.
35.Casey's St. Patrick's Day Street Festival will shut down four blocks in downtown featuring DJs, dancing, Irish whiskey and beer, and more. The street fest will run from 11 a.m. to 2 a.m.
36. Massive foodie market Smorgasburg LA in Downtown Los Angeles (open every Sunday) at ROW DTLA will host a Beat Swap Meet record fair with music stages, DJs, break dancers, live art, classic cars and more. The series happens on the third Sunday of every month.
37. Daft Brunch LA will host a St. Patrick's Day celebration at Resident in Downtown Los Angeles this Sunday. Expect Daft tunes, food, dancing and music by special guests including DJ's French Touch and Disco House.
38. Annual St. Patrick's Day celebration at The Original Farmers Market is a free family friendly Irish-themed day featuring Irish fare, drinks and traditional music like a strolling bagpiper.
39. Angel City Brewery's annual St Patrick's Day celebration will include live music by The Kilgary Mountain Band, corned beef tacos by Downtown Taco, and a special release of the Imperial Irish Red aged in Jameson Barrels.
40. One Colorado in Old Town Pasadena will host a fun filled day of Irish dance lessons, family crafting and a Pasadena Scots Bagpipes & Drum performance. FREE
41. The St. Paddy's bash at Brennan's in Marina del Rey will feature bagpipers, green beer and live music from several bands.
42. Celebrate St. Patrick's Day with an epic pub crawl throughout Downtown Los Angeles, partygoers will have a chance to visit ten or more bars with music, hundreds of beers on tap and photo booths. Each attendee will receive a wristband, map of the crawl, free welcome shots, drink discounts and free entry at participating venues.
43. Shaolin Temple Day in Rosemead will feature Kung Fu demonstrations, Buddhist blessing ceremony, wellness booths, Kung Fu lessons, food trucks and more. FREE
44. Harvelle's in Long Beach is hosting a Gettin' Lucky Burlesque show in honor of St. Patrick's Day. Check for discounted tickets before making your purchase. DISCOUNTED (via Goldstar)
45. Dreamscape Immersive, the latest contender in location-based virtual reality, has opened in the Westfield Century City mall with three unique adventures that include an alien zoo, a deep ocean dive and an action packed adventure to find a powerful jewel. Open seven days a week.
46. Desert X returns for its bi-annual public art show February 9 through April 21. Spread throughout the Coachella Valley in various locations, artists are commissioned to use the desert landscape as their canvas with breathtaking results.
47. 100 Tactile exhibition is a sensory experience with objects and symbols through the sensation of touch. The immersive exhibit will be supported by visual and sound elements. Open now until March 30. DISCOUNTED (via Goldstar)
48. Free admission at: Museum of Latin American Art and Craft and Folk Art Museum (pay what you can)
Food Pick for the Week
This week's pick by Christina Champlin, Co-Founder of We Like L.A.
St. Patrick's Day celebrations will be happening all weekend long. Check below for where you can score Irish inspired food and plenty of green beer:
---
Want to get our to-do lists straight to your inbox every week? Sign up for our email program. Have an upcoming event you'd like suggest for listing? Drop us a line at [email protected]