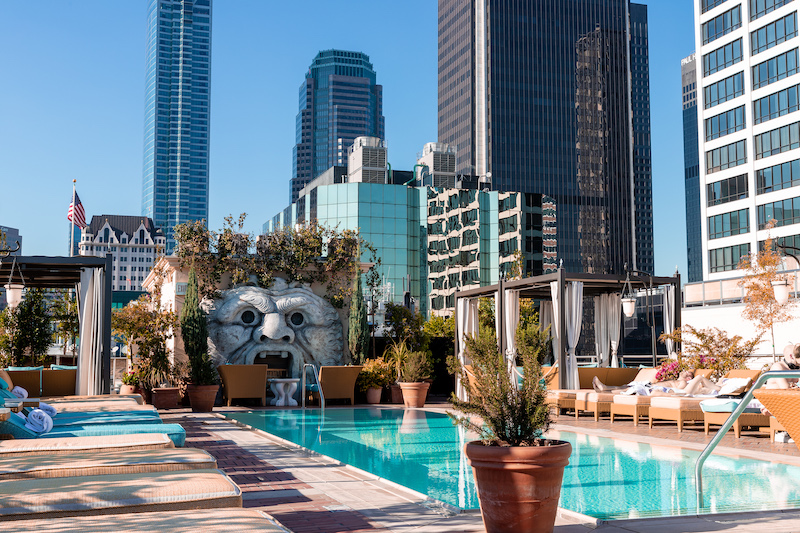 Los Angeles provides no limit of things to do, some awesome and some not so awesome. Since time is precious in this fast paced city we curate a list of things to do in Los Angeles for every weekend that'll help you decide how you want to spend your limited supply of attention (not to mention dollars!).
This Easter weekend, from Friday, April 19 to Sunday, April 21 features a NoMad Los Angeles weekend pop-up, Lebowski Fest, Olvera Street's Blessing of the Animals, 420 Fest, Easter Celebrations around town and MUCH more.
Remember you can always go to our L.A. events calendar page to get an updated rundown of what's happening around the city.
Hope you find the rundown useful and, as always, enjoy your weekend!
---
Keep in mind that while we retain complete editorial control of our content, for some of the ticketing options provided we utilize affiliate links and receive a commission if you purchase through our links.
---
Friday April 19th, 2019
1. The NoMad Los Angeles recently launched a new food series titled 'For A Limited Time Only' transforming the hotel's coffee shop into a variety of themed pop-ups every Friday and Saturday evening. The first iteration, Mamma Guidara's, takes inspiration from NoMad New York's dinner series of the same name, which itself is inspired by old-school Italian-American red sauce restaurants.
2. Lebowski Fest returns to Los Angeles with a live concert by the dude himself, Jeff Bridges at The Wiltern. A screening of the The Big Lebowski plus special guests will also be part of the night. Check for discounted tickets before making your purchase. (DISCOUNTED) via Goldstar
3. There's a new, immersive horror experience at Zombie Joe's Underground theater in North Hollywood titled "I want to live in your mouth." It's a 20 minute show for one single guest that transports them inside a child's nightmare. You'll navigate through corridors, opening doors and meeting creatures, some you wish you had avoided. The show runs Thursday through Sunday.
4. College students from across Southern California can head to The Hammer for Arts Party: Wasteland an evening of performance art, music, and after-hours access to the galleries. FREE
5. Rancho Santa Ana Botanic Garden located in Claremont welcomes Wildflower Week April 13 through April 21. The nine-day celebration of California's wildflowers will feature annual displays of California poppies, baby-blue eyes, lupines and much more. In addition, there will be an art exhibition, cocktail parties, guided tram tours and more.
6. The Groundlings: The Completely Different Late Show is a hilarious improv show by the cast of the Groundlings' Main Company. Audience shout suggestions throughout the night for improvisational scenes performed by some of the best in the business. It's also a testing ground for brand new material for the Groundlings' main show. DISCOUNTED (via Goldstar)
7. Spa Week returns to Los Angeles April 15-21 for its biannual celebration dedicated to improving personal health by simplifying wellness. Every April and October for one week only, hundreds of spas and wellness locations across North America will offer two or three full-service treatments for just $50 each.
8. Kaleidoscope Experience comes to the Globe Theatre April 19 – 20 for a two-day whimsical wonderland for adults. Event features include interactive zones, such as the High Score Arcade, Hot Box Disco, Pillow Fort, Cosmic Temple, Rooms of Whimsy, The Rabbit Hole and more.
9. Odd Nights At The Autry feature a collection of vendors, gourmet food trucks, children activities, guest DJ's, a full bar and access to The Autry Gallery until 9 p.m. Happening every third Friday of the month until October 2019. Check for discounted tickets before making your purchase. DISCOUNTED (via Goldstar)
10.Stacks House an experiential pop-up designed to promote financial independence for women opens its doors this Wednesday. A visual Instagram experience, attendees will walk through money-themed rooms that aim to give the viewer financial inspiration for the future. Open Wednesday through Sunday.
11. Cosmic Brewery in Torrance will host a Vegan Earth Day Weekend Fair April 19-20 featuring food, apparel vendors and more.
12. Take an afternoon yoga class in beautiful Grand Park. The 45 minute workout is complimentary to the public every. After yoga, checkout the many food trucks lining the park and grab lunch al fresco style. FREE
13. Rooftop Cinema Club returns to the rooftops of LEVEL in DTLA and NeueHouse in Hollywood with multiple screenings this week that include The Greatest Showman, The Big Lebowski and more.
Saturday April 20th, 2019
14. The Olvera Street Merchants Association Foundation hosts its annual Blessing of the Animals celebration on Saturday April 20 at the Pico House for a pet-friendly afternoon. Whether your pet lives on land, in water, or flies through the air, all creatures are welcome to receive a blessing for this sacred ceremony. FREE
15. One Colorado will once again host an Easter celebration that includes a Bob Baker Marionette Show, an egg hunt and Polaroid photos with the Easter Bunny. FREE
16. Nike by Melrose will host a complimentary rooftop yoga session led by CorePower Yoga. A private shopping experience and refreshments will be held after the class. FREE
17. San Pedro's first annual WildFest will celebrate the wild and domesticated animals that live amongst us. There will be 30 different exhibitors, bug and animal discoveries, crafts for kids, workshops, discussions and more. FREE
18. The Egg Bowl comes to the iconic Pasadena Rose Bowl Stadium on April 20 for a hoppin' time in the grass. Highlights include a free egg hunt on the field, live entertainment, food vendors and complimentary activities and lessons from a variety of organizations. FREE
19. Volunteer to clean up the L.A. River! On April 13, 20 and 27, thousands of volunteers scour different parts of the L.A. River, collecting trash and helping to improve the environment.
20. Celebrate 4/20 with an evening of cannabis, yoga, storytelling and meeting new people. Stoned Yoga instructor Ashlee Langas will lead a class. After yoga, Sacred Storytelling with the theme, Dazed and Connected will follow.
21. Golden Road Brewing takes over Rose Room in Venice for their second annual Heal The Bay pop-up. From noon to 4 p.m. the public will be treated to a sustainability-focused art gallery and $4 beers. Golden Road will also offer their Heal The Bay IPA and a new Hazy version that day. Proceeds from each of these beers directly benefit Heal The Bay. A VIP portion from 6-10 p.m. costs $20 per ticket (proceeds benefit Heal The Bay) and attendees will receive complimentary beer, food, commemorative glassware, a live screen printed reusable tote, and music from a live DJ.
22. The city of Monrovia will host a Spring Egg Hunt & Healthy Kids Day featuring wellness activities, a petting zoo, spring bunny photos, egg hunts, carnival games and more. FREE
23. The American Chinese Dance Association presents their 32nd Annual Chinese Dance Festival at the San Gabriel Mission Playhouse.
24. Surfrider Foundation will organize two beach cleanups this weekend to celebrate Earth Month. April 20 will take place at Will Rodgers and April 21 at Bay Street Beach in Santa Monica. The later includes brand involvement by Summer Fridays, Outdoor Voices, APL and Health-Ade Kombucha. Registration can be made here.
25. If Halloween and horror movies are your favorite topics then I Like Scary Movies Experience will be just what you're looking for. Guests can expect to see, hear, feel, and smell recreations of iconic moments from IT (2017), Beetlejuice, The Shining, The Lost Boys, and A Nightmare on Elm Street. There won't be costumed actors jumping out trying to startle but there will be multi-sensory surprises along your winding path. The pop up experience runs April 4 through June 16 Thursday through Sunday.
26.The Original Renaissance Pleasure Faire returns April 6 through May 19 (Saturday and Sundays) at the Santa Fe Dam Recreation Area in Irwindale for another year of fantasy and fun. Adults and kids alike can enjoy an afternoon of games, rides, mouthwatering food and artisan crafts. Check for discounted tickets before making your purchase. DISCOUNTED (via Goldstar)
Sunday April 21st, 2019
27. The Wiltern's annual 420 Fest returns for 2019 on April 21 for a cannabis-themed party and a screening of the classic movie Friday, directed by F. Gary Gary, and starring Ice Cube. In addition to the screening, the festival also features cannabis-heavy vendor booths, delicious munchies, 420-themed photo ops, and a vinyl DJ set by DJ Mr. Number. Check for discounted tickets before making your purchase. DISCOUNTED (via Goldstar)
28. Head to the Queen Mary for an Eggstravagant Easter Celebration that includes a Royal Easter Sunday Brunch, three egg hunts, a petting zoo, Easter children activities and much more.
29. Whitmer Thomas and friends stop by The Satellite in Silver Lake for an evening of Whitmer's darkwave synth comedy along with stand up and sing songs by Mitra Jouhari, Martha Kelly, Quinta Brunson, Gabe Liedman, Carmen Christopher and DJ euNiCE CHANG.
30. The Pasadena Showcase House of Design will take place at the Boddy House on the grounds of Descanso Gardens in La Cañada Flintridge from April 21 through May 19.
31. Stop by Hotel Figueroa to expereince the ethereal sounds of a Bohemian Cristal Instrument. A Q& A with sound artist Lenka Morávková will follow the evening of immersive soundscapes and hypnotic ambient pulses.
32. Museum of Illusions has recently launched a brand new experience. Guests can walk through eye popping 3D exhibits inspired by cartoons, art, current events, pop culture and more. The museum is open daily.
33. Desert X returns for its bi-annual public art show February 9 through April 21. Spread throughout the Coachella Valley in various locations, artists are commissioned to use the desert landscape as their canvas with breathtaking results.
34. The Egg House visits Los Angeles March 20 – April 28 for an egg-themed, 12,000-square-foot pop-up multi-sensory experience showcasing a series of installations and activations around egg themed creations. Open Wednesday through Sunday.
Food Pick for the Week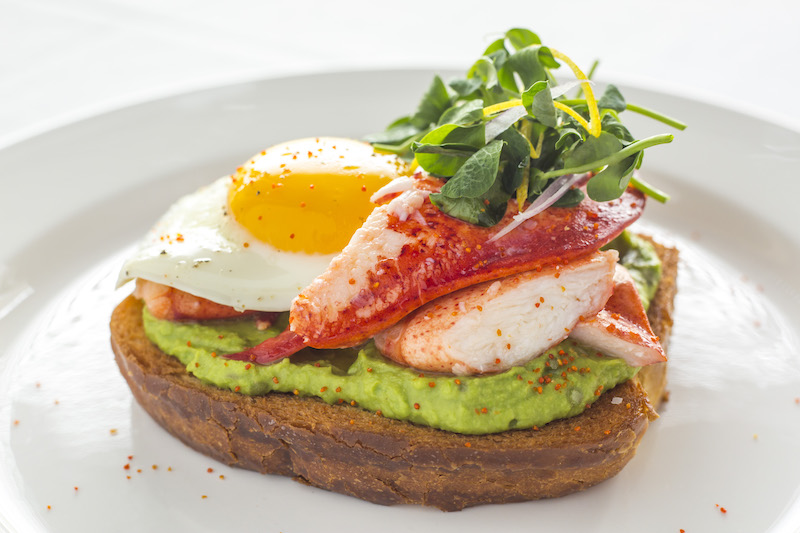 This week's pick by Christina Champlin, Co-Founder of We Like L.A.
Need a last minute reservation for Easter Sunday? Several Los Angeles hot spots are going all out in honor of the upcoming holiday. Check out our list of 11 Last Minute Easter Brunch Options in L.A. The list includes a place to to nosh on home-made peeps, super fancy buffets, Lobster Toast, bottomless drinks, egg hunts plus appearances by the Easter Bunny.
---
Want to get our to-do lists straight to your inbox every week? Sign up for our email program. Have an upcoming event you'd like suggest for listing? Drop us a line at [email protected]