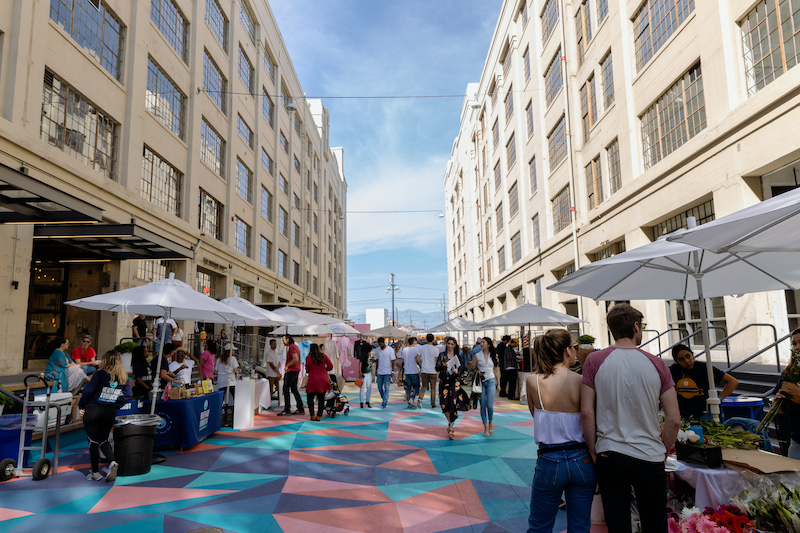 Los Angeles provides no limit of things to do, some awesome and some not so awesome. Since time is precious in this fast paced city we curate a list of things to do in Los Angeles for every weekend that'll help you decide how you want to spend your limited supply of attention (not to mention dollars!).
This weekend, from Friday, May 10 to Sunday, May 12 features L.A. Times Food Bowl Night Market, Popfuji, pop-up roller-skating, a Dandelion art installation, Mother's Day brunches (see our food pick at end of article), and MUCH more.
Remember you can always go to our L.A. events calendar page to get an updated rundown of what's happening around the city.
Hope you find the rundown useful and, as always, enjoy your weekend!
---
Keep in mind that while we retain complete editorial control of our content, for some of the ticketing options provided we utilize affiliate links and receive a commission if you purchase through our links.
---
Friday May 10th, 2019
1. L.A. Times Food Bowl Night Market continues through Sunday with an outdoor celebration of Los Angeles' deliciously diverse food scene. Each night feature a specific theme, an array of food vendors, pop-ups, chef collaborations, art installations and live music all in one space.
2. POP SK8 brings a pop-up outdoor roller-skating rink to the Westfield Valencia now through May 27.
3. The Pacific Dining Car will once again celebrate their anniversary with a baseball steak at a throwback price of just 98 cents. The price signifies how many years the 1920's railway train car restaurant has been in business. The promo is only redeemable if you sign up to reserve the steak and make a reservation to come in.
4. LA Plaza de Cultura y Artes in Downtown Los Angeles brings back their Summer of Salsa concert series this Friday. Dance to the sounds of some of the city's best salsa and Cuban bands one Friday evening each month through summer. FREE
5. It's Pasadena Restaurant Week (May 6-10) diners can expect dozens of restaurants in participation offering special prix-fixe lunch and dinner menus.
6. Echo Park Craft Fair's Spring Edition at Mack Sennett Studios (May 10-12) features over 120 artists with various ceramic, jewelry, clothing, woodworking and textile design booths. Friday night features a limited ticket preview party, with the main event happening Saturday and Sunday.
7. Culina & Vinoteca's Second Annual MAMMA MIA! week long celebration of moms includes a "Movies Moms Love" dinner series from May 8-10 and a special MAMMA MIA! dinner menu featuring Chef de Cuisine Luca Moriconi's very own mother Grazia's authentic Tuscan specialties all week long. On Sunday a lavish Mother's Day brunch buffet will take place8.
8. One Friday a month, Cal Tech opens their doors to provide a free 30 minute public lecture followed by a 90-minute stargazing session featuring a Q&A panel with world-class scientists. This month's theme will be A Star is Born, with lecture by Mike Grudic. No reservations are necessary, but stargazing is weather dependent. Lecture starts at 8 p.m. FREE
9. There's a midnight screening of Office Space at The Vista in celebration of their 20th anniversary. Guests are encouraged to dress up as their favorite characters.
10. Yann Tiersen the composer famous for the music in the french film Amélie will embark on a North American tour that kicks off at the Orpheum Theatre in Los Angeles this Friday.
11. The NoMad Los Angeles recently launched a new food series titled 'For A Limited Time Only' transforming the hotel's coffee shop into a variety of themed pop-ups every Friday and Saturday evening. The second iteration The Kentucky Derby featuring mint juleps, hot chicken sandwiches, deviled eggs and Derby decor to match.
12. Get up close and personal with sharks at the Aquarium of the Pacific during Shark Lagoon Nights. Guests will have the opportunity to touch bamboo sharks and view large sharks in an after hours setting. FREE
13. Head to Marina Del Rey to shop the James Perse sample sale. Menswear, womenswear, home, accessories and footwear will all be discounted. Happening May 10-12.
14. Museum of Illusions has recently launched a brand new experience. Guests can walk through eye popping 3D exhibits inspired by cartoons, art, current events, pop culture and more. The museum is open daily. Check for discounted tickets before your purchase. DISCOUNTED (via Goldstar
15. Los Angeles County Museum of Art hosts free jazz performances on Fridays through November. Concerts take place at the main entrance. FREE
16. 260LA will host a Maje sample sale from May 7-12 in their Beverly Hills location.
17. The Los Angeles Asian Pacific Film Festival dedicated to showcasing films by and about Asians and Pacific Islanders, returns May 2-10 with a variety of screenings and activities.
18. The American Cinematheque and the European Union presents the sixth annual Starring Europe, New Films from the EU (May 9-13) a film festival to celebrate and discover new films from across the European Union.
Saturday May 11th, 2019
19. The Travel Expo comes to the Pasadena Convention Center for a consumer-focused, experiential travel exhibition featuring industry leaders, influencers, travelers, tour operators offering guests panel discussions, interactive roundtables, and more.
20. Celebrate mom all weekend long by first stopping at ROW DTLA for their Mother's Day celebration with plenty of activities for the whole family including glam sessions from BeGlammed and workshops with Makers Mess and Still Life Ceramics. There will be special deals and activities from many vendors at ROW DTLA and dollar oysters and rosé specials will be offered at Rappahannock Oyster Bar. Baby2Baby will be onsite to accept donations like diapers, toys and other supplies for Angelenos who want to give back.
21. The formerly anonymous art collective now known as The Art Department first captured Angelenos attention when they created the Griffith Park Teahouse in 2015. Now they're back again with a new installation called Dandelions, which promises surreal factory of flowers somewhere south of Downtown L.A. (details are intentionally vague). The installation runs May 9 and 11-12, and is free to the public. FREE
22. This Saturday waterfront brewery Brouwerij West hosts the first of five free 2019 summer concerts as part of their annual Popfuji series. Saturday's event kicks off at 6 p.m. and features co-headliners Starcrawler and Death Valley Girls, plus multiple food trucks on hand and plenty of craft beer for purchase. Admission is free. FREE
23. Queen Mary's Waterfront BBQ & Chili Festival will feature 50 top grill masters and chili cooks serving up their tastiest dishes, from ribs, brisket o pots of spicy, verde or homestyle chili. They'll all be competing for California State Championship titles sanctioned by the Kansas City Barbecue Society and ICS, so you know these cooks mean business. DISCOUNTED (via Goldstar)
24. Eat|See|Hear returns for 2019 with a screening of Crazy Rich Asians. Check for discounted tickets before making your purchase. DISCOUNTED (via Goldstar)
25. Unique Markets Spring Pop-Up comes to the California Market Center May 11 – 12 for a curated shopping experience. This pop-up features one-of-a-kind gifts from modern, independent designers, artists, and emerging brands. Aside from shopping, Unique Markets offers two afternoons of fun music, free bites, drinks, DIY projects, and a photo booth.
26. Los Angeles LGBT Center will host the second annual WxW: For Women. By Women., a community celebration for LBTQ women and their allies. Held jointly at the Center's Village at Ed Gould Plaza and the new Anita May Rosenstein Campus located directly across the street, the free event will include live music, performance art, a short film screening, a gender and size inclusive fashion show, interactive LBTQ-centric activities, and more. FREE
27. Santa Monica Cultural Affairs presents Indigenous Now, a day of dance, music, spoken word and visual art by Indigenous artists based in Los Angeles, Santa Rosa, and Santa Fe. The event is free to attend and takes place at Tongva Park. FREE
28. Street Food Cinema returns this weekend with a screening of The Princess Bride and Dirty Dancing. (DISCOUNTED) via Goldstar
29. L.A.'s only live animated comedy show Picture This! is back with a free show on Saturday at The Virgil with over a dozen well known comedians and animators. FREE
30. There's a Gudetama's Lazy Diner Experience happening in Little Tokyo every Saturday of this month. There is no actual food at this pop-up but rather a space designed to look like a diner that folks can explore.
31. The Original Renaissance Pleasure Faire returns April 6 through May 19 (Saturday and Sundays) at the Santa Fe Dam Recreation Area in Irwindale for another year of fantasy and fun. Adults and kids alike can enjoy an afternoon of games, rides, mouthwatering food and artisan crafts.
32. The Pasadena Showcase House of Design will take place at the Boddy House on the grounds of Descanso Gardens in La Cañada Flintridge from April 21 through May 19.
Sunday May 12th, 2019
33. Rancho Santa Ana Botanic Garden located in Claremont is celebrating Mother's Day with free admission for moms plus a free gift to the first 200 moms who show up this Sunday. FREE
34. Newly opened Barcade in Highland Park will host a Family Day this Sunday, noon to 5 p.m. They'll have a kids menu for the occasion and arcade games will keep every family member happy.
35. Take a free dance lesson with legendary choreographer Debbie Allen on the second Sunday of every month at The Wallis in Beverly Hills. This month the theme is Vogue in honor of pride. FREE
36. There's a Game of Thrones viewing party happening at Hotel Figueroa at 'House Tangier' each Sunday leading up to the series finale. The food and drink menu will be inspired by GOT for the event. A peek at the menu shows dishes like Open Faceless Man Sandwich​ and a Stark Courage cocktail made of tequila, mezcal and Chartreuse.
37. Challenge yourself with a 70-minute yoga class while enjoying views of the DTLA skyline during Flow + Flavor: Rooftop Yoga at Smorgasburg x ROW DTLA. This week CBD wellness brand Papa & Barkley will be on hand to discuss the benefits of their products.
38. East Los Angeles Art Walk, a monthly event brought to you by the East LA Business Association of the 1st St corridor invites guests to meet independent artists, muralists, crafters as well as local brands from the Eastside and surrounding neighborhoods every second Sunday of the month. FREE
39. The Autry will host Latin Dance Sunday with music from Cal State LA's award-winning Afro Latin Ensemble. There will be a bar and light refreshments served, select galleries will also remain open for the event.
40. French bread pizza makers Pain Pizza pop-ups at Good Housekeeping in Highland Park this Sunday from 6 p.m. til they sell out.
41. E.P. & L.P. in West Hollywood continues their stylish cinema series Melrose Rooftop Theatre with a screening of Breakfast at Tiffany's.
42. If Halloween and horror movies are your favorite topics then I Like Scary Movies Experience will be just what you're looking for. Guests can expect to see, hear, feel, and smell recreations of iconic moments from IT (2017), Beetlejuice, The Shining, The Lost Boys, and A Nightmare on Elm Street. There won't be costumed actors jumping out trying to startle but there will be multi-sensory surprises along your winding path. The pop-up experience runs April 4 through June 16 Thursday through Sunday. Check for discounted tickets before your purchase. DISCOUNTED (via Goldstar
43. Free museum days: Museum of Latin American Art, USC Pacific Asian Museum (11 a.m. to 5 p.m.) Craft and Folk Art Museum (pay what you can)
Food Pick for the Week
This week's pick by Christina Champlin, Co-Founder of We Like L.A.
It's kind of a cliche but we know you're thinking about taking mom to brunch for Mother's Day weekend (and why not!). There's still time to make reservations but you have to act fast. Check out our list of where to brunch with mom in L.A. for 2019, and and a few other food-centric fun things to do with the special woman in your life for this Sunday, May 12. Happy Mother's Day!
---
Want to get our to-do lists straight to your inbox every week? Sign up for our email program. Have an upcoming event you'd like suggest for listing? Drop us a line at [email protected]