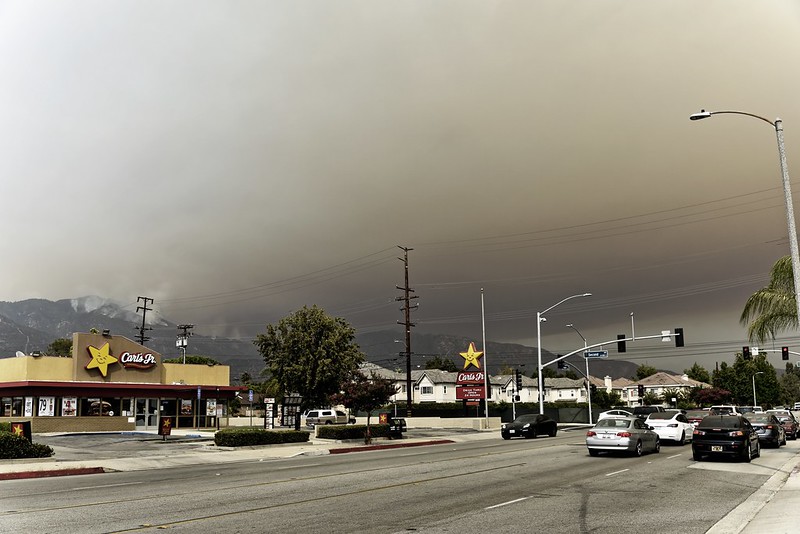 Though Los Angeles is hardly considered a bastion of clean air, the air quality has been pretty bad lately due to the ongoing wildfires. At a time when outdoor operations are nearly all that's allowed due to COVID-19, the bad air can feel extra isolating. Here's what Public Health recommends we do to stay healthy, plus some suggestions from us on how to stay occupied indoors.
Today, the South Coast Air Quality Management District declared unhealthy air quality for much of the L.A. area through at least tomorrow. Affected areas include: Central L.A., Northwest Coastal L.A. County; Southwest Coastal L.A. County; South Coastal L.A.; Southeast L.A. County; West and East San Fernando Valley; West, East and South San Gabriel Valley; Pomona-Walnut Valley, South Central L.A. County, Santa Clarita Valley, and the San Gabriel Mountains. 
Los Angeles County Health Officer Dr. Muntu Davis said via a release that because it's difficult to tell where smoke, ash, or soot from the fires will go, the department is asking everyone to remember that smoke and ash can be harmful, even if you're in good health. 
"If you can see smoke, soot, or ash, or you can smell smoke, pay attention to your immediate environment and take precautions to safeguard your health. These precautions are particularly important for children, older adults, and people with heart or lung diseases," Davis said. 
Davis said the department is also advising day camps to postpone outdoor recreational activities for the time being.
Breathing in wildfire smoke particles can result in:
Burning eyes
Runny nose
Scratchy throat 
Headache 
Illness (for example, bronchitis) 
For those with sensitive conditions, it can also result in difficulty breathing, wheezing, coughing, fatigue, chest pain. 
For added apocalyptic vibes, some of these symptoms overlap with COVID-19 symptoms. If you think you may have come into contact with an infected person, you can see a complete list of COVID-19 symptoms here and register for a free test here.
To avoid breathing in wildfire smoke particles:
Stay inside, especially if you can see or smell smoke, particles, or ash in the air.
Limit physical exertion.
Keep your indoor air clean by closing windows and doors. 
Do not use fireplaces, candles, or vacuums. Clean dusty indoor surfaces with a damp cloth. 
Avoid A/C units that draw from outdoor air or that don't have a re-circulating option. Check the filter on your A/C unit and do so regularly. Note that air filtration devices with HEPA filters can further reduce the level of particles that circulate indoors.
If it's hot and you don't have a safe way to cool off your place, consider going to a cooling center. 
Avoid smoking. 
If you have symptoms of lung or heart disease that may be related to smoke exposure, including severe coughing, shortness of breath or difficulty breathing, wheezing, chest tightness or pain, palpitations, nausea, or unusual fatigue or lightheadedness, call your doctor or go to an urgent care center. If life-threatening, call 911. 
Don't leave your pets outside. If they show symptoms of respiratory distress, take them to an animal hospital. For dogs, that includes panting or seeming out of breath. For cats, symptoms are the same, but may be less noticeable. 
If there's ash in your area, follow this guidance when you clean it up.
Okay, so what can I do?

All the online activities listed on our Things To Do guide.
Play games with friends online.
Watch some TV. Here's a list of L.A.-centric shows to binge.
Explore all the things you can access for free with your library card.
Fill out the 2020 Census.
See for yourself how bad the air quality is using this website. (My ZIP code is "unhealthy.")
Bake these lemon raspberry ricotta muffins. They're very good.