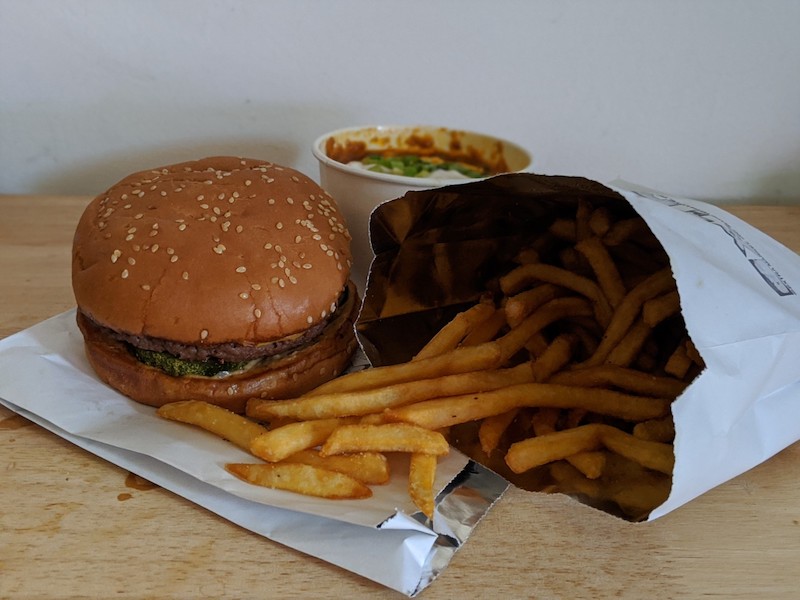 Looking for a new plant-based option? Extra Market, Inc. is a new vegan restaurant and market from artist and skateboarder Jamie Story. Get vegan burgers, salads, sides, and more for now, but expect a gallery space in the market's future.
Story spent plenty of time working in kitchens in Brooklyn before moving to L.A. and deciding to open up his own spot. His initial plans involved a restaurant and a gallery space, but then COVID-19 happened. Extra wasn't able to open up in March as planned and the attached gallery behind the restaurant has yet to open. When it does, it'll showcase other artists and brands through photography, video installations, and events. For now, it's all about the food.

Everything on Extra's menu is vegan, from the sour cream on the chili and the 'bacon' in the broccoli salad, to the patties that make up the signature burgers.
Story says they use an Impossible patty, then attempt to "replicate the flavors of a classic cheeseburger, not hide it with all types of toppings." The simple Single comes with a slice of vegan cheese, burger sauce, and crunchy house-made pickles. Extra also offers double burgers, chili burgers, and the Royale topped with guacamole, onion jam, red cabbage slaw, pickles, cheese, and burger sauce. You can pair your burger with a bag of skin-on fries. Market items include house-made salads, house-made chips, cold-pressed juices from The Juice, and desserts from Nowhere Bakery.
Extra Market, Inc. is located at N. 457 Fairfax Ave. It's open for delivery and pickup between 11 a.m. and 4 p.m. daily. Order here. 
Related: 60+ Outdoor Dining Options to Enjoy in L.A. Right Now
4 L.A. Spots You Gotta Try in September
Theía Opens for Greek Cuisine and Unique Cocktails