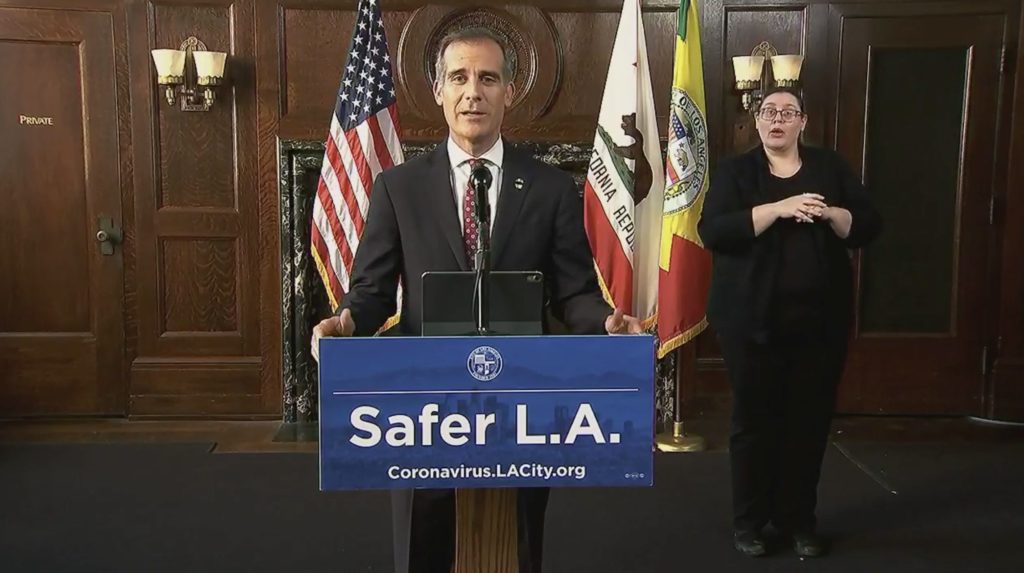 During yesterday's update, L.A. Mayor Eric Garcetti admonished a recent increase in social gatherings that has precipitated a rise in the spread of COVID-19 in Los Angeles. Specifically, the mayor called out younger adults.
More than 50% of those testing positive for COVID-19 in the Los Angeles area are between 18-40. Several weeks ago that number was 30%. Last week it was 40%, the mayor said.
Given the rising number of infections among younger individuals, the mayor stressed the need to double-down on social distancing. This includes avoiding large gatherings, telecommuting to work if possible, and maintaining six feet of distance when in a public setting.
"This isn't complicated. Do not get together with someone who is not in your household," Garcetti said. "These weeks are absolutely critical. Critical to whether schools open, whether our economy and our economic recovery path continues. These weeks are critical for saving lives."
The mayor also warned against those who would use a negative COVID-19 test result as an excuse to ignore social distancing requirements. "A test is not a passport to party," Garcetti stated.
On Tuesday, the county reported over 4,000 new COVID-19 cases, with a positivity rate of 11.6%. Yesterday, the county reported 2,496 new cases and a 7-day average positivity rate of 10.4%. Current state guidance holds that any county wishing to reopen faster must maintain a 7-day average positivity rate of 8%. Several weeks ago, L.A.'s positivity rate was between 5-6%.
Given the rising rate of infection, Garcetti said that "all options remain on the table" in terms of limiting the spread of COVID-19. Policy restrictions will be dialed up or down accordingly, in concert with state and county officials.
Right now, the city's color-coded threat level is at orange, meaning residents should assume everyone they come into contact with is infected, and take precautions accordingly. If that threat level moves up, we could return to a stay-at-home mandate.
"If things get worse, that dial could move to red in this coming week or two. That would place us at the highest risk of infection and we'd likely return to a mandated safer at home," Garcetti said. "But if things get better, we'll see that dial back down to yellow, indicating we're successfully flattening the curve."
Despite the rising case count, there are still some in the state who feel restrictions are not being lifted quickly enough. While 53% of Californians believe things are opening up too quickly, according to a new survey, 18% say the state is reopening too slowly.
In Los Angeles, some point to the daily COVID-19 death totals as a reason to reopen faster. Daily deaths have tapered off over the past few weeks, even amidst a rise in confirmed infections.
Dr. Anthony Fauci, the director of the National Institute of Allergy and Infectious Diseases, has explained that deaths always lag considerably behind cases. Garcetti pointed this out in his press conference as well, warning that we will most likely see an uptick in deaths over the coming weeks.
Hospitalizations have been steadily climbing since mid-June. Over 2,000 people with COVID-19 are in the hospitals—the highest level since the crisis began.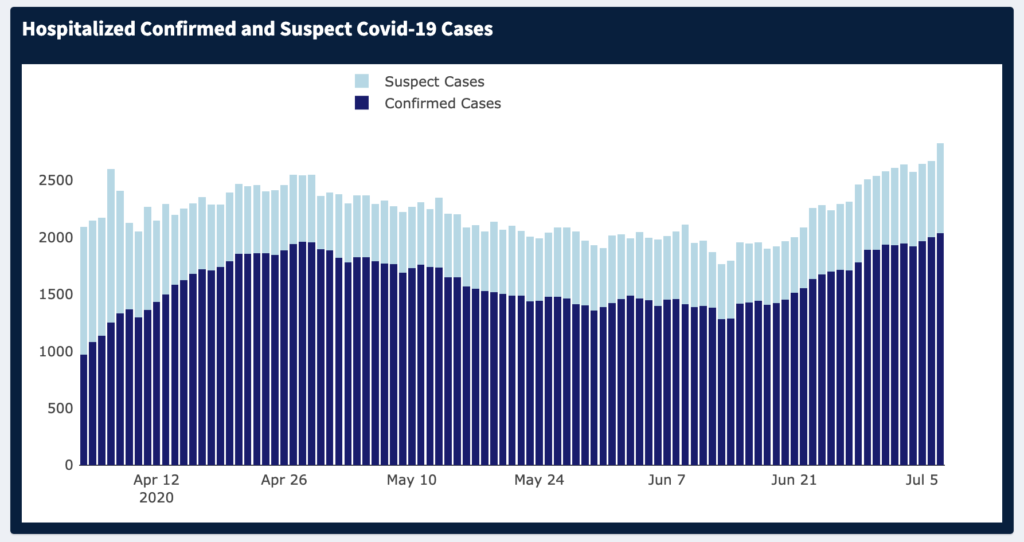 As of Wednesday, Public Health had identified 123,004 positive cases of COVID-19 and a total of 3,642 deaths in L.A. County.