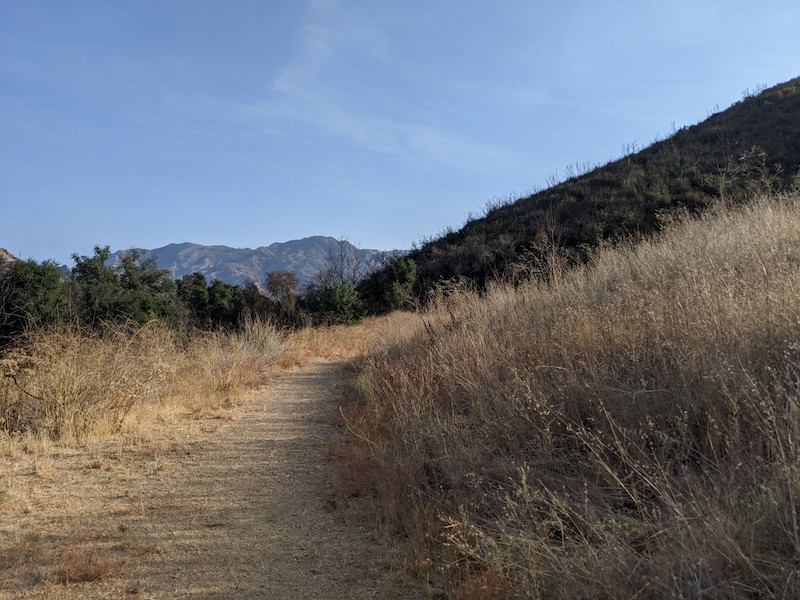 We used to tell you about all the things you could go out and do in Los Angeles on a daily, weekly, and monthly basis. Then, the coronavirus pandemic changed life for all of us, in a thousand small and massive ways. For a while, we posted strictly virtual events to keep you entertained and connected from your home. As the state, county, and city slowly reopen, we'll also include a mix of things you can do outside the house while still abiding by local health orders. We'll still offer plenty of online options for those of you who are self-isolating or who've decided to stay at home for the time being. We'll post a new list of options every Thursday morning. We hope they keep you busy, make you laugh, teach you something, or help you feel less alone.
This week, we've got drive-ins and outdoor screenings, farm tours and pumpkin patches, Halloween events, virtual film and music fests, and more. Have something you want to submit for next week? Hit us up: [email protected].
---
Out-of-the-House Events
Amazon Studios and Blumhouse Television have teamed up for a free double-feature screening of Evil Eye and Nocturne at the Vineland Drive-In on October 13.
Enjoy dinner and a movie poolside at JW Marriott Los Angeles L.A. LIVE every Friday and Saturday, October 9 through November 14. This weekend, it's Training Day and Jason Bourne. Tickets are $45 per person and include a two-course meal plus the film.
Fire Season, a new site-specific work from immersive theater company Capital W, asks you to explore Paramount Ranch, the site of a recent burn, while contemplating wildfires, climate change, motherhood, and mythology. Open October 3-25. Tickets are $45.
HauntO'ween in Woodland Hills allows families to enjoy trick-or-treating, photo ops, and scenic drives through jack-o-lantern tunnels all from within the safety of their vehicles. It'll be spooky, but not scary, so it's appropriate for all ages, and kids will leave with candy and a pumpkin to carve at home. Open daily October 9-31.
Playwright Tom Dugan has set up a socially distant performance space in his backyard in Woodland Hills where a limited audience can see his new play Tell Him It's Jackie. Per a release: The play takes place on June 5, 1968, the date of Jackie Kennedy's brother-in-law Robert's assassination. "Jackie invites us inside her life: her growing up, college, her courtship with the dashing young future President, the birth of her children, her own becoming a beloved icon, her hobnobbing with the rich and famous, her husband's death, her spiraling into depression and substance abuse, and the subsequent death of a treasured ally. With her world crumbling around her, she decides on a course of action which will decisively change her and her children's future." The show runs October 9, 10, 23, and 24, and November 6 and 7. Suggested donation $10. Email [email protected] for reservations.
Tanaka Farms in Irvine is offering daily family-friendly, interactive, pumpkin-themed experiences on its 30-acre farm this month. Highlights include picking your very own pumpkin right out of a real pumpkin patch and watching the team launch pumpkins into the sky from a cannon.
Dirk's Terror Tavern, a horror-themed bar in Sherman Oaks, is currently offering plant-first fare, craft beer, and cocktails on its outdoor patio, known as the Lost Bar. Select weekends offer Texas Chainsaw Massacre-themed BBQs with meat or vegan mains, plus all the fixings.
The 20th Annual Screamfest LA Horror Drive-In Festival at Calamigos Ranch is screening new and classic horror films along with spine-tingling shorts October 6-15.
The Bite LA: Halloween Food Crawl and Creature Safari is a drive-thru event that combines bites with frights. Your party will drive slowly around Legg Lake in the Whittier Narrows Natural Area, stopping along the way to enjoy eight different seasonal foods served by sinister characters. Happening October 8-11.
The AltaSea Drive-in Awards and Art Installation Show is on October 10 at 6 p.m. Awards will be presented to three ocean innovators, headlined by Dr. Robert Ballard, discoverer of the Titanic, and Dr. Dawn Wright, the first Black woman to dive to the ocean's floor. Opera director Peter Sellars will debut a section of his latest opera, Mozart's Idonmeneo, and guests will enjoy a one-night-only art installation projected onto the USS Iowa by artists Mason Rothschild and Annie Sperling, in collaboration with Refik Anadol. Tickets start at $250.
Hotel Figueroa is now offering poolside day passes, fitness classes, and Daycation packages for locals looking to get out of the house. Resort passes, which range from $35-$150 for non-hotel guests, include pool access with a reserved lounge chair for four hours, a complimentary smoothie, WiFi, and towels. Add on fitness and wellness classes, private cabanas, and more.
Underwood Family Farms' annual fall harvest festival has been postponed for this year, but the 40-acre farm is still open to the public to explore the pumpkin patch, take a wagon ride, meet farm animals, and enjoy other seasonal experiences. Open daily through October 31.
Spooky Sundays at The Drive-In at The Hollywood Roosevelt kicks off with Beetlejuice on Sunday, October 11. The series runs every Sunday for the rest of the month.
Downtown LA Walking Tours is offering a Haunted Tales tour on October 11 that reveals the dark side of Los Angeles through tales of murders, mysteries, and unresolved crimes from the past. This live tour is limited to nine people per session to allow for proper social distancing.
Hollywood Legion Theater at Post 43's drive-in cinema is open seven days a week. Reservations include popcorn, soda, and candy for each guest. Tickets start at $65 for two people.
Los Angeles Haunted Hayride is a "drive-up" experience this year at Bonelli Regional Park in San Dimas. You'll stay in your car as you drive down the ominous "All Hallows Lane" to your final destination: a narrative, multimedia show that unfolds via lighting, sound, special effects, creepy sets, live actors, and a 40-foot screen. Open through November 1. Tickets start at $49.99.
Playa Provisions resurrects its Tripel Pretzel Burger on Wednesday nights. The burger is made with a half-pound of aged rib-eye beef, caramelized onions, poppy seed slaw, and aged cheddar on a pretzel bun ($12).
"Halloween at Descanso" is a socially distant "pumpkin-filled extravaganza" featuring a winding hay maze, a house built entirely out of pumpkins, a pumpkin arch that leads to a forest filled with pumpkin-headed scarecrows, and colorful pumpkin mandalas. Open October through 31. Tickets are $4-$15 and must be reserved online in advance.
OUT Under the Stars is a drive-in experience this year. On October 11, catch a 20th-anniversary screening of cult classic But I'm a Cheerleader in Hollywood.
Nights of the Jack is a drive-thru spectacle of thousands of hand-carved and illuminated jack-o-lanterns at the King Gillette Ranch in Calabasas. Some pumpkins are even assembled to form sea creatures or dinosaurs. Open October 1 through November 1. Tickets are $69 per vehicle (up to seven people).
Heidi Duckler Dance (HDD) presents THE QUEST, 10 evenings of safely-distanced original performances October 1-10. Locations range from walk-up to drive-in spots all over town. Masks are required. Tickets are $35-$400. RSVP here.
Art online doesn't always convey the same feelings as viewing it in-person. Luckily, several Los Angeles galleries are currently offering socially distant, in-person visits as long as you make an appointment in advance.
Mel's on Sunset Boulevard will host drive-in movie nights every Sunday from through October 11. Tickets are $30 per car plus the driver, then an additional $30 for each adult. Kids are free. Mel's servers will take your food orders from your car.
L.A. County Parks is creating scenic routes for families to enjoy walking, biking, scootering, and skateboarding. They're available in various areas on Thursdays between 5-8 p.m. and on Saturdays from 9 a.m. to noon.
Magic Asphalt, a drive-in comedy series in the Magic Castle's parking lot, returns this Friday, Saturday, and Sunday. Friday's lineup includes Kevin Nealon, Jamie Kennedy, and Jodie Miller. Saturday's features Christina P, Josh Wolf, and Preacher Lawson, among others. On Sunday, catch Preacher Lawson, Jamie Kennedy, Sarah Tiana, and more. 
At-Home & Online Events
The Sleepover is an hour-long immersive online event set at a 6th grade slumber party in the 1990s. Read diaries, log onto AOL, tell ghost stories, watch SNICK, discuss the finer points of R.L. Stine's oeuvre. Tickets are $19.50 for general admission or $49.90 gets you a VIP box full of 90s appropriate snacks and literature. Starts October 9, select dates throughout the month.
The Austin City Limits Music Festival presents ACL Fest 2020, a free three-night broadcast (October 9 – 11) streaming exclusively on YouTube.
In honor of National Pizza Month, Aperol and Postmates will offer customers $5 off pizza orders on Thursday, October 8 from pie hotspots in the city. Use the promo code APEROL at checkout.
The virtual film fest Nightstream takes place Oct. 8-11 with a ton of horror and thriller programming including Run, Mandibles, The Doorman, May the Devil Take You Too, and special panels. Badges start at $65 and are available here.
Rufus Wainwright presents a virtual livestream of all of his albums in chronological order beginning October 9. Tickets start at $20.
Escape Room L.A. has adapted its ghostly game The Haunted Theatre into a 360-degree escape room you can play with friends online. The game opens on October 10 and tickets are $23.50 per person. Suitable for groups of 4-10. Book before Oct. 10 and use the code GETGHOST for $3 off per ticket.
From the Skirball Cultural Center comes The Official Unofficial Voting Station, artist-activist Aram Han Sifuentes's version of the perfect online polling place. Per a release: "A wide-open extension of democracy, the playfully designed voting station welcomes everyone to cast a symbolic ballot—regardless of the legal barriers that prevent approximately ninety-two million people in the United States from participating in elections. Make your voice heard online and join an aspirational voting movement from home, with custom "I Voted" stickers and more, all designed by the artist and sent to Skirball participants upon request. Keep an eye on the online tally as Sifuentes counts your ballots through the election season!" On view through November 30.
The A+D Museum's new online exhibit, Designing Worlds: Re-envisioning Realities through Video Games, will take you inside the art, design, and narrative of some incredible games. As you scroll, you'll be taken from game to game, learning about what went into creating each one's unique feel. Definitely check this one out!
Union Station Homeless Service's fundraiser is virtual this year on October 14. The night includes live musical performances from the Katie Thiroux Trio and a drink of your choice. Tickets start at $50.
The Robey Theatre Company's online series of Evening Conversations returns on October 9 at 6 p.m. The event features Marla Gibbs and Angela Gibbs (mother and daughter), who will discuss the current and future state of theater. Register for the Zoom link online. The suggested donation is $10.
Driving While Black: Race, Space and Mobility in America premieres on October 13 at 6 p.m. on PBS. Per a release: "The new documentary by historian Dr. Gretchen Sorin and Emmy-Award winning filmmaker Ric Burns chronicles the riveting history and personal experiences of African Americans on the road from the advent of the automobile in the 1930s through the seismic cultural and political changes of the 1960s and beyond."
The Hollywood Bowl's Sound/Stage project returns on October 9 at 10 a.m. with Power to the People! The online show includes Jessie Montgomery's Banner, performed by the LA Phil and led by Music & Artistic Director Gustavo Dudamel; William Grant Still's "Sorrow" from his Symphony No. 1, "Afro-American"; and singer-songwriter Andra Day in a performance "Rise Up."
The Music Center's digital series, For the Love of L.A., "celebrates the creativity of Los Angeles and supports L.A.-based artists representing the disciplines of music, dance, visual culture and more." See it every Tuesday through February 9 on Instagram.
Angel City Sports presents a virtual acting workshop for people with disabilities or visual impairments ages 11-18. The series kicks off on October 8. Register here.
Dynasty Typewriter presents That's So Retrograde on October 9 at 6 p.m. This witchy livestream features a cosmic weather report, a live psychic reading, and more with special guest Mikey Domitrovich. Tickets are $10.
The Music Center is partnering with Ballet Hispánico on INSIDE LOOK: Ballet Hispánico at 50. It will feature performance excerpts from the company's repertory, including Línea Recta and Tiburones by Annabelle Lopez Ochoa, Con Brazos Abiertos by Michelle Manzanales, and Club Havana by Pedro Ruiz. Watch on Monday, October 12, 2020, at 7:30 p.m. on musiccenter.org.
On October 9 at 6:30 p.m., Cal Spirit and Chef Ludo Lefebvre present a virtual dinner party fundraiser for the American Cancer Society. Tickets start at $250 per person include a multi-course meal from Trois Mec, wine, water, a cocktail mix, and access to the party, which includes an interactive Q&A with Chef Ludo, a lesson from mixologist Charlotte Voisey, and a musical performance by Lisa Loeb.
Carry It On: A Virtual Gala in Support of Will Geer's Theatricum Botanicum with host Pamela Adlon is on October 10 at 8 p.m. The show features special guests, aerial performances, music, comedy, and more. Free tickets available here.
Starting October 8, you can see recipients of the 2020 NOT REAL ART grant's work online here. You can also see it projected evenings through October 9 at the Helms Bakery District in Culver City.
The next RISK! livestream is on October 9 at 7 p.m. Hosted by Kevin Allison (MTV's The State), the show features unbelievable true stories from Jamie J. Brunson, Alex Edelman, Jessica McNabb, and M.J. Kang! Tickets are $15.
On Saturday, October 10 at 11 a.m., catch DISRUPT the Fowler with Denisse Ariana Pérez Per a release: "Denisse is a DISRUPTOR in the field of photography. Her work, such as the Men in Water series, addresses the fluidity of the masculine identity. Denisse identifies herself as a "people photographer" and provokes her viewers to dive deep and challenge the public consciousness. By depicting a vulnerable balance between her subjects and their environments, Denisse rewrites the narrative surrounding the idea of masculinity." Register here.
SISTAS SPEAK! is an evening of Spoken Word, Rap, and Song curated and hosted by Juliette Jeffers and featuring Jacquelyn Brown-Benefield, Amara Granderson, Frexinet Johnson, Ocea Lei, and Candace Nicholas-Lippman. Watch live on October 10 at 7 p.m. or on-demand through Monday, October 12. Tickets are $15.99 via Whitefire Theatre.
On Friday, October 9 at noon, Dr. Hanna Song presents the seminar Decoding Diversity: Establishing a Baseline for Understanding. Per a release: "Dr. Hanna Song will establish a common baseline for Diversity, Equity, and Inclusion (DEI) discussions. She will clarify key terms often used in DEI efforts and discuss the answers to important questions, such as: What do we mean when we commit to cultivating a diverse and representative group? How do we begin to think about our policies and initiatives as equity, equality, and/or justice-driven? What can we do as a community to mitigate our biases and create an environment where we can all thrive?" This is the first of a two-part series. The second part is on November 20. Register for part one here. $5.
From LACMA@Home: Yoshitomo Nara's first international retrospective was delayed due to the pandemic. Now, LACMA will offer the exhibit virtually. On October 11 at 5 p.m., curator Mika Yoshitake tours the exhibit followed by an interview with the artist. RSVP here.
While Two Bit Circus' incredible arcade remains closed, they're offering several remote games and experiences. They include a weekly interactive gameshow every Thursday at 7 p.m., a dating game, and custom Halloween, holiday, or birthday-themed experiences you can book with friends. Check them out here.
From the California African American Museum, "A Place to Belong: Queer Desire in the Black Church" features Enunciated Life artists Ashon T. Crawley and Shikeith. They'll talk about "how their works in the exhibition investigate elements of desire, longing, and loneliness through the lens of queer embodiment within Black spiritual spaces." The conversation takes place on Zoom on October 8 at 5:30 p.m.
The NoHo Arts District and PadPlay Games present Quarantine Quiz, an interactive game show taking place online every Thursday at 7 p.m. $17 per player.
Alternative Theatre Los Angeles (ATLA) and LA Stage Alliance (LASA) present "Together LA: A Virtual Stage Festival" October 1-17. 34 theater companies offer several new 10-minute works, specifically made to be watched online. Free on Twitch.
Los Angeles-based comedian Nick Skardarasy's "Thin Walls – An Evening With My Neighbors" is a 30-minute standup special shot completely in the courtyard of his apartment building, featuring interviews with his neighbors throughout.
The Ford Theatre is going virtual this season with a series of free events now until December 8. From world-class dance performances to in-depth discussions and spectacular live music, most of the events can be streamed on Facebook and YouTube.
Pasadena Playhouse has launched PlayhouseLive, a streaming platform that will showcase live theatrical works and performances. Check out what's coming up here.
CAP UCLApresents Forced Entertainment's Complete Works: Table Top Shakespeare: At Home through November 15. Via a release: "In 2016, CAP UCLA presented Complete Works: Table Top Shakespeare, which comprised condensed versions of all 36 of the plays of William Shakespeare over six days on the stage of Royce Hall. Each performance was limited to a maximum of 100 people, so many of our patrons were unable to attend. For our 2020-21 Season we are pleased to be able to once again share all 36 plays with our audiences—only this time they will be the at-home versions where the six performers will restage the project online direct from their kitchen tables, each currently isolated in different places including Sheffield, London and Berlin." See the full schedule here.
The Los Angeles Philharmonic Association and KCRW present World Festival at the Holiday Bowl, a radio broadcast series of previously recorded live concerts. Tune in on Sundays from 6:30-8:30 p.m. through October 11 for a different concert each week. This Sunday, it's Sigur Rós and Toro y Moi. Online listeners, here's your link.