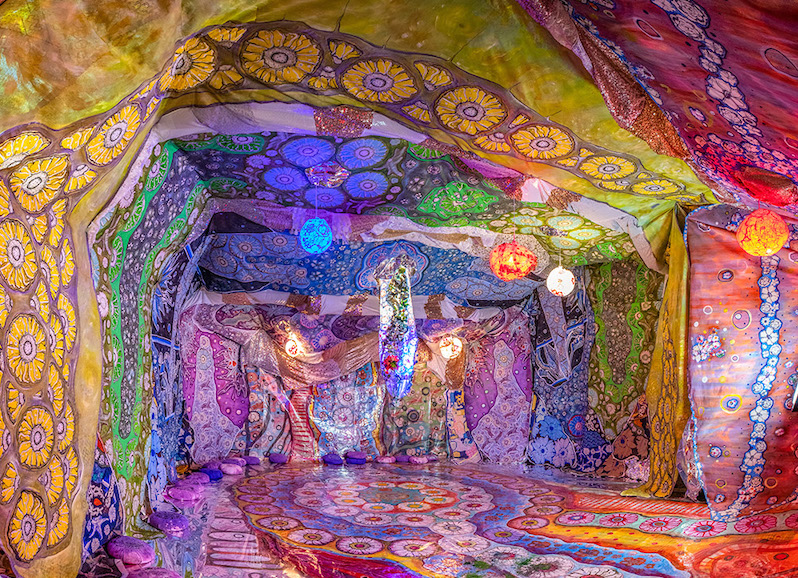 We used to tell you about all the things you could go out and do in Los Angeles on a daily, weekly, and monthly basis. Then, the coronavirus pandemic changed life for all of us, in a thousand small and massive ways. For a while, we posted strictly virtual events to keep you entertained and connected from your home. As the state, county, and city slowly reopen, we'll also include a mix of things you can do outside the house while still abiding by local health orders. We'll still offer plenty of online options for those of you who are self-isolating or who've decided to stay at home for the time being. We'll post a new list of options every Thursday morning. We hope they keep you busy, make you laugh, teach you something, or help you feel less alone.
This week, we've got hikes with rescue dogs, private puppet shows, pumpkin patches, outdoor puzzle hunts, the virtual LA Times Festival of Books, interactive art walks and horror screenings, and more. Have something you want to submit for next week? Hit us up: [email protected].
---
Out-of-the-House Events
On October 17 at 8 a.m., you can take a rescue dog on a hike at Runyon Canyon. Tickets are $35 and benefit Free Animal Doctor, a 501c3 Animal Welfare Non-Profit, and benefit the same dogs that guests will be walking. There's another hike on October 21 at 7:30 a.m., too.
Dodger Stadium's parking lots 2 and 3 has been converted into a drive-in for the rest of NLCS with 60-feet screens displaying each game and audio via FM radio. Tickets are $75 per car.
The Bob Baker Marionette puppets have been busy preparing for their comeback, practicing dance routines and musical performances. Now, they are ready for their close-up with you! The theatre is offering private, 20-minute Peek-a-Boo Stroll Thrus Tuesdays through Sundays for $60 a pod (maximum of six people).
Los Angeles-based Poutine Brothers are teaming up with Brooklyn's famous Mike's Hot Honey to bring Angelenos one of the most mind-blowing food pairings of 2020, a Nashville Fried Chicken Hot Honey Poutine. Available for a limited time from October 20-24 for pickup between 4:30-8 p.m. at 9626 Venice Blvd in Culver City. Order online at poutinebrothers.com.
Cinemauto's October 17 installment features Anna Biller's The Love Witch. The drive-in event also includes a curated short film program and digital exhibitions from Amina Cruz and Las Fotos Project. A double GA ticket is $115 and includes two takeout meal boxes from restaurant partner Katsu Sando and sparkling water. Tickets are here.
The Beverly Center is opening a pumpkin patch on October 18 at the 3rd Street entrance. Guests can browse pumpkins (priced $2-$10, depending on size), watch carving demonstrations, pose at photo stations, and sip pumpkin spice lattes. The patch will be open through November 17, though you can only buy pumpkins until October 31. Hours are Mon.-Sat., 11 a.m. to 8. p.m. and Sundays, 11 a.m. to 6 p.m.
Santa Monica Pier's 'Secret Story Tour' launches on October 15. Guests can download an app to go on a location-based digital puzzle quest, learning about the pier's history along the way. You can download the app for $19.99 for iOS or Android.
From Friends of Residential Treasures: Los Angeles (FORT:LA), take a self-guided tour of five "witch houses" or storybook-style homes selected by Amber Benson, who portrayed Tara Maclay, a good witch and member of the Scoobies, on Buffy the Vampire Slayer. The tour takes you from Culver City to Burbank and explains the history of each home on the route. The tour launches on FORT:LA's website and Instagram on October 15.
The "Gastro Mechanics" present "TORCHED," an eight-course, blowtorch-powered dining experience on the rooftop of the W Hotel in Hollywood. Dates are Oct. 16 & 17, 23 & 24, Nov. 6 & 7, 13 & 14, with three seatings per night at 6:30, 8:00 & 9:30pm. Tickets are $100 per person and available at Eventbrite. Reservations required.
The LA Zoo is hosting a drive-in movie series kicking off on October 16 with Dooittle (1998). Tickets start at $40 per vehicle with two guests. Concessions are available through mobile ordering.
The Promenade at Downey hosts Drive-in Dinner & a Movie this weekend. On October 16, Toy Story 4 screens at 6:30 p.m. while Black Panther screens at 9:30 p.m. On October 17, Hocus Pocus screens at 6:30 p.m. while IT screens at 9:30 p.m. Tickets are $30 per car, per screening, and include a $20 dining voucher to use at participating Promenade at Downey restaurants.
The George Billis Gallery LA hosts two new openings by appointment only starting October 17: Wes Hempel's A Portable Eden and Stephen Wright's Undercurrent.
Galerie Lakaye is hosting appointment-only viewings of Haitian-American artist Francesca Lalanne's exhibit Francesca Lalanne: In this Time. Per a release: "The exhibition, which includes mixed media paintings and wall sculptures made of engraved oxidized steel sheets and granite elements mounted on wood speak to a Black woman's perspective on the body as architectural sacred space; the load of loss and mourning of Black bodies brutalized by the police and by a virus which does discriminate when it comes to people of color. The beautiful executed works also reflect the dynamic resistance of a people who believe that justice might still be attained."
Enjoy dinner and a movie poolside at JW Marriott Los Angeles L.A. LIVE every Friday and Saturday through November 14. Tickets are $45 per person and include a two-course meal plus the film.
Fire Season, a new site-specific work from immersive theater company Capital W, asks you to explore Paramount Ranch, the site of a recent burn, while contemplating wildfires, climate change, motherhood, and mythology. Open October 3-25. Tickets are $45.
HauntO'ween in Woodland Hills allows families to enjoy trick-or-treating, photo ops, and scenic drives through jack-o-lantern tunnels all from within the safety of their vehicles. It'll be spooky, but not scary, so it's appropriate for all ages, and kids will leave with candy and a pumpkin to carve at home. Open daily October 9-31.
Tanaka Farms in Irvine is offering daily family-friendly, interactive, pumpkin-themed experiences on its 30-acre farm this month. Highlights include picking your very own pumpkin right out of a real pumpkin patch and watching the team launch pumpkins into the sky from a cannon.
Underwood Family Farms' annual fall harvest festival has been postponed for this year, but the 40-acre farm is still open to the public to explore the pumpkin patch, take a wagon ride, meet farm animals, and enjoy other seasonal experiences. Open daily through October 31.
Spooky Sundays at The Drive-In at The Hollywood Roosevelt runs every Sunday for the rest of the month.
Hollywood Legion Theater at Post 43's drive-in cinema is open seven days a week. Reservations include popcorn, soda, and candy for each guest. Tickets start at $65 for two people.
Los Angeles Haunted Hayride is a "drive-up" experience this year at Bonelli Regional Park in San Dimas. You'll stay in your car as you drive down the ominous "All Hallows Lane" to your final destination: a narrative, multimedia show that unfolds via lighting, sound, special effects, creepy sets, live actors, and a 40-foot screen. Open through November 1. Tickets start at $49.99.
"Halloween at Descanso" is a socially distant "pumpkin-filled extravaganza" featuring a winding hay maze, a house built entirely out of pumpkins, a pumpkin arch that leads to a forest filled with pumpkin-headed scarecrows, and colorful pumpkin mandalas. Open October through 31. Tickets are $4-$15 and must be reserved online in advance.
Nights of the Jack is a drive-thru spectacle of thousands of hand-carved and illuminated jack-o-lanterns at the King Gillette Ranch in Calabasas. Some pumpkins are even assembled to form sea creatures or dinosaurs. Open October 1 through November 1. Tickets are $69 per vehicle (up to seven people).
Art online doesn't always convey the same feelings as viewing it in-person. Luckily, several Los Angeles galleries are currently offering socially distant, in-person visits as long as you make an appointment in advance.
L.A. County Parks is creating scenic routes for families to enjoy walking, biking, scootering, and skateboarding. They're available in various areas on Thursdays between 5-8 p.m. and on Saturdays from 9 a.m. to noon.
Magic Asphalt, a drive-in comedy series in the Magic Castle's parking lot, returns this Friday, Saturday, and Sunday. .
At-Home & Online Events
The Sleepover is an hour-long immersive online event set at a 6th grade slumber party in the 1990s. Read diaries, log onto AOL, tell ghost stories, watch SNICK, discuss the finer points of R.L. Stine's oeuvre. Tickets are $19.50 for general admission or $49.90 gets you a VIP box full of 90s appropriate snacks and literature. Available select dates throughout the month. Read our review here.
34 local theatre companies will showcase new 10-minute works created specifically for a digital platform during Together LA: A Virtual Stage Festival viewable through Twitch for free October 16-17.
Holocaust Museum LA presents "Inside the (Acid-Free) Box: Exploring the Rescued Art of Erich Lichtblau-Leskly," a virtual tour of his drawings and paintings. The artist created the drawings between 1942-1945 while imprisoned in the Theresienstadt (Terezin) Ghetto. His wife hid them beneath the floorboards of their barracks. After liberation, Lichtblau-Leskly turned them into watercolor illustrations. The virtual tour is on October 20 at 4 p.m. A minimum donation of $12 is suggested.
The annual AFI FEST is online this year with a lineup of 124 titles to screen in the comfort of your own home October 15-22.
The LA Times Festival of Books, Stories and Ideas is hosting 25 free virtual events this year from October 18 through November 13.
Frogtown Art Walk on October 16-18 will take things online this year with art exhibitions, workshops, artist talks, kids' activities, musical performances, and more, all livestreamed from its home page.
Chado Tea hosts a virtual Tea Tasting Event: Be Healthy, Drink Tea by Dr. Mary Hardy on Wednesday, October 21 via Zoom. The free talk is focused on the health benefits of tea and herbal infusions. Those interested in purchasing a tea sampler pack ($15) for the discussion can visit www.chadotea.com.
The Los Angeles Archives Bazaar is an L.A. history buff's dream. Held entirely virtually this year, organizers plan to maintain the spirit of the event through engaging programming, online exhibits, and virtual tours. The event is free.
QuaramSCREAM is a live, online theater experience that adapts the 90s horror-comedy Scream for an online audience. In this version, the characters are trapped in their homes due to the pandemic when a masked killer arrives. The story unfolds over social media and video chat and the viewer can participate in a drinking game and chat. Dates are October 17, 24, and 30 at 7 p.m. Tickets are $30.
The Lexus All-Star Chef Classic is going virtual this year. Ticket holders will enjoy a four-course meal with wine in the comfort of their own homes while seeing each course prepared in a live, interactive broadcast by Culinary Master Chefs Dominique Crenn, Ludo Lefebvre, Nyesha Arrington, and ​Jon Shook and Vinny Dotolo. Wine selections are by Master Sommelier Carlton McCoy, Jr. Packages start at $250 per dinner. A portion of the proceeds will benefit Food Forward and The Independent Restaurant Coalition. The live broadcast itself is free to watch.
Objectivity is a live, interactive show from The Warehouse Theater and Mister and Mischief. The synopsis: You're attending an online seminar with tidying expert Mary Del Campo. Mary "believes our possessions have a story to tell and with her guidance, we explore minimalism, nostalgia, and the meaning of the objects that surround us. When our world feels unstable, what do we choose to hold onto?" Show dates are currently available through Oct. 17. Tickets are $25.
From [email protected] this week: "How will areas of LACMA's collection come to life as never before in the new David Geffen Galleries at LACMA? Find out in Bringing Artworks and Visitors into the Light, part of a series of short videos about the new building coming to our campus."
On October 19 at noon, the Fowler Museum presents a free lunch-and-learn on El Anatsui with Marla C. Berns. Per a release: "The Ghanaian artist El Anatsui (b. 1944) dazzled the art world with his monumental textile-like wall panels exhibited at the Venice Biennale in 2007. At the same time, the Fowler was hosting a solo exhibition of Anatsui's large-scale works, including Versatility (2006), a sculptural wall assemblage that hangs today in the museum's exhibition space, Intersections: World Arts, Local Lives. Visitors often mistake Versatility's shimmering surface for a cloth woven from gold; in reality, El Anatsui used thousands of metal liquor bottle wrappers." The event is free, but you'll need to register here. Also from The Fowler, on October 17 at noon, catch "Share the Mic: Incarcerated Arts," which focuses on arts programs for those in prison. Register here.
On October 17 at 11 a.m., 18th Street Arts Center features the virtual workshop "Mapping Your Story" with Christine Suarez. Per a release: "Together we will create a map charting the landscape of our personal stories. We will explore this process by writing, drawing and moving. Ultimately, we will create a multi-centered map that illuminates what is often invisible within us. All movement abilities and ages welcome." Register here.
Artist Laurie Shapiro's "Take Me to the Color" is a vibrant, psychedelic installation available via a virtual gallery and for limited in-person viewing in DTLA starting October. 17. See the exhibit online or get tickets here.
Gabba Gallery presents KNOXVILLIAN, a 15-year retrospective of work by artist Justin Helton. The virtual show opens Oct. 15 at 11 a.m. here.
Jack Arnold (BBQ Specialist & Instructor for Big Green Egg and BBQ Event Host for Four Seasons Hotels) will host a live cooking demo from WWOO California on Saturday, October 17. He'll make four dishes, starting with blueberry muffin stuffed sausages at 11 a.m.
S.Pellegrino: Destination Dining, a month-long culinary series swapping signature dishes between New York and L.A. kicks off on October 15-23. Chefs Frank Castronovo and Frank Falcinelli of Frankies Spuntino (NY) and Chefs Jon Shook and Vinny Dotolo of Jon & Vinny's of L.A. will trade "Frankies Spuntino's Meatballs" for "Jon & Vinny's Marinara Braised Meatballs, Ricotta, Garlic Bread." Try Falcinelli's dish via delivery, takeout, or outdoor dining from Jon & Vinny's.
Join NewFilmmakers Los Angeles (NFMLA) at their Virtual Film Festival on October 16-18. The program includes InFocus: Veteran Cinema Shorts, shorts films directed by filmmakers who have served in the military; InFocus: Veteran Cinema's feature film, horror-comedy She's the Eldest; and Dark Recesses, a collection of shorts that capture and examine what is hiding in dark corners of our rooms, our culture and our own minds. All-access passes are $30, single tickets are $10. More info here.
Getty Museum and Center Theatre Group partner to digitally premiere MacArthur Fellow Luis Alfaro's Chicanx adaptations of Electricidad, Oedipus El Rey, and Mojada, each filmed at the Kirk Douglas Theatre and premiering over three Saturdays in October. The release schedule is Electricidad on October 17, Oedipus El Rey on October 24, and Mojada on October 31, all at 5 p.m. Watch for free at CenterTheatreGroup.org/LuisTrilogy through December 31.
Village Well hosts a virtual book reading and an in-person sidewalk signing with RENT Poet Brian Sonia-Wallace on October 17. He will read from his recently published book The Poetry of Strangers and lead a real-time poetry writing session. Guests will also get a virtual tour of the new bookstore. The virtual event is at 10:30 p.m. while the signing is at 12:30 p.m.
Esotouric's "Shaking The Raymond Chandler Tree: New Discoveries About L.A.'s Master Detective Novelist" webinar airs live Saturday, October 17 at noon. Tickets are $10 and allow you to view the program online for one week.
Greg Wolf's comedy/music variety show "The Wolf's Den: End of the World Party" typically takes place in a private backyard in Laurel Canyon, but now it's online. Check out the next episode on YouTube on Saturday, October 17 at 7 p.m. See a trailer here.
The Los Angeles Philharmonic's next Ford Digital Festival is "Living Resistance" on October 17 at 4 p.m. Per a release: "Living Resistance is co-curated by plant-based catering company Todo Verde founder Jocelyn Ramírez and explores holistic health in Los Angeles, inviting audiences to learn from the contemporary practitioners and activists who are making strides in the wellness of their communities. Living Resistance offers a dive into the history of community farming and food justice, sharing in activities around physical and mental space, nurturing bodies with nutritious fuel and finding movement in music, dance, and yoga. Every body is invited to participate in creating a sense of home and belonging in a world where self-love, acceptance, and freedom can feel like radical acts of resistance." Watch here.
Catalina Island Museum's virtual exhibition premiere of Titanic: Real Artifacts, Real People, Real Stories and live auction event is on October 17 at 6 p.m. The event will be streamed live on YouTube and is free to attend with advanced registration at betterunite.com/catalinamuseum.
The Wallis Annenberg Center for the Performing Arts presents a digital engagement of WIESENTHAL, the Off-Broadway production based on the life of Simon Wiesenthal written by and starring Tom Dugan, on October 20 -27. Per a release: "Directed for stage by Jenny Sullivan, the riveting one-man show, filled with hope, humanity and humor, tells the true story of Wiesenthal, often called the "Jewish James Bond," a Holocaust survivor who devoted his life to bringing more than 1,100 Nazi war criminals to justice after WW II." Tickets are $50 per household here.
On Sunday, October 18, The James Beard Foundation hosts a virtual dining event for "Taste of America: Los Angeles" to celebrate and support local restaurants in the community. For this event, JFB will spotlight Guelaguetza and Oaxacan cuisine. Tickets are $150 and include a three-course meal from Bricia Lopez and Edgar Santiago, wine and whiskey, cooking demos, and more. Meals are available for pickup at Guelaguetza that day.
Escape Room L.A. has adapted its ghostly game The Haunted Theatre into a 360-degree escape room you can play with friends online. The game opens on October 10 and tickets are $23.50 per person. Suitable for groups of 4-10. Book before Oct. 10 and use the code GETGHOST for $3 off per ticket.
From the Skirball Cultural Center comes The Official Unofficial Voting Station, artist-activist Aram Han Sifuentes's version of the perfect online polling place. Per a release: "A wide-open extension of democracy, the playfully designed voting station welcomes everyone to cast a symbolic ballot—regardless of the legal barriers that prevent approximately ninety-two million people in the United States from participating in elections. Make your voice heard online and join an aspirational voting movement from home, with custom "I Voted" stickers and more, all designed by the artist and sent to Skirball participants upon request. Keep an eye on the online tally as Sifuentes counts your ballots through the election season!" On view through November 30.
The Music Center's digital series, For the Love of L.A., "celebrates the creativity of Los Angeles and supports L.A.-based artists representing the disciplines of music, dance, visual culture and more." See it every Tuesday through February 9 on Instagram.
The A+D Museum's new online exhibit, Designing Worlds: Re-envisioning Realities through Video Games, will take you inside the art, design, and narrative of some incredible games. As you scroll, you'll be taken from game to game, learning about what went into creating each one's unique feel. Definitely check this one out!
While Two Bit Circus' incredible arcade remains closed, they're offering several remote games and experiences. They include a weekly interactive gameshow every Thursday at 7 p.m., a dating game, and custom Halloween, holiday, or birthday-themed experiences you can book with friends. Check them out here.
The NoHo Arts District and PadPlay Games present Quarantine Quiz, an interactive game show taking place online every Thursday at 7 p.m. $17 per player.
CAP UCLApresents Forced Entertainment's Complete Works: Table Top Shakespeare: At Home through November 15. Via a release: "In 2016, CAP UCLA presented Complete Works: Table Top Shakespeare, which comprised condensed versions of all 36 of the plays of William Shakespeare over six days on the stage of Royce Hall. Each performance was limited to a maximum of 100 people, so many of our patrons were unable to attend. For our 2020-21 Season we are pleased to be able to once again share all 36 plays with our audiences—only this time they will be the at-home versions where the six performers will restage the project online direct from their kitchen tables, each currently isolated in different places including Sheffield, London and Berlin." See the full schedule here.