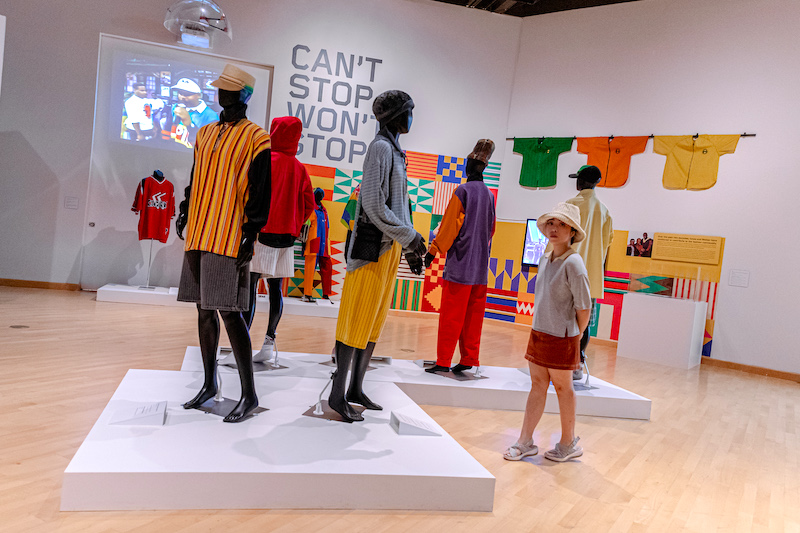 Every week in Los Angeles there are tons of great things to do (even before the weekend gets started) that we think you ought to have on your radar. With that in mind, we put together a list every Monday through Friday morning to keep you in the know about what's happening in the city you love (or maybe just like).
This week, from Monday, November 18 to Friday, November 22, features The Great Human Series, a Magical Chinese Lantern Festival, a Tree Lighting Ceremony at Union Station, a discussion with horror filmmakers at NHM and MUCH more.
Remember you can always go to our L.A. events calendar page to get an updated rundown of what's happening around the city.
Hope you find the rundown useful and, as always, enjoy your week!
---
Keep in mind that while we retain complete editorial control of our content, for some of the ticketing options provided we utilize affiliate links and receive a commission if you purchase through our links.
---
Monday November 18th, 2019
1. Roxane Gay, New York Times bestselling author of Bad Feminist, and Abbi Jacobson, star and co-creator of Comedy Central's Broad City, will be in conversation at Second Home Hollywood to kick off The Great Human Series presented by the Corita Art Center in partnership with Second Home and KCRW. The Great Human Series is a reboot of the 1960's lecture series organized by the late artist and educator, Corita Kent.
2.The GRAMMY Museum is hosting a launch party for their brand new Latin Music Gallery featuring the debut exhibition Latin GRAMMY®, 20 Years Of Excellence. This free event also includes DJ-spun tunes, experiences and takeaways, drinks available for purchase, and more. FREE
3. Get into the winter spirit when ICE at Santa Monica returns with a 8,000 square foot ice skating rink. Running November 1, 2019 through January 20, 2020.
4. Taste of the Rams brings together LA's best chefs and the Rams football team for an evening of dining and mingling to raise awareness and funds for the Los Angeles Food Bank.
5. The annual AFI FEST returns Nov. 14-21 with an eight-day run featuring tons of film screenings, world premieres, and panels.
6. Astronomy on Tap hosted by Caltech Astronomy happens once a month at Der Wolf in Pasadena. Professionals will give informal talks about a variety of topics while enjoying German beers with the public.
7. OUE Skyspace host Yoga in the Sky a monthly yoga class 1,000 feet above the city. Class begins at 6 p.m. and guests need to bring their own mats.
Tuesday November 19th, 2019
8. The California African American Museum presents a discussion with Academy Award-winning costume designer Ruth E. Carter and the founders of the Black Design Collective which include Angela Dean of Deanzign, Kevan Hall of Kevan Hall Designs, and T.J. Walker of Cross Colours. The event is free but seating is first come, first serve. FREE
9. Team Coco Presents Up & Up, a comedy and musical experience hosted by Moses Storm with special guests Todd Glass, Jenny Zigrino, Ian Edwards Max Silvestri and Solomon Georgio at Dynasty Typewriter.
10. One of L.A.'s most magical holiday traditions, L.A. Zoo Lights returns November 15, 2019 through January 5, 2020 with thousands upon thousands of LED lights illuminating the zoo. Check for discounted tickets before making your purchase. DISCOUNTED (via Goldstar)
11. A colorful, winding installation called The Second Home Serpentine Pavilion is now open at the La Brea Tar Pits for the summer and its 100% free for the public to roam and explore. The pavilion is open daily and will run through November 24. FREE
12. Free museum days: South Coast Botanic Garden and Descanso Gardens
Wednesday November 20th, 2019
13. The Los Angeles Arboretum and Botanic Garden presents Moonlight Forest, where crafted lanterns line the garden grounds, some depicting animals, shimmering exotic flowers, and figures from Chinese legends. Happening Wednesdays through Sunday from November 9 through January 12, 2020. Check for discounted tickets before making your purchase. DISCOUNTED (via Goldstar)
14. WISHLIST, Gabba Gallery's annual holiday show runs November 16 through December. Now in its seventh year, the event is a great way for folks getting into art collecting. Prices start at $50 and nothing is over $1000. Artworks are a mixed bag of local and international artists. Gallery hours are Wednesday through Saturday, from noon to 3 p.m. or by appointment.
15. There's a Lord of the Rings Trivia Night happening at Angel City Brewery this Wednesday. Free to play.
16.The Bai Holiday Ice Rink returns to Pershing Square from Nov. 14, 2019 to Jan. 2, 2020 featuring a 7200 square foot outdoor ice-skating experience. A wide variety of events will take place throughout the duration of the rink.
17. The Mermaid Bar hosts Boozey Bingo this Wednesday from 8 to 11 p.m. FREE
Thursday November 21st, 2019
18. The Magical Chinese Lantern Festival returns to Fairplex starting Nov. 21 with a new theme for 2019-2020: Blooming Seasons. This year's festival offers lantern displays as large as 30-feet high and 85-feet wide, highlighted by a 100-yard-long breathtaking Ceramic Chinese Dragon. Check for discounted tickets before making your purchase. DISCOUNTED (via Goldstar)
19. The annual Tree Lighting Ceremony at Union Station will kick-off the holiday season with a massive tree lighting and performances by Grand Arts Chamber Singers, The Beverly Belles and the Toy Soldiers Drumline. Guests will also enjoy a cocoa bar, snow on the south patio, photo-ops, arts & crafts and more. FREE
20. The Los Angeles Conservancy will host a holiday walking tour of Union Station. Following the tour, stay to see the tree lighting at 7:15 p.m.
21. Zócalo Public Square presents a panel discussion on "What Can Life on the U.S.-Mexico Border Teach America?" featuring El Paso-based correspondent for the Dallas Morning News Alfredo Corchado; Albuquerque Journal staff writer Angela Kocherga; cultural anthropologist and journalist Cecilia Ballí, and New York Times national correspondent Simon Romero. FREE
22. The InterContinental's restaurants will host Sip & Dip Yoga on the 7th floor rooftop pool deck, overlooking Los Angeles city. Spire 73, La Boucherie, Sora and Dekkadance will serve sips from their restaurants.
23. There's a Winter Bazaar Holiday Night Market at Yamashiro Hollywood featuring a craft fair and market to get your holiday shopping done, a dazzling light festival, live music, food, seasonal cocktails, Santa photos and much more. All ages are welcome. Free admission.
24. Every first and third Thursday of the month Brennan's in Marina Del Rey hosts their famous turtle races. Since 1974, this tradition brings these little speedsters out of their sanctuary (located in the bar) for an exciting game that support charities. Race starts at 9 p.m.
25. All My Single Friends is described as part comedy show and part live dating app taking place at the Copper Still. If you're over Tinder and Bumble check this show out where you'll be in a room with some of LA's best comedians and singles.
26. E.P. & L.P. in West Hollywood continues their stylish cinema series Melrose Rooftop Theatre with a screening of You've Got Mail this week.
27. Stop by The Queensberry for a cocktail class, learn the techniques used by the pros and then make your very own classic and contemporary cocktails, with a heavy emphasis on whiskeys.
28. Free museum days: Japanese American National Museum (all day), MOCA Grand (from 5 to 8 p.m.), Skirball Cultural Center (noon to 5 p.m.), Long Beach Museum of Art (3 to 8 p.m.) and USC Pacific Asian Museum (5 to 8 p.m.)
Friday November 22nd, 2019
29. On Friday The Natural History Museum presents The Past, Present, and Future of Horror Movies: A Discussion With Filmmakers. As part of the latest exhibit "Natural History of Horror" the discussion will be between Roger Corman (Little Shop of Horrors) and Andy Muschietti (It) on the past, present, and future of the horror movie genre. The evening will also include food trucks, movie props, cash bars, and access to NHM's Natural History of Horror exhibit.
30. Descanso Gardens' Enchanted Forest of Light returns for another installment with a host of interactive displays and nighttime activities from November 17 through January 5, 2020. Check for discounted tickets before making your purchase. DISCOUNTED (via Goldstar)
31. There's a conversation on The Evolution of Street Art in L.A. happening at the Annenberg Space for Photography this Friday. FREE
32. Get up close and personal with sharks at the Aquarium of the Pacific during Shark Lagoon Nights. Guests will have the opportunity to touch bamboo sharks and view large sharks in an after hours setting. FREE
33. LA Auto Show returns with thousand cars on display. From November 22 to December 1 experience various car exhibits, model debuts and more at the LA Convention Center.
34. BOLD Beverly Hills holiday edition will feature a diverse range of programming in November and December. This weekend Holiday Pop! where hip-hop holiday dancers, elves on stilts, a cyr wheel duet and beatbox/acapella singers will takeover the streets and the Jolly Trolley will give folks festive rides. The experience is free.
35. Decompress at Mystic Journey Crystals in Venice during a Dynasty Electrik Crystal Sound Bath that combines original compositions and performances with crystal singing bowls.
Food Pick for the Week
This week's pick by Christina Champlin, Co-Founder of We Like L.A.
If you love noodles you need to head to LAN Noodle, an Arcadia gem that serves up tasty bowls of Chinese Lanzhou Beef Noodles. Opened earlier this summer, the cozy restaurant has become a place locals can depend on for spicy beef bone broth with a heap of freshly made noodles. Step into LAN and you'll be mesmerized as a man behind a glass counter whips dough into four-foot strands that he then effortlessly weaves together. He will do this several times until he gets the exact size and shape ordered. On the menu over a dozen appetizers will get you started on your journey into Lanzhou cuisine. Garlic forward smashed cucumbers, glistening pig skin jelly and spicy cold cut beef are a couple of stand outs. The broths for the noodle bowls are offered in three types: The Lanzhou Street Noodle, Spicy Beef Noodle and a Braised Beef Noodle. If you want to control the spice of your chosen broth there are four levels of spiciness to select from. The toughest choice will be pairing the broth with a noodle in which there are eight different types to choose from. Your waiter will provide some guidance if you ask, but I found the thin round noodles an excellent choice for the Lanzhou Street Noodle soup, which I ordered spicy. The wide, flat noodle is served with the braised beef soup (I added no spice to the broth.) Both were topped with chunks of slow cooked beef, fresh spinach and chopped cilantro and scallions. Although the broths were slightly similar, the customization made the two feel worlds apart. Lan is a place you can have on repeat until you try all the different combinations. Of course then you'll have to move on to the dry noodle section of the menu and that's a whole other ball game.
LAN Noodle is located at 411 E Huntington Dr Ste 102 Arcadia, CA 91006
---
Want to get our to-do lists straight to your inbox every week? Sign up for our email program. Have an upcoming event you'd like suggest for listing? Drop us a line at [email protected]