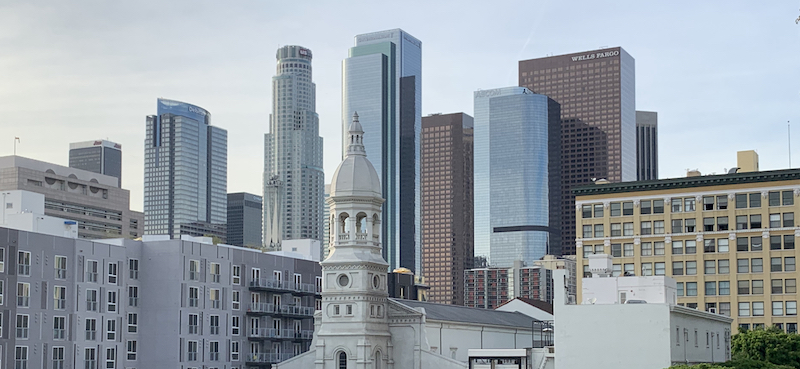 Every week in Los Angeles there are tons of great things to do (even before the weekend gets started) that we think you ought to have on your radar. With that in mind, we put together a list every Monday through Friday morning to keep you in the know about what's happening in the city you love (or maybe just like).
This week, from Monday, December 9 to Friday, December 13, features holiday drive-in movies, Women Crush Wednesday, a Sinatra birthday party, cocktail movie nights at Alcove, and MUCH more.
Remember you can always go to our L.A. events calendar page to get an updated rundown of what's happening around the city.
Hope you find the rundown useful and, as always, enjoy your week!
---
Keep in mind that while we retain complete editorial control of our content, for some of the ticketing options provided we utilize affiliate links and receive a commission if you purchase through our links.
---
Monday December 9th, 2019
1. The Contenders film series returns to The Hammer Museum with screenings curated by The Museum of Modern Art. The films selected are new films believed to stand the test of time in influence. This Monday they'll screen The Farewell, followed by a Q&A with director Lulu Wang, moderated by Roxane Gay, Booksmart. Check the link above for the rest of this week's screenings.
2. Here and Now transforms it's space into a holiday bar called Blitzen's from December 3-31. Get transported to the the North Pole and enjoy 15 festival cocktails, a seasonal food menu with offerings like Christmas poutine, themed entertainment and more.
3. Grand Park's Winter Glow is a free night time art experience covering 12 acres of Grand Park in Downtown Los Angeles and the newly renovated Music Center Plaza. Whimsical artistic projections and light displays will illuminate paths and play off of the park's most iconic elements. The holiday-inspired event will run nightly from Dec. 6 to 25. FREE
4. Geeks Who Drink stops by Hamburger Mary's at 7:30 p.m. for a rowdy pub quiz night. No cover if required.
5. Skyspace is holding a toy drive from December 2-20. Partnered with the YMCA the annual drive asks guests to bring an unopened, unwrapped toy valued at $5 or more to the Skyspace box office and receive a free Skyslide ride in return.
6. On Monday night Live Talks Los Angeles presents an Evening with Flea at Aratani Theatre.
Tuesday December 10th, 2019
7. The Roadium Drive-In Holiday Edition returns with a screening of Elf in a throw back drive-in setting alongside food trucks, movie concessions, and more.
8. Zocalo Public Square will hold a discussion at Cross Campus LA titled "Will California Learn to Regulate the Marijuana Business?" Moderated by Amanda Chicago Lewis, Columnist for the Rolling Stone and joined by Tim Fong from the UCLA Cannabis Research Initiative, Cat Packer from the Los Angeles Department of Cannabis Regulation, and UCLA criminal justice and drug policy scholar Brad Rowe. FREE
9. Descanso Gardens' Enchanted Forest of Light returns for another installment with a host of interactive displays and nighttime activities from November 17 through January 5, 2020. Check for discounted tickets before making your purchase. DISCOUNTED (via Goldstar)
10. The Holiday Light Festival Train Ride at Griffith Park is a festive one mile ride on the tracks with tens of thousands of lights to get you in the Holiday spirit. Running November 29 through December 30.
11. The Skirball will host an afternoon screening of Yentl staring Barbra Streisand who plays a young woman disguised as a boy to receive an education. This is also Streisand's directorial debut. The screening is free.
12. Free museum day: Los Angeles County Museum of Art (also free for L.A. County residents with valid I.D. after 3:00pm on Mondays, Tuesdays, Thursdays & Fridays all month long) and Autry Museum of the American West
Wednesday December 11th, 2019
13. Women Crush Wednesday is a night dedicated to female-forward spirits. Taking place at Brandon's on La Brea, the secret hideaway is located in the back of the 6th & La Brea Brewery. This week's featured distillery is Uncle Nearest Whiskey. Named after the Tennessee slave who came up with the recipe for Jack Daniels, Uncle Nearest is ran by women, including some of Nearest's decedents. There will be complimentary bar bites, vinyl tunes, special cocktails and of course whiskey tastings.
14. The Sierra Madre Playhouses's Off the Screen series features cinema classics on the big screen and this week they're screening It's a Wonderful Life to complement their latest live stage attraction Every Christmas Story Ever Told (and Then Some!) The movie is free if you donate a gift to their beneficiary charity, Hope House. FREE
15. The Los Angeles Arboretum and Botanic Garden presents Moonlight Forest, where crafted lanterns line the garden grounds, some depicting animals, shimmering exotic flowers, and figures from Chinese legends. Happening Wednesdays through Sunday from November 9 through January 12, 2020. Check for discounted tickets before making your purchase. DISCOUNTED (via Goldstar)
16. Zombie Joe's Underground Theatre Group presents an all new holiday-horror-theatre attraction titled Dark Dark Ride Ride Holiday Nightmare. It's a "wild ride through winter wonderHELL" that takes place Wednesdays through Saturdays from December 4-21.
17. WISHLIST, Gabba Gallery's annual holiday show runs November 16 through December. Now in its seventh year, the event is a great way for folks getting into art collecting. Prices start at $50 and nothing is over $1000. Artworks are a mixed bag of local and international artists. Gallery hours are Wednesday through Saturday, from noon to 3 p.m. or by appointment.
18. The Pacific Opera Project presents "La bohème," or "The Hipsters" December 6-14 at The Ebell Club of Highland Park. Set to current times the show follows the story of several Los Angelenos during a cold SoCal winter as they tackle the city's housing crises, love, jealousy and more.
19. The Scenario Studio is offering a free pop-up photo experience on Rodeo Drive daily through December 22. FREE
Thursday December 12th, 2019
20. Frank Sinatra was born on December 12, 1915. He was also a regular at the legendary Formosa Cafe, along with pal Humphrey Bogart. This Thursday join the Formosa team (and sit in the same iconic red booths where Bogie and Frank once sat!) as they celebrate Frank's birthday by singing his songs and drinking Bogart Spirits.
21. The Downtown Art Walk brings art enthusiasts, art galleries and locals together every second Thursday of each month for a night of exploration. Take a detour to Grand Central Market for Art At The Market, there will be art for sale, artists creating live works, a live DJ and over 30 GCM vendors to enjoy. Both events are free to attend.
22. Alcove | Big Bar hosts a Cocktail Movie Night Party with a screening of Home Alone complete with themed cocktails inspired by some of the best scenes in the movie. Reps from Maker's Mark will be on hand before the screening for complimentary bourbon tastings.
23. In conjunction with The Broad's latest exhibit Shirin Neshat: I Will Greet the Sun Again, there are ongoing free nights of performances featuring poets, scholars, and artists. The series continues Thursday with award-winning Iranian-American poet, literary translator and playwright, Sholeh Wolpé. FREE
24. Head down to Scum and Villainy Cantina in Hollywood for Christmas Carol-Oke from 8 p.m. to 1 a.m.
25. Dive into the holiday season with a Queen Mary Christmas! The special event will see Christmas spirit lining the famous Long Beach vessel until January 1, 2020. Activities include a 26 feet tall Christmas tree, variety of holiday activities, an outdoor skating rink, live entertainment and much more. Occurring Thursdays through Sundays.
26. One of L.A.'s most magical holiday traditions, L.A. Zoo Lights returns November 15, 2019 through January 5, 2020 with thousands upon thousands of LED lights illuminating the zoo. Check for discounted tickets before making your purchase. DISCOUNTED (via Goldstar)
27. Support the next generation of documentary film makers by heading to Hauser & Wirth Los Angeles for the premiere of Cal State LA's Community Impact Media Documentaries featuring student-directed short films focused on LA-based nonprofits, Inner City Law Center, and Media Done Responsibly. FREE
28. There's a Winter Bazaar Holiday Night Market at Yamashiro Hollywood featuring a craft fair and market to get your holiday shopping done, a dazzling light festival, live music, food, seasonal cocktails, Santa photos and much more. All ages are welcome. Free admission.
29. The Bai Holiday Ice Rink returns to Pershing Square from Nov. 14, 2019 to Jan. 2, 2020 featuring a 7200 square foot outdoor ice-skating experience. A wide variety of events will take place throughout the duration of the rink.
30. Free museum day: Japanese American National Museum (from 5 to 8 p.m.), MOCA Grand (from 5 to 8 p.m.), Skirball Cultural Center (noon to 5 p.m.), Long Beach Museum of Art (3 to 8 p.m.) and USC Pacific Asian Museum (5 to 8 p.m.)
Friday December 13th, 2019
31. Artisanal LA presents The Bunker Hill Holiday Pop Up featuring over 40 indie makers selling everything from gourmet food to jewelry, home goods and even kid friendly gifts.
32. Union Stations Cocoa Concerts continues with the swinging sounds of the Hi-Fi Honeydrops. Guests will also enjoy a free cocoa bar, Santa selfies, a "Candy Cane Lane," photo-ops, holiday-themed arts & crafts and more. FREE
33. Shriekfest has teamed up with The Nuart Theater to bring you classic horror films every other month. This month it's a midnight showing of Friday The 13th.
34. Take a free guided hike at Franklin Canyon during the full moon. December's full moon is called the Cold Moon and the hikes are family friendly and approximately 2.5 miles No pets are allowed. FREE
35. The Magical Chinese Lantern Festival returns to Fairplex starting Nov. 21 with a new theme for 2019-2020: Blooming Seasons. This year's festival offers lantern displays as large as 30-feet high and 85-feet wide, highlighted by a 100-yard-long breathtaking Ceramic Chinese Dragon. Check for discounted tickets before making your purchase. DISCOUNTED (via Goldstar)
36. The Pack in Hollywood present their monthly show Your Late Night Show Tonight where each month it's a new talk show with a new host totally produced with the hosts personality in-mind. This month comedian and beauty & self-care comedy podcaster (Natch Beaut) Jackie Johnson will be joined by her guest actress and singer, Gabrielle Ruiz of Crazy Ex-Girlfriend fame.
37. Get up close and personal with sharks at the Aquarium of the Pacific during Shark Lagoon Nights. Guests will have the opportunity to touch bamboo sharks and view large sharks in an after hours setting. FREE
38. The Bob Baker Marionette Theater pops up at The Santa Monica Pier Merry-Go-Round Deck for puppetry, singalongs and plenty of holiday cheer. Happening at 6 p.m. and 7 p.m. FREE
39. The annual LA Kings Holiday Ice happening at L.A. LIVE's Microsoft Square is a daily outdoors holiday skating rink. Open November 30, 2019 through January 12, 2020.
40. Enjoy a special performance of The Nutcracker (November 29 to December 24) by the American Contemporary Ballet at Metropolis Los Angeles. Occurring Thursdays through Sundays.
41. The team behind LA's award-winning series For The Record has a new production coming to The Wallis' Bram Goldsmith Theater. Richard Curtis's Love Actually will be transformed into a one-of-a-kind multimedia screen and stage event starting November 27. The film and live music blend together as the story unfolds throughout the London setting. Performances continue through December 29. Check for discounted tickets before making your purchase. DISCOUNTED (via Goldstar)
42. Since 1969 Bob Baker's Marionette Theater's adaptation of the Nutcracker has been warming hearts and delighting kids and adults during the holidays. The show includes over 100 handmade puppets at the Pasadena Playhouse. Running now until December 29.
Food Pick for the Week
This week's pick by Christina Champlin, Co-Founder of We Like L.A.
Chef Lior Lev Sercarz is a spice blending whiz and owner of La Boîte, a biscuits and spice shop in New York. This Thursday he stops by Manuela on to celebrate the launch of his fourth cookbook, Mastering Spice: Recipes and Techniques to Transform Your Everyday Cooking. Guests will experience a collaborative dinner highlighting recipes from the book prepared by Sercarz and Manuela's Executive Chef Kris Tominaga. Following the meal, a conversation between Sercarz and Mastering Spice co-author and Los Angeles Times' Cooking Editor Genevieve Ko will discuss how spices can influence a dish and came to inspire over 250 recipes for the book. Tickets to the event cost $100 per person and includes a spice-forward welcome cocktail, light bites, a three-course family-style meal (with wine pairings) and a signed copy of the Mastering Spice cookbook.
Manuela is located at 901 East 3rd Street Los Angeles, CA 90013
---
Want to get our to-do lists straight to your inbox every week? Sign up for our email program. Have an upcoming event you'd like suggest for listing? Drop us a line at [email protected]