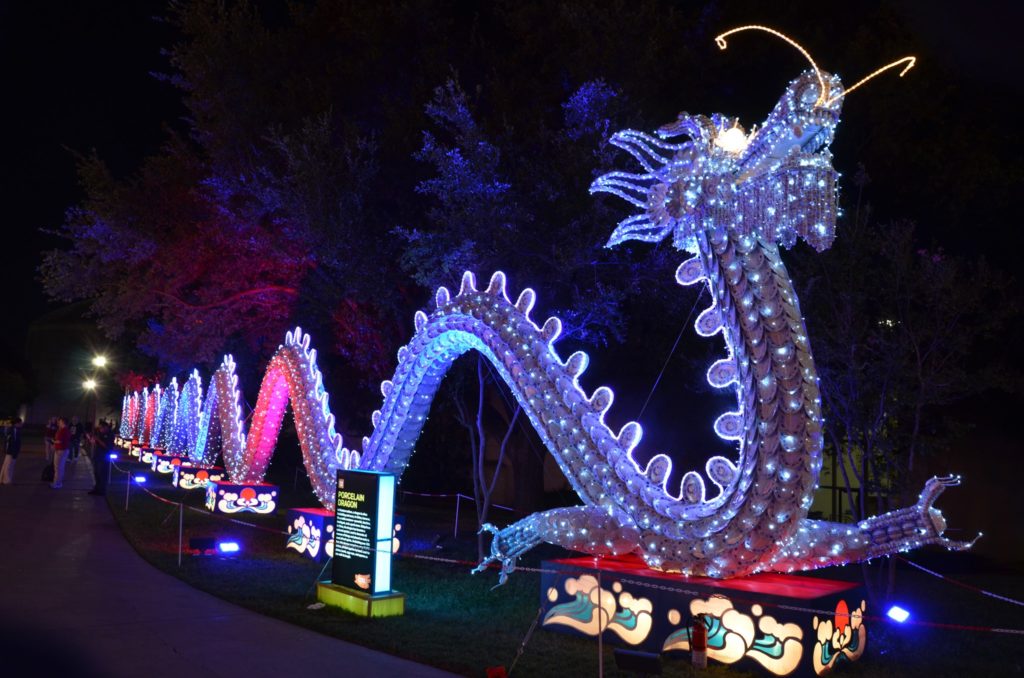 Los Angeles provides no limit of things to do, some awesome and some not so awesome. Since time is precious in this fast paced city we curate a list of things to do in Los Angeles for every weekend that'll help you decide how you want to spend your limited supply of attention (not to mention dollars!).
This weekend in L.A. from Friday, November 22 to Sunday, November 24 features Descanso Gardens' Enchanted Forest of Light, 14th Annual Great Los Angeles Walk, The Aeronauts' Incredible Journey Victorian Fair, JAPAN HOUSE Los Angeles Rice Lecture & Tasting, Pasadena Doo Dah Parade, and MUCH more.
Remember you can always go to our L.A. events calendar page to get an updated rundown of what's happening around the city.
Hope you find the rundown useful and, as always, enjoy your weekend!
---
Keep in mind that while we retain complete editorial control of our content, for some of the ticketing options provided we utilize affiliate links and receive a commission if you purchase through our links.
---
Friday November 22nd, 2019
1. On Friday The Natural History Museum presents The Past, Present, and Future of Horror Movies: A Discussion With Filmmakers. As part of the latest exhibit "Natural History of Horror" the discussion will be between Roger Corman (Little Shop of Horrors) and Andy Muschietti (It) on the past, present, and future of the horror movie genre. The evening will also include food trucks, movie props, cash bars, and access to NHM's Natural History of Horror exhibit.
2. Descanso Gardens' Enchanted Forest of Light is back for another installment with a host of interactive displays and nighttime activities. Nightly now through January 5, 2020. Check for discounted tickets before making your purchase. DISCOUNTED (via Goldstar)
3. There's a conversation on The Evolution of Street Art in L.A. happening at the Annenberg Space for Photography this Friday. FREE
4. Get up close and personal with sharks at the Aquarium of the Pacific during Shark Lagoon Nights. Guests will have the opportunity to touch bamboo sharks and view large sharks in an after hours setting. FREE
5. LA Auto Show returns with thousand cars on display. From November 22 to December 1 experience various car exhibits, model debuts and more at the LA Convention Center.
6. BOLD Beverly Hills holiday edition feature a diverse range of programming in November and December. This Friday is Holiday Pop!, an event featuring hip-hop holiday dancers, elves on stilts, a cyr wheel duet, beatbox singers, and more. The experience is free to attend.
7. Norton Simon Museum screens the 1958 film Gigi in their theatre this Friday.
8. Decompress at Mystic Journey Crystals in Venice during a Dynasty Electrik Crystal Sound Bath that combines original compositions and performances with crystal singing bowls.
9. It's the last weekend to experience the colorful, winding installation called The Second Home Serpentine Pavilion at La Brea Tar Pits. It's 100% free and closes Sunday November 24. FREE
Saturday November 23rd, 2019
10. The 14th Annual Great Los Angeles Walk is a longstanding bi-pedal tradition. This year the journey will take the public through the SGV, Northeast L.A. and all the way to City Hall in Downtown. FREE
11. This Saturday and Sunday Amazon Prime Video will transform The Rose Bowl into a Victorian fair with period performers, vendors, a "Mammoth" hot air balloon and more, all inspired by the movie, The Aeronauts. Dubbed The Aeronauts' Incredible Journey, the fair is free to attend and a screening of the film will be on the world's first Fly-In Theatre: a 20-foot LED screen wrapped 360 degrees around a second hot air balloon. FREE
12. The Los Angeles Arboretum and Botanic Garden presents Moonlight Forest, where crafted lanterns line the garden grounds, some depicting animals, shimmering exotic flowers, and figures from Chinese legends. Happening Wednesdays through Sunday from November 9 through January 12, 2020. Check for discounted tickets before making your purchase. DISCOUNTED (via Goldstar)
13. OUE Skyspace LA will host a special day party from 3-8 p.m. with DJ Flavien spinning tunes and drink specials being offered in their new Garden Bar.
14. JAPAN HOUSE Los Angeles will host a Rice Lecture & Tasting with the National Agricultural Research Organization of Japan (NARO). Participants will learn about Japanese short-grain rice and join in a professional-level sensory test of rice, sampling from four types. Participants will also receive a souvenir to take home. FREE
15. The Renegade Craft Fair returns to Los Angeles State Historic Park in Chinatown November 23-24 for a diverse showcase of indie craft and design artisans and makers plus local food vendors, DJ sets and more.
16. One of L.A.'s most magical holiday traditions, L.A. Zoo Lights returns November 15, 2019 through January 5, 2020 with thousands upon thousands of LED lights illuminating the zoo. Check for discounted tickets before making your purchase. DISCOUNTED (via Goldstar)
17. WISHLIST, Gabba Gallery's annual holiday show runs November 16 through December. Now in its seventh year, the event is a great way for folks getting into art collecting. Prices start at $50 and nothing is over $1000. Artworks are a mixed bag of local and international artists. Gallery hours are Wednesday through Saturday, from noon to 3 p.m. or by appointment.
18. ULO presents: Cyber Spirits an eight-part immersive maze that explores the presence of spirit in our digital devices. The experience lasts for 15 minutes and is dreamy, surreal and at times comedic. Happening at ROW DTLA until December.
19. Don't Tell Comedy pops up in DTLA and Mid City this Saturday with some of the biggest names in comedy. Performers are kept under wraps and the location will be emailed to all ticket holders. BYOB!
20. The Bai Holiday Ice Rink returns to Pershing Square from Nov. 14, 2019 to Jan. 2, 2020 featuring a 7200 square foot outdoor ice-skating experience. A wide variety of events will take place throughout the duration of the rink.
21. The Autry will host an afternoon screening of the 1958 western The Lone Ranger and the Lost City of Gold. Also, Saturday and Sunday The Autry will hold their annual Latin American Bazaar featuring specially crafted artisan pieces for sale that includes clothing, rugs, pottery and more.
22. The Magical Chinese Lantern Festival returns to Fairplex starting Nov. 21 with a new theme for 2019-2020: Blooming Seasons. This year's festival offers lantern displays as large as 30-feet high and 85-feet wide, highlighted by a 100-yard-long breathtaking Ceramic Chinese Dragon. Check for discounted tickets before making your purchase. DISCOUNTED (via Goldstar)
23. New Profanity will host a Feminist Holiday Market featuring women and non-binary makers.
24. LA Tofurky Trot Fun Run and Vegan Food Fest will have you take part in a seasonal 5k fun run through Crystal Springs Recreation Area in Griffith Park, followed by a huge Vegan Food Fest.
25. Brooklyn-born craft market Artists & Fleas supports over 50 independent merchants every Saturday just waiting for the public to be discovered.
Sunday November 24th, 2019
26. Take part in this year's infamous Pasadena Doo Dah Parade, which features a colorful cast of misfits, art cars, floats and more, followed by an afterparty.
27. Santa Monica Bay Audubon Society (SMBAS) invites the public to their monthly Malibu Lagoon Field Trip with an adult 8:30 a.m. walk and a walk for parents and children at 10 a.m. FREE
28. The 2019 Depeche Mode Convention returns for another year of live musical tributes, DM karaoke, DJ sets, rare videos, contests, collectibles and much more.
29. Wallis Annenberg PetSpace will host a 90-minute workshop for your dog to learn how to be at their best during the holidays. Skills they will learn include: take a bow to say thank you, leave it, no jumping and more. There will also be a discussion on safe foods to share with your pets on Thanksgiving and holiday themed snacks will be served to guests.
30. Los Angeles Museum of the Holocaust presents their Holocaust Survivor Talk this Sunday featuring Pierre Berg who at 15 was a courier in the French Resistance against Nazi Germany. Holocaust survivor talks last 45 minutes to an hour, and end with a Q&A session. FREE
31. Challenge yourself with a 75-minute yoga class while enjoying views of the DTLA skyline during Flow + Flavor: Rooftop Yoga at Smorgasburg x ROW DTLA.
32. Dog for Dog hosts a "Dog Day Afternoon" at Boomtown Brewery this Sunday. Guests can bring their pooches and enjoy digital portrait of their pets by Michael Dill-Cruz, dog treats, toys, games, prizes, craft beer, delicious human food options and mingling with fellow canine lovers. A portion of all proceeds will go to help West LA Animal Shelter, who were on the frontlines this fire season and gave respite to animals and their families in need.
33. Every Sunday is Siren Karaoke at The Mermaid bar from 9 p.m. to 1 a.m. for all you late night singers.
34. Get into the winter spirit when ICE at Santa Monica returns with a 8,000 square foot ice skating rink. Running November 1, 2019 through January 20, 2020.
35. Free museum days: Craft and Folk Art Museum (pay what you can) and Museum of Latin American Art
Food Pick for the Week
This week's pick by Christina Champlin, Co-Founder of We Like L.A.
Starting this Sunday Lincoln Carson of Bon Temps teams up with Erik Black's pastrami pop-up Ugly Drum for a limited edition Ugly Drum Pastrami Croissant. For one week only (November 24 through December 1) Angelenos can sink their teeth into Bon Temps flakey croissant finished with a pretzel wash, sesame seeds and sea salt at the center, layers of Ugly Drum pit-smoked pastrami with a smear of Dijon mustard and red pepper will make you ponder, "Is Pastrami the new turkey this holiday?"
The Ugly Drum Pastrami Croissant will be available in limited quantities for $6 at Bon Temps, the Ugly Drum stand on Sundays during Smorgasburg LA, and at Cofax.
---
Want to get our to-do lists straight to your inbox every week? Sign up for our email program. Have an upcoming event you'd like suggest for listing? Drop us a line at [email protected]