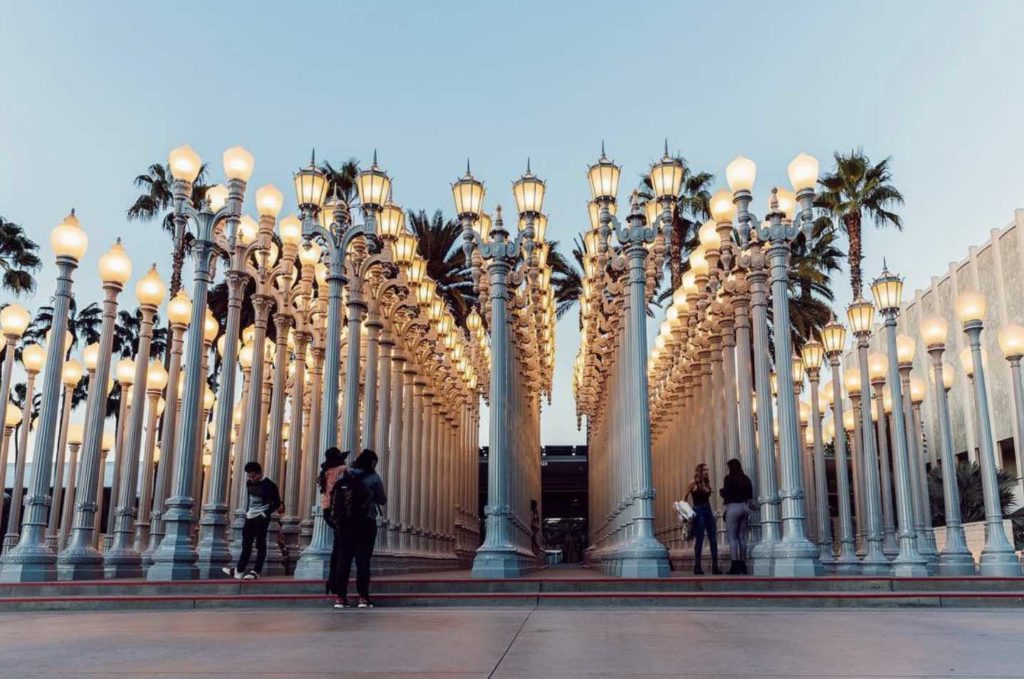 Los Angeles provides no limit of things to do, some awesome and some not so awesome. Since time is precious in this fast paced city we curate a list of things to do in Los Angeles for every weekend that'll help you decide how you want to spend your limited supply of attention (not to mention dollars!).
This weekend, from Friday, February 1 to Sunday, February 3, features a massive SoCal Museum Free-For-All, the L.A. Cookie Con, a Night of Ideas at NHM, Photo LA and MUCH more. PLUS: Be sure to scroll down to see our picks for where to watch the Rams play on Super Bowl Sunday.
Remember you can always go to our L.A. events calendar page to get an updated rundown of what's happening around the city.
Hope you find the rundown useful and, as always, enjoy your weekend!
---
Keep in mind that while we retain complete editorial control of our content, for some of the ticketing options provided we utilize affiliate links and receive a commission if you purchase through our links.
Friday February 1st, 2019
1.Photo LA comes to the Barker Hanger in Santa Monica from January 31 to February 3 celebrating photography and how it fits within the realm of fine art.
2. The Consulate General of France in Los Angeles and the Natural History Museum of Los Angeles County presents the second annual Night of Ideas Los Angeles on February 1 an evening of engaging lectures and conversations, live musical and dance performances, readings, art installations, screenings, and more. FREE
3. Severance Wine Bar wants to celebrate your single status during their BREAKUP BAR POPUP. Taking place next door to the bar, the two week long party will transport guest into an anti-Valentine's Day world with break up appropriate movie screenings, a Wall of Broken Relationships, loads of champagne, cocktails and food.
4. Never been to LACMA? First-time Fridays is a new monthly event for new visitors to the museum. Simply let the ticket office know you're a newbie and you'll receive a free poster, discounts and a welcome gift. Stop by after 3 pm with a L.A. County residents ID and get free admission.
5. Metro Art presents alto saxophonist, multi-instrumentalist and composer Josh Johnson in a special rush-hour concert this Friday, from 4-6 p.m. in the Waiting Room of Union Station. FREE
6. Dine on specially priced lunch and dinner menus at one of SGV's best dining destinations through Taste of Alhambra Restaurant happening January 27 through February 2.
7. Rare Books L.A. comes to the Pasadena Convention Center February 1 – 2 to help book lovers discover literary treasures from all over the world. The fair will feature one hundred of the finest specialists in antiquarian books, fine prints, photography, and ephemera from throughout the United States, Europe, and Asia.
8. The Griffith Observatory hosts a monthly forum where some of the most amazing phenomena in the known universe are explained and discussed. It's called All Space Considered and it takes place on the first Friday of every month. FREE
9. Dreamscape Immersive, the latest contender in location-based virtual reality, has opened in the Westfield Century City mall with three unique adventures that include an alien zoo, a deep ocean dive and an action packed adventure to find a powerful jewel. Open seven days a week.
10. It's First Fridays at The Village in Redondo Beach. Merchants and art galleries will stay open till 8 p.m. and a live performance by Mr. Loop next to the Aloha Bungalow.
11. Greenbar Distillery will open up their facility for a tour of their organic distillery. The tour allows guests to learn about the process of spirit making and taste some of Greenbar Distillery's portfolio. Happening every Friday through Sunday of this month.
12. The folks behind the Museum of Failure presents The Disgusting Food Museum (Dec. 9, 2018 through Feb. 17, 2019.) Some of the 'delicacies' include maggot infested cheese, bull testicles, and sheep eyeballs. If you're brave enough, visitors will also get to smell and taste some of the creations at the end of the exhibit over at a tasting bar. Check for discounted tickets before making your purchase. DISCOUNTED (via Goldstar)
13. Since its the first Friday of the month check out all the cool events happening around town including block parties and art walks for First Fridays.
14. Free admission at: Norton Simon Museum (5 to 8 p.m.) and Long Beach Museum of Art.
Saturday February 2nd, 2019
15. Museum Free-For-All Day put on by SoCal Museums bands together over 40 cultural institutions to offer free admission over the course of one weekend each year. Check the full list to see which museums are free on Saturday and/or Sunday. FREE
16.Smorgasburg Dumpling Day at Santa Anita Park will introduce the most interesting new dumplings in So Cal, from the likes of Workaholic, Brothecary and other popup dumpling vendors.
17. In honor of Black History Month, Forest Lawn Hollywood Hills will host a free evening of gospel, jazz and blues performances at the Hall of Liberty. FREE
18. Japanese Food and Culture Association presents the 2019 Japanese Food Expo a day of tastings, entertainment, and workshops.
19. Spend a night at San Junipero, LA's first retrowave club night. Dance the night away to 80s-influenced retrowave/synthwave music and take in vibes all inspired by the popular Black Mirror episode.
20. The L.A. Cookie Con & Sweets Show takes place at Anaheim Convention Center February 2-3 and features baking demos and workshops, celebrity chefs and hundreds of samples all day. Check for discounted tickets while supplies last. DISCOUNTED (via Goldstar)
21. Celebrate the Year of the Pig at Universal Studios Hollywood starting this Saturday with some of your favorite characters. Check out Po's Village and savor Asian delights at Mr. Ping's Noodle Shop. Meet Illumination's Minions in traditional Chinese attire and a Mandarin-speaking Megatron from TRANSFORMERS. The Lunar New Year pop-up will run till February 18.
22. The Petersen Automotive Museum will host a free screening of The Incredibles 2.
23.The Great Rock and Roll Flea Market will take over The Regent Theater in DTLA with an impressive selection of vintage collectors, antiquities dealers, vintage clothing, jewelry makers, music memorabilia, vinyl, local food vendors, food trucks, craftsmen and used musical instruments dealers. FREE
24. Angelenos can karaoke their hearts out in the comfort of their very own Sanrio-themed rooms that include private spaces dedicated to Gudetama, Aggretsuko, and Hello Kitty at Energy Karaoke located in Alhambra.
25. Old Pasadena Historical District offers a walking tour every first Saturday of the month.
Sunday February 3rd, 2019
26. The Pickwick Vintage Show comes to Burbank this Sunday featuring over 65 exhibitors from across Southern California with one-of-a-kind vintage clothing, jewelry, and accessories, textiles and more.
27. Vegan Street Fair, Eat Drink Vegan, and Smorgasburg LA join forces to bring you the second annual Super Vegan Sunday. Smorgasburg will transform into a vegan food haven with vendors offering tons of vegan options
28. There's a United States–Saudi Relations forum happening at the Hammer this Sunday. FREE
29. LA's adorable cat cafe Crumbs & Whiskers will host yoga this Sunday. Please bring your own mat and water for this one hour session.
30. Spend an evening learning All About Valentina at the Luckman Fine Arts Complex at Cal State LA. The LA-born Mexican-American drag star is best know for RuPaul's Drag Race and the role of Angel in Fox's production of RENT Live!
31.Friendship Buddies a free stand-up comedy show taking place at the Verdugo Bar back patio features some of the best comics in Los Angeles and beyond. Show starts at 8p.m. FREE
32. There's a Punk Rock Walk at the Rosebowl 3 Mile Loop this Sunday. It's free to attend and dressing up goth, punk or whatever you feel like is encouraged. FREE
33. Vegan Sunday is a weekly 100% vegan market place featuring local food, apparel, cosmetics, and lifestyle vendors.
34. Challenge yourself with a 75-minute yoga class while enjoying views of the DTLA skyline during Flow + Flavor: Rooftop Yoga at Smorgasburg x ROW DTLA.
Food Pick(s) for the Week
This week's pick by Christina Champlin, Co-Founder of We Like L.A.
Looking for a place to eat, drink and watch the Super Bowl this Sunday? Check out our list of the best spots do just that below! Oh, and go Rams!
Want to get our to-do lists straight to your inbox every week? Sign up for our email program. Have an upcoming event you'd like suggest for listing? Drop us a line at [email protected]