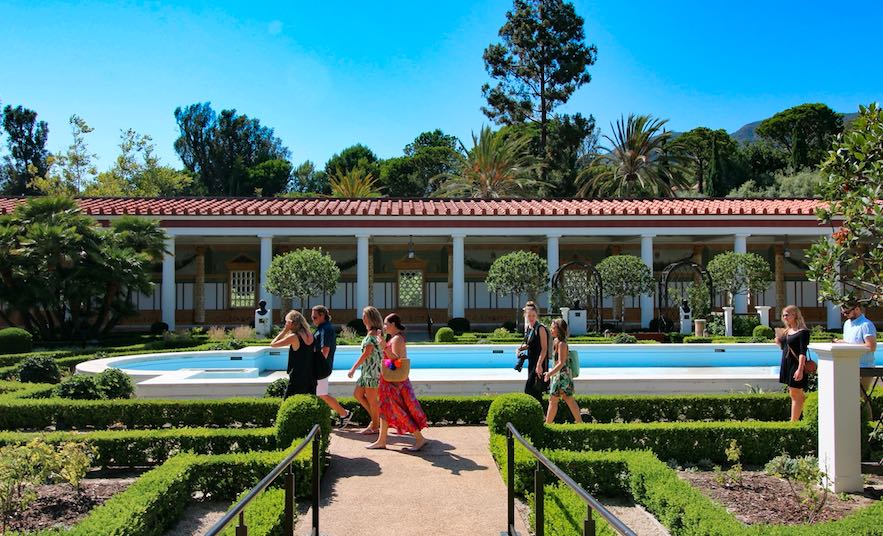 Los Angeles provides no limit of things to do, some awesome and some not so awesome. Since time is precious in this fast paced city we curate a list of things to do in Los Angeles for every weekend that'll help you decide how you want to spend your limited supply of attention (not to mention dollars!).
This weekend in L.A. from Friday, September 6 to Sunday, September 8 features The Original Long Beach Lobster Festival, Muse 'til Midnight at LACMA, Downtown Long Beach Buskerfeest, The Moon Festival Spectacular and MUCH more.
Remember you can always go to our L.A. events calendar page to get an updated rundown of what's happening around the city.
Hope you find the rundown useful and, as always, enjoy your weekend!
---
Keep in mind that while we retain complete editorial control of our content, for some of the ticketing options provided we utilize affiliate links and receive a commission if you purchase through our links.
---
Friday September 6th, 2019
1. The Original Long Beach Lobster Festival returns for the 23rd year September 6-8 at Rainbow Lagoon Park in Long Beach with copious amounts of delicious lobster prepared in a variety of ways. Check for discounted tickets before making your purchase. DISCOUNTED (via Goldstar)
2. The Other Art Fair Los Angeles happening September 5-8 at The Barker Hanger in Santa Monica will showcase a curated selection of over 140 independent artists with art for sale plus live DJ sets, event tours, conversations with art scene leaders, live activations and a bar. Check for discount tickets before making your purchase. DISCOUNTED (via Goldstar)
3. Never been to LACMA? First-time Fridays is a new monthly event for new visitors to the museum. Simply let the ticket office know you're a newbie and you'll receive a free poster, discounts and a welcome gift. Stop by after 3 pm with a L.A. County residents ID and get free admission.
4. Head to the Getty Villa for an outdoor performance of The Heal in the Barbara and Lawrence Fleischman Theater. Sit in the stunning venue modeled after ancient Greek and Roman theaters and enjoy a new version of Sophocles' timeless tale. The show runs every Thursday through Saturday from September 6-28. Check for discount tickets before making your purchase. DISCOUNTED (via Goldstar)
5. The Griffith Observatory hosts a monthly forum where some of the most amazing phenomena in the known universe are explained and discussed. It's called All Space Considered and it takes place on the first Friday of every month. FREE
6. Three day photography fair Classic Photographs Los Angeles returns to Bergamot Station in Santa Monica from September 6 to 8 for a free exhibit of vintage, modern, and contemporary photography available for purchase. FREE
7. The Los Angeles Conservancy will host a Moonlight Walking Tour of downtown's Bunker Hill area.
8. PaleyFest returns to the Paley Center for Media in Beverly Hills September 5-15 with panels and screenings of the most hotly anticipated new fall TV shows.
9. It's your last chance to hangout with Pennywise at The Derry Canal Days Festival. Online reservations are fully booked but a standby line is available. The free immersive event wraps up on Sunday. FREE
10. There's a late night dance party at Zebulon this Friday with Mogwai DJ's. FREE
11. The L.A. County Fair offers an enormous assortment of activities, musical performances, food and beverage offerings, and more. The fair runs Friday through Sunday and Labor Day through September 23. Check for discount tickets before making your purchase. DISCOUNTED (via Goldstar)
12. The 11th Annual Burbank International Film Festival happening September 4-8 will feature 180 films, a Bill & Ted's Excellent Adventure 30th anniversary screening and a science fiction themed party.
13. Caltech Astronomy invites the public to sit in on a stargazing and lecture event this Friday at 8 p.m. FREE
14. Spend the season sipping wine during sunset hour at Barnsdall Art Park's Friday Night Wine Party Series. Happening on the lawn of architectural gem the Hollyhock House, the evening features a fine selection of wines curated by Silverlake Wine, a live DJ and tours of the house. The series happens every Friday evening till September 6.
15. The first-ever Museum of Weed is a 30,000 square foot space of 'higher learning' presented by WeedMaps aims to provide insight and history into marijuana through interactive exhibits, Instagram-friendly art installations and a bevy of historical artifacts. The museum is open Wednesday through Sunday now till September 29. Admission starts at $35.
16. First Fridays at Riviera Village in Redondo Beach features after hours at art galleries, restaurants, shops and live music. Location of the performances will vary. Check the Riviera Village Facebook events page to get details on each event as it becomes available.
17. Free museum days: Norton Simon Museum (5 to 8 p.m.)
Saturday September 7th, 2019
18. Muse 'til Midnight: The Allure of Music is LACMA's annual after-hours party inspired by current exhibitions at the museum. This years focus if the exhibit The Allure of Matter: Material Art from China. Multiple performance stages, music curated by DUBLAB and Ninja Tune, sound and visual installations will be sprinkled across various locations of the museum.
19. KCRW Summer Nights joins forces with Downtown Long Beach Buskerfeest to take live music to the streets of Downtown's East Village this Saturday. FREE
20. Many remarkable buildings of Los Angeles are being threatened with demolition. Get a glimpse of a few before they are gone forever during a very special Esotouric Saving Los Angeles Landmarks Tour. Celebrate the rich cultural history of our city and meet some of the passionate people who are keeping local history alive. Check for discounted tickets before making your purchase. DISCOUNTED (via Goldstar)
21. The Hammer Museum Family Day: Art Beyond Borders is a free annual festival featuring storytelling, art making, music making, dancing, puppetry performance with Bob Baker Marionette Theater, kindness activities and much more. FREE
22. Descanso Gardens new concert series SILENCE presents experimental popular and classical new musical performances at specific sites within Descanso's collection of horticulture. Kicking off the series are performances by Zola Jesus, Jonas Baes, Low Leaf, Miya Folick and Saul Williams.
23. The fifteenth day of the eighth lunar month is time to celebrate the Moon Festival. Head to Santa Anita Park for The Moon Festival Spectacular, a two-daylong celebration featuring Chinese and Asian arts, a lantern festival, traditional food and live entertainment. FREE
24. Cinespia is back for its 18th summer season, at the Hollywood Forever Cemetery for screenings of films modern, cult, and classic. On Saturday Blade Runner will be screened.
25. The City of West Hollywood presents an opening reception for Visual Artists Guild's Art & Democracy VI. Artists from all over the world will address issues of human rights, immigrants rights, democratic aspirations, social justice and freedom of speech and expression through their artwork. The event taking place from 1-4 p.m. will feature live entertainment, light refreshments, interactive art installations, artist meet-and-greets and more. FREE
26. There's a free bootcamp and yoga session hosted by Fitbit at L.A. Live this Saturday. FREE
27. The Griffith Observatory hosts a public star party once a month from 2-9:45 p.m. where folks can get a look at the sun, moon, plants and other objects in the sky through a variety of telescopes. FREE
28. Photo production company for the stars The Scenario Studio brings their mind-blowing professional sets to Grand Central Market for the public to experience from September 7 through November 4. Check for discount tickets before making your purchase. DISCOUNTED (via Goldstar)
29. A colorful, winding installation called The Second Home Serpentine Pavilion is now open at the La Brea Tar Pits for the summer and its 100% free for the public to roam and explore. The pavilion is open daily and will run through November 24. FREE
30. Street Food Cinema returns this weekend with two screening events. 10 Things I Hate About You and Bohemian Rhapsody will both play at different popular Los Angeles locations. DISCOUNTED (via Goldstar)
31. CLAY LA is an annual sale and fundraiser at the Craft Contemporary, showcasing talented local ceramic makers. Guests can meet and shop from the makers, partake in a hands-on air-dry clay workshop and even enjoy a brunch catered by Portos.
32. Freewaves will present LOVE &/OR FEAR: A Celebration of Genders, a large-scale public performance event over two blocks of Hollywood Blvd and centered at exhibition space Los Angeles Contemporary Exhibitions (LACE). FREE
33.The Bob Baker Marionette Theater will revive their original 1963 show Bob Baker's Sketchbook Revue at their new home, the historic York Theater in Highland Park. The show runs Saturday and Sunday.
34. Challenge a friend to a game of chess every Saturday in September from 5 p.m. to 7:30 p.m. at The Norton Simon Museum's serene Sculpture Garden. A U.S. chess expert will also be on hand to teach folks the game as well.
35. Head over to the Regent in DTLA for The Rock and Roll Flea Market. The market features 50 vendors offering vintage and handmade crafts, including clothing, jewelry, memorabilia, instruments and more. Admission is free and open to all ages.
36. Eat|See|Hear returns for 2019 with a screening of Say Anything at Centennial Square at Pasadena City Hall. Check for discounted tickets before making your purchase. DISCOUNTED (via Goldstar)
Sunday September 8th, 2019
37. The California African American Museum will host a 60-minute yoga flow led by Hieroglyphics yoga studio owner and CSULA Pan-African Studies professor, Staci Mitchell. The flow will feature neosoul music with live vocals by singer Dorian. All levels are welcome. Please bring your own yoga mat. FREE
38. Writer Gustavo Arellano and KCRW's Good Food host Evan Kleiman have been hunting for the tasting tortillas in Southern California, and this Sunday they'll present the best of the best at KCRW & Gustavo's Great Tortilla Tournament. Expect music via DJs Raul Campos and José Galván, tortilla tastings, margaritas and michelada bars, and more.
39. Returning for its 30th year, the Belmont Shore Car Show boasts over 500 classic, custom and novelty vehicles parked on over 14 blocks in Downtown Long Beach. Guests get to peruse, take pictures with, and sometimes, even get inside some of the cars. FREE
40. Grammy award winning icon Gladys Knight will take the stage of the beautiful Hollywood Bowl for a night of music under the stars. Joining her is The Kingdom Choir, a London gospel group who recently performed at the Royal Wedding of Prince Harry and Meghan Markle.
41. Instantaneous Pet Service and Pan Pacific Park will host a summer Sunday Doggie Yoga Series highlighting pet fitness. Grab your fur baby, a mat, and water for a one hour yoga session. Coffee and snacks will be provided by Le Pain Quotidien. This is a donation based event.
42. Sunday Yoga + Meditation at Angel City Brewery is a donation based event happening every week. The recommended donation is between $15-$20 and includes one free drink at the brewery.
43. Free museum days: Museum of Latin American Art, Craft and Folk Art Museum (pay what you can) and USC Pacific Asian Museum (11 a.m. to 5 p.m.)
Food Pick for the Week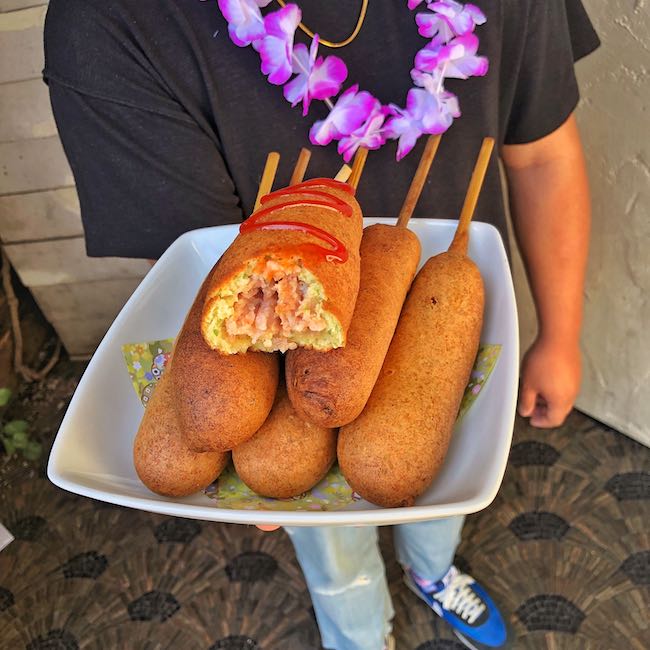 This week's pick by Christina Champlin, Co-Founder of We Like L.A.
Calling all SPAM® fans, there's a SPAM® MUSUBI MADNESS pop-up taking place at LONO in Hollywood September 7, 14 and 21. Presented by Foodbeast, this event will feature a globally themed build-your-own SPAM® musubi bar with options like a Chile Verde Musubi and an American Burger Musubi. LONO's Executive Chef David Lespron and his team will also offer up a few SPAM® creations like a SPAM® corn dog made from a blend of shrimp and SPAM® encased in a togarashi-infused corn dog batter topped with banana ketchup. Save room for dessert because this is probably the first time SPAM® has ever been made into a soft serve. It's a build-your-own situation with toppings like vanilla-braised pineapples and candied nuts. Wash it all down with a tiki cocktail served in a SPAM® can (don't worry there's no meat in your drink for this one). The event and the food is free, you just need to snag a ticket here. Our friends at Foodbeast has anticipated tickets will be sold out but a new batch of tickets will also be released on Monday September 9. Good luck Angelenos!
---
Want to get our to-do lists straight to your inbox every week? Sign up for our email program. Have an upcoming event you'd like suggest for listing? Drop us a line at [email protected]