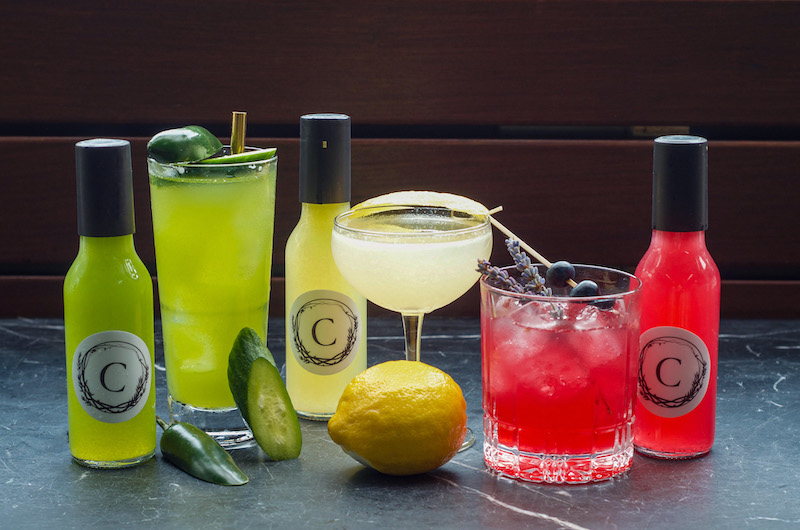 The COVID-19 pandemic has hit our food and beverage industry hard, forcing all restaurants to halt dine-in service. But by ordering pickup or delivery, you can help those still in service stay afloat. We're now going to share some of our favorite local takeout, pickup, and delivery deals every Friday. So, if you're up for a #treatyourself weekend, take a look at our first list below. And don't forget to tip! Our hospitality workers need it now more than ever.
The Conservatory is offering Easter cocktails at $8 each or three for $22. Choices include Hip Hop Hoorayyy (Charbay vodka, crème de pēche liqueur, lemon, ginger), Sassy Bunny (Azunia blanco tequila, cucumber, lime, jalapeños, agave), and Purple Peep (Nat Kidder vodka, lavender lemonade and blueberries). They also have boxed brunches ($40) that come with either mimosa kits or a bottle of wine, or dinners ($50) that include your choice of Prosecco, red, or white wine. Each box meal serves four.
Uber Eats is doing a "Virtual Restaurant Week." Order a three-course, prix fixe meal from one of over 200 participating restaurants for $35 and no delivery fee. (A big tip, though, would certainly be appreciated by those essential workers bringing you your meal.) Some restaurants to choose from include Eataly, Tacos Tu Madre, Silverlake Ramen, and Belcampo. To find participating eateries, open your app, then swipe through the top banner and tap on the Restaurant Week graphic. This special runs through April 23.
Muddy Paw Coffee is offering 50% off your drink order when you use the code "ToGo" in the Joe Coffee app, a mobile ordering network designed for independent coffee businesses.
101 North Eatery & Bar has an Easter brunch that features spinach, leek, and feta frittata; Mediterranean salad; blueberry-agave French toast; bacon or turkey bacon; breakfast potatoes, and a bread basket. Serve two for $60 or four for $120. Available for pickup or delivery, but must you must order by Friday, April 10 at 4 p.m. Family-style chicken dinners and cocktails to-go are also available. More info here.
Spread Kitchen is offering to-go cocktail kits from several local bartenders, including Jessi Smyth of Genever and Big Bar's Cari Hah. Choices include the Cafesito (El Silencio mezcal, coffee-infused Campari, amaro, orange peel, halva) and the Eastside Spritz (Mulholland gin, cucumber mint shrub, spiced soda). Get four servings for $30 or eight for $50. Half of all proceeds will go to the bartenders.
L'Antica Pizzeria da Michele has a $70 deal that includes a mixed cheese and meat board, one appetizer or salad of your choice, one signature pizza of your choice, a package of strawberries, and chocolate bars. If you add a bottle of wine, you'll get 20% off the bottle. More info here.
Little Dom's daily $25 three-course PanDOMic menu for this week includes Roast Tri-Tip Pizzaiola with parmesan potato on Saturday and Squid Ink Fusilli with smoked oysters, andouille, uni butter, and lemon breadcrumbs on Sunday. Check Instagram here for the full menu through Sunday. Delivery is available on Caviar or call for curbside pickup.
How about an Easter morning breakfast and some old-fashioned egg coloring? All Time's Easter Kit contains a dozen eggs, a DIY dye kit made from fruits and veggies, dye instructions, pancake mix, maple syrup, Valrhona chocolates, and seeds for your garden. You can reuse the basket it all comes in when you're done. Available for pickup or delivery via ChowNow.
Hotpot restaurant Unibowl is offering four different meal sets, which each come with a free stove, pot, and fuel to make your own hotpot at home. Kits contain all the fixings, including a soup base, meats, veggies, sauces, and tea. It's $49.99 for meat meals and $39.99 for the veggie option. [h/t LAist]
Golden Road Brewing is offering six-packs of their beer, including their amazing Spicy Mango Cart, for just $7. Get mix and match cases for $25. They've also got prepared food and pantry items. Order pickup or delivery here.
VERSE in Toluca Lake is offering build-your-own $13 rice bowls with your choice of fried or steamed rice cooked in white soy, fish sauce, and salsa macha peanut chile de árbol sauce. Guests will pick a protein like marinated hanger steak or salmon, two vegetables, and two toppings to complete the bowl. Takeout and delivery are available Tuesday through Saturday from 4-7 p.m. Orders for pickup can be made online or order delivery via Postmates.
Poppy + Rose is offering two family-style meals. The spaghetti with meatballs feeds up to four people and includes one pound of dry spaghetti, one quart of marinara sauce, one quart of meatballs, and four ounces of parmesan for $28. The BBQ meal feeds up to two people and includes a half rack of ribs, one pound of brisket, 10oz mac n cheese, and 10oz greens for $35. You can order ahead by calling (213)-622-0176 or order delivery through UberEats or Postmates.
Milk + T in Little Tokyo is offering boba kits for delivery so you can get your boba fix at home. For $25, each kit comes with your choice of green or black tea, uncooked boba, brown sugar, instructions, and four Milk + T jars. Find them on Postmates.
Staring Saturday, WOOD in Silver Lake is offering two different pizza specials. Get two Margherita pizzas and a bottle of house red or white for $40, or get two pizzas of your choice, one salad, and two appetizers for $60. Find details here.
Spago is taking orders through Tock until Saturday at noon for Easter Sunday curbside takeout/delivery. The special holiday menu includes a la carte items like maple smoked ham, spring vegetable quiche, key lime pie, and chocolate cream pie to name a few.
Treat yourself to Mrs. Fish's sushi boxes, available in 3-, 7-, 10-, and 12-piece assortments plus sides and sauces for $20-$50. Family meals, beer, wine, and items from both Mrs. Fish and Perch's menus are available via Postmates, Caviar, and Doordash.
Are you trying to feed a lot of people? Or maybe just yourself for several days? Drop by your local NORMS location for a to-go care package, available from 7 a.m. to 7 p.m. daily. The Classic Breakfast Package contains 15 eggs; 1 pound each of bacon, ham, and sausage, 2 pounds of hash browns, 1.75 pounds of sliced fruit, 6 biscuits, a half-gallon of milk or juice, and a roll of toilet paper for just $35. They also have family dinners for 4-6 people, all served hot at $25 each. See updates here.
Cassell's Hamburgers in Koreatown and DTLA is open for pickup and delivery, offering burgers, sandwiches, breakfast, and more. But the key deal here is the cocktails. Get a Moscow Mule, golden margarita, or old fashioned for just $5!
Guerrilla Tacos is offering an Emergency Taco Kit that should keep you set for a while. It contains five pounds each of roasted chicken and carne asada, one pint each of green and red salsa, tortillas, onion, cilantro, rice and bean, 30 eggs, and a roll of toilet paper for $155. These provisions should make about 60 tacos and the meat will keep in the freezer for three weeks. Not that hungry? Get two pounds of each meat and skip the eggs and toilet paper for $80.

None of these deals strike your fancy? Here are some more ideas:
'Bodega On Wheels' Delivers Groceries, Sandwiches, Ice Cream & Booze
30+ L.A. Eateries in the Valley Offering Takeout/Delivery
Mel's Drive-In Carhop Service is Back!
17+ L.A. Bakeries That Need Your Help
17 L.A. Spots To Get Cocktails, Wine, and Beer for Delivery or Takeout
50+ Local Restaurants Open for Pickup and Delivery