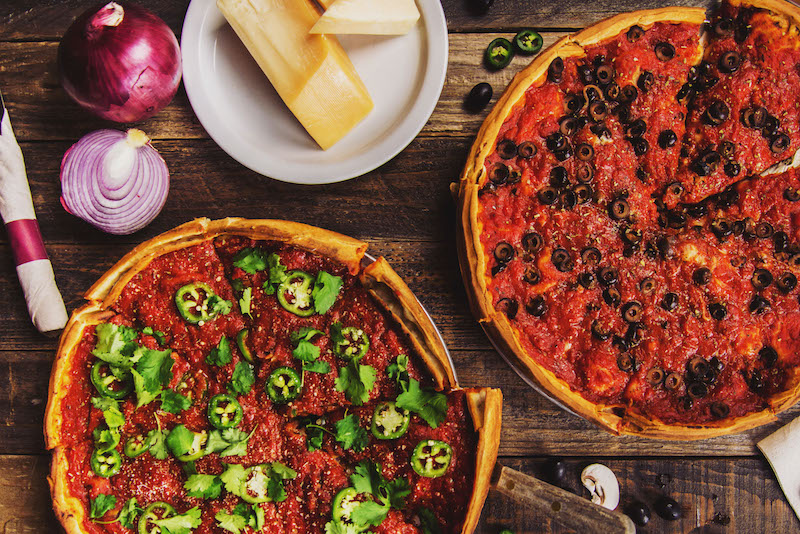 The COVID-19 pandemic has hit our food and beverage industry hard, forcing all restaurants to halt dine-in service. But by ordering pickup or delivery, you can help those still in service stay afloat. We're now going to share some of our favorite local takeout, pickup, and delivery deals every Friday. So, if you're up for a #treatyourself weekend, take a look at our list for this weekend below. And don't forget to tip! Our hospitality workers need it now more than ever.
Lobster rolls in a squid ink bun are back at Broad Street Oyster in Malibu. The drive-thru window is open from 11:30 a.m. to 8 p.m. Call ahead to place your order or get delivery via UberEats or GrubHub. Add some uni or caviar if you feel extra fancy.
One of the best taco spots in L.A., Carnitas El Momo in Boyle Heights, is taking orders by text at (323) 627-8540. Order 24 hours ahead for next-day pickup.
L'Antica Pizzeria Da Michele in Hollywood is hosting a dinner party through Zoom and Instagram Live this Friday and Saturday. Cook with them by ordering a dinner package, which includes a pizza kit for $35 and a pasta kit for $18. L'Antica will donate 10% of the kit earnings to non-profit No Kid Hungry. Call the restaurant to place orders for pickup or delivery.
Get 10% off online takeaway and curbside orders at Vietnamese cafe Nong La. Use the code STAYIN.
VERSE in Toluca Lake is offering burritos with your choice of hanger steak ($14), shrimp ($13), or pork belly ($12), or a vegetarian option for ($11). Order online for takeout and curbside pickup or use Postmates for delivery, Tuesday through Saturday, 4-7 p.m.
Burgers Never Say Die's whole menu is available for delivery through Caviar.
Ike's Love and Sandwiches offers $5 sandwiches on Fridays with the purchase of another sandwich at regular price. This week, the sandwiches are themed after Schitt's Creek, which is apparently one of the eponymous Ike Shehadeh's favorite shows. They've got the Alexis (ham, salami, Ike's Schitt's Sauce and American cheese) and the Ruth (vegan turkey, Ike's Schitt's Sauce and American cheese). Add lettuce, tomato, onion, and banana peppers at no additional charge. Order on the Ike's app for delivery or takeout.
Golden Road Brewing is offering two 12-packs of hard seltzer for $20 at The Pub at Golden Road, Golden Road Pub – Orange County, and Golden Road Huntington Beach Brewery and Pub.
République will launch a menu of prepared foods this weekend through Tock. Expect a selection of favorite dishes chosen by chefs Walter and Margie Manzke, such as kimchi fried rice and brioche French toast.
Otoño in Highland Park is offering bocadillos, Spanish-style sandwiches on stecca bread stuffed with items like Serrano ham and fried calamari, for $10. Or, get empanadas for just $2 each, pan con tomate for $6, and $6 churros with chocolate for dessert. Currently, they're offering pickup only. Walk-ins welcome.
Chicas Tacos now has a marketplace that provides family meals and groceries. Get taco combos, a whole chicken dinner, taco meal kits, margaritas to-go, toilet paper, and more. All proceeds will support Chicas's staff. Place your order online now for pickup or delivery on Saturdays and Sundays, noon to 6 p.m. at Chicas Tacos in Culver City.
The affordable menu at Post and Beam in Baldwin Hills is available for pickup and delivery through Postmates. Pizzas are $8, a variety of sides are only $4, and entrees like Dungeness Crab Cakes cost $16. Don't skimp on the bourbon-glazed donut holes, available for $4.
Antico is open for takeout, offering focaccia pizza to serve 4-6 ($20-$38, depending on the toppings). Or you can get dinner for four, which includes a cheese pizza, Caesar salad, honeycomb ice cream, and a bottle of wine for $68. Swap for pepperoni pizza for $75.
Breakfast sandwich concept Egg Tuck now has breakfast burritos at both its Hollywood and Koreatown locations. You can get the original burrito (egg, tater tots, house sriracha aioli) for $5.99; add Korean short rib, cheese, and onion for $8.99, or try the plant-based JUST Egg vegan burrito for $9.99. Get a large iced coffee for $1.99 with pickup.
Cassell's Hamburgers in Koreatown and DTLA are both still offering cocktails to-go for just $5 each, but now they have burger kits, too. Kits come with patties (beef or vegan), cheese, buns, and toppings. It's $55 for a six-pack or $100 for a 12-pack. Order online for takeout or delivery.
Boomtown Brewery's new beer is the appropriately named Stir Crazy. It's a hazy IPA with mosaic, hull melon, and Chinook hips, with flavors of pineapple, lychee, and Bartlett pear. Available for contact-free pickup for $16 per 4-pack.
Sonoratown is offering two large-format family meals. The one-pound family meal includes a pound of your choice of meat and 12 flour tortillas ($30). The Chivi Party kit includes six chimichangas, plus two bean and cheese burritos for $35. Both come with salsas and all the traditional toppings. Orders through Caviar for takeout and delivery.
Deep dish pizzeria Patxi's Pizza is offering a date night package. Get a 10-inch deep dish pizza, two starter salads, an appetizer or dessert pizza, and a bottle of wine for $50. You can also get half-baked deep dishes to bake at home. Available for pickup and delivery.
Parm Boyz returns to Ronan for a Quarantine Style pop-up every Sunday through June 14. For $65, enjoy a spread of the Boyz's signature Italian-American favorites for two, including antipasti, Caesar Salad, the requisite chicken and eggplant parmigiana, red sauce spaghetti, and tiramisu for dessert. (A vegetarian option is also available.) Extra add-ons include burrata ($6) and focaccia ($6). You can also order pre-mixed cocktails for two for $17. Pre-order for delivery and takeout on ChowNow. Pickup is between 4-6:30 p.m. this Sunday in 15-minute intervals.
McConnell's Studio City Scoop Shop is offering classic and limited-edition flavors. Order online for curbside pickup or through Postmates for delivery, daily from 5-8 p.m.
Boneyard Bistro in Sherman Oaks is offering its slow-cooked barbecue and eclectic menu for curbside pickup and delivery. There's also a promo for 50% off beer and wine, too.
None of these deals strike your fancy? Here are some more ideas:
'Bodega On Wheels' Delivers Groceries, Sandwiches, Ice Cream & Booze
30+ L.A. Eateries in the Valley Offering Takeout/Delivery
Mel's Drive-In Carhop Service is Back!
17+ L.A. Bakeries That Need Your Help
17 L.A. Spots To Get Cocktails, Wine, and Beer for Delivery or Takeout
50+ Local Restaurants Open for Pickup and Delivery