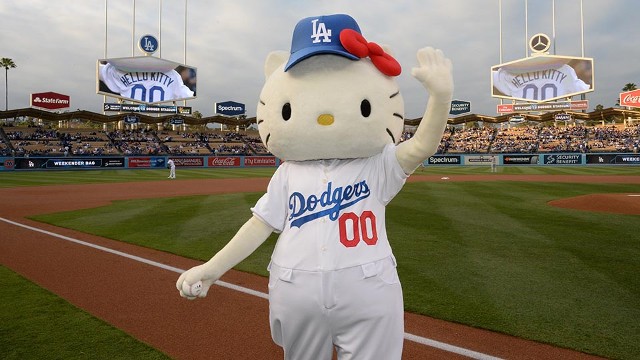 Every week in Los Angeles there are tons of great things to do (even before the weekend gets started) that we think you ought to have on your radar. With that in mind, we put together a list every Monday through Friday morning to keep you in the know about what's happening in the city you love (or maybe just like).
This week, from Monday, September 2 to Friday, September 6, features Fiesta Hermosa, Hello Kitty Night at Dodgers Stadium, Twilight Concerts, The Original Long Beach Lobster Festival, First-time Fridays at LACMA and MUCH more.
Remember you can always go to our L.A. events calendar page to get an updated rundown of what's happening around the city.
Hope you find the rundown useful and, as always, enjoy your week!
---
Keep in mind that while we retain complete editorial control of our content, for some of the ticketing options provided we utilize affiliate links and receive a commission if you purchase through our links.
---
Monday September 2nd, 2019
1. Head to downtown Hermosa Beach for Fiesta Hermosa August 31 through September 2. One of the largest arts and crafts fairs in Southern California, explore hundreds of artists, enjoy live music, a beer & wine garden and more. FREE
2. Bender Yoga is taking things to the rooftop at Ace Hotel DTLA for a unique 70 minute yoga session followed by a "California Sol" rooftop party.
3. 69th Annual Long Beach Greek Festival is back this Labor Day weekend August 31 to September 2 with authentic Greek food, music and lots of dancing. FREE
4. L.A. Fleet Week wraps up on September 2. Hosted at LA Waterfront in San Pedro the event will feature various military ships, guided tours, military demonstrations, live entertainment, aerial demonstrations and more. FREE
5. Tropico Disco will takeover the historic Hotel Figueroa in Downtown Los Angeles for a daytime-disco pool party. Island attire is encouraged and guest can bring their own pool toys. A full bar and bites menu will be available.
6. The L.A. County Fair returns to Pomona for an enormous assortment of activities, musical performances, food and beverage offerings, and more. The fair runs Friday through Sunday and Labor Day through September 23. Check for discount tickets before making your purchase. DISCOUNTED (via Goldstar)
7. Cinecon Classic Film Festival at Hollywood's Egyptian Theatre (August 29 to September 2) is five days of classic film screenings, celebrity appearances, panels, a memorabilia show, and more.
8. The W in West Los Angeles is having a Labor Day Pool Party with DJ sets and fun in the sun.
9. E.P. & L.P. in West Hollywood continues their stylish cinema series Melrose Rooftop Theatre with a screening of Bring It On.
Tuesday September 3rd, 2019
10. It's Hello Kitty Night at Dodgers Stadium this Tuesday. See the Boys in Blue take on the Colorado Rockies and take home a special Hello Kitty blanket.
11. Pennywise returns to Hollywood with a second terrifying, immersive event. The Derry Canal Days Festival is now open at the corner of Hollywood and Vine, drawing from the forthcoming IT Chapter Two, which hits theaters on September 6. Online reservations are fully booked but a standby line is available.
12. Kevin Smith and Marc Bernardin will perform a live version of their Fatman Beyond podcast at Scum & Villainy Cantina in Hollywood.
13. Down some tacos, drink some brews and test your trivia skills this Tuesday during Tacos & Trivia night at Angel City Brewery in DTLA.
14. Free museum days: Free Family Night at Kidspace Children's Museum (from 4 to 8 p.m.), Natural History Museum and La Brea Tarpits Museum.
Wednesday September 4th, 2019
15. Twilight Concerts returns every Wednesday from August 21 to September 25 for free music performances on the Santa Monica Pier. This week A-Wa, Disco Shrine & Los Angeles Arabs Orchestra will perform. FREE
16. Eataly will host a pizza workshop with Rossopomodoro at La Pizza & La Pasta Restaurant. Tap into pizza making secrets, enjoy two complementary glasses of wine or beer and take home fresh pizza dough.
17. BE KIND, REWIND™ is hosting a 90s Trivia night at The Virgil this Wednesday with five rounds of 90s trivia, plus 90s giveaways, 90s decor, 90s board games, themed cocktails and prizes for those in the best 90s outfits.
18. The first-ever Museum of Weed is a 30,000 square foot space of 'higher learning' presented by WeedMaps aims to provide insight and history into marijuana through interactive exhibits, Instagram-friendly art installations and a bevy of historical artifacts. The museum is open Wednesday through Sunday now till September 29. Admission starts at $35.
Thursday September 5th, 2019
19. The Other Art Fair Los Angeles happening September 5-8 at The Barker Hanger in Santa Monica will showcase a curated selection of over 140 independent artists with art for sale plus live DJ sets, event tours, conversations with art scene leaders, live activations and a bar.
20. Beyond Baroque "A History of Venice" exhibition debuts a month long of programs. Kicking things off is a night of story telling by locals, historians and an overview of the many artists who have made their mark in Venice.
21. A colorful, winding installation called The Second Home Serpentine Pavilion is now open at the La Brea Tar Pits for the summer and its 100% free for the public to roam and explore. The pavilion is open daily and will run through November 24. FREE
22. Head to the Hollywood Bowl for Mozart Under the Stars this Thursday. Check for discount tickets before making your purchase. DISCOUNTED (via Goldstar)
23. Night Market is back on the hilltop of the iconic Yamashiro restaurant every Thursday all summer long. Angelenos can enjoy boutique vendors, food vendors, a concert series, cocktails at Yamashiro's Pagoda Bar and an unbeatable view of Hollywood. This event is also kid friendly. Please note this year the organizers are charging $10 to park at the shuttle location. Shuttles are free and so is admission.
24. Free museum days: Japanese American National Museum (from 5 to 8 p.m.), MOCA Grand (from 5 to 8 p.m.), Skirball Cultural Center (noon to 5 p.m.), Long Beach Museum of Art (3 to 8 p.m.) and USC Pacific Asian Museum (5 to 8 p.m.)
Friday September 6th, 2019
25. The Original Long Beach Lobster Festival returns for the 23rd year September 6-8 at Rainbow Lagoon in Long Beach with copious amounts of delicious lobster prepared in a variety of ways.
26. Three day photography fair Classic Photographs Los Angeles returns to Bergamot Station in Santa Monica from September 6 to 8 for a free exhibit of vintage, modern, and contemporary photography available for purchase. FREE
27. Never been to LACMA? First-time Fridays is a new monthly event for new visitors to the museum. Simply let the ticket office know you're a newbie and you'll receive a free poster, discounts and a welcome gift. Stop by after 3 pm with a L.A. County residents ID and get free admission.
28. The Griffith Observatory hosts a monthly forum where some of the most amazing phenomena in the known universe are explained and discussed. It's called All Space Considered and it takes place on the first Friday of every month. FREE
29. The Los Angeles Conservancy will host a Moonlight Walking Tour of downtown's Bunker Hill area.
30. There's a late night dance party at Zebulon this Friday with Mogwai DJ's. FREE
31. Caltech Astronomy invites the public to sit in on a stargazing and lecture event this Friday at 8 p.m. FREE
32. Spend the season sipping wine during sunset hour at Barnsdall Art Park's Friday Night Wine Party Series. Happening on the lawn of architectural gem the Hollyhock House, the evening features a fine selection of wines curated by Silverlake Wine, a live DJ and tours of the house. The series happens every Friday evening till September 6.
33. First Fridays at Riviera Village in Redondo Beach features after hours at art galleries, restaurants, shops and live music. Location of the performances will vary. Check the Riviera Village Facebook events page to get details on each event as it becomes available.
34. Free museum days: Norton Simon Museum (5 to 8 p.m.)
Food Pick for the Week
This week's pick by Christina Champlin, Co-Founder of We Like L.A.
On September 3, Eataly L.A. welcomes La Pasta Fresca, a housemade pasta bar. The latest edition to the 67,000 square-foot Italian marketplace in Century City, La Pasta Fresca will offer a tight selection of made to order pasta dishes. On the menu are five classic pasta dishes with one daily rotating dish. From the Tagliatelle alla Bolognese, to the lesser known Mafaldine al Pesto made with basil sauce from Liguria, there is something to fill all appetites. Dishes are under $20 and comes with a side of bread. For pasta super fans, opening day will reward the first 10 guests with a complimentary hands-on pasta making class at La Scuola, Eataly's in house cooking school.
---
Want to get our to-do lists straight to your inbox every week? Sign up for our email program. Have an upcoming event you'd like suggest for listing? Drop us a line at [email protected]