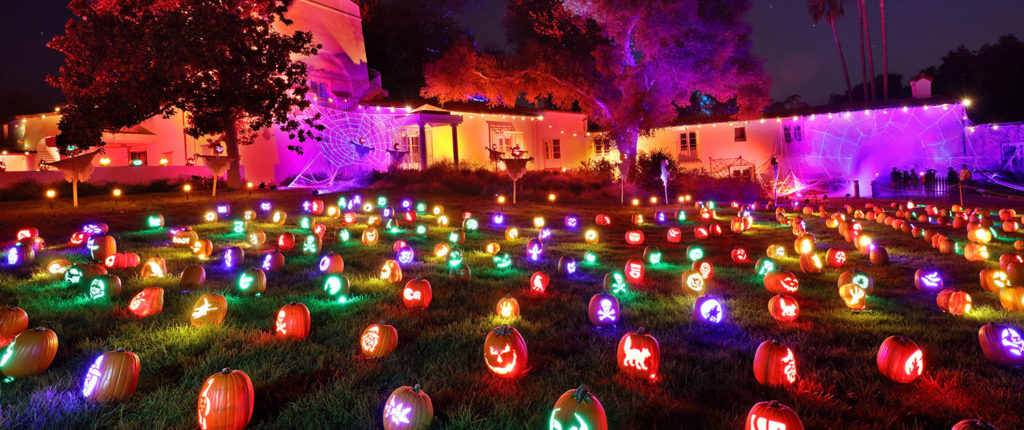 Every week in Los Angeles there are tons of great things to do (even before the weekend gets started) that we think you ought to have on your radar. With that in mind, we put together a list every Monday through Friday morning to keep you in the know about what's happening in the city you love (or maybe just like).
This week, from Monday, September 30 to Friday, October 4, features Nights of the Jack, a Tito's Vodka & Tito's Tacos party, Freeform's Halloween Town, Alpine Village Oktoberfest, Dumpling & Beer Festival, Haunted Little Tokyo and MUCH more.
Remember you can always go to our L.A. events calendar page to get an updated rundown of what's happening around the city.
Hope you find the rundown useful and, as always, enjoy your week!
---
Keep in mind that while we retain complete editorial control of our content, for some of the ticketing options provided we utilize affiliate links and receive a commission if you purchase through our links.
---
Monday September 30th, 2019
1. Head to Angel City Brewery for Beer and Magic night from 6 to 9 p.m. where guests will experience close-up magic from three award winning magicians.
2. Beyond Fest, Los Angeles' strangest, scariest, and largest genre film festival returns Sep. 25 to Oct. 8 with another year of bold programming.
3. LACMA hosts Story Time in the Galleries a special American Sign Language edition for children and families of all ages at BCAM from 2 p.m. to 2:45 p.m.
4. Head to Frogtown's artist-run space Tin Flats for a free drive-in movie screening curated with some very special programming. Presented by The French Los Angeles Exchange, this project presents films, performances and exhibitions from artists in the program, as well as a film that echoes their own work. FREE
5. Hot Tub With Kurt And Kristen at The Virgil is a variety show featuring some of the best comedians, music artists and the occasional oddity aimed to entertain.
6. Go Get Em Tiger and the Music Center After Dark Presents: Queer Nite at the Music Center Plaza. The event features free filter coffee & pastries + full coffeebar menu available for purchase. FREE
Tuesday October 1st, 2019
7. 'First Time in L.A.' at Touchon&Co Gallery is an art exhibition highlighting artists from around the world exhibiting in Los Angeles for the first time. Over 60 artworks will be shown from 20 artists. Runs Oct. 1-5 FREE
8. The Skirball will host a free afternoon movie screening of Stanley Kubrick's 1957 anti-war drama Paths of Glory. FREE
9. There's a daily Great Pumpkin Hunt happening at the South Coast Botanic Garden featuring an imaginative scavenger hunt, light hiking, a pumpkin shop and access to the gorgeous 87-acre grounds. Great for families. Halloween costumes are welcome.
10. 260LA is hosting a Herschel Supply Co. sample sale October 1-6. Score deals on the labels men's and women's clothing, small leather goods, tech accessories, luggage, and more.
11. Free museum days: Free Family Night at Kidspace Children's Museum (from 4 to 8 p.m.), Natural History Museum and La Brea Tarpits Museum.
Wednesday October 2nd, 2019
12. The California African American Museum (CAAM) is hosting their annual Can't Stop, Won't Stop celebration this Wednesday from 7 to 9 p.m. Attendees will have a chance to browse the museum's exhibits, enjoy a DJ set and food trucks during the event. FREE
13. The Hammer museum welcomes authors Susan Orlean and Roxane Gay, for a conversation about the important role of libraries as public spaces and repositories for collective history. FREE
14. Hello Kitty Friends Around the World Tour celebrates Hello Kitty's 45-year anniversary with a multi-room, sensory-rich, brilliant walk-through adventure from September 20 through October 20. The 10,000-square-foot pop-up takes you aboard 'Hello Kitty Air' to virtually visit London, Paris, New York, Honolulu, and Tokyo.
15. Outdoor Voices, ROW DTLA, and OLIPOP team up to host evening wellness gatherings for the month. This Wednesday head to ROW DTLA Building 1 Rooftop for a mat pilates work out led by Coreology followed by activations by The Things We Do & beverages from OLIPOP. RSVP is mandatory. FREE
16. A colorful, winding installation called The Second Home Serpentine Pavilion is now open at the La Brea Tar Pits for the summer and its 100% free for the public to roam and explore. The pavilion is open daily and will run through November 24. FREE
Thursday October 3rd, 2019
17. Nights of the Jack, a half mile trail completely filled with thousands of pop culture inspired hand-carved illuminated Jack O'Lanterns returns to King Gillette Ranch in Calabasas October 3 through November 3 for a spooktacular family friendly event.
18. The Queen Mary's Dark Harbor returns with six terrifying mazes, including the brand new Rogue, in which the crew either is (or isn't?) working to save the capsized vessel you're trapped aboard. Nightly entertainment, rides, roaming monsters, and themed lounges round out Dark Harbor's offerings. Happening September 26 through November 2. Check for discount tickets before making your purchase. DISCOUNTED (via Goldstar)
19. Artist Maximillian's popular horror-themed pop-up I Like Scary Movies returns for Halloween season September 20 through November 17. The detailed and beautiful series of installations is a love letter from the artist to iconic horror films like The Lost Boys, Beetlejuice, and The Shining. Runs Wednesday through Sundays. Check for discount tickets before making your purchase. DISCOUNTED (via Goldstar)
20. Every Thursday the Motherland comedy show brings known comics to the stage for free at Filipino restaurant Kusina Filipina in Eagle Rock. This week's lineup features Kara Klenk (Comedy Central), Jamel Johnson (Comedy Central), Zach Pugh (Funny or Die), and more. FREE
21. Creep L.A. presents the fifth installment of HAUS OF CREEP an immersive 75-minute experience that takes guests in a bizarre world where reality and performance art blur in a very dark way. HAUS OF CREEP will run from September 13 through November 3 on all weekends with some weeknights available.
22. OUE Skyspace hosts a happy hour every Thursday this month from 5-9 p.m. with $6 beer, $8 wines, $10 signature cocktails and $2 tacos. Guests will also enjoy Thursday Night Football and music by DJ DisDudeMo.
23. Every first and third Thursday of the month Brennan's in Marina Del Rey hosts their famous turtle races. Since 1974, this tradition brings these little speedsters out of their sanctuary (located in the bar) for an exciting game that support charities. Race starts at 9 p.m.
24. L.A. Dance Project presents L.A. Dances a festival celebrating the future of dance in Los Angeles through premieres and collaborations with local visual artists, site-specific performances, and new productions. Happening September 26 through October 25.
24. Free museum days: Japanese American National Museum (from 5 to 8 p.m.), MOCA Grand (from 5 to 8 p.m.), Skirball Cultural Center (noon to 5 p.m.), Long Beach Museum of Art (3 to 8 p.m.) and USC Pacific Asian Museum (5 to 8 p.m.)
Friday October 4th, 2019
25. Tack on a little camp with your frights this Halloween season when Freeform's '31 Nights of Halloween' come to life Oct. 2-7. Step into an interactive Halloween Town, stop at the Sanderson Sisters magical cottage from Hocus Pocus, and a prize-filled Oogie Boogie's lair from Nightmare Before Christmas, more surprises are in stored but only if you're able to snag a ticket. Act fast, half the dates are already sold out.
26. Tito's Handmade Vodka and Tito's Tacos are teaming up to celebrate National Vodka Day and National Taco Day, which happen to occur on the same day October 4! Head down to the legendary crunchy taco joint in Culver City, to indulge in tacos and Tito's Handmade Vodka cocktails coupled with Folklórico and Mariachi entertainment. Tickets for this fiesta will be sold for $25 at the door and include three cocktails and tacos. $10 non-alcoholic tickets can also be purchased.
27. Los Angeles Haunted Hayride will unify under one theme this year Midnight Falls a fictional town in 1985 filled with macabre characters. Check out the Roadkill Ranch on the outskirts of town; Trick or Treat in a ghoulish neighborhood; drop by the local mortuary, or engage in mini-escape games. Of course, the centerpiece remains the hayride, which will take guests straight to the hellish portal from which the town's nightmares escape. Check for discount tickets before making your purchase. DISCOUNTED (via Goldstar)
28. Alpine Village Oktoberfest returns this Friday with traditional Bavarian fun like Oom Pah Pah party bands, German fare, and delicious cold German beers. Oktoberfest runs Fridays through Sundays October 4 – 27.
29. Now in its third year, Haunted Little Tokyo is filling one of Los Angeles' most historic and exciting neighborhoods with tricks and treats. Activities will span the whole month of October and include film screenings, a pumpkin patch, a block party and a trick or treat night.
30. The Lexus All-Star Chef Classic takes over L.A. LIVE for four days of extravagant meals prepared by top chefs from around the United States in a stadium and or arena setting plus two strolling events.
31. Zombie Joe's Underground Theatre in North Hollywood presents their annual Halloween iteration of Urban Death Tour of Terror. Guests will wind through a short maze before entering a darkened theater where series of disturbing vignettes will be presented one after another. The show runs October 4 to November 2, Fridays and Saturdays plus Halloween night. Check for discount tickets before making your purchase. DISCOUNTED (via Goldstar)
32. The 5th Annual Dumpling & Beer Fest takes over the San Gabriel Valley for a night of highlighting tasty dumpling spots, craft beer, live music and more.
33. Get up close and personal with sharks at the Aquarium of the Pacific during Shark Lagoon Nights. Guests will have the opportunity to touch bamboo sharks and view large sharks in an after hours setting. FREE
34. The Fairplex transform into a German playground for Oktoberfest on October 4-19 Fridays and Saturdays. Expect Bavarian music, chicken dancing, bratwurst and pretzels while knocking back some authentic German beers. Check for discount tickets before making your purchase. DISCOUNTED (via Goldstar)
35. Metro Art Los Angeles present an all-new film screening series featuring animated films at Union Station. This Friday Song of the Sea will be screened. The event is free and open to the public. Seating will be on a first-come, first-served basis. FREE
36. Never been to LACMA? First-time Fridays is a new monthly event for new visitors to the museum. Simply let the ticket office know you're a newbie and you'll receive a free poster, discounts and a welcome gift. Stop by after 3 p.m. with an ID showing L.A. County residency and get free admission.
37. The Griffith Observatory hosts a monthly forum where some of the most amazing phenomena in the known universe are explained and discussed. It's called All Space Considered and it takes place on the first Friday of every month. FREE
38. The Broad Stage presents The Moth a story telling series featuring true stories told by people in front of a live audience.
39. Reign of Terror is one of the largest haunted houses you can attend, and it grows bigger every year. This year promises 115 rooms, encompassing nine different themes, each one connected to the last. Themes include Infected, Asylum, Miner's Revenge, Fun House, the all-new Containment and more. There's also a new experience called the Widow's Den where one should "avoid being wrapped up." We can only assume that means spiders. Special events include a Lights-On tour ($5), for those who would prefer to see the sets without all the scares, and a Lights-Out, for those who'd prefer to navigate the maze with a single glow stick per group.
40. LA Plaza de Cultura y Artes presents LeaLA, the Los Angeles Spanish-Language Book Fair, a cultural festival highlighting Latino traditions and heritage.
41. Caltech Astronomy invites the public to sit in on a stargazing and lecture event this Friday at 8 p.m. FREE
42. Celebrate National Hispanic Heritage Month at Sabor De Mexico Lindo Downtown Festival October 4-6. The event will feature a massive lineup of entertainment and offerings, including commercial and sponsor booths, a plethora of food from around the world and more. FREE
43. Head to Two Bit Circus for Whispers In The Dark, an interactive mystery using magic, mentalism, and immersive theater. You'll sit in on an intimate séance to communicate with ghosts to unlock secrets and solve the crime of a centuries-old unsolved murder.
44. The 33rd Annual California Avocado Festival returns to Carpinteria October 4-6. This free event features live entertainment, avocado dishes for sale, avocado agricultural photos, historic info about avocados and so much more. Admission is free!
45. Knott's Scary Farm is back with their signature haunted attractions, mazes and thousands of monsters ready to scare the living day light out of you and your crew.
46. Free museum day at Norton Simon Museum (5 to 8 p.m.)
Food Pick for the Week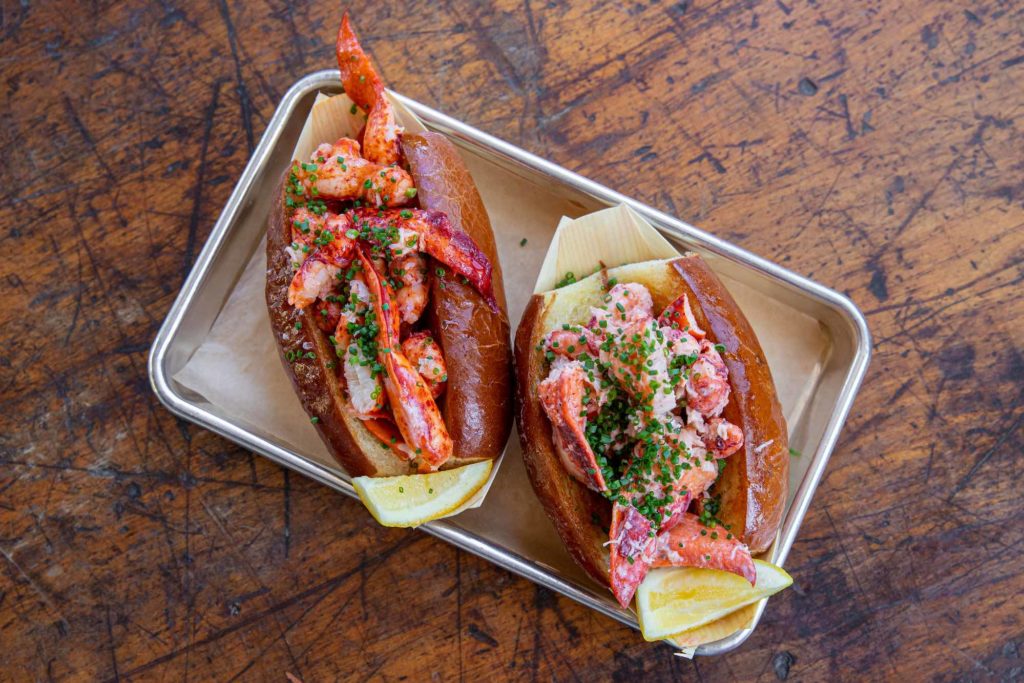 This week's pick by Christina Champlin, Co-Founder of We Like L.A.
Broad Street Oyster Co. started as a catering and pop-up concept by founder Christopher Tompkins. Recently it found a home-base at Malibu Village. The vibrant space invites chill vibes with plenty of natural light and a calming view of the Malibu Lagoon. It's the perfect spot for a seafood-centric supper or lunch.
On the menu you'll find casual coastal bites like fresh cracked sea urchin, fish sticks made of California halibut rolled in panko breadcrumbs and the best lobster roll in Los Angeles.
Loaded with fresh lobster meat, you can get them hot with drawn butter or cold and lightly coated with mayo. Both cost $20, which is considered extremely affordable when it comes to lobster rolls. There is room for customization as well for those who want to take their lobster rolls to next levels of extravagance. Black truffle, uni and caviar can be topped onto your roll for an extra fee. Personally I went all out and ordered a whole sea urchin on the side and topped the lobster roll off myself.
Broad Street Oyster Co. is located at 23359 Pacific Coast Hwy Malibu, CA 90265.
They also still do a number of pop-ups including at Smorgasburg LA. Follow their Instagram for the latest news.
---
Want to get our to-do lists straight to your inbox every week? Sign up for our email program. Have an upcoming event you'd like suggest for listing? Drop us a line at [email protected]