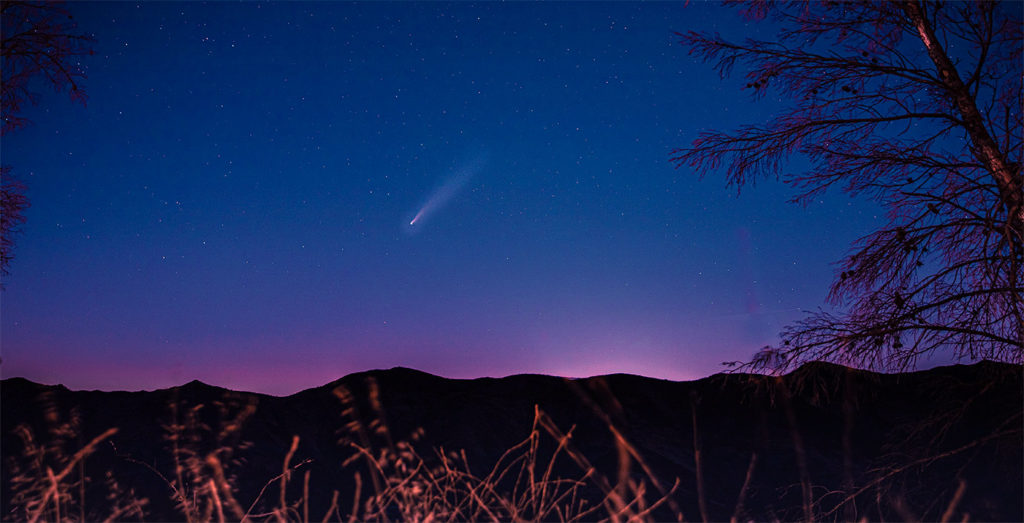 We used to tell you about all the things you could go out and do in Los Angeles on a daily, weekly, and monthly basis. Then, the coronavirus pandemic changed life for all of us, in a thousand small and massive ways. For a while, we posted strictly virtual events to keep you entertained and connected from your home. As the state, county, and city slowly reopen, we'll also include a mix of things you can do outside the house while still abiding by local health orders. We'll still offer plenty of online options for those of you who are self-isolating or who've decided to stay at home for the time being. We'll post a new list of options every Thursday morning. We hope they keep you busy, make you laugh, teach you something, or help you feel less alone.
This week, we've got comet sightings, a drive-in drag show, online cheer camp, a festival of interactive virtual experiences, actor workshops, and more. Have something you want to submit for next week? Hit us up: [email protected].
---
Out-of-the-House Events
The NEOWISE comet visibility is soon coming to an end. To spot it, viewers should look northwest and low to the horizon, aiming their gaze just below the Big Dipper constellation (or Ursa Major). It will be another 6,800 years before the comet's orbit brings it this close to Earth again. Get the details on how to spot the comet in our recent post here.
Fia Santa Monica will be celebrating National Tequila Day on Friday, July 24 with "Shots and Sips" special tequila flights in its outdoor garden dining space.
[Update: This event had to move to next weekend, July 31-August 2, but you can still buy tickets now.] Let RuPaul's Drag Race superstars dazzle you during Drive 'N Drag at ROW DTLA. The queens will perform on an elevated stage with jumbo screens and powerhouse music.
Board and Brush in Santa Monica has moved its art workshops outdoors. Choose from projects like home decor, doormats, cornhole sets, planters, and more. Adults may drink wine, kids get Capri Sun.
Knott's Berry Farm hosts Knott's Taste of Calico, an outdoor food and shopping event in the park's Ghost Town area, select dates July 17 through August 9. Tasting cards cost $25 and include five tastings. Kids 3-11 can get $15 cards with three tastings. Kids 2 and under are free. Please note that the theme park and its ride remain closed.
The Arena Cinemalounge Sunset has reopened for drive-in screenings in the lot behind the theater. This week's films include Retaliation and Most Wanted. Tickets are $30/car or $20/motorcycle and must be purchased in advance. You must also purchase refreshments in advance. More info here.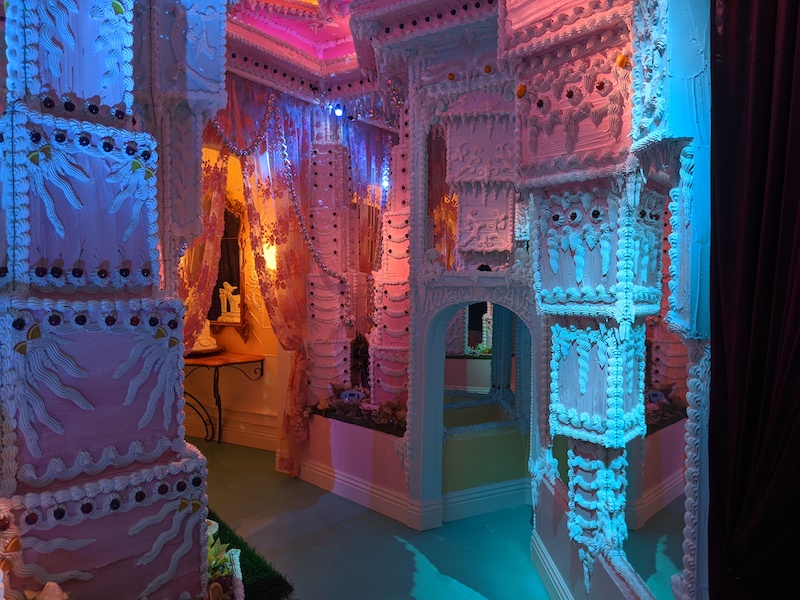 Artist Scott Hove's "The Beauty War" opens at Cakeland Gallery LA in Chinatown on July 17. Hove's work, which often takes the form of trippy cake mazes, will reflect on "the phases of life" including birth, self-discovery, integration, and death. To see it, you'll need to book a socially distant appointment in advance. Tickets are $17 for pre-bookings, $20 otherwise. The Beauty War is on display through Dec. 31.
Tickets are on sale for The Americana at Brand and Street Food Cinema's Level 8 Drive-in. The series runs select dates July 23 through August 1. Tickets are $30 per vehicle plus $8/person. Upcoming screenings include My Big Fat Greek Wedding, The Avengers, and Knives Out.
The Tribeca Drive-In cruises into the Pasadena Rose Bowl for a month-long series of movie screenings July 2-26. Tickets available now.
Concerts in Your Car is a drive-in music series in Ventura. See this week's full schedule and ticket information here.
See artist Lita Albuquerque's site-specific work "Red Earth" The Huntington Botanical Gardens. According to a release: "[T]he installation centers around a boulder capped with bright red pigment placed among towering bamboo in a grove of the Japanese Garden. It is exclusive to this particular time and place and is 'a stand-in for what I am hoping the visitor to feel, a sense of calm in the midst of chaos," Albuquerque said." On view through Nov. 2.
The Gentle Barn in Agua Dulce offers a drive-thru program on Sundays through August 2. You'll get a tour of the farm and see its animals from the safety of your car. Tickets are $28 per person and include a vegan lunch. All proceeds go to the Gentle Barn Foundation. More info here.
Sunnyday Scoot is a tour company that allows you and one other person to take a mini-car on a fun tour of L.A. Sunnyday is open now with modifications including social distancing, mask-wearing, and online check-ins.
Online/At-Home Events
The Electric Dreams Festival runs July 24 through August 16 and it's got some really fun, interactive programming you can enjoy online. Offerings include a virtual game of Werewolf, an escape room, and "Jury Duty," an immersive piece in which you act as a remote juror for a tense trial. Check it out here. Please note that the festival is based in the U.K., so make sure to convert showtimes to your local time zone.
Adult Swim Con takes place online July 23-25. The free fest features events for Rick and Morty, Robot Chicken, and Samurai Jack, plus DJ sets, giveaways, virtual meet and greets, and more. More info here.
San Diego Comic-Con is online this year with over 350 free panels, at-home activities, and a virtual exhibition center full of vendors. Check it out July 22-26.
Download L.A. Theatre Works' audio recording of Mary Shelley's Frankenstein for $4.99. Kate McAll's adaptation stars Stacy Keach and Adhir Kaylan in the roles of the creatures and Victor Frankenstein, respectively.
On July 26 at 2 p.m., catch Keeping the Beat Alive to Survive:
Diaspora Dialogue, a conversation with Amsterdam-based musician Diamanta von Lieshdek, lead singer of Kuenta I Tambú (KiT). Register here.
Artist Fran De Anda's solo show "The Magicians" opens at The Cactus Gallery on July 25.
IAMA's Under 30 Playwrights Lab Series celebrates young storytellers July 23-26 via Zoom. More info here.
The Catalina Island Museum presents a lecture from Gregario Luke on the life of Frida Kahlo on July 25 at 11 a.m. Tickets for the virtual lecture are $5 for members and $17 for non-members.
Primo's Donuts has a new line of Hawaiian-inspired jelly donuts filled with tropical jellies. You can order them now through the end of September via Doordash or Grubhub, or order for pickup here.
Civitas LA is a new podcast from Gathering Space that highlights new civic entrepreneurs throughout greater L.A.
LA Plaza de Cultura y Artes presents "West Coast Chicano Soul," a conversation with DJ and Chicano personality Rankie Firme on July 24 at 7 p.m. Register here.
Craft in America's Here/Now: Contemporary Narrative and Form in the Yunomi is a ceramic cup invitational in which ceramic artists made yunomi, a type of teacup. Guest-curators Nikki Lewis and Katie Queen will walk through the exhibit on Zoom and Facebook Live on July 25 at noon.
On July 28 at 5 p.m. PST, Atlas Obscura and Filson & Westland Distillery present "Backcountry Evening" with Jason Ward of Birds of North America. The description: "We'll spend the evening tracing the history of camping culture in America and exploring the value of outdoor education and public land conservation with scientists and artists inspired by the great outdoors." Tickets are $5 and benefit the Greening Youth Foundation.
L.A. County Parks is offering a free, online youth cheerleading camp with the L.A. Rams cheerleaders July 27-31. Sign up here.
Zombie Joe's Underground Theater presents "Inner Creature Acting Class" on July 20 & 30 at 7:30 p.m. Zombie Joe and guests will teach aspiring haunt actors how to unleash their spooky side via this online, interactive acting course. Free, but you do have to register by sending your name and contact info to [email protected]
KCET Cinema Series presents Summerland, followed by a live Q&A with screenwriter Jessica Swale and stars Gemma Arterton and Gugu Mbatha-Raw. Catch it on July 28 at 7 p.m.
Los Feliz cafe All Time is baking bread from scratch, which you enjoy by the loaf, as focaccia, or in pizza form. Order here.
If you own an Oculus Quest or Oculus Rift, you can check out The Under Presents: Tempest, a live adaptation of Shakespeare's The Tempest that occurs entirely in virtual reality. You and a few other anonymous theatergoers will enter the world of "The Under" where you can purchase show tickets from a VR theater. When it's showtime, you'll be transported to the "home" of a live actor who will guide you in real-time through the interactive tale. Available now through Sept. 30. Tickets are $14.99 and can be purchased at the in-app box office.
Chef Eric's Culinary Classroom is now offering its kids' camps online. These interactive Zoom lessons allow children and adults to cook together. Participants receive shopping and equipment lists via email beforehand, with suggestions for basic tools if you don't have everything. Register online here.
The GRAMMY Museum continues to present digital public programs and exhibits. This week, expect new content from Zakiya Hooker, Lettuce, and more.
The Basement escape room in Sylmar has a new, creepy game you can play from home, "My Name is Jamie." Help Jamie, a captive of the infamous basement, escape by solving puzzles and clues. Book with your friends online. Tickets are $20/person.
Check out The Messy Epicure podcast from writer Jason Horn, which explores the many "messy" parts of food and drink. Listen here.
Lincoln Park Zoo hosts virtual meet and greets with its animals on Saturdays during July and August. The experience grants viewers an intimate look into the animals living in the Lincoln Park Zoo. Each Saturday of the series will feature a specific animal group.
Place orders now for Of the Night deliverable party packages from Disco Dining Club and BLAKESHiNE. Each one is designed for two people to have a decadent night in and includes snacks, beverages, decor, accessories, curated Spotify playlists, themed activities, and more. Add-ons, including birthday packages and theatrical deliveries, are available.
Listen to "California Love," a new podcast from Walter Thompson-Hernández who shares stories of growing up in L.A. "Listeners can expect to hear a version of LA they've never heard before. It's really rare for a person of color to be able to have a platform to tell LA stories. That role is usually reserved for white folks. This show is different. And we're all really excited about that," Thomas-Hernández told Remezcla. Check out that interview here, and the podcast here.
On Sundays, July 19 through August 16, catch The Getty Villa's "The ODDyssey" on the Getty Museum's YouTube channel. The Troubadour Theater Company will present Homer's 24 books in short, family-friendly episodes.
Dance with The Music Center through Digital Dance DTLA's online dance sessions, offered Friday nights now through September 4 at 7 p.m.
The L.A. Phil's YOLA National at Home is a series of courses, masterclasses, project-based learning offerings, and keynote addresses from Gustavo Dudamel and Thomas Wilkins. They're presented July 10-31 on Zoom and YouTube Live. See the full lineup here.
Even more at-home ideas:
Remember that if you want updates sent straight to your inbox, you can sign up for the We Like L.A. email newsletter.