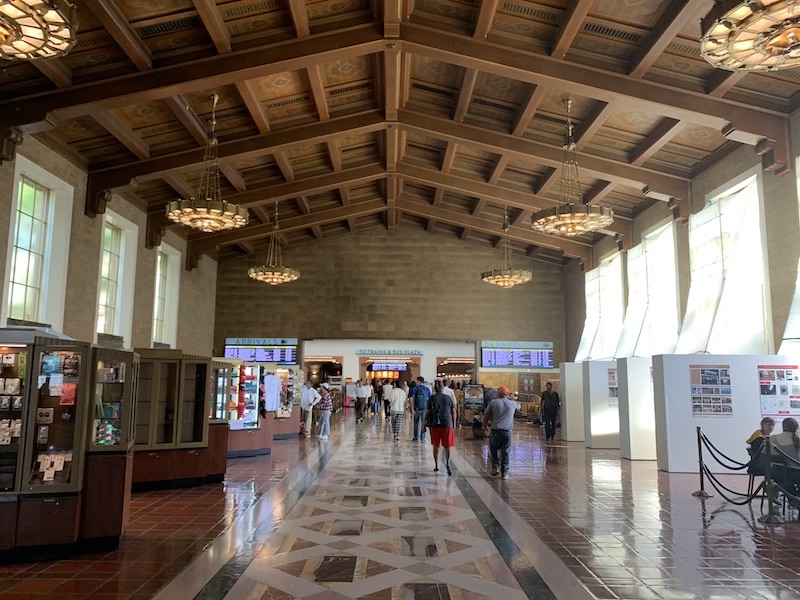 Los Angeles provides no limit of things to do, some awesome and some not so awesome. Since time is precious in this fast paced city we curate a list of things to do in Los Angeles for every weekend that'll help you decide how you want to spend your limited supply of attention (not to mention dollars!).
This weekend in L.A. from Friday, October 4 to Sunday, October 6 features Tito's Handmade Vodka and Tito's Tacos Fiesta, Haunted Little Tokyo, Los Angeles Haunted Hayride, Drunken Devil Bloody Brunch, The Big Quiet, a number of Oktoberfest celebrations and MUCH more.
Remember you can always go to our L.A. events calendar page to get an updated rundown of what's happening around the city.
Hope you find the rundown useful and, as always, enjoy your weekend!
---
Keep in mind that while we retain complete editorial control of our content, for some of the ticketing options provided we utilize affiliate links and receive a commission if you purchase through our links.
---
Friday October 4th, 2019
1. Tito's Handmade Vodka and Tito's Tacos are teaming up to celebrate National Vodka Day and National Taco Day, which happen to occur on the same day October 4! Head down to the legendary crunchy taco joint in Culver City, to indulge in tacos and Tito's Handmade Vodka cocktails coupled with Folklórico and Mariachi entertainment. Tickets for this fiesta will be sold for $25 at the door and include three cocktails and tacos. $10 non-alcoholic tickets can also be purchased.
2. Tack on a little camp with your frights this Halloween season when Freeform's '31 Nights of Halloween' come to life Oct. 2-7. Step into an interactive Halloween Town, stop at the Sanderson Sisters magical cottage from Hocus Pocus, and a prize-filled Oogie Boogie's lair from Nightmare Before Christmas, more surprises are in stored but only if you're able to snag a ticket. Act fast, half the dates are already sold out.
3. Zombie Joe's Underground Theatre in North Hollywood presents their annual Halloween iteration of Urban Death Tour of Terror. Guests will wind through a short maze before entering a darkened theater where series of disturbing vignettes will be presented one after another. The show runs October 4 to November 2, Fridays and Saturdays plus Halloween night. Check for discount tickets before making your purchase. DISCOUNTED (via Goldstar)
4. Alpine Village Oktoberfest returns this Friday with traditional Bavarian fun like Oom Pah Pah party bands, German fare, and delicious cold German beers. Oktoberfest runs Fridays through Sundays October 4 – 27.
5. The Lexus All-Star Chef Classic takes over L.A. LIVE for four days of extravagant meals prepared by top chefs from around the United States in a stadium and or arena setting plus two strolling events.
6. Now in its third year, Haunted Little Tokyo is filling one of Los Angeles' most historic and exciting neighborhoods with tricks and treats. Activities will span the whole month of October and include film screenings, a pumpkin patch, a block party and a trick or treat night.
7. Get up close and personal with sharks at the Aquarium of the Pacific during Shark Lagoon Nights. Guests will have the opportunity to touch bamboo sharks and view large sharks in an after hours setting. FREE
8. Constitution Happy Hour at AMMO at The Hammer continues this Friday with guided, topical conversations about the US Constitution and its role in our democracy.
9. Nights of the Jack, a half mile trail completely filled with thousands of pop culture inspired hand-carved illuminated Jack O'Lanterns returns to King Gillette Ranch in Calabasas October 3 through November 3 for a spooktacular family friendly event.
10. The 5th Annual Dumpling & Beer Fest takes over the San Gabriel Valley for a night of highlighting tasty dumpling spots, craft beer, live music and more.
11. The Fairplex transform into a German playground for Oktoberfest on October 4-19 Fridays and Saturdays. Expect Bavarian music, chicken dancing, bratwurst and pretzels while knocking back some authentic German beers. Check for discount tickets before making your purchase. DISCOUNTED (via Goldstar)
12 'First Time in L.A.' at Touchon&Co Gallery is an art exhibition highlighting artists from around the world exhibiting in Los Angeles for the first time. Over 60 artworks will be shown from 20 artists. Runs Oct. 1-5 FREE
13. Metro Art Los Angeles present an all-new film screening series featuring animated films at Union Station. This Friday Song of the Sea will be screened. The event is free and open to the public. Seating will be on a first-come, first-served basis. FREE
14. Never been to LACMA? First-time Fridays is a new monthly event for new visitors to the museum. Simply let the ticket office know you're a newbie and you'll receive a free poster, discounts and a welcome gift. Stop by after 3 p.m. with an ID showing L.A. County residency and get free admission.
15. The Griffith Observatory hosts a monthly forum where some of the most amazing phenomena in the known universe are explained and discussed. It's called All Space Considered and it takes place on the first Friday of every month. FREE
16. LA Plaza de Cultura y Artes presents LeaLA, the Los Angeles Spanish-Language Book Fair, a cultural festival highlighting Latino traditions and heritage.
17. Caltech Astronomy invites the public to sit in on a stargazing and lecture event this Friday at 8 p.m. FREE
18. Celebrate National Hispanic Heritage Month at Sabor De Mexico Lindo Downtown Festival October 4-6. The event will feature a massive lineup of entertainment and offerings, including commercial and sponsor booths, a plethora of food from around the world and more. FREE
19. Beyond Fest, Los Angeles' strangest, scariest, and largest genre film festival returns Sep. 25 to Oct. 8 with another year of bold programming.
20. Head to Two Bit Circus for Whispers In The Dark, an interactive mystery using magic, mentalism, and immersive theater. You'll sit in on an intimate séance to communicate with ghosts to unlock secrets and solve the crime of a centuries-old unsolved murder.
21. The 33rd Annual California Avocado Festival returns to Carpinteria October 4-6. This free event features live entertainment, avocado dishes for sale, avocado agricultural photos, historic info about avocados and so much more. Admission is free!
22. L.A. Dance Project presents L.A. Dances a festival celebrating the future of dance in Los Angeles through premieres and collaborations with local visual artists, site-specific performances, and new productions. Happening September 26 through October 25.
Saturday October 5th, 2019
23. The Haunted 2: Welcome Foolish Mortals is an art exhibit inspired by places like the Haunted Mansion at Disneyland. Marvel at creepy animatronic works alongside paintings, sculptures, and jewelry. Happening at The Hive Gallery in Downtown Los Angeles, opening night will take place October 5 with a reception, Ghost Host tours and tarot readings by Seraphime Angelis. There's a $5 donation for the opening night event. The exhibit itself will run October 6 through November 3 and is free to view.
24. The Game of Thrones Live Concert Experience returns to The Hollywood Bowl bringing Ramin Djawadi's scores to life. Relive the greatest musical pieces with footage from all eight seasons at this outdoor concert experience.
25. OUE Skyspace is throwing an Oktoberfest Celebration this Saturday with German beer, food and entertainment. Your ticket gets you a ride on the glass slide, beer, a commemorative boot mug and much more.
26. Los Angeles Haunted Hayride will unify under one theme this year Midnight Falls a fictional town in 1985 filled with macabre characters. Check out the Roadkill Ranch on the outskirts of town; Trick or Treat in a ghoulish neighborhood; drop by the local mortuary, or engage in mini-escape games. Of course, the centerpiece remains the hayride, which will take guests straight to the hellish portal from which the town's nightmares escape. Check for discount tickets before making your purchase. DISCOUNTED (via Goldstar)
27. After nearly one year, Jewish female artist Laurie Shapiro's sukkot-like rainbow-colored installation ALCHEMY TUNNEL is now ready to debut at multimedia Los Angeles gallery Radiant Space. Opening night is this Saturday and rvsp is mandatory. Special events including sound baths, yoga classes, meals, talks, and performances curated by Olivia Mia Orozco that will all occur inside the installation on select days. The installation will open for public viewing on Saturdays starting October 12. FREE
28. Head to the Los Angeles Zoo and Botanical Gardens for Boo at the Zoo on any Saturday or Sunday during the month of October for a large assortment of seasonal activities for the whole family.
29. The Annenberg Space for Photography's' latest exhibit W|ALLS: Defend, Divide, and the Divine examines real and invisible barriers around the world captured by over 70 artists and photographers. The Annenberg will also debut its first interactive public art installation, Light the Barricades by Candy Chang and James A. Reeves in tandem to the exhibit opening. FREE
30. The Griffith Observatory hosts a public star party once a month from 2-9:45 p.m. where folks can get a look at the sun, moon, plants and other objects in the sky through a variety of telescopes. FREE
31. Reign of Terror is one of the largest haunted houses you can attend, and it grows bigger every year. This year promises 115 rooms, encompassing nine different themes, each one connected to the last. Themes include Infected, Asylum, Miner's Revenge, Fun House, the all-new Containment and more. There's also a new experience called the Widow's Den where one should "avoid being wrapped up." We can only assume that means spiders. Special events include a Lights-On tour ($5), for those who would prefer to see the sets without all the scares, and a Lights-Out, for those who'd prefer to navigate the maze with a single glow stick per group.
32. Eat|See|Hear returns with a horror screening of Psycho at The Autry Museum. Check for discounted tickets before making your purchase. DISCOUNTED (via Goldstar)
33. Oddities Flea Market takes over the Globe Theatre Saturday and Sunday for an off-beat shopping experience where you'll find one-of-a-kind curious crafts for sale.
34. Drunken Devil Presents Bloody Brunch at El Cid. Enjoy a spooky brunch experience inspired by kitschy horror TV specials of the 60's and 70's. Note this event is not for the faint of heart.
35. Oktoberfest returns to Santa Anita Park for a day of Bavarian beer tastings, steins, live music, dancing, and all that comes with this German themed celebration. Check for discount tickets before making your purchase. DISCOUNTED (via Goldstar)
36. The Workman and Temple Family Homestead Museum presents Ticket to the Twenties October 5-6 a day of vintage fashion, live music, dancing and tours of the historic house. FREE
37. Creep L.A. presents the fifth installment of HAUS OF CREEP an immersive 75-minute experience that takes guests in a bizarre world where reality and performance art blur in a very dark way. HAUS OF CREEP will run from September 13 through November 3 on all weekends with some weeknights available.
38. The Mt. SAC horticulture program will host a plant sale at Descanso Gardens from 11 a.m. to 4 p.m.
39. Head over to the Regent in DTLA for The Rock and Roll Flea Market. The market features 50 vendors offering vintage and handmade crafts, including clothing, jewelry, memorabilia, instruments and more. Admission is free and open to all ages.
40. There's a daily Great Pumpkin Hunt happening at the South Coast Botanic Garden featuring an imaginative scavenger hunt, light hiking, a pumpkin shop and access to the gorgeous 87-acre grounds. Great for families. Halloween costumes are welcome.
41. Street Food Cinema returns this weekend with a screening of Guardians of the Galaxy at Victory Park in Pasadena. DISCOUNTED (via Goldstar)
42. Want to celebrate Halloween early? Universal Studios Halloween Horror Nights has been spooking crowds for over 25 years, the park employs the industry's best special effects to bring pop cultures most famous movies and shows to life. Mazes include Stranger Things, Walking Dead and the new Ghostbusters experience. Check for discounted tickets before making your purchase. DISCOUNTED (via Goldstar)
Sunday October 6th, 2019
43. Head down town to the Dorothy Chandler Pavilion for Le Salon de Musiques an intimate stage free chamber music experience where a Q&A with the musicians, as well as a champagne and high-tea experience catered by Patina will follow. Check for discount tickets before making your purchase. DISCOUNTED (via Goldstar)
44. Taste test a wide variety of delicious mole when the traditional Mexican dish takes center stage during La Feria de los Moles on Sunday at Grand Park in Downtown Los Angeles. Admission is free, food is available for purchase and start at $10 a plate.
45. The Big Quiet returns to Los Angeles for a mass meditation experience at Hollywood Forever Cemetery. Taking place in the historic Masonic Lodge, the event guides guests through a series of meditations, special guest musical performances, community conversations and wellness inspired swag.
46. Oktoberfest at Angel City Brewery will have their Oktoberfest beer on tap, music by The Munich Boom-Steiners, plus kraut eating, yodeling, and stein hoisting contests.
47. Mount Wilson Observatory is offering classical music concerts within the dome of the 100-inch telescope above the observatory. Located in the San Gabriel Mountains above Pasadena, the concerts happen once a month from May to October.
48. Experience Italian food, music and culture when The Los Angeles Italian Festival returns this Sunday
49. 6th Annual Olvera Street Muertos Artwalk will host over 30 artists from across the greater Los Angeles community. Along with art shown, guests will be able to enjoy live entertainment and shop from local makers. FREE
50. CicLAvia presents Heart of L.A. where several streets in Chinatown, Boyle Heights and Westlake will be turned into a public recreational space for the day. Attendees can walk, bike, roll, or stroll though the car free streets. FREE
51. Artist Maximillian's popular horror-themed pop-up I Like Scary Movies returns for Halloween season September 20 through November 17. The detailed and beautiful series of installations is a love letter from the artist to iconic horror films like The Lost Boys, Beetlejuice, and The Shining. Runs Wednesday through Sundays. Check for discount tickets before making your purchase. DISCOUNTED (via Goldstar)
52. Hello Kitty Friends Around the World Tour celebrates Hello Kitty's 45-year anniversary with a multi-room, sensory-rich, brilliant walk-through adventure from September 20 through October 20. The 10,000-square-foot pop-up takes you aboard 'Hello Kitty Air' to virtually visit London, Paris, New York, Honolulu, and Tokyo.
53. Knott's Scary Farm is back with their signature haunted attractions, mazes and thousands of monsters ready to scare the living day light out of you and your crew.
54. A colorful, winding installation called The Second Home Serpentine Pavilion is now open at the La Brea Tar Pits for the summer and its 100% free for the public to roam and explore. The pavilion is open daily and will run through November 24. FREE
Food Pick for the Week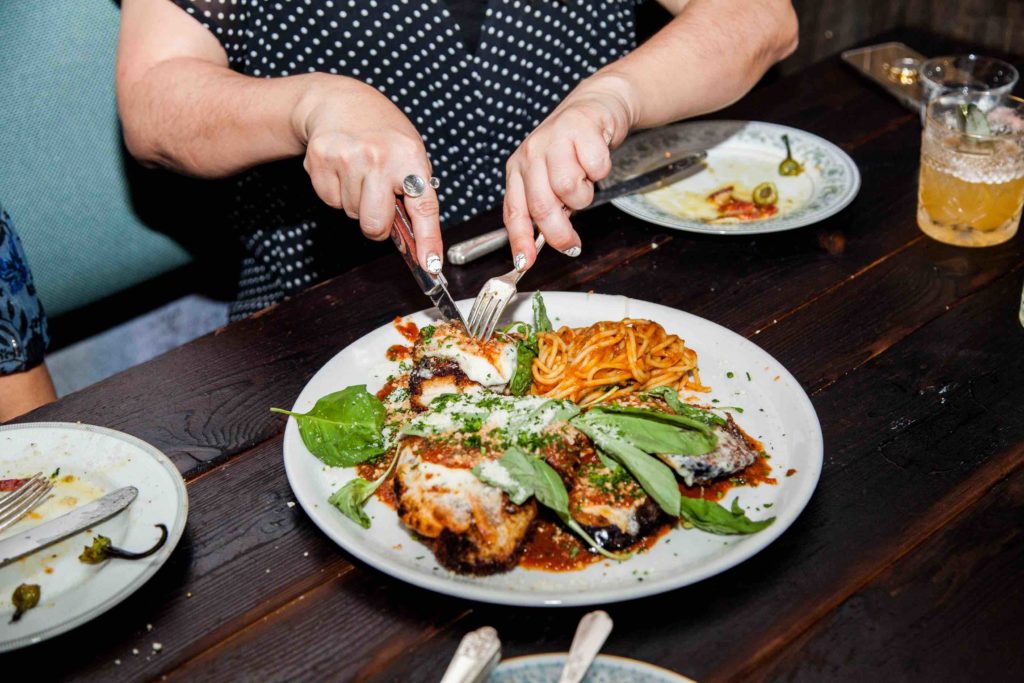 This week's pick by Christina Champlin, Co-Founder of We Like L.A.
It's officially fall here in Los Angeles and we're all looking for meals that will fill our bellies, help us forget about our summer bodies and make us feel all cozy on the inside. Below are a few dining events happening this weekend that will help you do just that.
PARM BOYZ is a new monthly pop-up at Melrose pizza joint, Ronan. Head over this Sunday, October 6 from 7:30 p.m. till close to dine on a huge spread of classic Italian-American favorites all served family-style. You'll start with Antipasti and a Caesar Salad then move onto a stacked Chicken and Eggplant Parmigiana with spaghetti and red sauce. To end the meal, a classic Tiramisu will be served. The meal costs $30 per person. Otium Beverage Director, Chris Amirault will make a guest appearance serving wine and cocktails for just $10 a pop. Reservations can be made on the Ronan website or Resy.
Astro Doughnuts & Fried Chicken wants to be your headquarters for all things Pumpkin Spice. Bite into a fried chicken sandwich where the bun is a pumpkin spice doughnut, or start your mornings with a pumpkin pie doughnut filled with pumpkin spice pastry cream and Kern River Pumpkin Ale, there's even Autumn Fingers, chicken fingers with pumpkin spice beer dipping sauce. To kick off the new seasonal menu Astro's in Santa Monica will host "Party in the Pumpkin Patch" on Saturday, October 5 from 10 a.m. to 9 p.m. transforming its back patio into a pumpkin patch where guests can enjoy seasonal treats, purchase a pumpkin (proceeds benefitting the Salvation Army in Los Angeles) and partake in fall activities. There's also an evening DJ set by dublab for those coming in for dinner or dessert.
---
Want to get our to-do lists straight to your inbox every week? Sign up for our email program. Have an upcoming event you'd like suggest for listing? Drop us a line at [email protected]